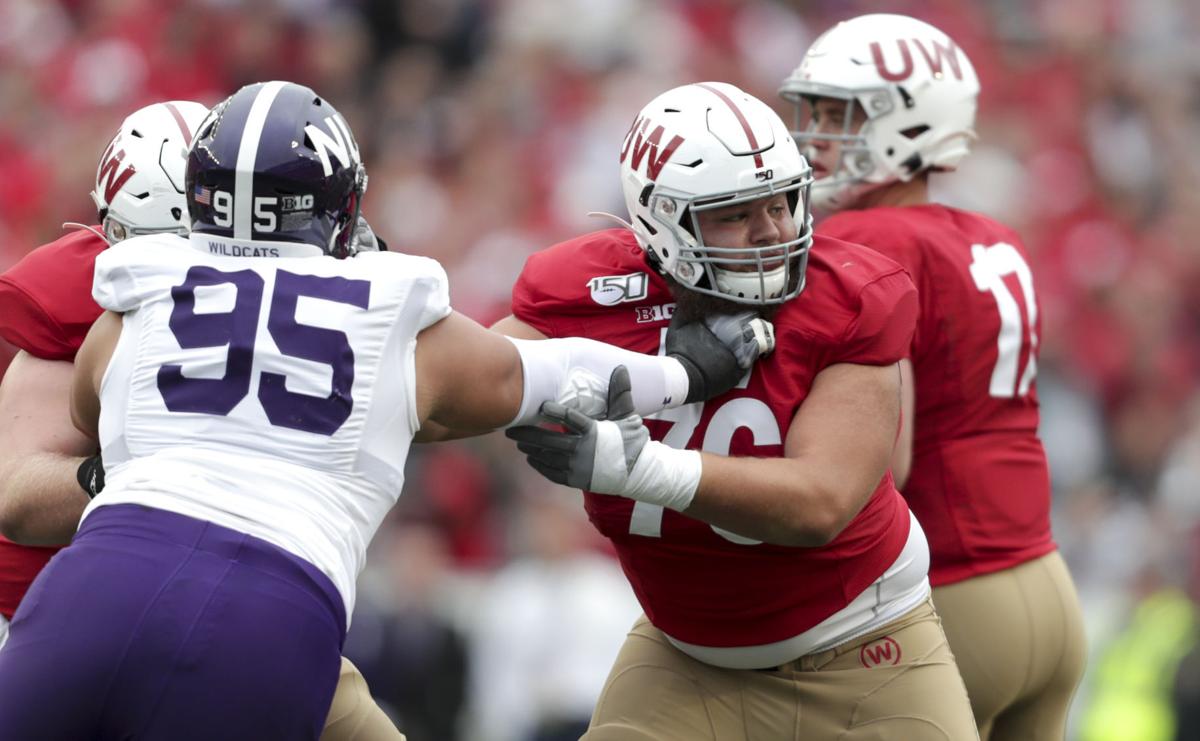 Paul Chryst couldn't help but make light of the clearly-not-ideal situation.
With senior Jack Coan injured and a position battle ongoing at center, the coach of the No. 16 Badgers football team will all but assuredly start a quarterback and a center making their first career starts at those spots when they kick off the season next week.
"Well, it's a good thing it's not baseball. They say you're supposed to be strong up the middle," Chryst said with a smile. "We've got good guys, good players. Maybe they don't have experience, but it doesn't mean they won't be real capable of being good."
Redshirt junior Kayden Lyles and redshirt sophomore Cormac Samspon are dueling for the center spot, both offensive coordinator Joe Rudolph and Chryst said. Centers are the primary communicators on the offensive line, and UW is replacing All-American and Rimington Trophy winner Tyler Biadasz, who made his first NFL start for the Dallas Cowboys on Sunday.
Lyles — a Middleton High School grad — made a solid return back to the offensive line after playing defensive end in 2018. He tallied four starts at guard last season and was in heavy rotation at left guard the first half of the year. He played less often down the stretch as Rudolph, the team's offensive line coach, cut down the line's rotation and kept the same group of five on the field.
But Lyles played extensively in the Big Ten West Division-clinching win at Minnesota and started against Ohio State in the Big Ten Championship Game. He was injured against the Buckeyes, and was slated to miss spring practices with multiple lower-body injuries. However, his coaches say he's healthy and practicing well.
"Kayden battled his tail off and he had a few things offseason-wise that he wasn't there the full time, but he's battling to get back. We like where he is right now, I really do. I'm really impressed with him as a kid and as a competitor to get himself in position to compete for this job," Rudolph said last week.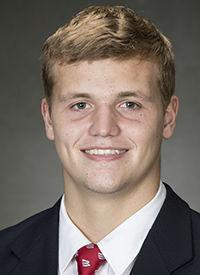 Sampson's path to the field at UW has included a number of turns and jersey number switches. After playing tight end during his redshirt 2018 season, Sampson was slated to be a tackle last year before focusing on the backup center role behind Biadasz. But when injuries left the tight end position depleted, Sampson moved back and was the No. 2 tight end behind Jake Ferguson.
He played in 13 games, and was lauded by teammates on multiple occasions for his ability to help set the edge on perimeter runs. Per the UW rosters, Sampson's added 10 pounds and is up to 290 pounds with his move back to the offensive line.
"Cormac's doing a great job and learning, so I think there's great competition there. We'll end up with a really good center. I'm proud of both of those guys for being where they're at right now," Rudolph said.
Rudolph said redshirt freshman Joe Tippmann originally in his plans in the center competition, but Lyles and Sampson quickly pulled ahead of the group. Tippmann, a four-star recruit in 2019, is getting reps at the other spots on the line.
Chryst said the battle for the center spot is ongoing, but Lyles may have the upper hand in the short term.
"Kayden certainly is a little bit more advanced in kind of the what-tos of the position. Cormac, I think he's got a really big upside to him. Need this week to continue to go, but the goal is to, you talk about those two, but you want as many as you can that you can shuffle at all the different spots," he said.
The new starting center has an immediate challenge in their debut.
Illinois' defensive front gave UW problems in last season's 24-23 upset in Champaign. The Badgers tallied just 156 yards on 43 rushing attempts, allowed two sacks and were forced to kick two field goals inside the Illini 10-yard line after failing to score touchdowns with their vaunted rushing attack.
"It's our job as coaches — that's the opportunity we get — it's how do you get everyone that's new in a spot a fair chance, the best chance, to have success," Chryst said. "I think that's our responsibility."
---
How the Badgers' COVID-19 testing process works
The Big Ten is testing football players for COVID-19 every day. Here's how it works.
There's a pre-dawn start
The testing staff arrives to the Badgers' training facility around 4:45 a.m. to start setting up. Starting at 6 a.m., there are scheduled times for players, coaches and staff to provide a sample for the testing process.
They can return to team rooms while awaiting results.
"That portion of the day adds just a tiny bit of time to their schedule," Moll said.
Testing is capped at 170 people
Under Big Ten regulations, the football team each week identifies 170 people who will be tested and can be in close contact as part of practices and games. Those who have tested positive for COVID-19 in the previous 90 days and have recovered aren't subject to testing, Moll said.
The group of 170 is considered to be Tier 1. A Tier 2 group includes other essential game personnel that aren't present on practice days but are required for games. The latter includes officials, team physicians and video staff, and they're tested both on game day and the previous day.
After a short wait, it's a quick test
Once the sample is collected, a reagent is added and the sample is placed on a card. After sitting for 15 minutes, it's inserted into a diagnostic machine that provides a result in about a minute.
The Big Ten said it is using Quidel's Sofia 2 SARS Antigen FIA test system. This video from Quidel shows how it works:
Moll monitors the test results and reports them to the football staff to confirm who can be on the field for that day's practice or game.
There's more testing if the result is positive
A positive rapid test triggers Moll to put the subject into isolation as a polymerase chain reaction test, which is considered more accurate but takes longer, is conducted to confirm the result.
If the PCR test also is positive, the person is put into 10 days of isolation and monitoring before cardiac testing and follow-ups with physicians.
A minimum 21-day absence is required if a positive is confirmed
A confirmed positive test requires a minimum 21-day absence from competition under Big Ten protocols. That could take a football player out from one-third of the nine-game schedule if he tests positive during the season.
"The message that we've tried to encourage our student-athletes to understand is to take every precaution to try to avoid this right now," Moll said.
It's not to be confused with a vaccine
Even with the enhanced testing, Badgers officials are stressing to athletes that they need to avoid situations where they could be infected with the coronavirus or risk a long absence from competition.
"It's important to note, and I know our student-athletes have taken this to heart: In no way, shape or form is there a belief that testing is a vaccine," deputy athletic director Chris McIntosh told the Athletic Board.
"Testing gives us the ability to practice and to compete in an environment that greatly reduces or eliminates the transmission of the disease. But it does not prevent the disease. For that, we need our student-athletes and our staff and our coaches to make responsible decisions."
A 'drastically different' look is ahead for 2020 game days
McIntosh extended the precautionary message to the team's fan base.
"Games in and around Camp Randall this fall are going to look drastically different than what we've all become accustomed to," he said. "There won't be tailgates taking place around our stadium. There won't be Badgerville. The union won't look like Union South normally looks on a game day.
"We would encourage everybody to stay at home and watch the game on television and cheer us on. We'll come back in the fall of '21 in a big way and get back to normal. But we all need to participate in the role that we can to make sure that we have a chance to play. We feel good about our chance right now but there's not a guarantee."