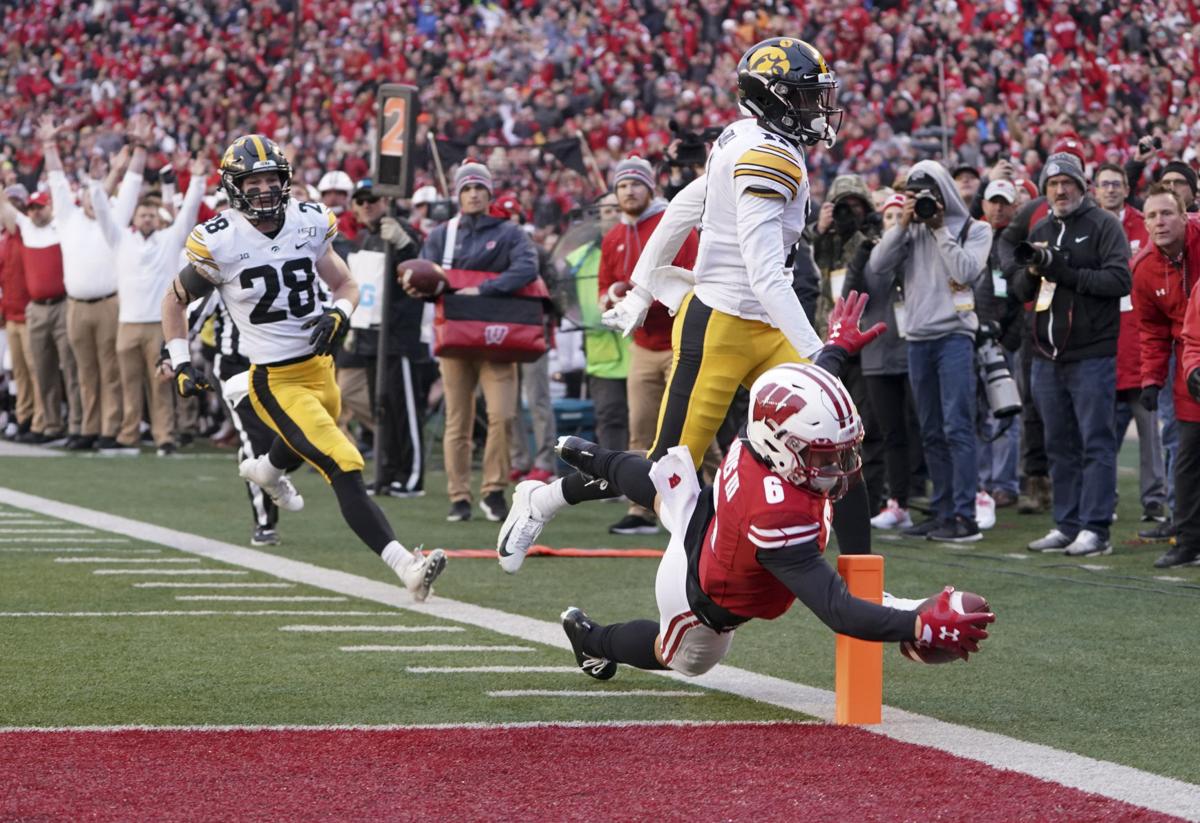 Ron Dayne was at Camp Randall Stadium on Saturday as the University of Wisconsin football team honored him and his teammates from the 1999 and 2000 Rose Bowl teams.
He talked with UW's current junior tailback Jonathan Taylor on the sideline before kickoff, offering encouragement and reminding Taylor of what kind of game Iowa was going to bring.
Dayne was treated to a game that had to remind him of his time in the Badgers' backfield, as Taylor put on a Dayne-like performance against Iowa, securing a much-needed win to keep UW alive in the Big Ten West Division race.
The 16th-ranked Badgers stopped a two-point conversion late in the fourth quarter to prevent the No. 18 Hawkeyes from tying the game, and then rode Taylor and the offensive line to grind out the rest of the clock in a 24-22 victory.
"It's always good to have someone like that in your corner," Taylor said after gaining 250 yards on 31 carries against the Hawkeyes.
Taylor gained 135 of those yards on the Badgers' final two drives — the first set up what became the deciding field goal and the second ran out the final 3 minutes, 12 seconds remaining to lift UW to a 7-2 overall record and 4-2 in the Big Ten Conference. It marked the fourth consecutive win over Iowa.
Taylor had a 36-yard run to kick-start the scoring drive, and a 42-yard burst through the line to pick up the second of three first downs on the final march. They were the first runs of more than 20 yards allowed by Iowa (6-3, 3-3) this season. His 250 yards are the most for a UW player against Iowa since Dayne's 216 in 1999 — nearly 20 years to the day that Dayne set the NCAA's all-time rushing record.
"It was a good combination of O-line and running backs being on the same page," Taylor said. "I talked about it in previous weeks of being able to be more patient and allow those guys to work up to the next level. I feel like we did a good job of doing that today."
Taylor's effort put to rest Iowa's attempt at a comeback, which saw the Hawkeyes answer Collin Larsh's 29-yard field goal late in the fourth quarter with a 75-yard touchdown strike from quarterback Nate Stanley to Tyrone Tracy Jr.
Stanley, a Menomonie native, tried to run in for the two-point conversion, but Badgers linebacker Chris Orr and safety Eric Burrell combined to smack Stanley at the goal-line and stop him from reaching the ball across.
After two weeks in which the Badgers struggled to get their run game working — they mustered 132 yards against Illinois and just 52 against Ohio State — UW finished with 300 yards Saturday.
You have free articles remaining.
"We knew going in it was a heck of a defense we'd be facing. I thought guys, I think they played well. We had a good plan for them, but you've got to execute it. And obviously JT was big," Badgers coach Paul Chryst said.
UW's offensive line was determined to get back to creating the kind of push that got Taylor into the open field. It hadn't done so since an early-October non-conference game against Kent State, and it knew it had a challenge against Iowa, which came into the game allowing less than 90 rushing yards per contest.
"We were getting drives going, getting back to our offense," junior tackle Cole Van Lanen said. "We were getting back to Wisconsin football where we're driving the field, keeping the time of possession. It felt great to do that. Getting J.T. out in open field was really important for us and we worked really hard in doing that."
Iowa's four-man front lost the line of scrimmage often, and the Badgers took advantage of the bye week by adapting some of their runs to add more pulling linemen. Center Tyler Biadasz in particular pulled often, and he said UW's line knew how Iowa would react to the down blocks that came with the pulls, allowing the Badgers to open big lanes for Taylor.
"I was getting tired," Biadasz said with a smile. "It was just our scheme, and what they showed us and what they were going to give us every time. That was like the flavor of the end of the second half. We played well with it and ran with it."
The threat their receivers posed on the outside played a key role in the run game's success as well. UW junior quarterback Jack Coan hit receiver Quintez Cephus down the Badgers' sideline twice on a third-quarter drive that ensured Iowa couldn't load the box to attack Taylor.
The first saw Cephus gain 52 yards, the longest pass play of the season for UW, and the second was a back-shoulder throw from Coan that Cephus adjusted to catch, spun along the sideline and found the end zone for a 27-yard score. Danny Davis also scored twice, once on a catch and the other on a jet-sweep run.
After a difficult stretch that saw the Badgers' legitimacy as one of the nation's best teams questioned, holding off a tough-nosed Iowa team was a major morale boost. And they got it done with a vintage Taylor performance.
"You get amped up. You're in Camp Randall, Saturday night under the lights, it's coming down to the final drives, they need you to get the first down, they need you to move the chains," Taylor said. "There's no better feeling. There's no better position. You're exactly where you need to be."
Chryst added: "I think what makes that one feel really good is I thought it was a heck of a team win. So many guys made plays, big plays. Kept battling against a really good, obviously really good, Iowa football team. It takes everyone. Needed so many guys. It wasn't perfect, but they kept battling and found a way to win."
---
Photos: Wisconsin Badgers hold off Iowa Hawkeyes in Big Ten West showdown
Badgers 24, Hawkeyes 22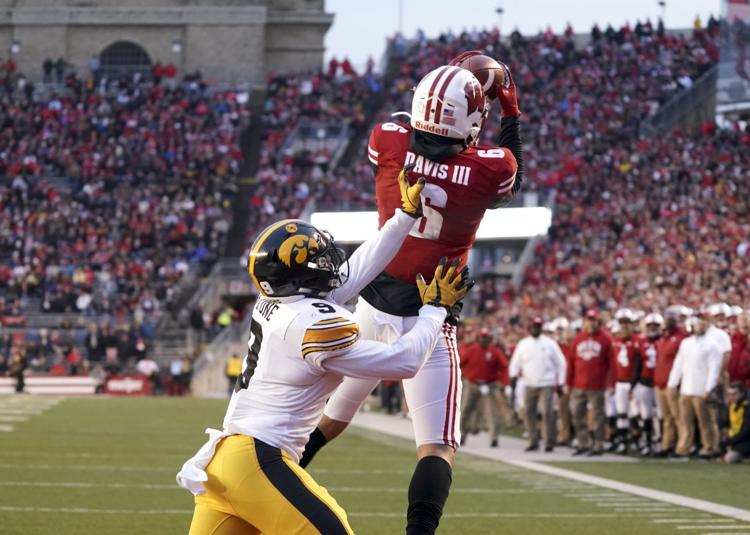 Badgers 24, Hawkeyes 22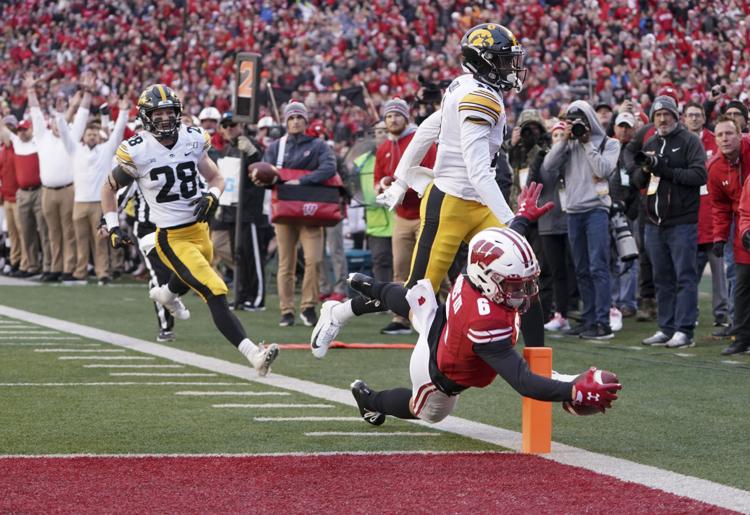 Badgers 24, Hawkeyes 22
Badgers 24, Hawkeyes 22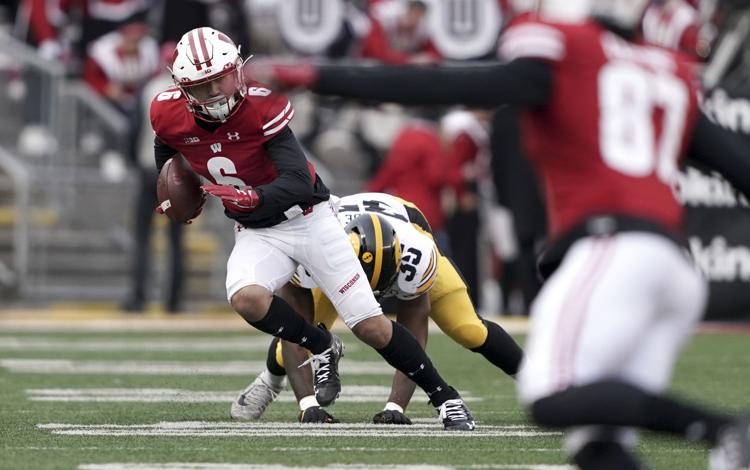 Badgers 24, Hawkeyes 22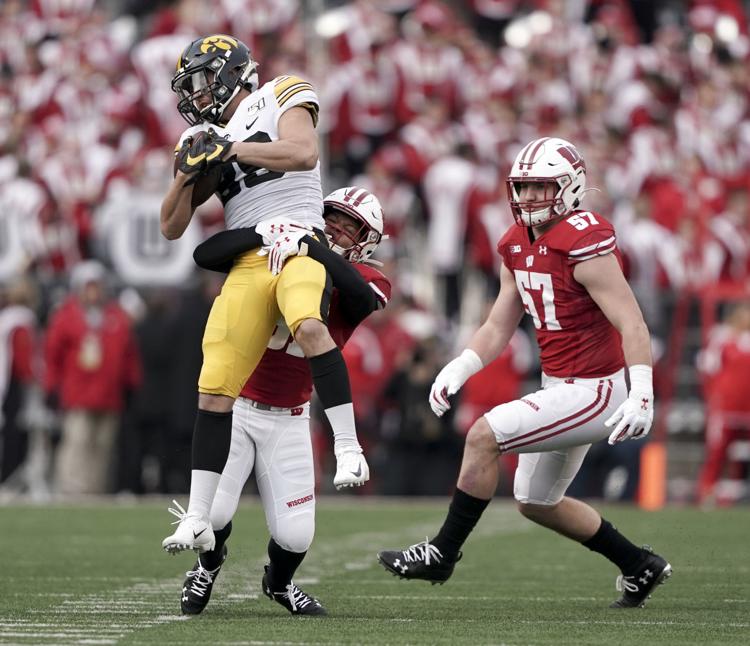 Badgers 24, Hawkeyes 22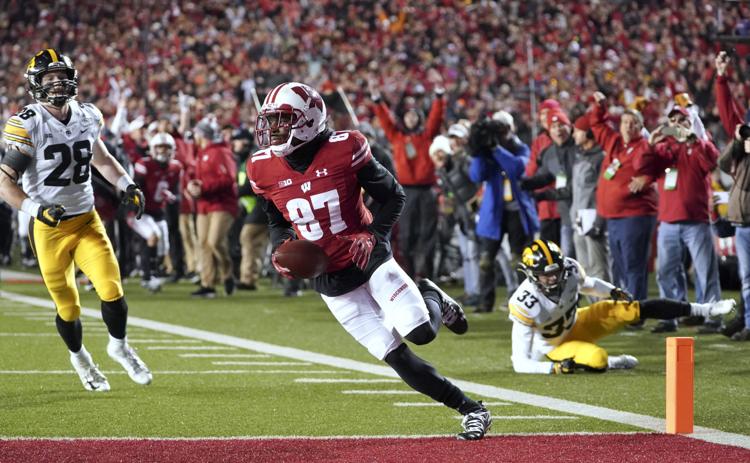 Badgers 24, Hawkeyes 22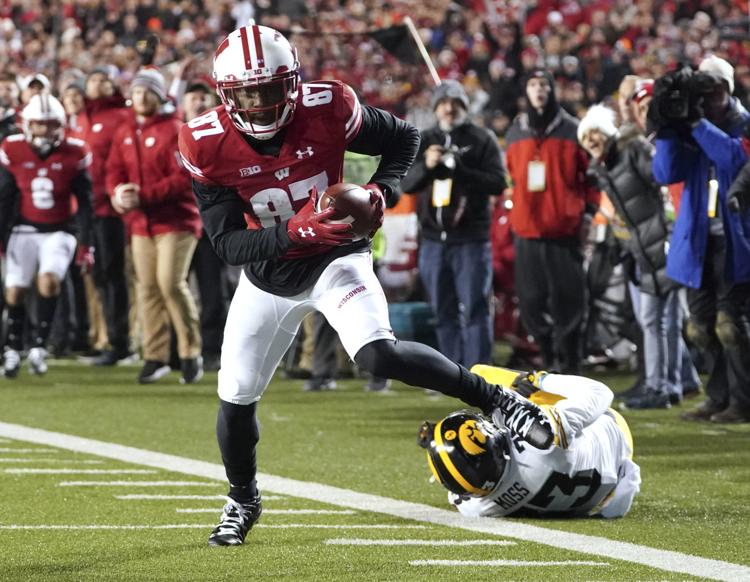 Badgers 24, Hawkeyes 22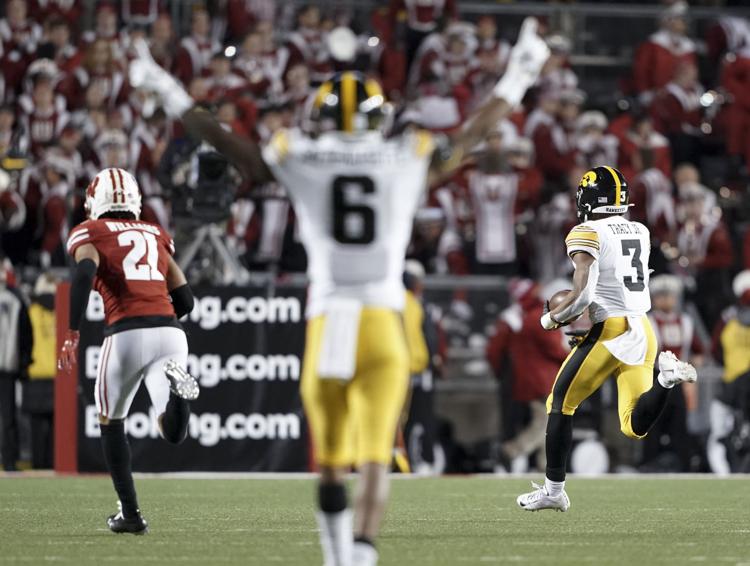 Badgers 24, Hawkeyes 22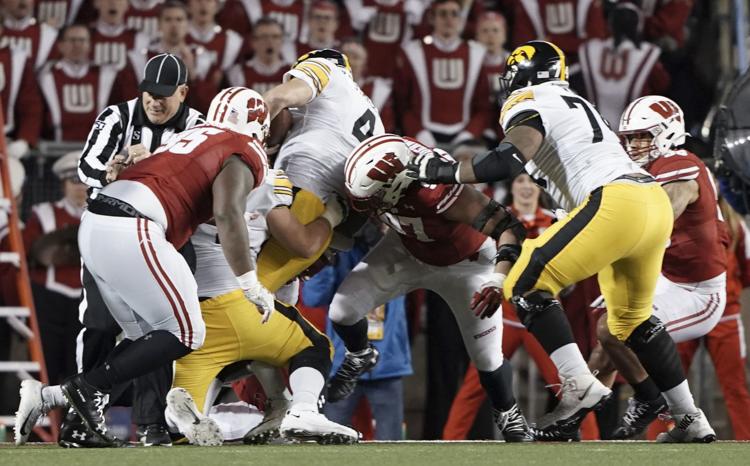 Badgers 24, Hawkeyes 22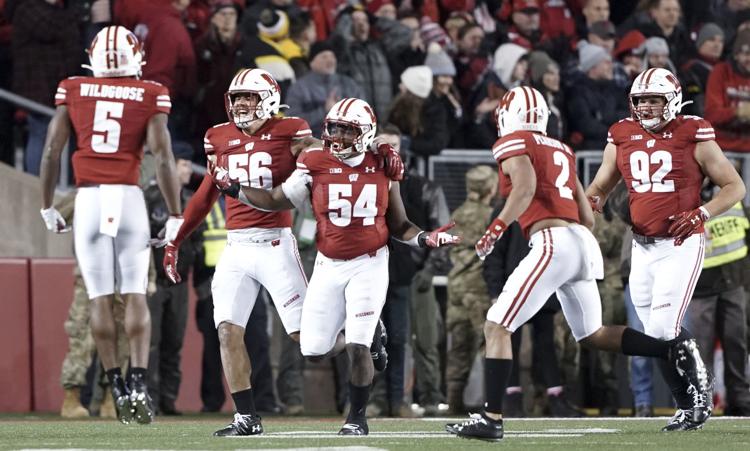 Badgers 24, Hawkeyes 22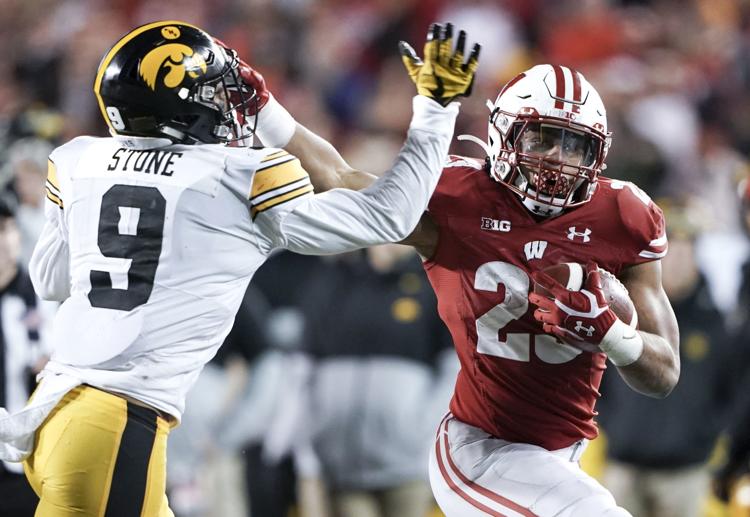 Badgers 24, Hawkeyes 22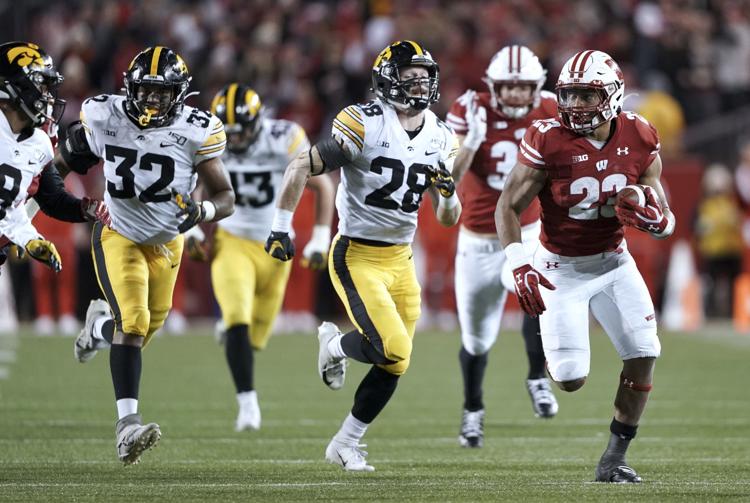 Badgers 24, Hawkeyes 22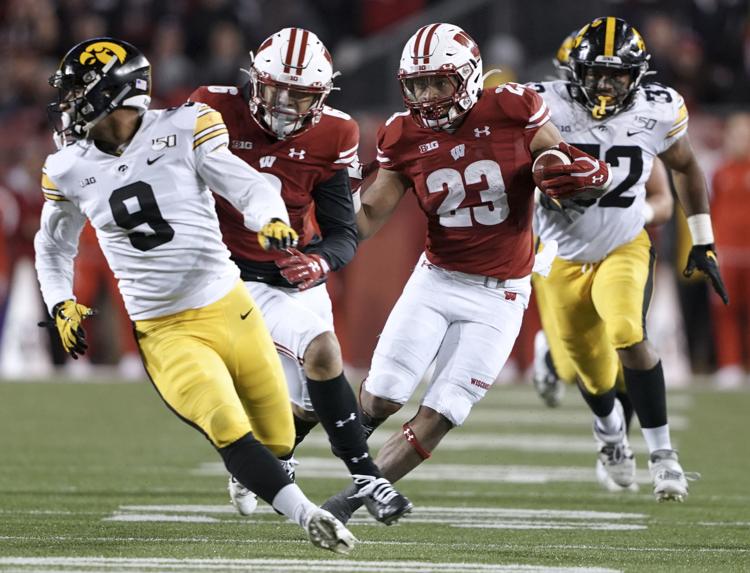 Badgers 24, Hawkeyes 22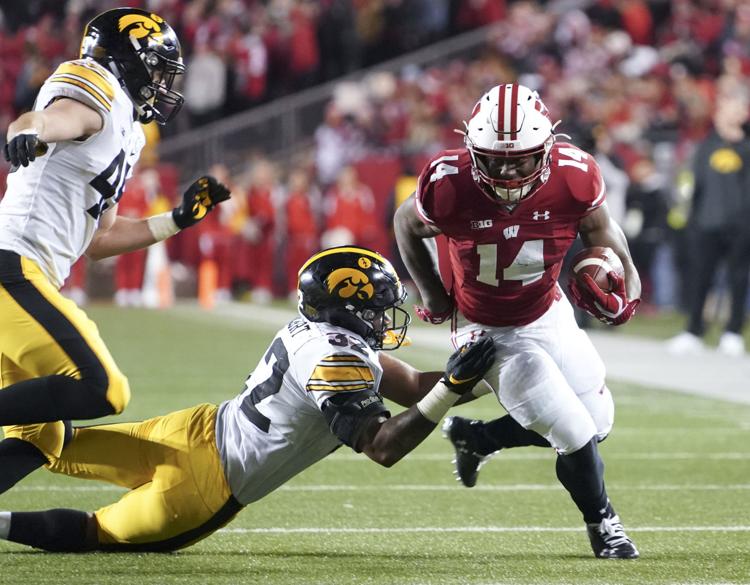 Badgers 24, Hawkeyes 22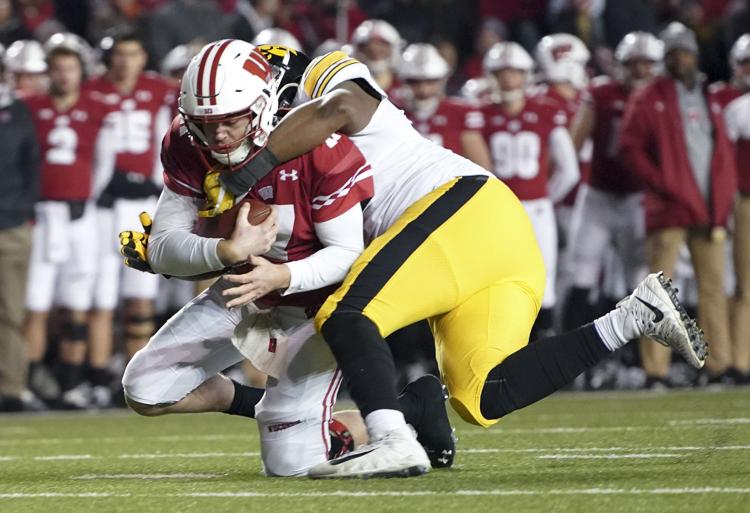 Badgers 24, Hawkeyes 22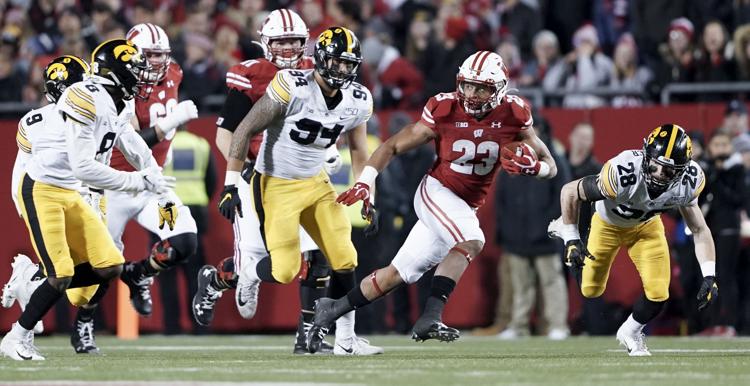 Badgers 24, Hawkeyes 22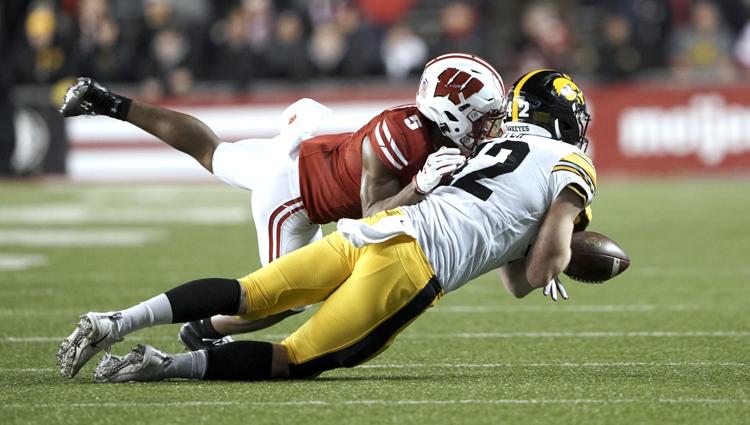 Badgers 24, Hawkeyes 22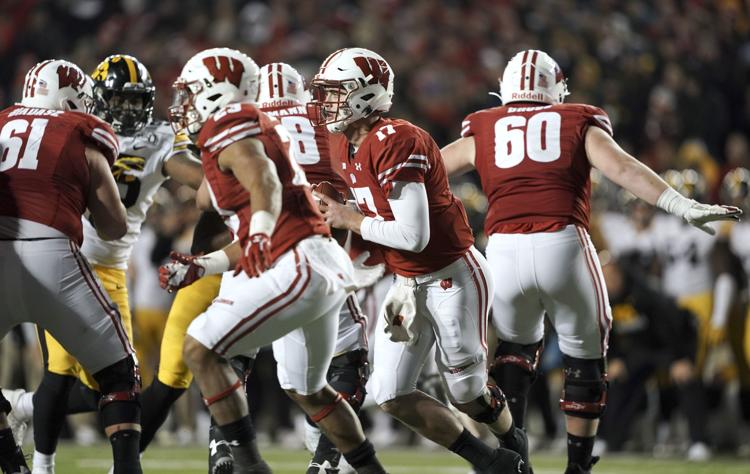 Badgers 24, Hawkeyes 22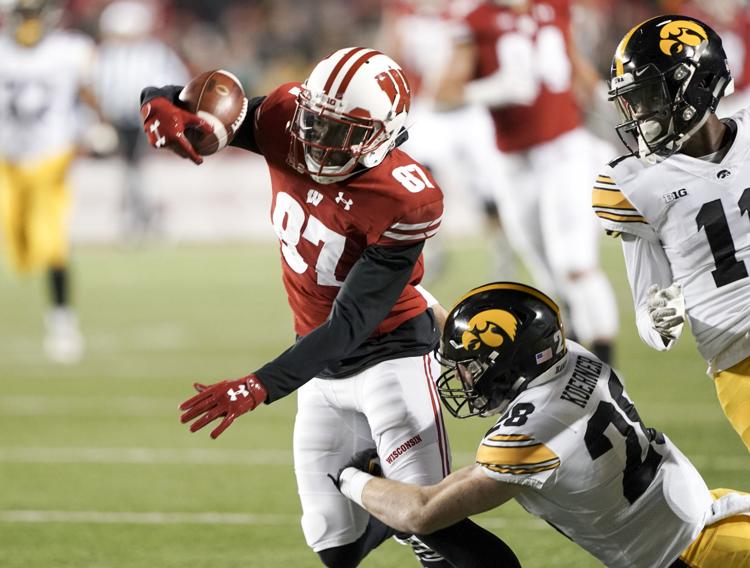 Badgers 24, Hawkeyes 22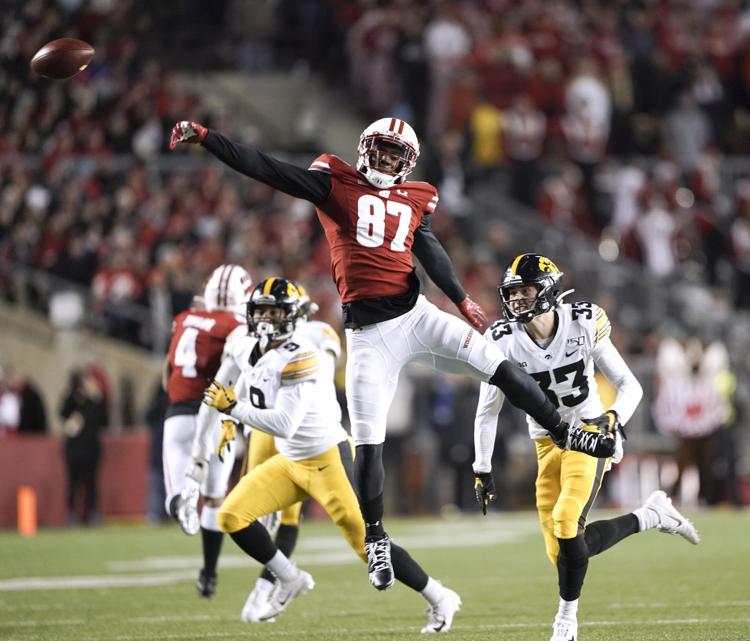 Badgers 24, Hawkeyes 22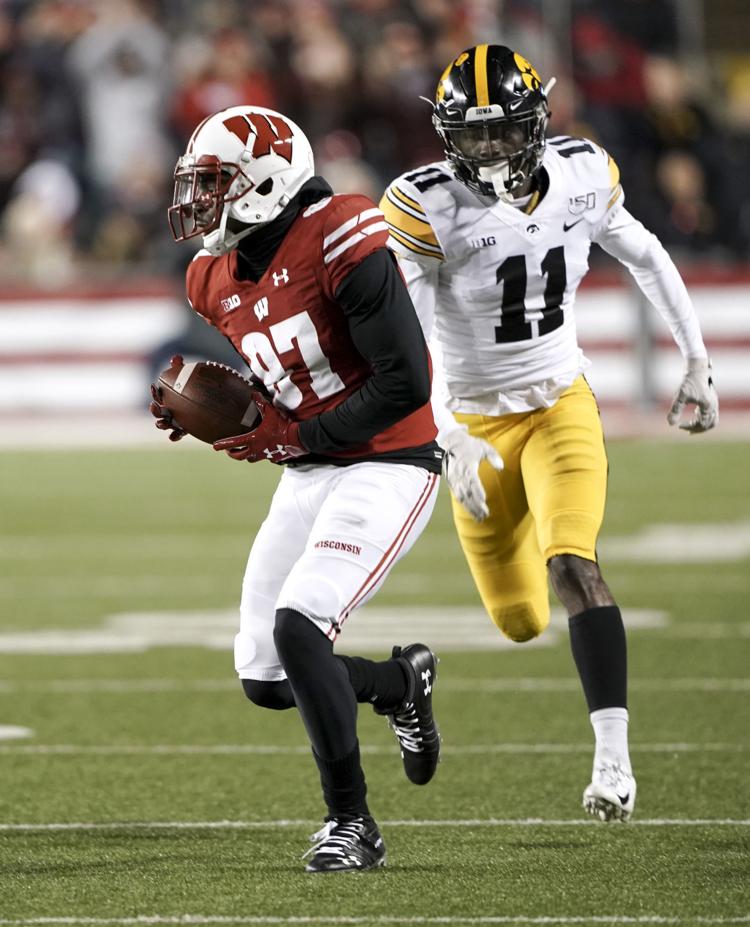 Badgers 24, Hawkeyes 22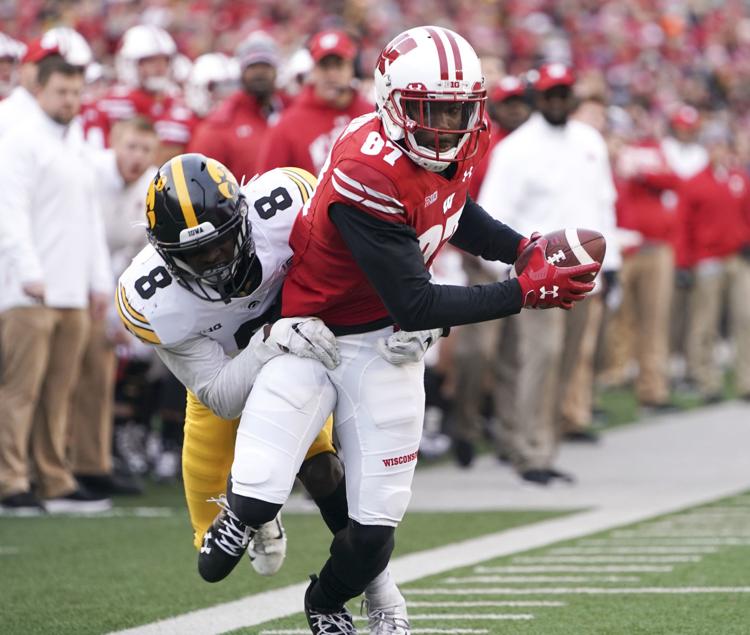 Badgers 24, Hawkeyes 22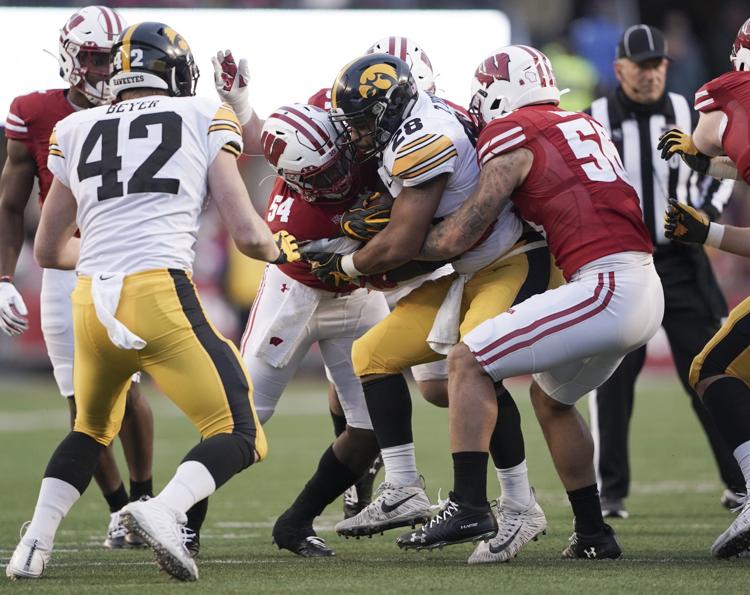 Badgers 24, Hawkeyes 22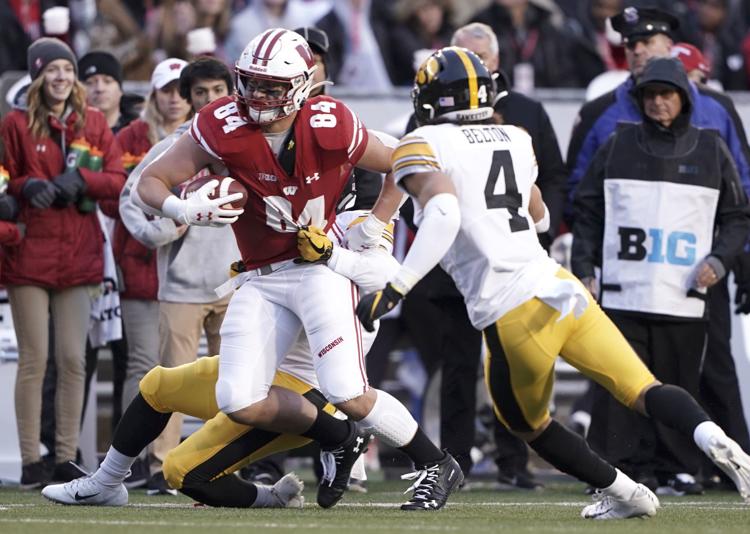 williams photo 11-12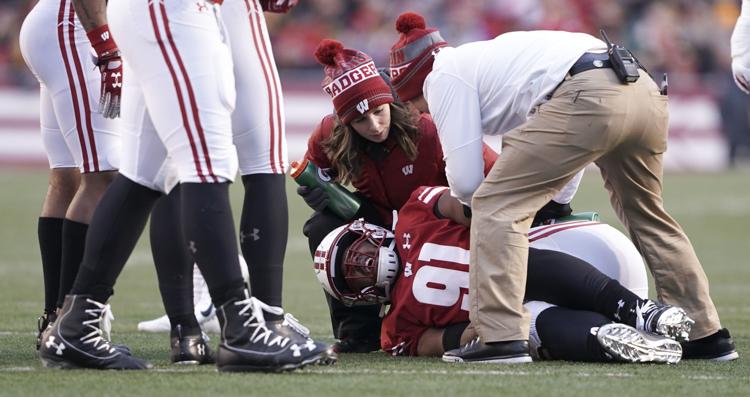 Badgers 24, Hawkeyes 22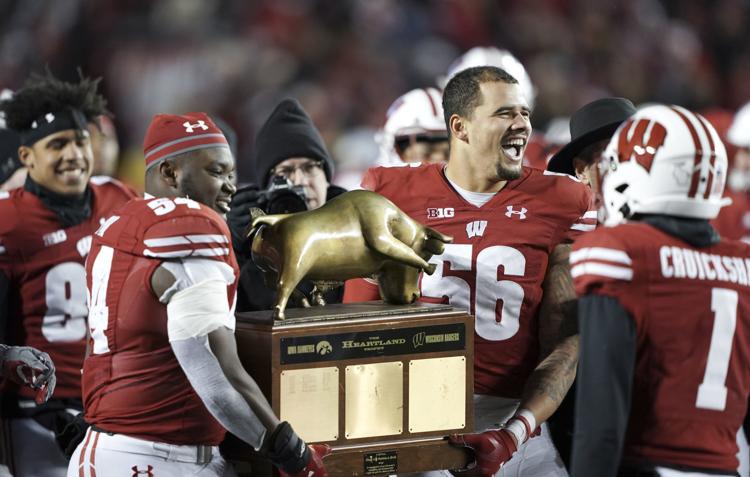 Badgers 24, Hawkeyes 22