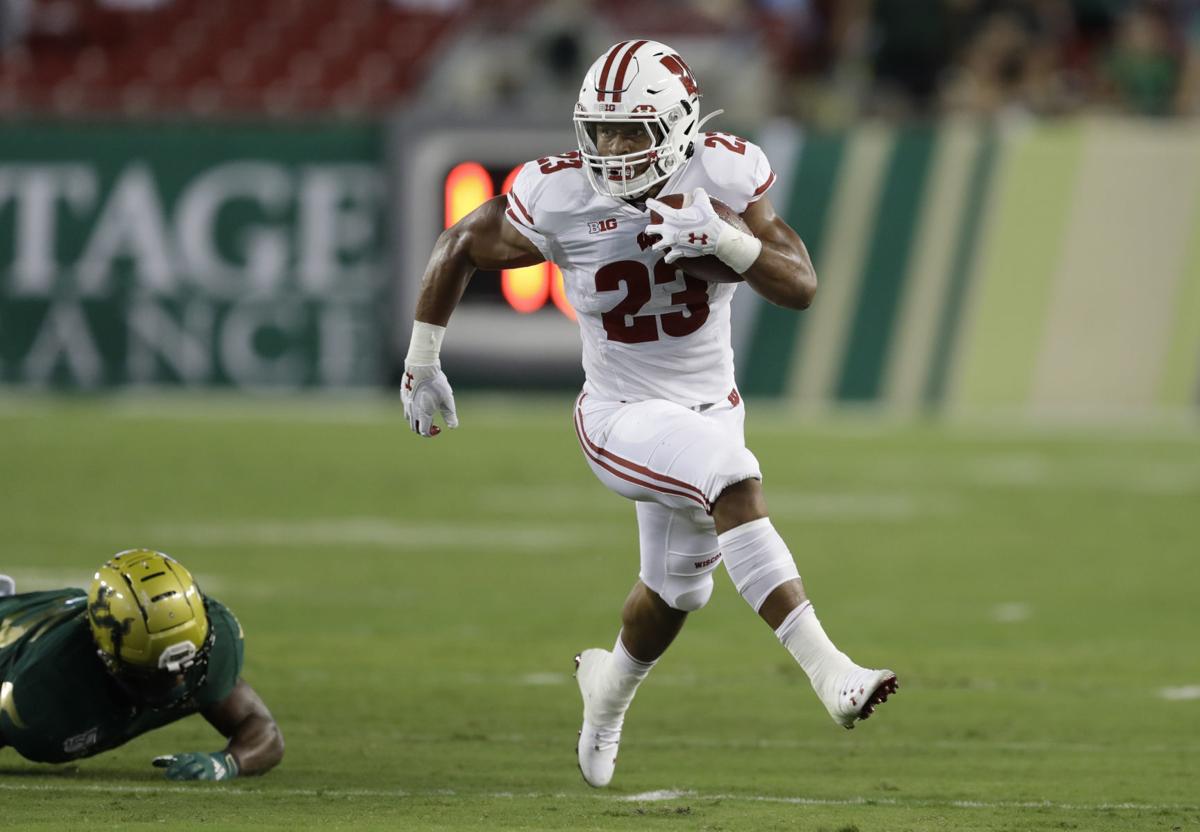 TAMPA, Fla. — University of Wisconsin football coach Paul Chryst was as curious as anyone to see the product on the field.
His Badgers, for the most part, were a healthy outfit. They had, by all accounts, had a strong training camp. Some key questions had been answered, at least as well as they can be when a team practices against itself.
"I like the foundation that's been laid," said Chryst, coming off an 8-5 season that serves as the low-water mark in his four-year run in charge of the program. "Now we get to — and have to — go and do it against an opponent."
Chryst was happy with what he saw Friday night at Raymond James Stadium, where No. 19 UW opened the 2019 season by rolling to a 49-0 victory over South Florida in a game that started nearly an hour late due to a lightning delay.
Junior tailback Jonathan Taylor kicked off his Heisman Trophy campaign in style, producing 183 total yards and four touchdowns in less than three quarters of work. Taylor rushed for 135 yards and two scores and found the end zone on both of his receptions, totaling 48 yards.
Chryst never gets too carried away with praise and he delivered an understated — but accurate — assessment of Taylor's explosiveness.
"You get him space and — here's one for you — he's pretty good," Chryst said.
Just as impressive as Taylor's big day was a terrific performance by the UW defense, an encouraging sign that the unit can bounce back from a down year in 2018.
The Badgers held the Bulls to 157 total yards and nine first downs. There was 5:15 remaining in the third quarter when South Florida finally reached 100 total yards.
Better yet, UW forced three turnovers and scored a touchdown of its own when sophomore defensive end Matt Henningsen converted a fumble recovery into six points in the second quarter.
UW played the entire game in its nickel package to counter South Florida's spread attack. The Bulls' longest play from scrimmage was 19 yards, and that didn't come until late in the game.
"We wanted to make a statement, not only to other teams around the country, but to our team as well that we can do this, we're a good defense, we've got the right players," UW senior outside linebacker Zack Baun said. "We just needed to execute."
Another key question heading into the season was whether the Badgers could get better play at quarterback. Junior Jack Coan had a solid season debut, completing 19 of 26 passes for 199 yards and the two scores to Taylor before giving way to redshirt freshman Chase Wolf in the fourth quarter.
UW played an excellent first half to build a 28-0 lead.
Junior wide receiver Quintez Cephus, who missed the entire season and hadn't played a game in about 22 months, didn't take long to make an impact.
He was on the receiving end of UW's first pass attempt of the season, a 13-yard dart from Coan on third-and-7 on the opening series of the game. Two plays later, Taylor got a key block from junior wide receiver Kendric Pryor and scooted down the sidelines for a 37-yard touchdown run.
UW's offense sputtered on back-to-back series, but the defense did its part by doing something it didn't do at all in 2018: score a touchdown. Baun got things started by hitting South Florida quarterback Blake Barnett in the pocket and the ball popped into the hands of Henningsen, who returned the fumble 16 yards for a score.
Coan got in a groove in the second quarter — but he got a lot of help from the Badgers' best player.
Taylor, who didn't have a receiving touchdown in his first two seasons at UW, had two in span of three series before halftime.
After taking a screen pass 37 yards to make it 21-0, Taylor caught a dumpoff pass from Coan and powered his way into the end zone for a 12-yard score with 2 seconds remaining in the half. Taylor did his quarterback a huge favor on the play because Coan threw short of the end zone and UW was out of timeouts.
"The plan was to take a shot at the end zone and then hopefully get another kick at the can," said Coan, who admitted that Chryst wasn't pleased with his decision on the play. "But when you have the best player in America, just give him the ball and he's going to make a play."
The Badgers didn't let up after halftime. Taylor scored on a 38-yard run on UW's opening series of the third quarter, and backup tailbacks Nakia Watson and Bradrick Shaw added touchdowns on the ground to extend the cushion to 49-0.
The only drama left in the game was whether or not South Florida would score. It put together a drive late in the game but couldn't convert on a 44-yard field goal with 2:36 remaining.
It wasn't a perfect performance, but Chryst didn't have a whole lot to complain about afterward.
"One game is a small, small sample size," Chryst said. "But it gets it started at least."
Prepare for kick off of the University of Wisconsin's football season on Friday night against the South Florida Bulls with the Wisconsin State…
Be the first to know
Get local news delivered to your inbox!