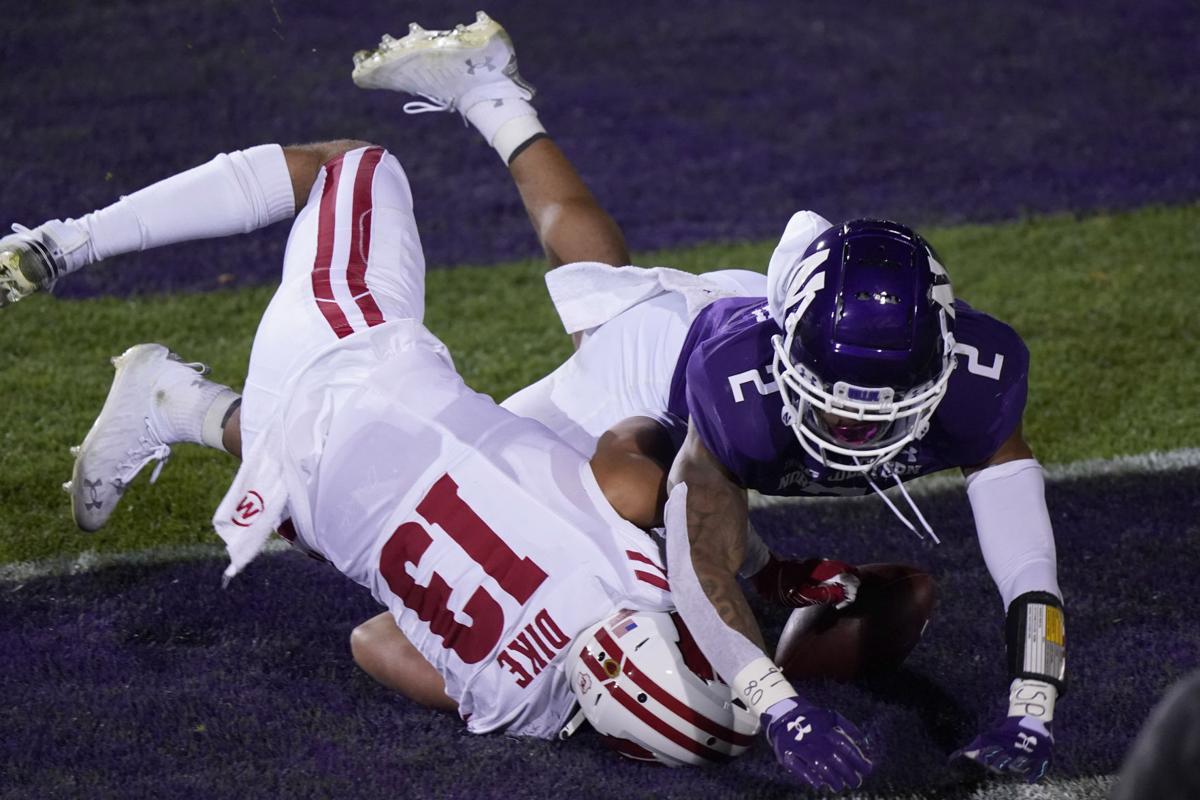 EVANSTON, Ill. — While the pregame list of unavailable players for the University of Wisconsin football team Saturday wasn't necessarily long, it included some big names.
Among the players who missed the game for unspecified reasons were senior wide receivers Danny Davis and Kendric Pryor. It was also announced that junior defensive end Matt Henningsen (left elbow) and junior outside linebacker Izayah Green-May (right arm) will miss the remainder of the season with injuries. Henningsen was injured last week against Michigan, but Green-May hasn't played since the season-opener against Illinois.
UW also lost junior cornerback Rachad Wildgoose to a right shoulder injury late in the first half. Wildgoose didn't return to the game and was seen wearing a sling on the sidelines after halftime.
Both Davis and Pryor got banged up during the Badgers' 49-11 win at Michigan last week. UW coach Paul Chryst said he knew early in the week that Davis wouldn't be ready for the game against Northwestern but held out hope that Pryor could play.
Not having their two most experienced wide receivers left the Badgers with a green group at that position. Freshman Chimere Dike hauled in a 49-yard touchdown pass in the first quarter, but the wide receivers consistently struggled to get open.
It also put more pressure on junior tight end Jake Ferguson, who led the Badgers with seven catches for 58 yards before leaving the game with an injury in the fourth quarter.
Ferguson appeared to injure his right shoulder earlier in the game but returned. After his final catch, he was helped off the field while holding his right arm.
Flag day
UW defensive backs were penalized four times for pass interference, and senior safety Eric Burrell made it clear he thought some of the calls were shaky.
"Those are tough calls to be made," Burrell said. "That's why we're not referees. They decided to do what they thought was the right call. I question some of them."
Safety Scott Nelson and Wildgoose were each flagged for pass interference on passes in the end zone on Northwestern's first drive, which ended with a touchdown. In the play involving Nelson, it appeared the pass was uncatchable.
In the second quarter, UW senior cornerback Caesar Williams had an interception wiped out when he was flagged for interfering with Northwestern wide receiver Ramaud Chiaokhiao-Bowman while the ball was in the air. Had the pick stood, the Badgers would have had possession of the ball in Northwestern territory.
Finally, Burrell was flagged for interference on a third-and-9 play that kept alive a Northwestern drive that ended with a field goal.
Berger shines
Freshman tailback Jalen Berger led the Badgers in rushing for the second consecutive week. He tallied 93 of the team's 136 rushing yards. He averaged 6.2 yards per carry on 15 tries; the next highest for UW was 3.7 from sophomore Nakia Watson.
"I thought he did some good things today," Chryst said. "A running back, it doesn't just happen for him. I thought there was good design and guys executed."
While Chryst acknowledged that Berger has earned more playing time, he said UW will continue to use a committee approach at the position. Watson had seven rushes for 26 yards against Northwestern, while senior Garrett Groshek had 10 yards on seven attempts after sitting out the Michigan game.
"We're going to need all of them," Chryst said. "So it was good to have Grosh back. But we're going to need Nakia and Jalen and Grosh for us to be as good of an offense as we can be."
Pressure comes up empty
UW defensive coordinator Jim Leonhard said this week that he thought his group's pass rush was sloppy last week. It seemed cleaner against the Wildcats, but it failed to produce a sack until late in the game when Northwestern quarterback Peyton Ramsey was running out the clock.
Linebackers and defensive backs were used often to put the heat on Ramsey. The Badgers had 13 quarterback hurries, led by five from linebacker Leo Chenal, but Ramsey consistently got the ball out of his hands before he could be taken down.
"A lot of the times we'd get to the quarterback and the ball's gone," Chenal said. "He did a good job of finding the open guy right away and just getting the ball out of there real quick. It was kind of frustrating for me just pulling up there short every single time, just about. (We'll) just keep doing what we're doing. You're hoping to get one, but we got pressure, just keep working."
---
State Journal reporter Colten Bartholomew contributed to this report. 
---
Photos: Badgers offense stalls against stingy Wildcats