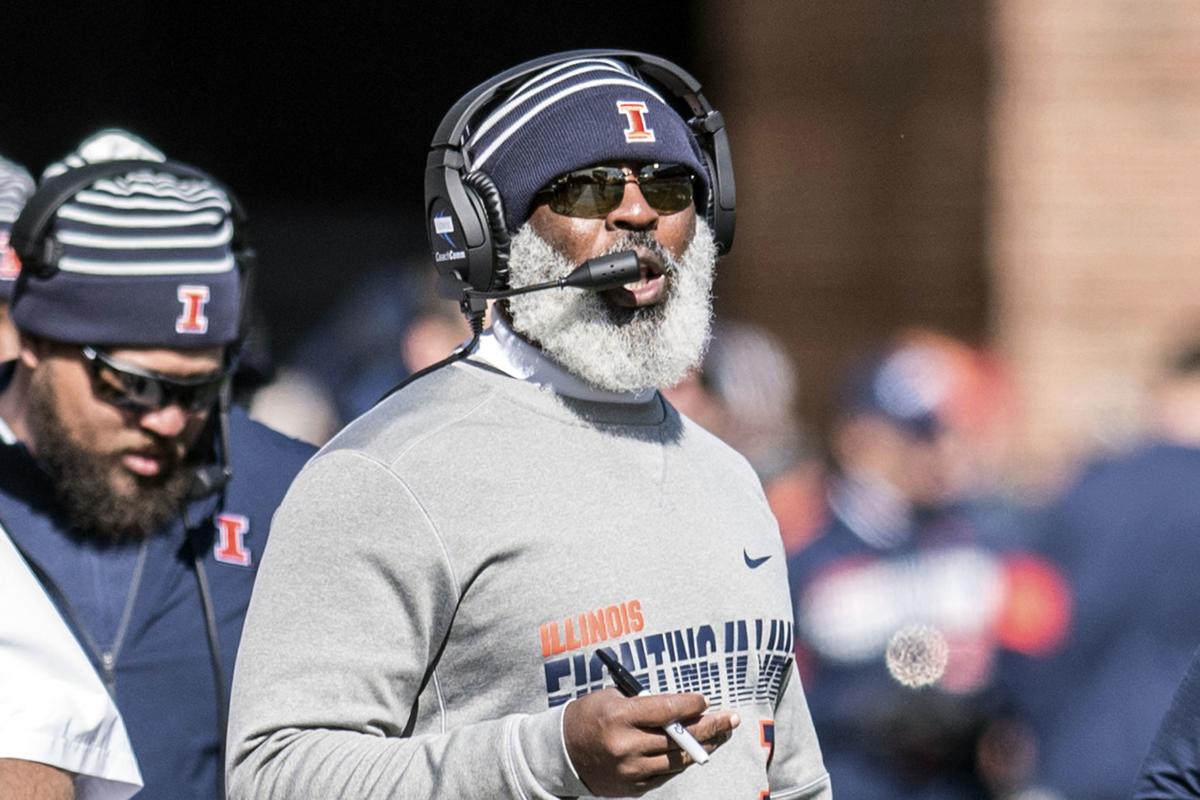 Illinois announced this week it will open the 2021 football season by playing Nebraska in Dublin, Ireland.
Which raises a question: Will Lovie Smith still be in charge of the program at that point?
The Fighting Illini are 2-4 overall, 0-3 in the Big Ten Conference heading into Saturday's game against the University of Wisconsin at Memorial Stadium in Champaign, Illinois. The No. 6 Badgers (6-0, 3-0 Big Ten) opened as 29-point favorites over the Illini, who have lost nine consecutive times in meetings between the two schools, all by double digits.
Illinois athletic director Josh Whitman offered a vote of confidence following the 2018 season by extending Smith's contract by two years. "We wanted to demonstrate firmly and strongly that this is a direction that we believe in," Whitman said at the time. "This is a person we believe in. This is a program that's on the rise."
That doesn't appear to be the case. The Illini have lost four straight since starting the season 2-0 and are on pace for their eighth consecutive losing season.
Smith — in his fourth season at Illinois after coaching the NFL's Chicago Bears (2004-12) and Tampa Bay Buccaneers (2014-15) — is 11-31 overall and 4-26 in the Big Ten.
The latest setback was a 42-25 loss at home to Michigan last week. Illinois fell behind 28-0 in the first half, pulled to within 28-25 in the fourth quarter and couldn't close the deal.
"When you get down 28-0 you have some decisions to make and we decided that first off we are a lot better football team than that," Smith said, "but more importantly we are going to play a lot better than that."
According to UW senior inside linebacker Chris Orr, preparing for the Illinois offense isn't easy.
One challenge is preparing for multiple quarterbacks. Senior Brandon Peters missed the Michigan game with an upper-body injury and is questionable for Saturday's game.
Redshirt freshman Matt Robinson started in Peters' place last week and gave Illinois a chance to win.
Senior tailback Reggie Corbin has experience and big-play ability, while USC transfer Josh Imatorbhebhe has accounted for five of the Illini's 11 touchdown receptions and is averaging 16.1 yards per catch.
"They're actually really diverse, especially in the run game," Orr said. "They do some things that make you scratch your head and make you think twice about. With them being diverse, and making you think a little bit, they give their players a chance to make big plays.
"It's actually pretty hard to prepare for, that's going to be a great challenge to look forward to. Definitely some mental gymnastics. It'll be fun."
Junior tailback Jonathan Taylor and the UW offense could have some fun, too.
Illinois ranked 114th or worse in the four major defensive categories last season, including 127th in total defense at 508.3 yards per game.
The response from Smith, who coached the Bears to a Super Bowl appearance after the 2006 season, was to put himself in charge of the defense. It wasn't a crazy idea considering Smith's background on that side of the ball.
But midway through the season, the Illini rank near the bottom of the conference in every defensive category.
Now, the Illini have to face a balanced attack led by a Heisman Trophy candidate.
"It's not going to be a finesse game this week," Smith said. "We need to put our big boy pads on and we plan on putting them on this week."
Be the first to know
Get local news delivered to your inbox!