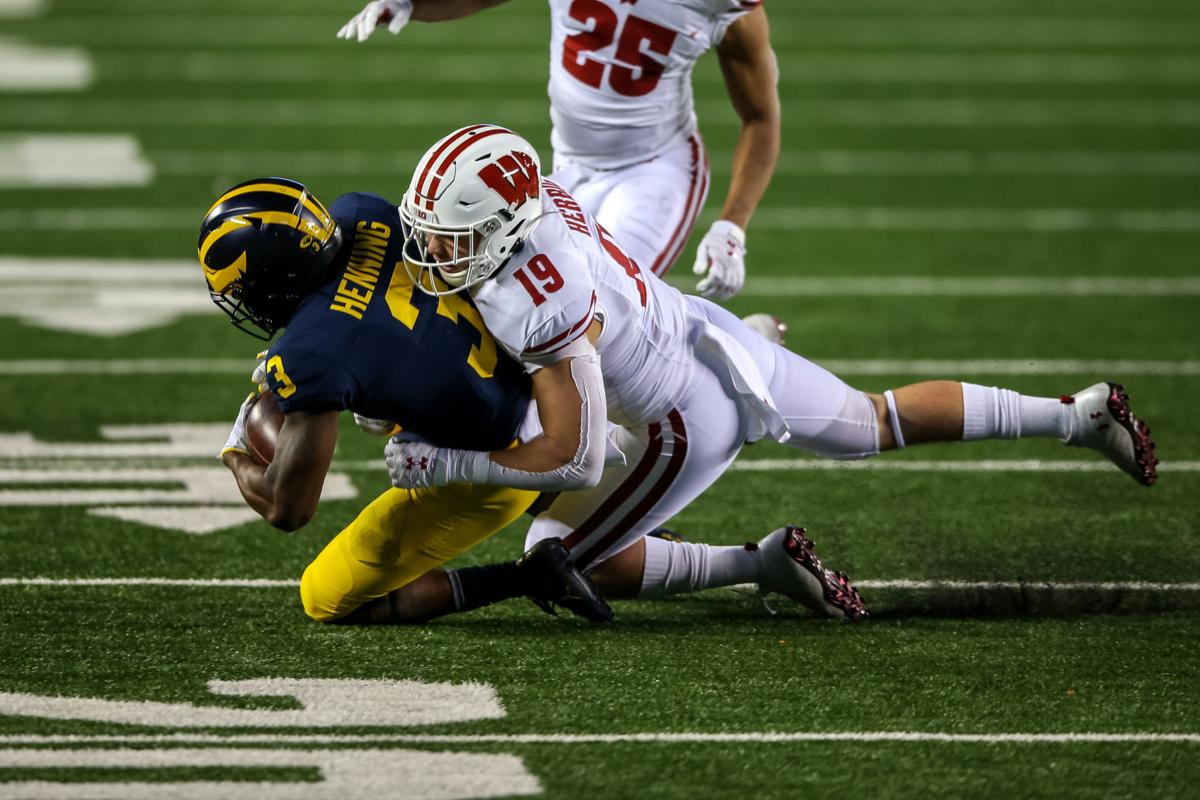 It takes a lot to surprise Cole Van Lanen.
The senior offensive tackle and preseason AP All-American for the University of Wisconsin football team has blocked some of the best edge rushers the Big Ten Conference has had to offer, including the No. 2 overall pick in the NFL draft last season, Ohio State's Chase Young.
So when he says his eyes were opened by teammate Nick Herbig, a freshman outside linebacker, it means something.
"Even in camp going against him, I'm like, 'Who is this guy?' Came on strong, came on fast," Van Lanen said this week. "I love his effort level. I think he's going to be a really good football player; I think he's already a good football player."
Herbig has been turning heads since he arrived on campus. Heading into a pivotal midseason game for No. 10 UW (2-0) at No. 19 Northwestern (4-0), slated for 2:30 p.m. Saturday on ABC, Herbig has been a welcome surprise on a defense needing to find the next in line at outside linebacker. He's tallied six tackles, including a team-leading four tackles for loss, a sack and a pass breakup in two college games.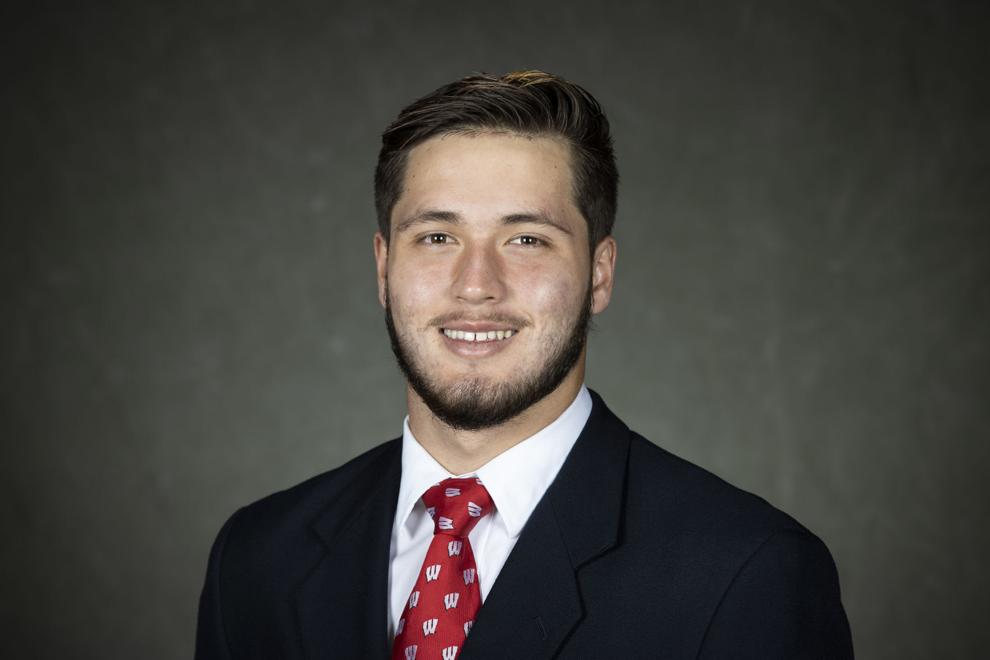 "I've been pleased, obviously, with the start that he's had. And you know when you talk to Nick, and when you're around Nick, he's probably the one guy that's not real pleased with it," UW coach Paul Chryst said.
"He expects a lot out of himself, yet I think he's realistic and knows there's a lot to learn and really just wants to be a contributor. I've loved his approach, his work ethic. Each day, not just each game, but each day is a good day for him and it's a chance to continue to improve. We're certainly glad that he's with us."
Even if he's not happy with his first two games, Herbig has given fans, coaches and teammates reasons to believe he's a future star of this defense — and that that future is rapidly approaching.
"I see him get sacks and stuff and I knew it was coming," Van Lanen said. "I'm just excited. Excited for what he's going to do this year and excited for what he's going to do later on."
Growing up fast
Herbig came to UW uniquely prepared for college life.
Yes, there were the requisite adjustments to classwork and football, but Herbig had already done what some say is the hardest part about getting settled into college. In order to attend Saint Louis School — a football powerhouse in Honolulu, Hawaii — he had to move away from his parents in his hometown and home island of Kauai.
Herbig lived with his grandparents while in high school, a path his brother, Nate, also followed.
"I had to grow up a lot faster because they weren't there," Herbig said of his prep career. "But my grandparents were still great, my Poppa and Gram, they took care of me. But I do think there was a stage where I had to say, 'OK, I'm on my own now. I need to tighten up.'
"It helped me transition to college earlier because I knew what it was like to be without my parents."
Herbig was part of four state championship teams under coach Cal Lee and said the decision to go to Saint Louis was the best he could've made and it helped shape him into who he is today.
Lee said Herbig's family was a special one that was able to stay close despite the circumstances.
"I've told him, 'You have some good parents,' and that's a reflection on the boy," Lee said. "How he was brought up and those parents, I love those parents because they sacrificed a lot for him."
UW defensive line coach Inoke Breckterfield played for Lee in a high school all-star game in the mid-90s, and that relationship connected Breckterfield with Herbig in the recruiting process. Herbig eventually committed to UW during his official visit in June 2019.
The maturity that Herbig developed during high school helped him navigate the pandemic-altered school and football calendar throughout the spring and summer. He trained with his brother Nate — a starting guard for the Philadelphia Eagles who went to Stanford — before returning home after campus closed in the spring. He returned when UW reopened for football players in June.
He said he tried to keep calm when the Big Ten season was canceled and then revived.
"It was definitely a rollercoaster of emotions. We're getting excited, we're about to play our first game, the schedule game. 'OK, it's finally happening, we're here.' And then they cancel the season so we're like, 'Oh …' I didn't really know how to feel about it," he said.
"But I was just keeping a positive mindset, keep working out every game, because like I said, throw the ball out and we'll go play. It just so happened that we could play, we'd been training this whole time, we just kept working and grinding hard, kept pushing each other every day so we were ready to play."
Relentless competitor
When the Badgers began practices this fall, Herbig quickly made a name for himself with his effort.
"He has the skill set, but in a young player you don't always see that consistent competitiveness and that physical nature play in and play out," UW offensive coordinator Joe Rudolph said. "I've really enjoyed him and what he brings to the practice and what he brings to this team."
Those traits started at home.
Herbig's older brothers, Jake and Nate, made him fight for everything. Their dad, Bruce, was a two-sport college athlete and didn't give his sons an inch athletically, Herbig said.
"I think it started with my dad because my dad never let us win anything when we were younger. Not basketball, not football, like … my dad never let us win anything. Obviously my brothers aren't going to let me win," he said. "Everything in our house was a competition, so I definitely think that helped me mold into the man that I am today."
Lee saw the competitive fire right away in Herbig.
"He just had this relentless attitude about playing the game he loved. These are things that you teach the kids about playing to the whistle and playing hard every single play, and he was a kid that I never really had to tell him much about lining up and getting ready because he was always ready to go," Lee said.
"We have a whistle and the whistle means to stop — sometimes I'd blow the whistle a little bit early because he was one of those that kept on going."
Carrying on a tradition
About a week before the Badgers opened their season against Illinois, Herbig learned he'd be in the starting lineup. He was filling the role vacated by Zack Baun, who continued UW's pipeline of putting linebackers into the NFL this spring when he was drafted by the New Orleans Saints.
Herbig hasn't spoken directly about NFL dreams yet, but said he's working to be the next great Badgers linebacker.
"I'm blessed to be here. I've been working for this my whole life," he said. "I dreamed about this my whole life, I've been working my whole life, now I've finally got the opportunity and that's all I needed. So I mean, I'm not trying to be cocky in any way, but I'm not surprised I'm here because I put the work in."
Humility is important to Herbig. It was a quality that senior safety and team captain Eric Burrell said he saw in Herbig when he visited campus and convinced him that Herbig would be a good fit in UW's program.
"We're here to make plays, we're supposed to make plays, it's nothing special. Everybody is kind of well-grounded in that and that's a credit to the coaches," Herbig said.
"My dad always told me, 'Be humble and walk with God.' So I try my best every day to be humble and walk with God. Because I mean, it's what we're supposed to do. I don't want to be out here bragging about this and that. I just like to keep it to myself, staying cool, staying calm, keep making plays and doing what I do."
---
Who has the edge when the Badgers travel to Northwestern?
Who has the edge when the No. 10 Badgers travel to No. 19 Northwestern?
WHEN THE BADGERS HAVE THE BALL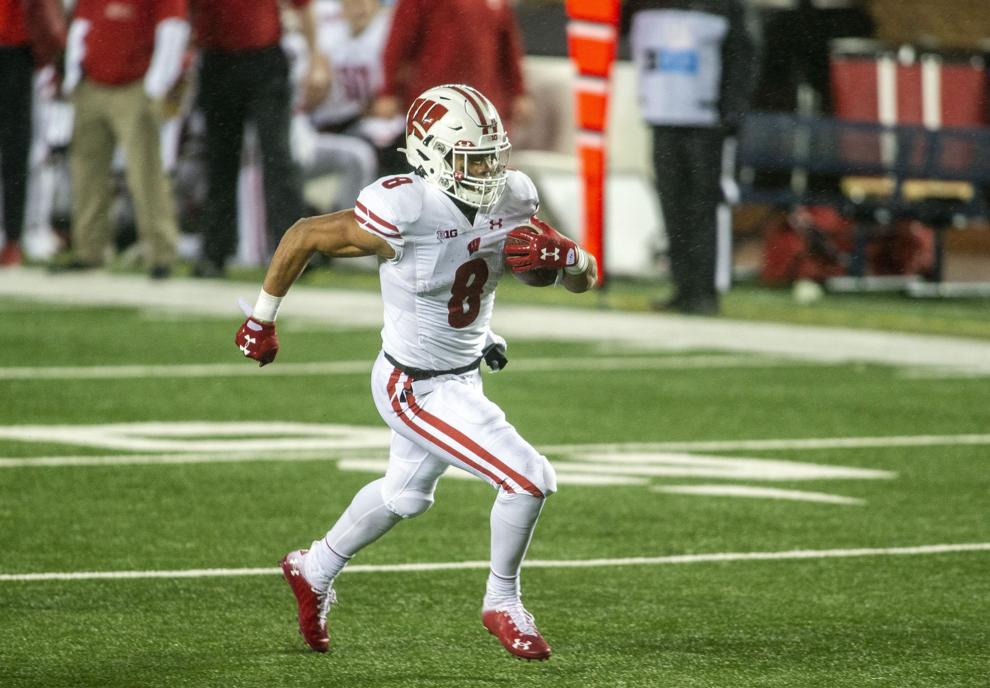 UW found its rushing attack last week at Michigan despite being down two key running backs. True freshman tailback Jalen Berger (above) made his first contributions, gaining 87 yards and scoring a touchdown on 15 carries and the Badgers racked up 341 yards on the ground. Five players had at least 30 yards rushing and UW consistently found ways to attack the perimeter of Michigan's defense. Receiver Danny Davis was crucial to the effort as well, gaining 65 yards on seven jet sweep carries.
That made things easier for redshirt freshman quarterback Graham Mertz, who was a little rusty after recovering from a COVID-19 infection. He had two passing touchdowns, including a nice throw to tight end Jake Ferguson in the end zone, but he wasn't as sharp as he was in the season opener against Illinois. Northwestern has eight interceptions and statistically one of the best pass defenses in the nation, so Mertz will have to be smart with the ball.
With jet sweeps, reverses and pitches, the Badgers have shown a number of ways that they can attack the edges of a defense. Challenging the perimeter may be crucial again this week at Northwestern, which has held UW under 200 yards rushing in their past four meetings and allowed 3.8 yards per carry in those contests. Northwestern is allowing 91.8 yards per game rushing this season and has only given up two rushing touchdowns.
The Badgers' offensive line adjusted well without starting guard Josh Seltzner, one of the players who contracted the coronavirus. Senior Jon Dietzen slid to left guard to fill his spot, Logan Bruss moved from right tackle to right guard and Tyler Beach started at right tackle. Mertz was only sacked once against Michigan and the Wildcats have just seven sacks this season.
Linebacker Paddy Fisher (33 tackles) draws the attention for Northwestern's defense, but fellow linebackers Blake Gallagher (34 tackles, 4½ for loss) and Chris Bergin (36 tackles, three pass breakups) have been just as impactful this season.
EDGE | UW
WHEN THE WILDCATS HAVE THE BALL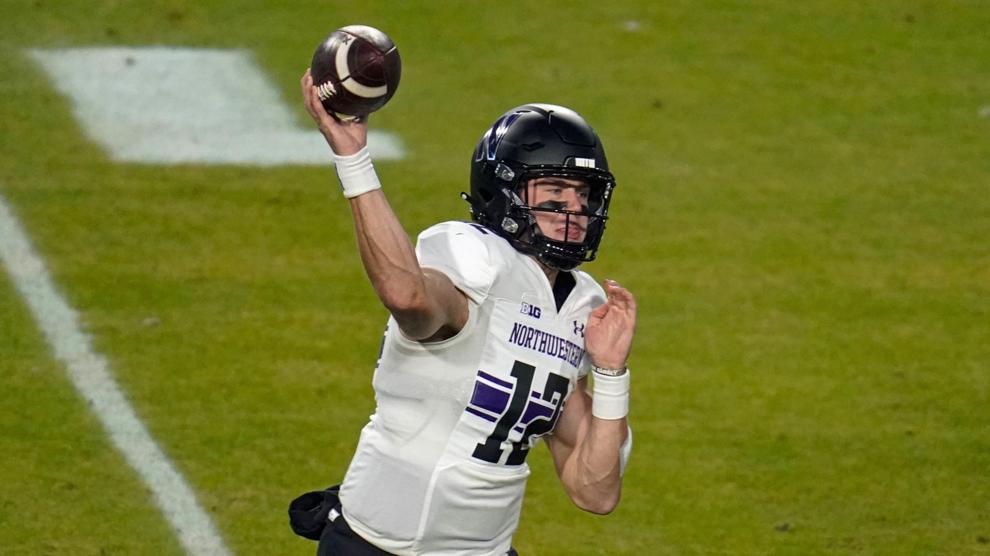 The Badgers' defense has proven to be as good as advertised through two games, allowing opponents just 18 points and 18 first downs thus far. UW's passing defense efficiency of 83.45 is second-best in the FBS and ranks first among teams who have played multiple games.
UW has gotten contributions from all over its defense. Four players lead the team with seven tackles, and three more have at least five. UW's massive time-of-possession advantage (average of 41:52-18:08 so far) and the defense's ability to get off the field on third downs — opponents are 5 of 21 on third-down tries — has kept the unit fresh and effective.
True freshman linebacker Nick Herbig continued to stand out against Michigan, tallying five tackles, three of which were for loss. His four TFLs this season lead the team.
Northwestern quarterback Peyton Ramsey (above), a transfer from Indiana, has thrived under new offensive coordinator Mike Bajakian. He's averaging 180.8 yards per game and has six touchdown passes after the Wildcats had one of the worst passing offenses in the nation last season.
Stopping the run has been a strength of UW's defense thus far, allowing just 89 yards per game. The Badgers will need to be stout against the run again facing Northwestern, which uses a number of backs. Led by sophomore Drake Anderson (198 yards, two TDs), the Wildcats also feature Isaiah Bowser (182, one) and Ramsey (122, one) prominently in the run game.
EDGE | UW
SPECIAL TEAMS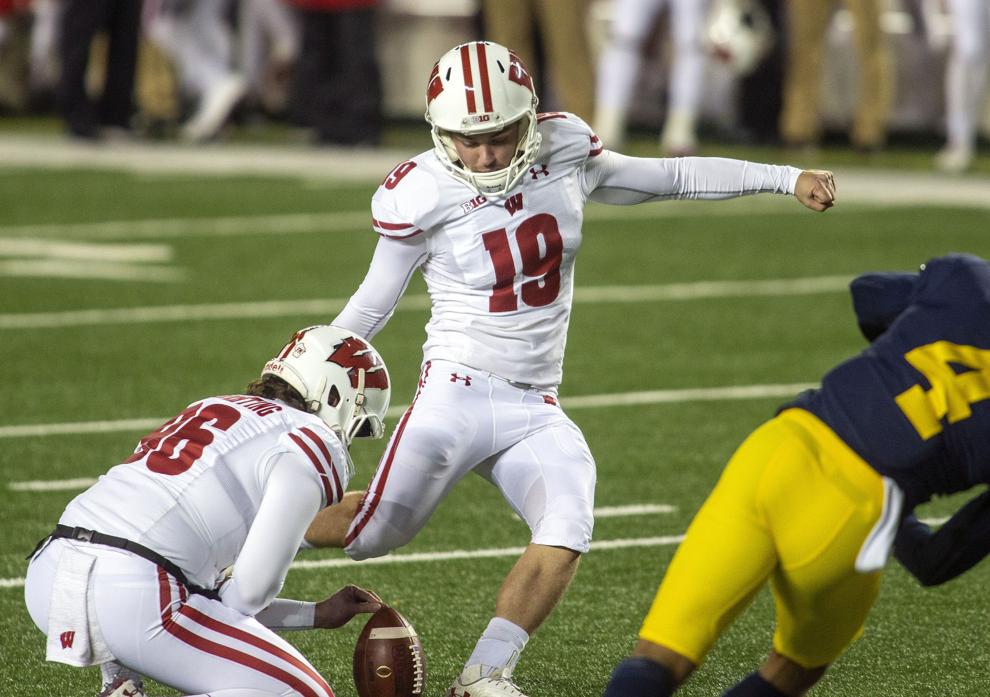 UW punter Andy Vujnovich has been a bright spot on special teams through two games. The Division III transfer has an average punt of 44.3 yards and four of his seven attempts have pinned opponents inside their 20-yard line. He ranks fourth in the Big Ten in punting average, which is significant improvement for the Badgers' punting unit which has ranked near the bottom in the conference in recent seasons.
Kicker Collin Larsh (above) hasn't yet been put in a pressure situation, but he's made all 13 of his PAT attempts and one short field goal. Return man Stephan Bracey started the Michigan game with a nice kick return of 33 yards and he could have chances against Northwestern — only eight of their 22 kickoffs have been touchbacks.
Northwestern's Charlie Kuhbander has gone 5-for-6 on field goal tries, including 4 of 5 from 40-49 yards.
EDGE | PUSH
COACHING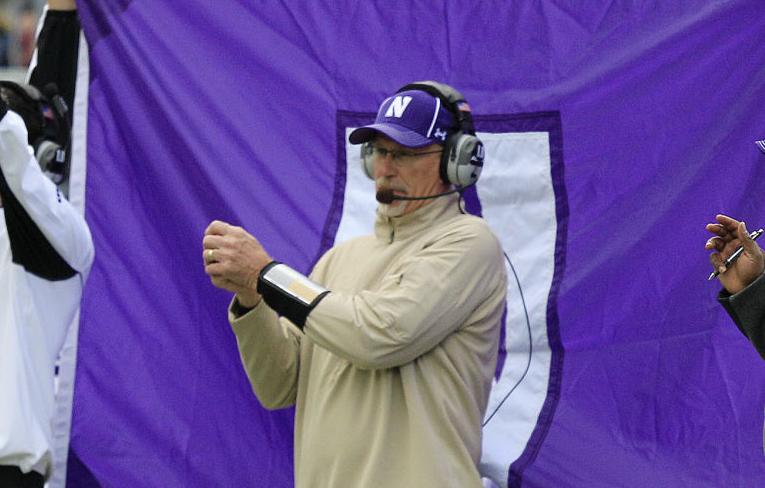 In their two games this season, the Badgers coaching staff has dismantled opponents. In the opener against Illinois, UW attacked down the field and exploited the Illini's Cover-2 defense. Against Michigan, the Badgers took advantage of an injury-riddled defensive line and gashed the Wolverines' on the ground.
Paul Chryst and his assistants will need to find the weak point against a Northwestern defense that allowed the second-fewest points per game (14.0) in the conference. One advantage UW has is in penalties: UW has averaged 10 penalty yards on two flags per game while Northwestern averages 54 yards on 6.5 flags per game.
After a down season last year, Northwestern coach Pat Fitzgerald quickly righted the ship and has his team leading the Big Ten West Division and sitting at 4-0 for the first time since 1996.
This game pits two of the conference's best defensive coordinators, UW's Jim Leonhard and Northwestern's Mike Hankwitz (above) — a former UW assistant — against one another.
EDGE | PUSH
INTANGIBLES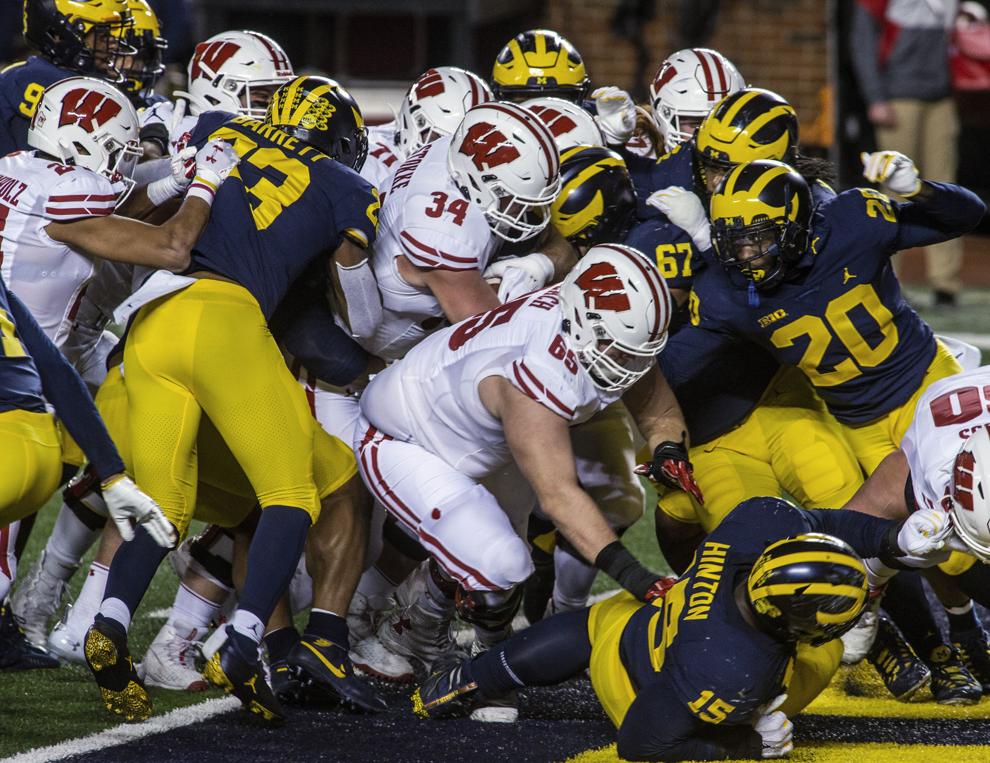 Ryan Field hasn't been kind to the Badgers in the 21st century. UW is 1-5 at Northwestern since 2003. This game was originally slated to be played at Wrigley Field in Chicago, but COVID-19 nixed those plans in the summer.
This will be the first meeting with both programs ranked in the AP Top 25 since 1995, a 35-0 Northwestern win. However, the last time the teams were both ranked in the top 20 of the poll, in 1962, No. 8 UW ran through No. 1 Northwestern 37-6.
The winner of this one holds the inside track to the West Division championship. Northwestern has a significantly easier slate after the UW game, with road games at Michigan State and Minnesota before finishing the regular season at home against Illinois. UW faces Minnesota, No. 9 Indiana and Iowa the final three weeks of the season.
EDGE | NORTHWESTERN
STATE JOURNAL PICK
The Badgers adjusted well with a number of contributors out due to a COVID-19 outbreak within the program. UW may be able to get some of those players back this weekend, but they'll need to pass physical tests. Either way, UW has more offensive firepower than anyone Northwestern's faced and the defense looks just as good as a season ago.
WISCONSIN 31, NORTHWESTERN 21
THE NUMBER (UW)
6.1: Yards per play for the Badgers thus far, which ranks third in the Big Ten and in the top 40 in the FBS
THE NUMBER (NORTHWESTERN)
6: Turnovers in the past three games for the Wildcats, four interceptions and two fumbles
KEY STAT (OFFENSE)
Time of possession: UW had held the ball for more than two-thirds of their two games thus far, but Northwestern has won the time-of-possession battle in three of its four games
KEY STAT (DEFENSE)
First downs: Northwestern averages 20 first downs per game, which ranks eighth in the conference, while the Badgers give up just nine first downs per game.