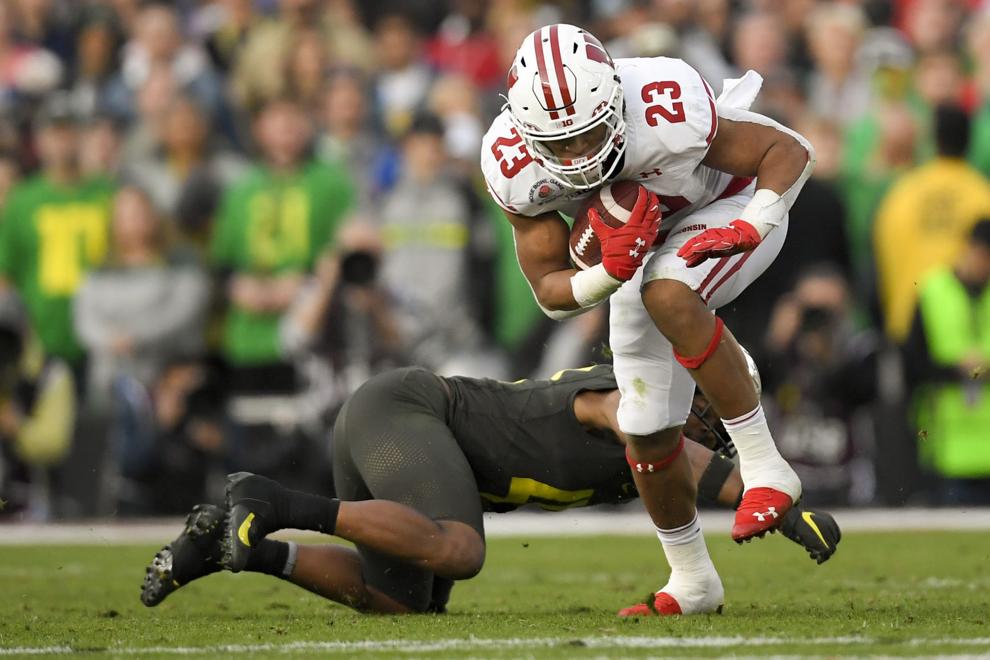 No running back in college football history had the production Taylor had in his three years with the Badgers. His 6,174 career rushing yards are the most in Football Bowl Subdivision history in three seasons, and he accounted for 55 career touchdowns.
Taylor's best skills, per Kyle Crabbs of The Draft Network, are his patience and vision as a runner. It's difficult to teach running backs to press the line of scrimmage and then explode through a hole once it's created, but Taylor has been doing that since he was a freshman for the Badgers. Crabbs also noted Taylor's balance and ability to continue moving forward through contact as strengths.
According to Matt Miller, Bleacher Report's NFL draft analyst, the biggest concerns attached to Taylor are durability and fumbling. Taylor never missed a game through three seasons at UW, but 926 career carries to go with 42 catches amount to a lot of wear-and-tear on a body. He had 18 fumbles in his UW career, including six this season.
Taylor eliminated all doubt about his speed by running a 4.39-second 40-yard dash at the Combine, and by multiple accounts was impressive in his interviews. Taylor can't shake any concerns teams may have regarding his college workload, but he showed his physical capabilities and likely moved himself up teams' draft boards.
Combine measurements: 5 feet, 10¼ inches; 226 pounds; 9½-inch hands; 31⅛-inch arm length; 75⅜-inch wingspan
Combine testing: Bench, 17 reps; 4.39-second 40-yard dash (first among RBs at Combine, fastest by UW RB ever, fourth-fastest time by UW player ever); 36-inch vertical jump; 123-inch broad jump (10 feet, 3 inches); 7.01-second three-cone drill; 4.24-second 20-yard shuttle.
ESPN: No. 3 running back, No. 28 overall.
The Draft Network: No. 3 running back, No. 33 overall. 
CBS: No. 1 running back, No. 24 overall.
Bleacher Report: No. 3 running back
Pick range: Late first round to mid-second.