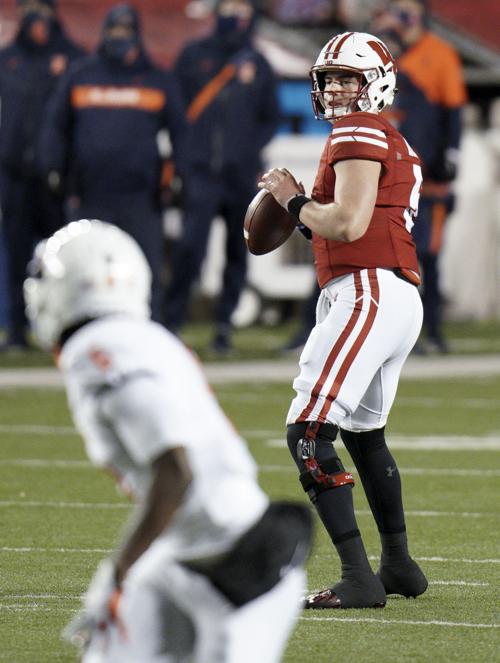 Graham Mertz hadn't had a chance to check his phone by the time he spoke with reporters late Friday night.
When the University of Wisconsin's redshirt freshman quarterback finally did reach his device, he was surely greeted by texts and calls from family and friends congratulating him on a star-making debut under center for the No. 14 Badgers.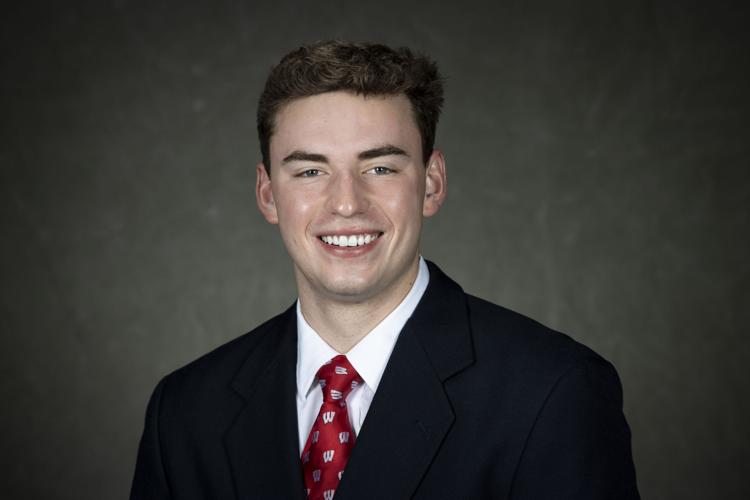 He also found some celebrity shout-outs on his Twitter feed. Kansas City Chiefs quarterback Patrick Mahomes tweeted that Mertz was "going crazy" in his debut, a game in which he completed 20 of 21 attempts, threw for 248 yards and tied a program record with five touchdowns in the Badgers' 45-7 win against Illinois. Mertz also tied a UW record with 17 consecutive pass completions.
Former UW All-Americans J.J. Watt and Joe Thomas also praised Mertz's performance on Twitter, while UW alum and Barstool Sports personality Dan "Big Cat" Katz officially started Mertz's campaign for the Heisman Trophy.
Mertz routinely picked apart Illinois' Cover-2 pass coverage, a staple of coach Lovie Smith's defense from his days coaching in the NFL.
Two of his second-quarter touchdowns — the 14-yard strike in the end zone to Jake Ferguson and the 53-yard bomb he connected on with Danny Davis — both exploited the vacated area between Illini safeties in Cover 2. A perfectly lofted pass to Kendric Pryor on a deep corner route found the space between the cornerback and safety against Cover 2 in the third quarter, converting a third-and-7 early in what would be the Badgers' fifth scoring drive.
"I thought the game plan was great. We really had a good answer for them," Mertz said.
When the Illini played man coverage, Mertz exploited that, too. He led fullback Mason Stokke perfectly into the end zone with a pass against man coverage to notch his first college touchdown pass. He hit Ferguson down the Badgers' sideline for a gain of 34 yards to set up one of Ferguson's three scores.
"When you get man and you can throw guys open and guys can go make plays, you've got to take advantage of that," Mertz said.
As the Twitterverse marveled at Mertz's throws — he was the No. 2 trend in the U.S. for a time in the first half — his fellow quarterbacks were simply seeing what they always have.
"He came in very physically gifted, he throws the ball really well, he's got good feet," junior QB Danny Vanden Boom said during training camp. "I think a lot of those things are just drilled into him and kind of comes naturally; he's been working on that stuff his whole life. He's a very natural thrower of the football."
"We've got to keep this thing good," Ferguson said.
Center Kayden Lyles, who made his first career start at center Friday, said Mertz's sureness was a translation of all the work the offense got together since Mertz assuming the No. 1 quarterback role.
"He was definitely confident," Lyles said. "I think as an offense, we knew that the day he stepped in that it was going to be a big change. We all just accepted it and we spent that week and a half really grinding on communication and everything, and it showed (Friday) that everybody is on their A-game. He was definitely confident and it showed, because the communication was really (good)."
When senior Jack Coan was injured at a preseason practice and Mertz became the starter, those outside of the program wondered if Mertz could possibly live up to the hype that's been propagated by fans since the four-star recruit committed to UW in 2017.
Friday's performance was the first sign that he could, and it didn't shock any of his teammates. The Badgers have a star-in-the-making at quarterback, and they know it, too.
"No, nothing at all. He (does) it every day in practice. Nothing he did surprised me," junior cornerback Rachad Wildgoose said. "Nothing he did was shocking. Everything he did was expected and I already knew he was about to ball out (Friday)."
---
Stars, fan react to Graham Mertz's stellar debut