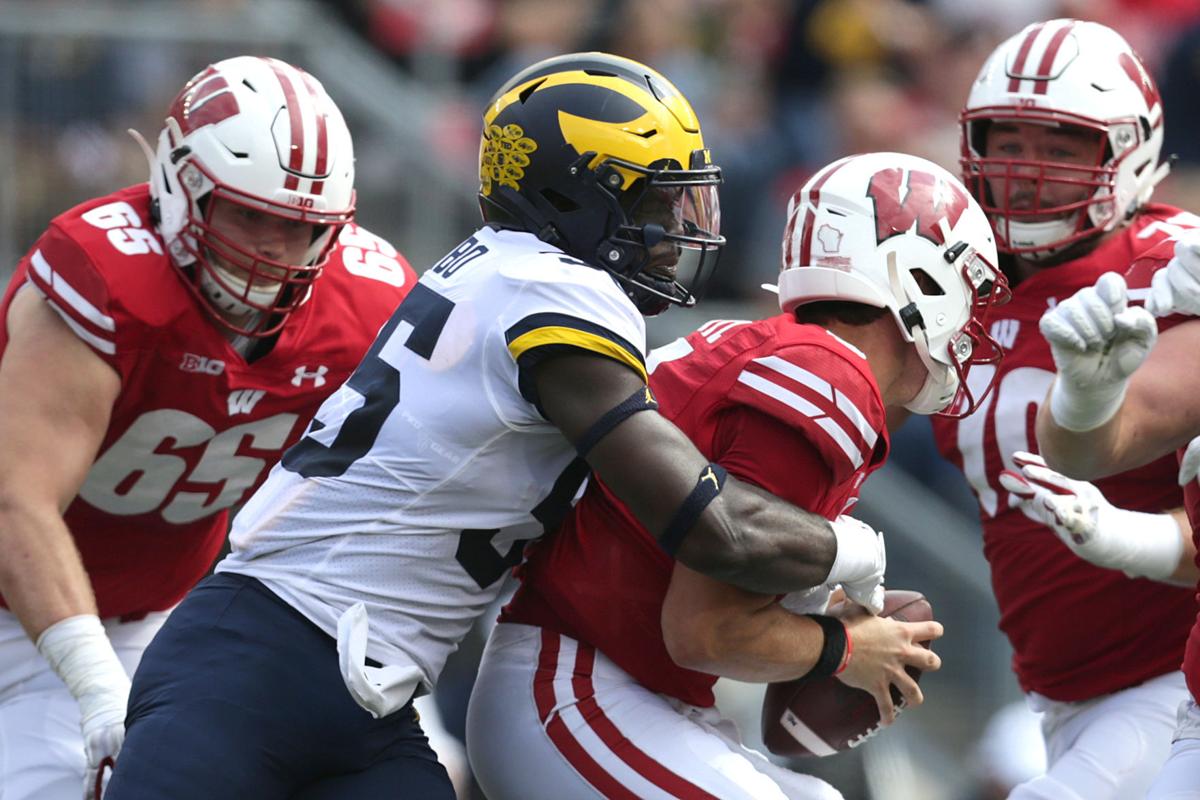 Graham Mertz knew it wasn't a normal hit when he was on the ground Saturday at Camp Randall Stadium.
The shot that Michigan defensive back Daxton Hill put into the chest and left ribs of the University of Wisconsin redshirt sophomore quarterback was severe. Mertz said he wanted to get up while on his back but knew he needed to be checked out after the sack early in the third quarter.
"I knew it was this area over here," Mertz said Monday, gesturing to the whole left side of his torso. "Didn't really know what."
Mertz left the game and went to an area hospital for further evaluation, an hours-long process that kept Mertz from seeing the conclusion of UW's 38-17 loss to the Wolverines. It was UW's first home loss to Michigan since 2001 and dropped the Badgers to 1-3, their worst start since 1990, and 0-2 in Big Ten Conference play.
Luckily for the Badgers, Mertz only is listed as questionable this week as they prepare for their first true road game at Illinois (2-4, 1-2 Big Ten). He said he's thrown balls since the injury and participated in Monday's walk-through practice.
Badgers junior quarterback Chase Wolf would start in place of Mertz if he's not able to play, and Monday he reiterated comments he made Saturday that he'll prepare as if he's starting and Mertz's status won't change his routine.
Mertz said his hospital visit revealed no significant injuries to his internal organs, a concern that prompted his trip. His mother, Amy, joined him in the hospital, as he only was allowed one person with him due to COVID-19 protocols.
Mertz returned to his house once he was released from the hospital and spoke with his roommates, then started answering the texts he'd received from friends and teammates checking on him. He said Amy was updating teammates who texted her during the process.
UW's offense had gotten a spark late in the second quarter with Mertz finding receivers and utilizing some quick passes against Michigan's persistent pass rush, but the momentum didn't carry over after Mertz left the game. Mertz led back-to-back scoring drives in the second quarter, pulling UW within 13-10 at the break. He made a number of throws while under heavy pressure, still stepping into throws and delivering the ball despite getting hit.
"I really wanted to build on that first half but didn't really have a chance to," Mertz said.
It was a step forward from earlier in the season when Mertz was struggling to maintain his fundamentals against pressure. But the blow from Hill was the result of a missed blitz pick-up by the offensive line, and Hill had a dead sprint of about 15 yards before hitting Mertz.
Improving pass protection is imperative this week against Illinois. The Illini have 15 sacks in six games, but Pro Football Focus has credited the defense with 85 pressures in those games. UW's offense allowed Michigan to record a pressure on 18 of UW's 30 drop backs.
UW's depth chart didn't reveal any changes to the starting offensive line this week. Senior tackles Logan Bruss and Tyler Beach spoke to reporters together Monday, saying they represented the whole group.
"Good teams when they bring pressure, they'll challenge not just the line, but every guy on that field — the quarterback, the running backs, the receivers," Bruss said.
"A lot of those pressures came from a different guy being off here or there. As a teammate, you can't really let yourself be off because if every guy lets himself be off for one or two (plays), that starts adding up quick. We have to do a better job of holding each other accountable, holding ourselves accountable to clean up those mistakes."
UW coach Paul Chryst was asked about his running backs' performance in pass protection as well.
"You can't walk away from the last game we played and say, 'Yeah, we're right where we want to be,'" he said. "We've got to clean up. It does — and I don't mean to sound like a broken record — but it does take everyone. Can the backs be better? Absolutely in certain moments. And it's working with the line and at times with tight ends."
No one on UW's roster wants to see Mertz battered as he was against the Wolverines. But seeing Mertz take the hits and make plays in the first half was inspiring.
"That's what you want in a quarterback, not someone who folds," junior safety John Torchio said. "You're going to take hits, but he kept getting up."
Chryst received raise
Chryst got a raise before this season began that took his compensation to more than $5 million.
Chryst was scheduled to make $4.35 million this season in an agreement reached in 2019 that escalated $100,000 per year. The UW Board of Regents approved the new deal, which pays Chryst $5.25 million this year, in closed session Sept. 1.
He also will be scheduled to earn $5.25 million for the 2022 season before an annual escalator of $100,000 starts for 2023, according to the contract.