Get to know the Wisconsin Badgers' 2019 football recruiting class
From in-state standouts to bruising offensive linemen and a consensus four-star quarterback on the rise, learn more about the athletes that have committed to playing at the University of Wisconsin beginning in the 2019 season. 
LEO CHENAL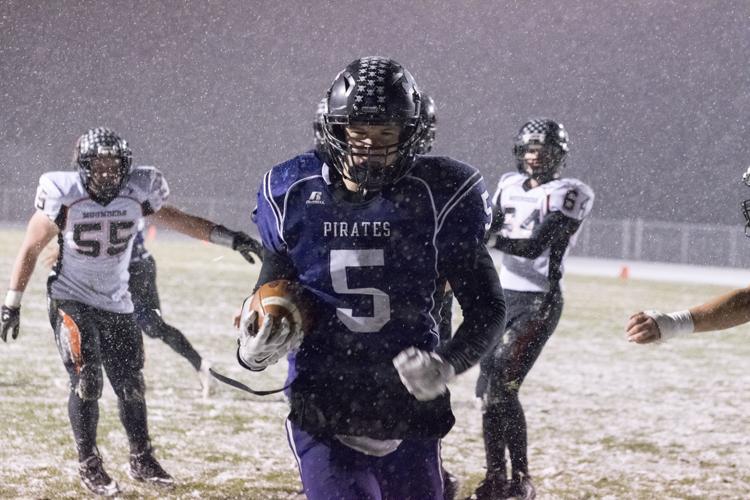 GRAHAM MERTZ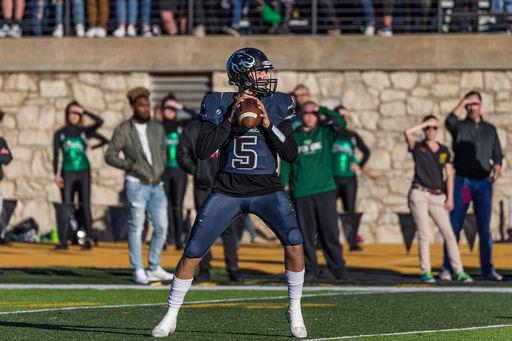 LOGAN BROWN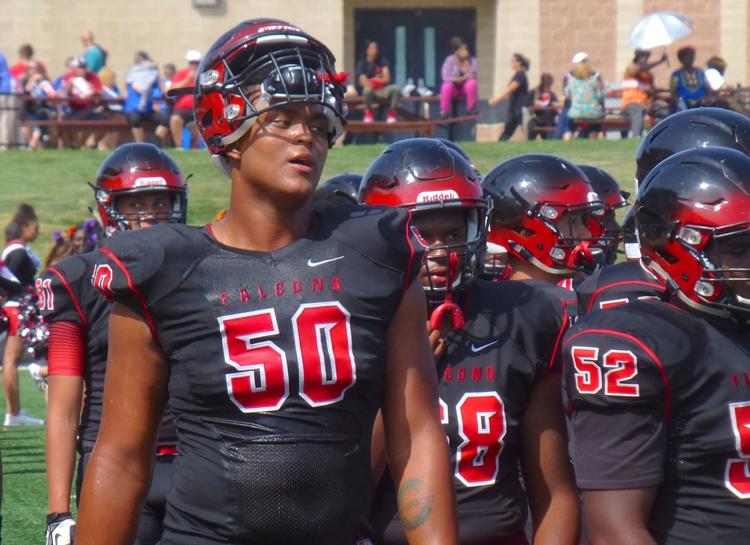 JULIUS DAVIS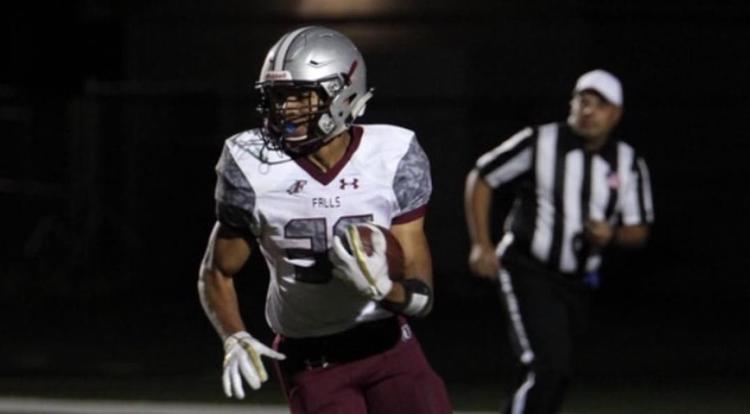 JOE TIPPMANN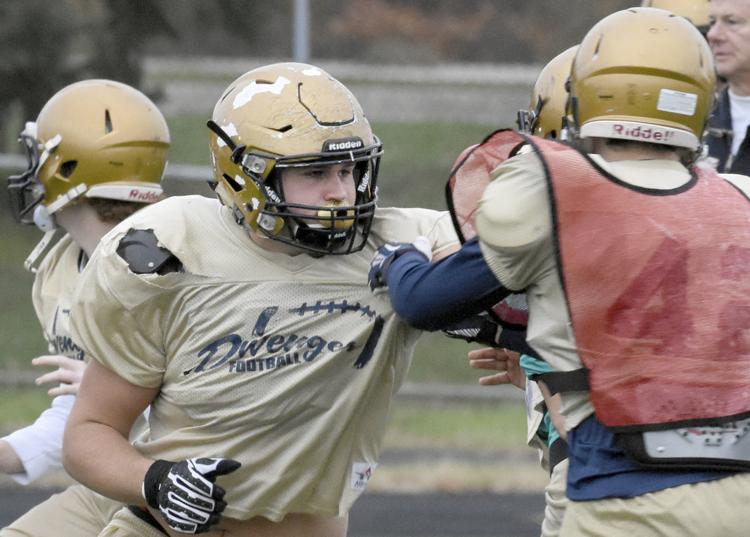 HAYDEN RUCCI
KEEANU BENTON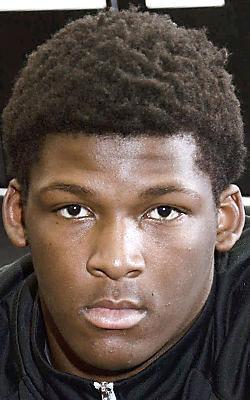 JAMES WILLIAMS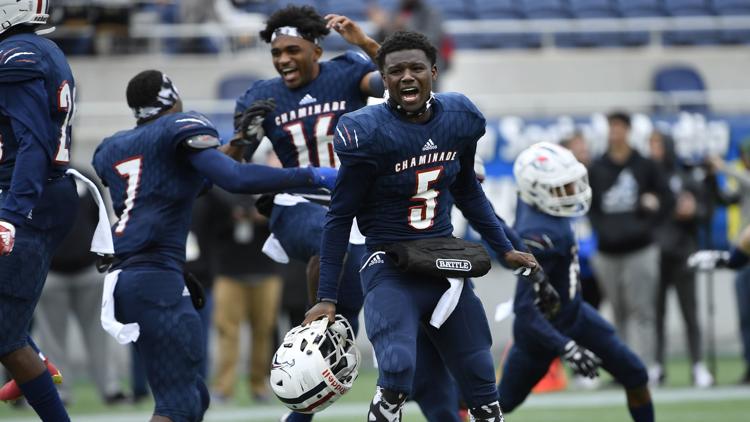 DEAN ENGRAM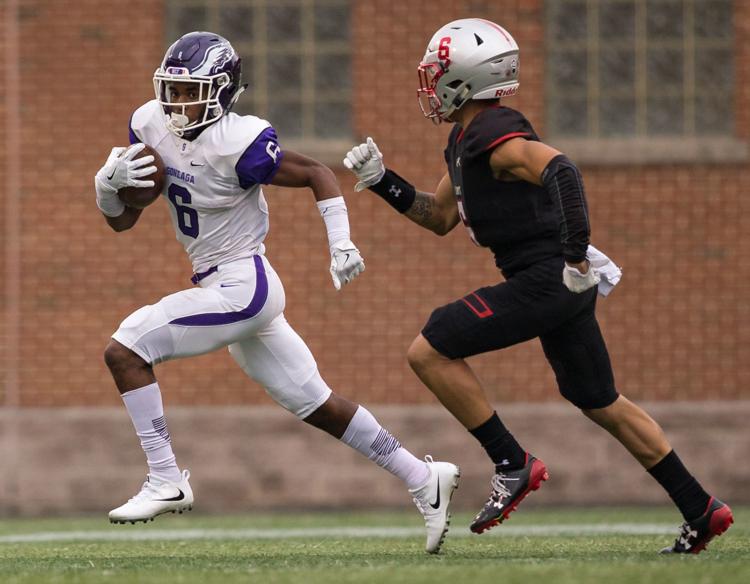 GIO PAEZ
SEMAR MELVIN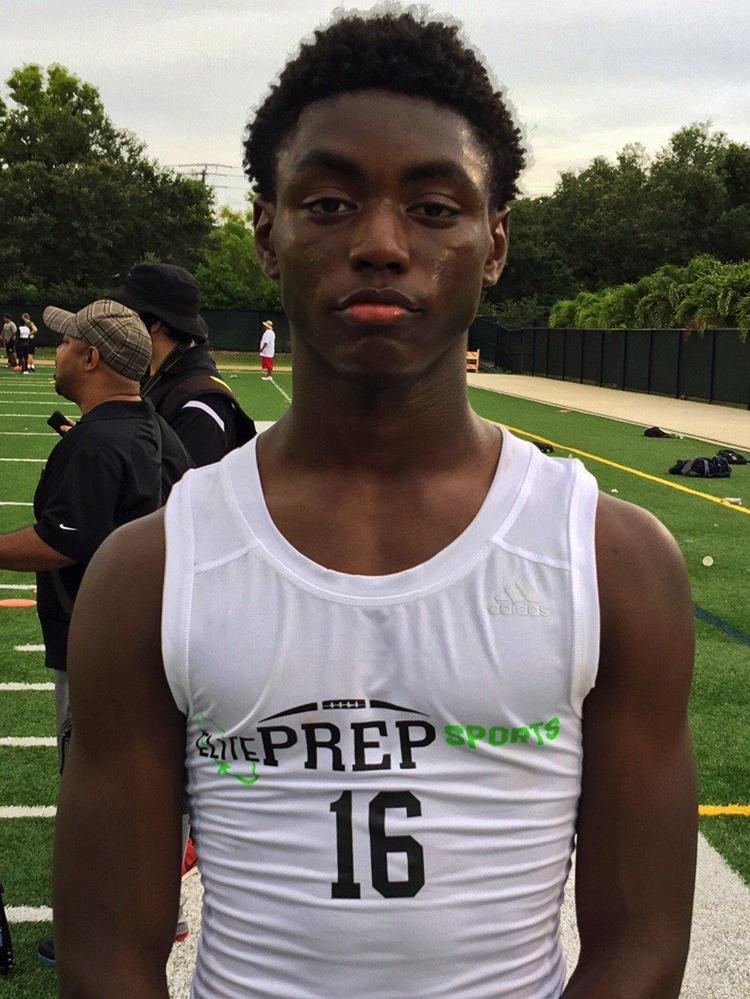 SPENCER LYTLE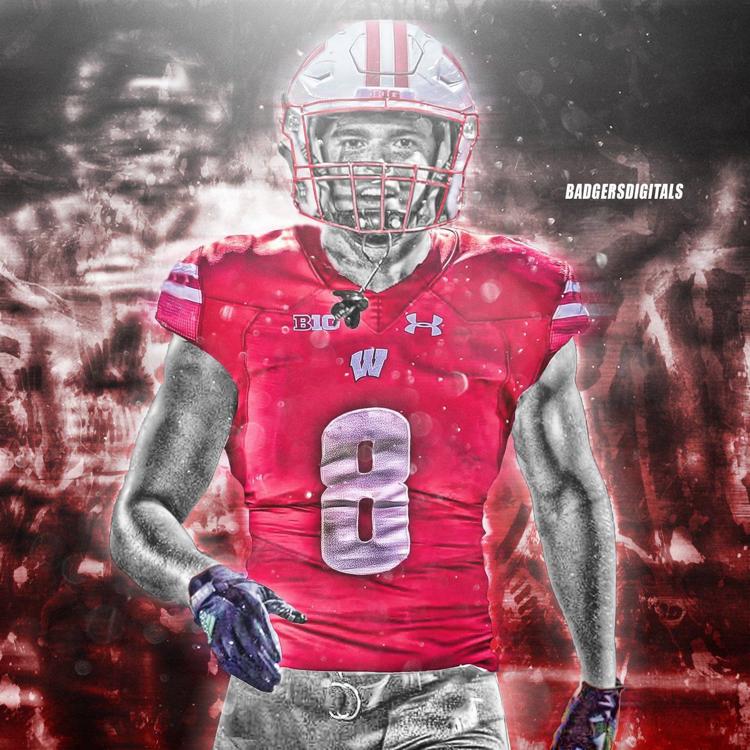 CLAY CUNDIFF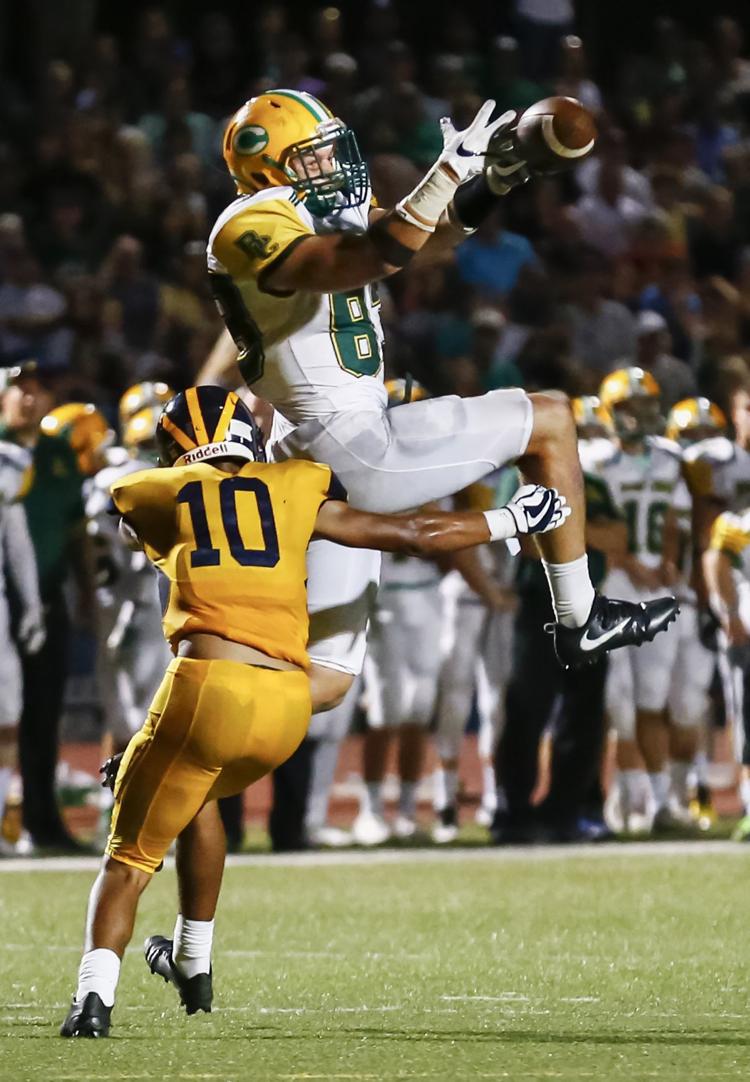 MAEMA NJONGMETA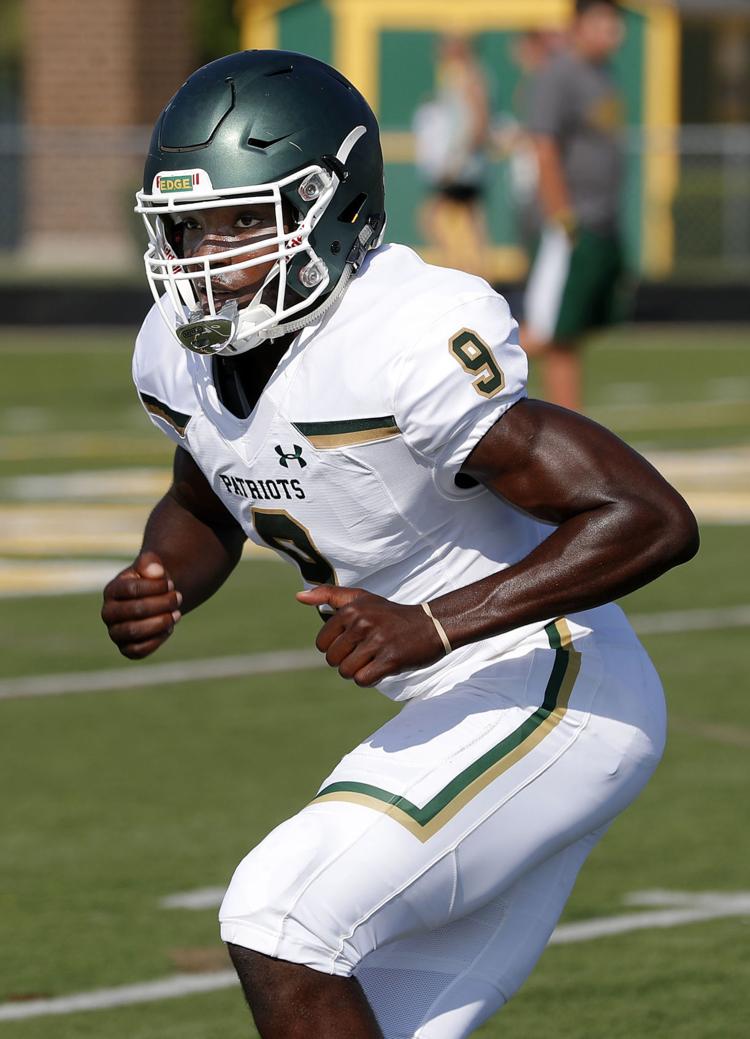 STEPHAN BRACEY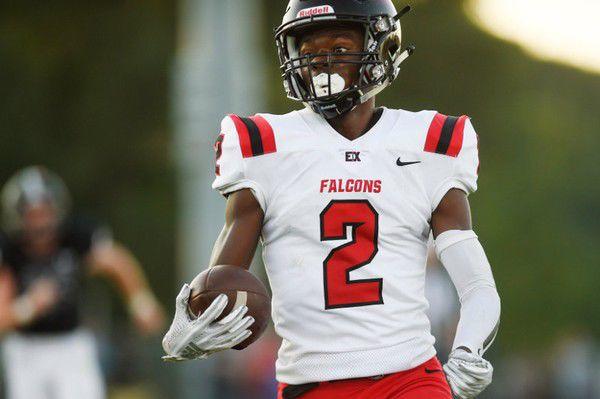 RODAS JOHNSON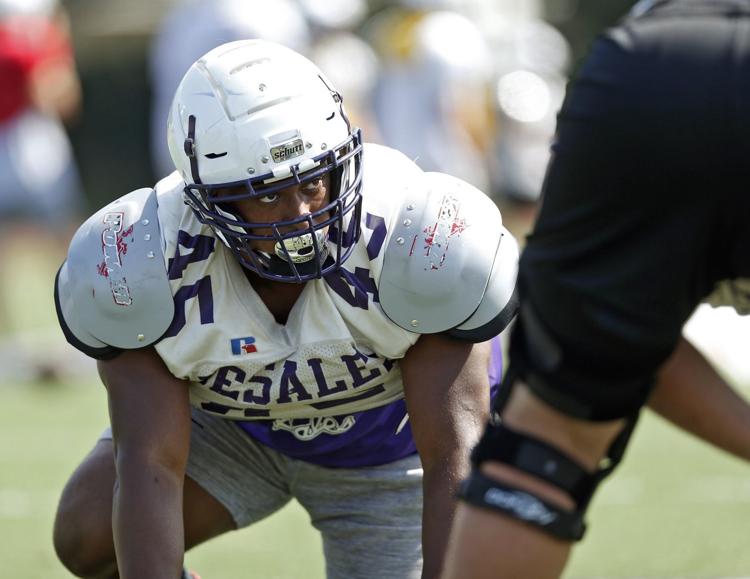 QUAN EASTERLING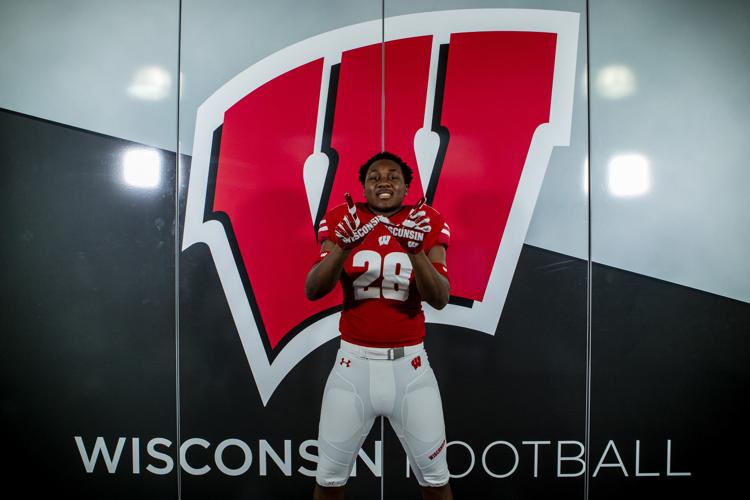 TITUS TOLER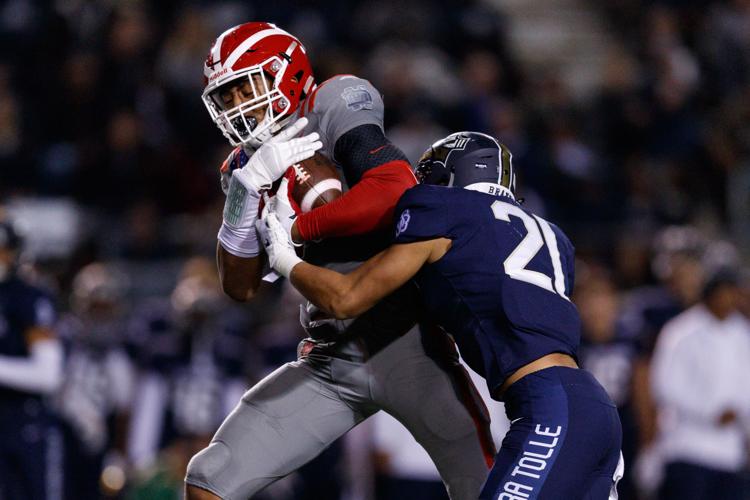 Related to this collection
The University of Wisconsin football team picked up its ninth verbal commitment for the 2019 class Sunday when cornerback James Williams pledged to the Badgers during an official visit.
The Badgers will look to add more talent to the class this summer while also holding on to their in-demand commitments.
On the heels of an official visit to Madison last weekend, Washington D.C. athlete Dean Engram announced his verbal commitment to the Universi…
Graham Mertz announced in a tweet Thursday that he would not be switching allegiance to any of the big-time coaches and schools who have been trying to get him to flip his commitment.
The 6-foot-3, 285-pound Paez reportedly chose the Badgers over Texas A&M, North Carolina State, Kentucky, Louisville and others.
"He's a smart kid. Like, amazingly smart," UW offensive coordinator Joe Rudolph said. "For him, I think there were some things academically and some opportunities for him that were pretty special and that aren't there for everyone."
Olive Sagapolu is expected to take plenty of reps at defensive end when the Badgers begin fall camp Thursday.
Defensive lineman Kayden Lyles and offensive lineman Jon Dietzen both ran with the first team at new positions during the University of Wisconsin's first, non-padded fall camp practice Thursday.
Lyles, who spent the final season of his high school career at Middleton and was a highly regarded member of UW's 2017 recruiting class, may still have a bright future on the offensive side of the ball.
Baun projects as a starter for the Badgers this year after missing the entire 2017 season.
The 5-9, 154-pound freshman wide receiver is making a play to get on the field this season.
Ferguson is in the mix to replace Troy Fumagalli's production and steadiness at tight end.
Deron Harrell has been one of the Badgers' biggest fall camp surprises.
Michael Deiter started every game at left tackle for the Badgers last season.
The cornerback depth chart was among UW's biggest questions entering this offseason. Two weeks into fall camp, it may be more unclear than ever.
And there's talent beyond the top four — a quartet that includes junior Quintez Cephus, junior A.J. Taylor, sophomore Danny Davis and sophomore Kendric Pryor.
The coaches have been heavy on evaluation, giving multiple players opportunities with the first unit at positions — cornerback, defensive end and tight end — that seemingly remain wide open 12 days from the opener against Western Kentucky. 
Farrar's hoping to find consistent playing time after his second position change in as many seasons.
Ever since the Badgers shifted to a 3-4 defense five years ago, outside linebackers have been piling up big numbers.
The University of Wisconsin offensive line, arguably the Badgers' strongest position group, entered the final week of its offseason with one of UW's few remaining undecided position battles.
Dontye Carriere-Williams and Madison Cone were listed as second-team players on the Badgers' first depth chart of the season.
Alex Hornibrook still has a lock on the starting position heading into his junior season, but another year in the system has Jack Coan feeling more prepared if he's called upon.
The Hilltoppers, who open the season against the No. 4 Badgers Friday night, list five players as co-starters at running back.
UW averaged 33.8 points per game — the sixth-best mark in school history — last season and 10 of the 11 players who started against Miami (Fla.) in the Orange Bowl are back.
Carriere-Williams tweeted Wednesday night that he's been granted a full release just two days before UW opens its season against Western Kentucky at Camp Randall Stadium.
The two surprisingly beat out the more experienced Dontye Carriere-Williams, who announced Wednesday night that he's leaving the program, for first-team spots over the final two weeks of camp.
Davie's Lobos, who finished 3-9 last season, are big underdogs in Saturday's game against the Badgers at Camp Randall Stadium.
They're all-around players, compared to programs of long ago when they were simply blockers.
Nelson, a redshirt freshman, entered the season as the Badgers' starting free safety.
The Cougars, led by quarterback Tanner Mangum, didn't look good in last week's loss at California.
UW returned just one player in the secondary, senior D'Cota Dixon, who held a consistent role on defense last season.
The Hawkeyes (3-0) have been dominant on defense in wins over Northern Illinois, Iowa State and Northern Iowa.
After injuries that included a torn ACL and torn Achilles, the 2015 state defensive player of the year and first-team all-state running back is finally back on the football field and ready to contribute to the No. 18 team in the country.
By coming out last week as flat as a Paul Chryst team has ever been, executing haphazardly in every phase of the game and then being unable to recover against a better-than-advertised opponent, the Badgers learned a harsh lesson about being ready to play.
The Badgers (3-1, 1-0 Big Ten Conference) were granted a furlough following practice Thursday to enjoy a rare weekend off before returning Sunday to begin preparations for the Oct. 6 game against Nebraska (0-3, 0-1) at Camp Randall Stadium.
The Cornhuskers are off to an 0-4 start — losses to Colorado, Troy, Michigan and Purdue — under new coach Scott Frost.
The fifth-year senior's UW football career may be over.
Four potential starters — defensive end Isaiahh Loudermilk (left leg), cornerbacks Deron Harrell (head) and Caesar Williams (left leg) and outside linebacker Andrew Van Ginkel (right leg) — are listed as questionable for Saturday's game against the Wolverines, while a fifth, safety Scott Nelson, will miss the first half after being ejected for targeting in the third quarter against the Cornhuskers.
After Wisconsin comes to the Big House on Saturday night, Michigan goes to Michigan State on Oct. 20, and after a bye, No. 8 Penn State comes to Michigan on Nov. 3.
Gaglianone tied the record of 65 field goals against Nebraska last week.
Freshman Rachad Wildgoose and many of the other young standouts from last week may get another chance prove themselves against Illinois on Saturday at Camp Randall Stadium.
Sagapolu's playing a much more versatile role as a senior.
The four-year starting quarterback is averaging more than 40 pass attempts per game this season.
Biadasz continues to improve off a redshirt freshman season in which he earned Freshman All-American honors.
Here are three takeaways from Fitzgerald's media session previewing the Wildcats' 11 a.m. Saturday showdown with Wisconsin.
The Badgers have averaged 6.95 yards per carry over the last three weeks.
At least a share of first place in the Big Ten West will be at stake Saturday at Ryan Field in Evanston, Ill.
A win at Northwestern on Saturday could be crucial for the Badgers' chances of making it back to Indianapolis.
D'Cota Dixon, Scott Nelson, Isaiahh Loudermilk and Deron Harrell are also among those questionable for UW this week.
Rather than being 8-0 and in the discussion for a playoff berth, UW has a 5-3 record entering November. The Badgers' playoff hopes are gone and their aspirations for a return to the Big Ten Conference title game are hanging by a thread.
Graham's de-commitment brings the Badgers' 2019 class down to 13 members.
Graham Mertz is perhaps the most heralded and anticipated recruit in Wisconsin Badgers football history, and on Friday night you can watch him live as he leads defending Kansas Class 6A state champ Blue Valley North in a sectional playoff game.
Never, however, has UW had two inside linebackers performing at such a consistently high level side by side as Edwards and Connelly, who are doing it for a third consecutive season.
Saturday's game at Penn State may serve as the final chance for the Badgers to show their passing game still holds the potential to meet the high standards they placed on themselves.
Graham Mertz is perhaps the most heralded and anticipated recruit in Wisconsin Badgers football history, and on Friday night you can watch him live as he leads defending Kansas Class 6A state champ Blue Valley North in a playoff game.
Coan made his third career start filling in for Alex Hornibrook, and the results proved much more encouraging than his last outing in a 22-10 loss at Penn State the previous week.
"You've got to make sure you're not the team that ever loses it," UW left guard Michael Deiter said. "I think there's an extra edge you get from that feeling, knowing you can't be the team that gives up that Axe."
The 5-foot-11, 221-pound sophomore leads all FBS rushers with 1,869 yards — nearly 350 yards ahead of his nearest pursuer. He is averaging 169.9 rushing yards per game and has 15 touchdown runs.
Dietzen's started 10 of the Badgers' 11 games this season.
The three-year starter will play his final game at Camp Randall Stadium on Saturday against Minnesota.
Playing quarterback for a top team is the winning Heisman formula nowadays.
Graham Mertz is perhaps the most heralded and anticipated recruit in Wisconsin Badgers football history, and on Saturday afternoon you can watch him live as he leads defending Kansas Class 6A state champ Blue Valley North in the title game.
The Badgers are most likely headed to the Gator Bowl, Music City Bowl or Pinstripe Bowl after falling well short of expectations this season.
The most probable destinations appear to be Nashville, Tenn., for the Music City Bowl (Dec. 28, 12:30 p.m.), Jacksonville, Fla., for the Gator Bowl (Dec. 31, 6:30 p.m.) or New York for the Pinstripe Bowl (Dec. 27, 4:15 p.m.).
The game kicks off at 4:15 p.m. on Thursday, Dec. 27 from Yankee Stadium and will be televised by ESPN.
Badgers running back Jonathan Taylor was a first-team pick by all 27 voters after he also earned consensus first-team honors by the league's coaches and media last week. He also won the Ameche-Dayne Big Ten Running Back of the Year Award.
Right guard Beau Benzschawel also collected NCAA consensus All-American honors after earning a first-team spot from the American Football Coaches Association on Wednesday.
The pair have until Jan. 14 to decide whether they'll leave UW early to enter the 2019 NFL Draft.
The Bellflower, Calif., native rates as a four-star prospect by 247sports and a three-star by Rivals and ESPN.
Hornibrook's completed 59.5 percent of his passes this season for 1,532 yards with 13 touchdowns and 11 interceptions in nine games.
UW's class of recruits includes a five-star offensive tackle and the potential quarterback of the future.
A standout wrestler who has qualified for the WIAA state tournament the past two years and finished as the Division 1 state runner-up at 285 pounds as a junior, Benton's recruitment flew under the radar a bit until programs began calling last winter.
Lyles started seven games at defensive end for UW as a redshirt freshman after moving to the position this summer.
After many unexpected turns, five UW true freshmen burned their redshirts this season, but eight others took advantage of the rule by seeing action in four games or less.
UW will face Miami in the Pinstripe Bowl on Thursday at Yankee Stadium.
Thursday's game against Miami will mark Coan's fifth game of the season, one more than the limit for maintaining a year of eligibility.
Miami ranks second nationally in total defense and first against the pass.
Many view Thursday's game against Miami as meaningless, but NFL hopefuls Michael Deiter, T.J. Edwards and others want to play for UW one last time.
Taylor has rushed for 1,989 yards and 15 touchdowns in 12 games this season.
But they're facing the nation's second-ranked defense.
Alex Hornibrook, Jack Coan and others could have a chance of being UW's starting quarterback next season.
UW announced that Biadasz was returning via Twitter on Thursday morning, two days after junior right tackle David Edwards opted to forgo his final year of eligibility to take his shot at the next level.
Mertz, the centerpiece of the Badgers' 2019 class of recruits, passes for an All-American Bowl-record 188 yards and five touchdowns in the game that featured the top high school prospects in the country.
While he started 10 games in 2018, his playing time decreased later in the year and redshirt freshman Jake Ferguson emerged as UW's clear No. 1 option in the passing game at the position.
Dike became the fourth in-state prospect in the class and fifth overall.
University of Wisconsin quarterback Alex Hornibrook is participating in winter conditioning workouts, a UW official confirmed Tuesday.
Benzschawel's the younger brother of current Badgers Beau Benzschawel and Luke Benzschawel.
Cooper Nelson's father Scott Nelson was a standout safety for the Badgers when they won the Rose Bowl in 1994. 
The UW football recruit hopes to finish his athletic career at Janesville Craig as an undefeated state wrestling champion in this weekend's WIAA Division 1 state wrestling tournament.
Saying there are no depth charts — only organizational charts — during spring ball, Chryst is in no hurry to anoint a starter, much less a savior.
Four scholarship quarterbacks — junior Jack Coan, sophomore Danny Vanden Boom, redshirt freshman Chase Wolf and true freshman Graham Mertz — will receive reps this spring.
The University of Wisconsin football coach enters his fifth season as the Badgers' head man after compiling a 42-12 record over the first four years.
Cephus caught 30 passes for 501 yards and six touchdowns over nine games in 2017.
When UW finally opened its spring practices to reporters this week, it became abundantly clear that this is the start of a new era in UW football.
Orr heads into his senior year with far more experience than any other UW inside linebacker after the departures of T.J. Edwards and Ryan Connelly.
Johnson, an incoming freshman, will arrive in Madison this summer.
Biadasz will be UW's only returning starter on the offensive line this season.
Short on healthy running backs, the University of Wisconsin football team's getting an expanded look at Isaac Guerendo this spring.
UW won't face the same expectations this year after an 8-5 season in 2018.
Chenal, a true freshman, has taken the majority of second-team reps at inside linebacker during spring practice.
The Badgers safety tore his ACL just two games into the 2017 season while at Houston, and he sat out last year due to NCAA rules after transferring to the University of Wisconsin.
Paez committed to UW after only two seasons of playing football.
The former Eau Claire Memorial player has slid down from his traditional spot at tight end onto the Badgers' offensive line this spring.
McDonald is rated as two-star prospect by 247Sports, and the only scholarship offers that he had to his name at the time were from FCS programs Illinois State, North Dakota and South Dakota, BadgerOfHonor.com reported.
The Big Ten and SEC will soon be heading to the Las Vegas Bowl, taking turns facing the Pac-12 when the game moves into a new billion-dollar NFL stadium in 2020.
Acker becomes the second member of UW's 2021 class, joining Grafton offensive lineman JP Benzschawel.
Herbig ranks among the top 300 prospects nationally by 247sports, Rivals and ESPN. He chose UW over reported offers from Oklahoma, USC, Washington, Stanford, UCLA, Cal, Tennessee, Nebraska, Kansas State and others.
Njongmeta arrived in Madison this month as a scholarship inside linebacker after playing just two years of varsity football.
Incoming cornerback Dean Engram dedicated his last season in high school to his sister, Bobbi, who passed away from sickle cell disease.
Turner, from Farmington (Mich.) High School, became the 10th known member of UW's 2020 class when he announced the news on Twitter.
University of Wisconsin freshman outside linebacker Skyler Meyers has entered the NCAA transfer portal, a UW official confirmed Wednesday.
When Badgers special teams analyst Taylor Mehlhaff called the Eau Claire Memorial long snapper to offer him a preferred walk-on spot for the Class of 2020 late last month, McKinley said he accepted it immediately.
Cundiff moved to Madison as his sister, Julianna, continues to overcome complications from the rare disease aplastic anemia.
UW had won 14 straight games against Minnesota before last season.
The Badgers' disappointing 2018 knocked them completely off the national radar, and they'll enter coach Paul Chryst's fifth season next month predicted to finish third in the West, a borderline top-25 team at best.
The Badgers' dominance in the division began to erode last season, when Northwestern cruised to the title, and it seems to be a thing of the past going into this season, when every team except Illinois is a contender.
"It was definitely something I was interested in trying," said Cone, who played cornerback his first two years with UW.
A chance meeting at an airport restaurant with University of Wisconsin athletic director Barry Alvarez led to the inside linebacker coming to Wisconsin.
Trust could be coach Paul Chryst's deciding factor when choosing between junior Jack Coan, redshirt sophomore Danny Vanden Boom, redshirt freshman Chase Wolf and true freshman Graham Mertz.
After tearing his ACL while at Houston in 2017, Wilder hasn't played a game in nearly two years.
Eau Claire Memorial junior Loyal Crawford received an offer from the Badgers last week and, according to multiple reports, jumped on the opportunity.
UW's No. 17 ranking breaks a streak of seven straight polls to close last season where UW missed out on the top 25.
It isn't easy for an 18-year-old freshman to play tight end for UW, which relies heavily on the position to bring extra muscle in the run game.
For four years, Loyal Crawford's baby sister Téya Madison fought the brain and spinal cancer that eventually took her life.
The Badgers suffered from poor performances in punting (13th of 14 Big Ten teams in yardage average) and field-goal percentage (last) in 2018.
As other teams add waterfalls and bowling lanes to their facilities, the Badgers have tried to walk the fine line between meeting player needs and entitling them, a coach said.
Based on how the reps have been distributed during practices open to the media over the past week, the junior has a significant lead over redshirt freshman Chase Wolf and true freshman Graham Mertz.
The star running back said a better grasp of the playbook — and knowing exactly where he's supposed to be on passing plays — has helped him feel more confident as a receiver.
Junior Luke Benzschawel, freshman Hayden Rucci, and sophomore Jake Ferguson all sat out Wednesday's practice with injuries.
At 6-foot-6 with long arms and plenty of athleticism, sophomore Izayah Green-May is an intriguing specimen.
The message that Tyler Biadasz is trying to spread is that there's no time to ease up in development with an inexperienced offensive line.
It's likely junior Jack Coan will open the season as the starter, but freshman Graham Mertz had a strong week of practice.
For the first time in 10 years, the Badgers have the same coaching staff as they did the season before.
The third-year sophomore from Columbus has put himself in position to start at right guard when the Badgers open the season Aug. 30 at South Florida.
UW is one of seven ranked Big Ten teams, joining No. 5 Ohio State, No. 7 Michigan, No. 15 Penn State, No. 18 Michigan State, No. 20 Iowa and No. 24 Nebraska.
Graham Mertz, a record-setting high school quarterback in Kansas, has made a good impression in his bid for playing time this season.
Aaron Witt, a 6-foot-5, 230-pound defensive end from Winona, Minnesota, is a three-star recruit who is the 14th known commitment in UW's 2020 recruiting class.
Former Middleton standout Kayden Lyles is back on offense after spending 2018 as a defensive end for the Badgers.
Taylor, a junior tailback, was a consensus All-America pick last season, while Biadasz, a junior center, was a consensus first-team All-Big Ten pick.
It would seem that Quintez Cephus, an academic All-Big Ten pick in 2017, has a solid case for an appeal because he was a student in good standing when he was expelled
Sophie Pomrehn could sense some apprehension when she'd take a seat next to University of Wisconsin football players at meals during training camp.
UW opens the season next Friday at South Florida, but it remains to be seen when Quintez Cephus will make his season debut.
Aubrey, a Sun Prairie native, was at Camp Randall Stadium last September as UW's special guest for Childhood Cancer Awareness Month. Just a few weeks earlier, she had been diagnosed with Non-Hodgkin's Lymphoma, a cancer that originates in the lymphatic system.
Wilder met Aubrey while his teammates were going through pregame warmups. He listened to her story and couldn't help but be impressed by her positive attitude. He walked away feeling a connection with her.
The first depth chart of the 2019 season lists junior Jack Coan's as the starter, with freshman Graham Mertz and redshirt freshman Chase Wolf sharing the backup role for now.
The one thing that could keep the UW football team from posting a 10-win (or better) season for the 10th time in 15 years is the one thing they can't control — the schedule.
The Garret Rand-Isaiahh Loudermilk pairing never materialized last season due to injuries.
With another offseason behind them, the talent-rich prospects in the back end of Wisconsin's defense could be in for a much smoother ride in 2019.
Kerwin Bell, who won the Division II national title as head coach at Valdosta State in 2018, takes over as South Florida's offensive coordinator.
The highly regarded tight end from the East Coast had more than 30 scholarship offers and chose Wisconsin over a list of four finalists that also included Alabama, Georgia and Ohio State.
The sophomores emerged from a trying 2018 season as the starting cornerbacks for UW heading into Friday night's opener at South Florida.
Nine of the 11 defenders who started the Pinstripe Bowl victory over Miami (Fla.) return from a unit that struggled most of the season.
Only 36.5 percent of UW's offense in 2018 were passing plays, the third-lowest figure among teams from the Power Five conferences.
Junior tailback Jonathan Taylor kicked off his Heisman Trophy campaign with 183 total yards and four touchdowns in less than three quarters of work as No. 19 Wisconsin opened the 2019 season by rolling to a 49-0 victory over South Florida on Friday night in Tampa, Florida.
State Journal columnist Tom Oates grades the Wisconsin Badgers' performance in their 49-0 season-opening win over the South Florida Bulls on Friday night at Raymond James Stadium in Tampa, Florida. 
A quick look at the Wisconsin Badgers' season opener against the South Florida Bulls on Friday night at Raymond James Stadium in Tampa, Florida. 
The most important development in Wisconsin's 49-0 season-opening win over South Florida was that the Badgers did things on both sides of the ball that proved they've addressed the many issues that plagued them last season.
The junior running back produces 183 total yards — 135 rushing, 48 receiving — despite not touching the ball over the game's final 28 minutes.
Keeping track of which defensive players were on the field for the University of Wisconsin football team was a challenge in the season opener …
Right tackle Logan Bruss (left leg), safety Scott Nelson (left leg) and outside linebacker Izayah Green-May (right arm) are listed as out on UW's preliminary injury report.
Sacks, penalties and missed passes marred 49-0 win against South Florida.
UW is one of seven Big Ten teams in the poll: No. 5 Ohio State, No. 7 Michigan, No. 15 Penn State, No. 19 Michigan State, No. 20 Iowa and No. 25 Nebraska.
David Moorman, a fifth-year senior who played tight end and right tackle in UW's win at South Florida, might get his first career start Saturday vs. Central Michigan.
Jim McElwain — who previously coached at Michigan, Florida, Alabama and Michigan State — takes over a Chippewas team that went 1-11 last season.
UW already had declared three starters — right tackle Logan Bruss, outside linebacker Izayah Green-May, and safety Scott Nelson (left leg) — out for the game vs. Central Michigan.
"The thing I like about (Ferguson) is he is competitive and he does want to be the best tight end he can be," UW coach Paul Chryst said.
Matt Henningsen, a sophomore defensive end from Menomonee Falls, has excelled on the field and in the classroom at UW.
The junior's  performance against South Florida was promising and showed considerable growth from the end of last season, when he started four games for an injured Alex Hornibrook.
Get the latest analysis, injury reports and highlights as the Wisconsin Badgers host the Central Michigan Chippewas on Saturday afternoon at Camp Randall Stadium. 
We should all have one rule when it comes to recruits and their college choice: It's their life and therefore their decision. They have to do what they feel is best for them.
UW is recruiting players who are better prospects than anyone thinks, because high school players from Wisconsin — along with many upper Midwest states — are chronically underrated by the scouting gurus.
Safety Bryson Shaw announced via Twitter that he's flipping his commitment from UW to Ohio State. The Potomac, Md., native cited personal family matters that led to a desire to stay closer to home.
Hough (N.C.) High wide receiver Nolan Groulx, who committed to the Badgers on Jan. 28, reopened his recruitment via Twitter on Wednesday.
Highly touted 2017 recruit Kayden Lyles will play nose tackle for the University of Wisconsin this fall, according to UW.
In the last two seasons, the University of Wisconsin football team has played in two Big Ten Conference championship games and compiled a 24-4…
In "Two Minutes with Mitch" local radio personality Mitch Henck gives his two cents on high expectations this season for the University of Wis…
The NCAA and other athletic associations face a massive challenge: How to convey newly discovered information on head trauma in a way that ultimately changes the ingrained behavior of players and teams.
Those involved in the entry level of the game continue to hold hope that children aren't being directly exposed to long-term health issues.
If you asked a 15-year-old Jonathan Taylor where he saw himself in five years, winning the Heisman Trophy would never have entered his mind.
A month ago, any talk of the upcoming Big Ten Conference football season centered around three words:
Long known as college football's greatest overachiever, Wisconsin clearly has stepped up its game in three seasons under coach Paul Chryst and his accomplished staff.
With the Badgers' sights set on reaching the College Football Playoff for the first time, Jim Polzin breaks down the teams on Wisconsin's 2018…
In Leonhard's first season as defensive coordinator, Wisconsin ranked in the top five nationally in scoring defense, total defense, rushing defense and passing defense.
As the Badgers get ready to kick off the 2018 season on Friday against the  Western Kentucky Hilltoppers, Jason Galloway of the Wisconsin Stat…
Jason Galloway explores the matchup between the Wisconsin Badgers and Western Kentucky Hilltoppers in the teams' season opener on Friday night…
While the Badgers' vaunted offense didn't pile on points right away, fourth-ranked Wisconsin still eased past Western Kentucky, 34-3, to open one of its most anticipated seasons ever.
The Wisconsin Badgers hosted the Western Kentucky Hilltoppers in the 2018 season opener Friday night at Camp Randall Stadium in Madison.
State Journal columnist Tom Oates grades the Wisconsin Badgers' performance in their 34-3 victory over the Western Kentucky Hilltoppers in their season opener on Friday night at Camp Randall.
State Journal reporter Jason Galloway looks at what happened off the playing field on Friday night at Camp Randall Stadium in the Badgers' season opener against Western Kentucky.