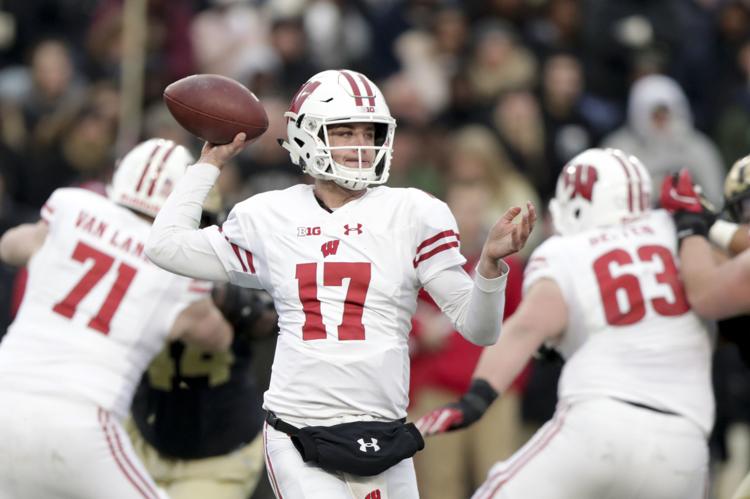 DEPTH CHART
Projected starter; Ht.; Wt.; Yr.; Hometown
17 | Jack Coan (above); 6-3; 221; Jr.; Sayville, N.Y.
5 | Graham Mertz; 6-3; 215; Fr.; Overland Park, Kan.
2 | Chase Wolf; 6-1; 196; Fr.; Cincinnati
15 | Danny Vanden Boom; 6-5; 207; So.; Kimberly
THE SKINNY
Despite the hype surrounding Mertz, Coan maintained his status as the front-runner for the starting job the entire offseason. He took nearly all first-team reps throughout open spring practices, and that continued into fall camp. Coan is the one with at least a little meaningful game experience; he played in five games last year, starting four, and completed 60.2 percent of his passes for 515 yards with five touchdowns and three interceptions. Mertz and Wolf split second-team reps to begin camp and both showed promise this offseason. This is likely the deepest quarterback room the Badgers have rostered in some time, and Mertz or Wolf could potentially keep the offense afloat if Coan suffers an injury or isn't playing well enough to keep his job as the starter.
GLASS-IS-HALF-FULL FORECAST
UW tweaks its offense to fit Coan's strengths and incorporates more read-option — something the Badgers introduced against Miami in last year's Pinstripe Bowl. The junior builds off his final two starts last season — solid outings in wins over Purdue and Miami — and plays much more confidently after preparing for an entire offseason to be the starter.
GLASS-IS-HALF-EMPTY FORECAST
Coan's final two games of 2018 ultimately don't signal a long-term improvement, and his inconsistency carries over into this season. The Badgers give Wolf or Mertz an opportunity, and neither freshman proves ready to take over as the starter just yet.
THE NUMBER
14 | 2,050 team passing yards last season were the lowest total in 14 years, dating to 2004 with just 2,006 yards.