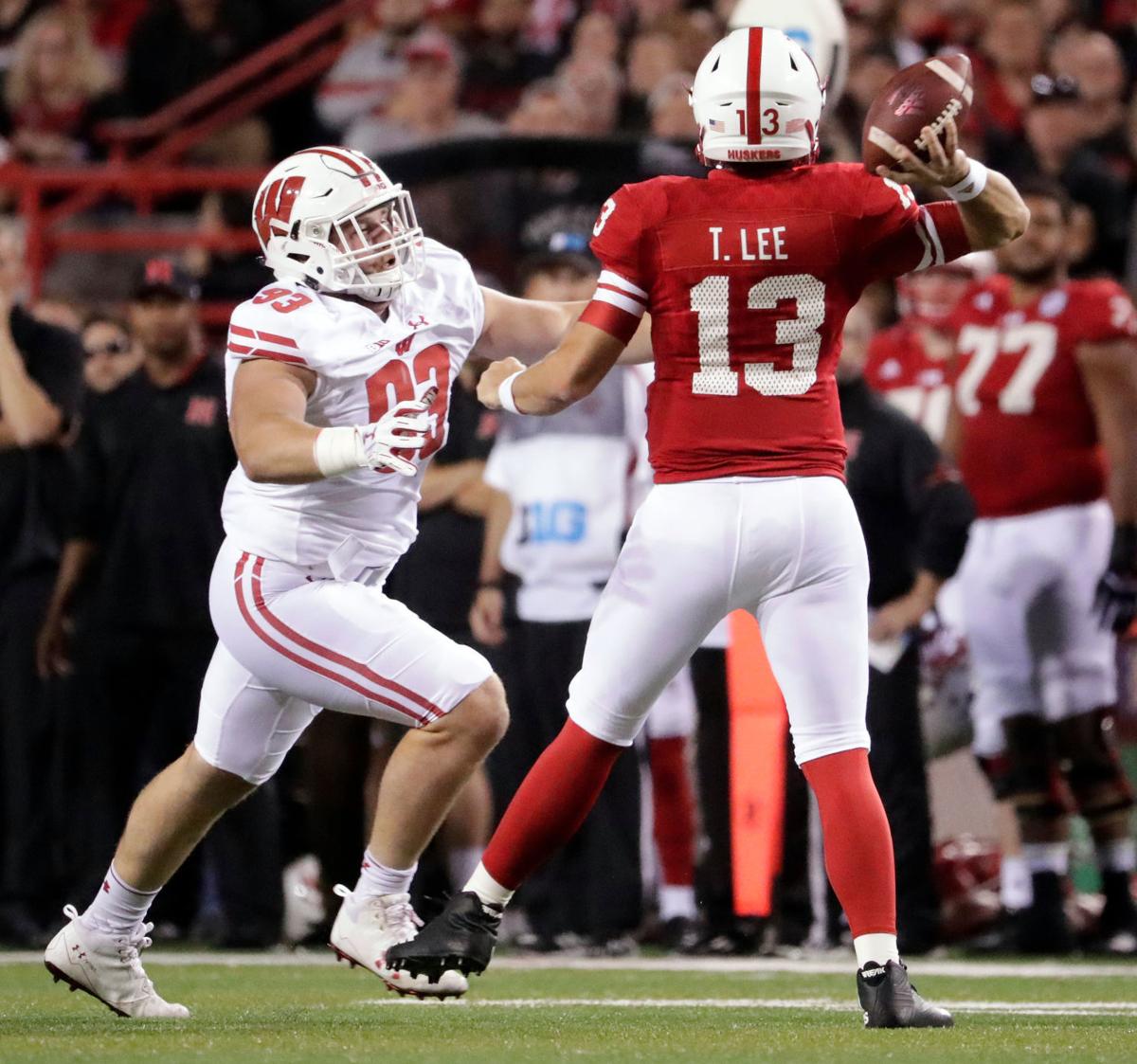 One of the University of Wisconsin football team's biggest unknowns heading into the 2018 season — its inexperienced defensive line — became even more of a concern this summer.
With defensive line coach Inoke Breckterfield confirming to ESPN Madison last week that junior Garrett Rand will miss the entire season after suffering a previously reported Achilles injury, the Badgers will head into fall camp later this month with an urgency to develop more depth at defensive end.
In a year in which UW already needed to replace ends Alec James, Conor Sheehy and Chikwe Obasih, Rand's injury seemingly couldn't have come at a worse moment.
"Garrett's done for the year, but the next group will be Aaron Vopal, Kraig Howe, David Pfaff, Keldric Preston — those are the guys who have been around for a couple of years already," Breckterfield said in an on-air interview with ESPN Madison from the Mendota Gridiron Club Golf Outing at Lake Wisconsin Country Club. "They've just got to make sure they maximize this summer, and then obviously in fall camp it's going to be an open competition, and it's my job to play the best guys, so they understand that part. They're battling, they're working and they're all fighting for playing time."
Breckterfield also said in the interview that he was told sophomore Isaiahh Loudermilk (knee), the other projected starter at defensive end, would return by the first couple weeks of the season but that he was ahead of schedule.
With a non-conference slate that doesn't appear too challenging, Loudermilk's extended break shouldn't have a major effect on the outcome of UW's season. Rand's year-long absence, however, leaves the Badgers without one of their sure starters in an otherwise thin group.
The 6-foot-2, 278-pound Rand played mostly nose guard the past two years before switching to defensive end this offseason — a position he may ultimately feel more natural in. Defensive coordinator Jim Leonhard lauded Rand's positional flexibility this spring and said he felt Rand could dramatically expand his responsibilities during his third year.
"You look at Garrett, we know what he can do at the nose position," Leonhard said. "We did it last spring, where we played around with moving him to the outside. It's possibly his best position, just with who he is."
With Rand out, true freshman Bryson Williams may stand as the lone player behind starter Olive Sagapolu that UW feels comfortable with at the nose guard position.
You have free articles remaining.
While Rand's collegiate experience at defensive end remained limited during his first two seasons in Madison, the progress he showed last year made him a breakout candidate heading into 2018.
The four names Breckterfield mentioned as the next in line for playing time — Vopal, Howe, Pfaff and Preston — have played in a combined seven career games and have not taken any meaningful snaps on defense.
The coaching staff will also give incoming freshman Isaiah Mullens a hard look come fall camp. At around 6-foot-5 and 280 pounds, the Ohio native could be physically ready to contribute right away.
Ready or not, one of the aforementioned players — or another surprise candidate who also lacks experience — will win a starting job this season in Rand's place, and more need to prove themselves capable of providing depth. Successfully building that depth, while seemingly difficult without Rand, could go a long way towards avoiding a steep drop-off from a defense that's maintained its status as one of the nation's best in recent years.
Deiter to start camp at left guard
UW offensive coordinator Joe Rudolph, also speaking to ESPN Madison at the Mendota Gridiron Club Golf Outing, said Michael Deiter will begin fall camp at left guard.
Deiter played center and guard during his first three years on campus before moving to left tackle out of necessity last season. He opted to return for his senior year rather than leaving for the NFL a year early.
"We're going to see," Rudolph told ESPN Madison about Deiter's position. "It'd be great to put him back in at guard and see how the competition at tackle is in fall camp. I'd like to do that. ... I think he's going to start off at that left guard spot. I'm going to let Cole Van Lanen and Jon Dietzen and Patrick Kasl compete at that left tackle spot."
Four named preseason All-Americans
Four UW players were named to Sporting News' Preseason All-American team. Running back Jonathan Taylor and inside linebacker T.J. Edwards were first-team selections, while offensive linemen David Edwards and Beau Benzschawel made the second team.
Badgers sophomore Adam Bay was one of 48 players selected to the David Binn Award preseason watch list Monday. The award is given annually to the top long snapper in college football.