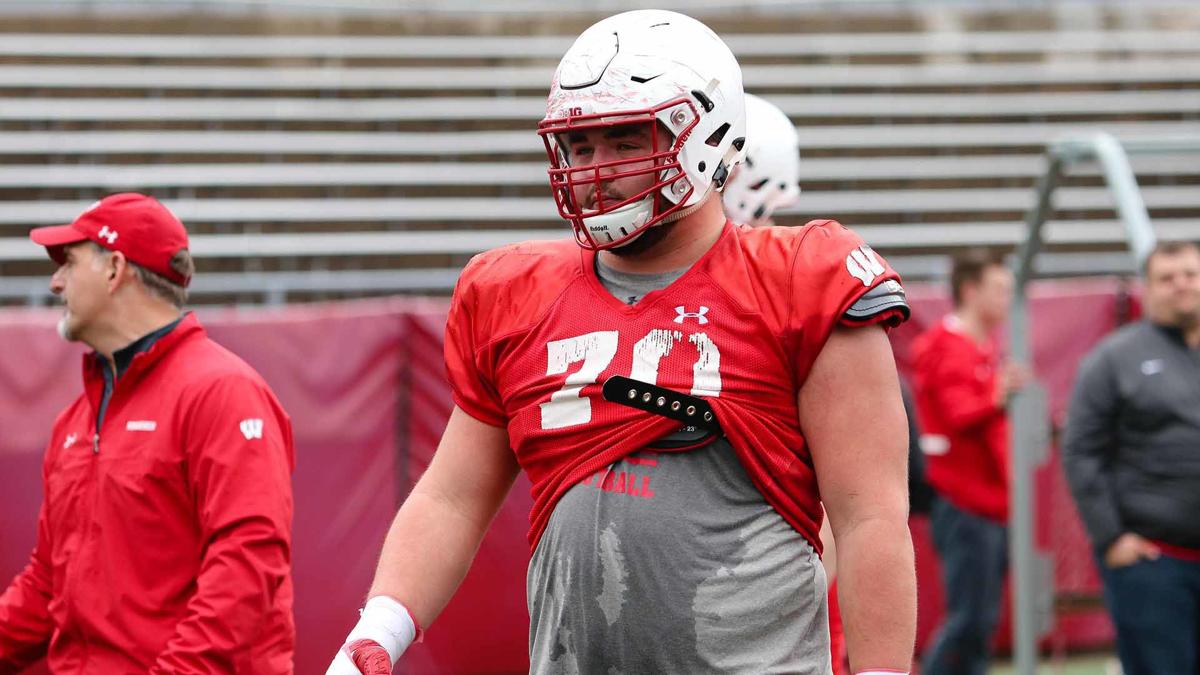 Carmin Seltzner took a moment to collect herself and assured the person on the other end of the line that this happens all the time.
Whenever the topic of conversation turns to her son, Seltzner can't help but get a little emotional.
"Every time I talk about him I just start to cry," Carmin said. "People will come up to me and they ask me about him and I just get overwhelmed with this feeling that I'm just so proud of this kid."
For good reason. Josh Seltzner, a former Columbus High School standout, has put himself in position to start at right guard when the University of Wisconsin football team opens the season Aug. 30 at South Florida.
It's been a remarkable journey for Seltzner, a third-year sophomore who began his career as a walk-on. UW offensive coordinator Joe Rudolph, who coaches the offensive line, said Seltzner has "put himself in a position to be a big-time contributor."
Seltzner had a group of reporters waiting to ask him questions following a training camp practice earlier this week. He conducted that interview facing the east stands at Camp Randall Stadium, where he'd sit while attending games as a youngster.
"It's honestly a dream come true," Seltzner said. "I've loved Wisconsin ever since I started growing up here and it's just surreal. I'm so happy. I just want to live in the moment."
Sack incentive
Up until about three years ago, Seltzner was far more interested in tackling quarterbacks than protecting them. When Seltzner was asked about playing the offensive line last week, he told the story of how his mother paid him $20 per sack for part of his youth football career.
Seltzner was always the biggest kid on the field but, at the time, wasn't confident enough to use that size to his advantage. So Carmin Seltzner came up with a way to light a fire under her son.
"A little too timid," she said. "He just needed that extra nudge."
Carmin watched with equal parts pride and regret one game as Josh brought down the quarterback over and over and over. Six sacks later, he'd earned $120. Carmin, who hadn't even told her husband, Jeff, about the sack incentive, paid her son and announced a new payment plan: $5 per sack from that point forward.
Josh played almost exclusively on defense through his junior season at Columbus but hadn't given much thought to playing football beyond high school. That changed after a chat with Scott Hilber, his coach at the time.
"Josh hindered himself a bit by not doing the camp circuit prior to his senior year," Hilber said. "So the summer before his senior year, he started going out and making himself noticeable, which is what you've got to do at a small school."
You have free articles remaining.
Among the camps Seltzner attended during the summer of 2016 was the one hosted by the Badgers. After going through defensive drills the first part of the day, the coaches asked him to move over to the offensive line.
Rudolph pulled aside Seltzner afterward and told him he was impressed. UW made it clear it wanted Seltzner to join the program as a walk-on as an offensive lineman.
"I just loved playing D-line," Seltzner said. "It was so much fun tackling the quarterback, strip fumbles. So when I was asked to play O-line, I was a little turned off by it. But I just ran with it because I knew I had the opportunity to come here and now I love it. I wouldn't change it for the world."
Rich reward
Seltzner arrived at UW as part of a talented in-state offensive line class that included former Middleton standout Kayden Lyles, Logan Bruss (Kimberly), Tyler Beach (Port Washington) and Alex Fenton (Menomonie) as scholarship players. Waunakee's Blake Smithback, like Seltzner, was a walk-on.
Lyles, who played defensive end last season but has moved back over to offense, is one of the players Seltzner is competing with for a starting spot.
"He's got good size, athleticism, strength," UW coach Paul Chryst said of Seltzner, who won the Division 2 title in the shot put at the WIAA state track and field meet as a senior. "Like anyone, the more that they understand what they're doing and how to do it, which he has been doing and applying, that's good stuff."
So is Seltzner's nickname — "Buffalo Head" — which was coined by UW athletic director Barry Alvarez. UW sophomore tight end Jake Ferguson, who was part of the same recruiting class as Seltzner, delivered the news that his grandfather had come up with the handle.
Seltzner says he hasn't worn a hat since he was in elementary school because he can't find any big enough to fit his enormous head. He's embraced the nickname and so has his family: Carmen went on Amazon and ordered a buffalo head that she mounted in the family's living room.
"If Barry Alvarez is going to give me a nickname like that," Josh said, "I'm going to run with it."
What Hilber said he appreciates the most about Seltzner is he never developed a big head despite having one.
"He never made a big deal about himself," said Hilber, who's now an assistant coach in Mayville. "That's a real extremely unique quality trait of successful people, I think. He was always very unselfish."
At UW, Seltzner has quietly gone about his business during a step-by-step process to a potential starting job. He drew the attention of the coaching staff as a true freshman in 2017 while going against veteran defensive linemen such as Chikwe Obasih, Alec James, Conor Sheehy and Olive Sagapolu.
Chryst rewarded Seltzner with a scholarship early last season. One of Seltzner's first orders of business was to call home and deliver the news to Jeff and Carmin, and you can imagine how that conversation went.
"I was completely numb and just started bawling," Carmin said. "I wanted to be there with him and hug him and tell him, 'You are worth it, buddy. You are amazing.'"