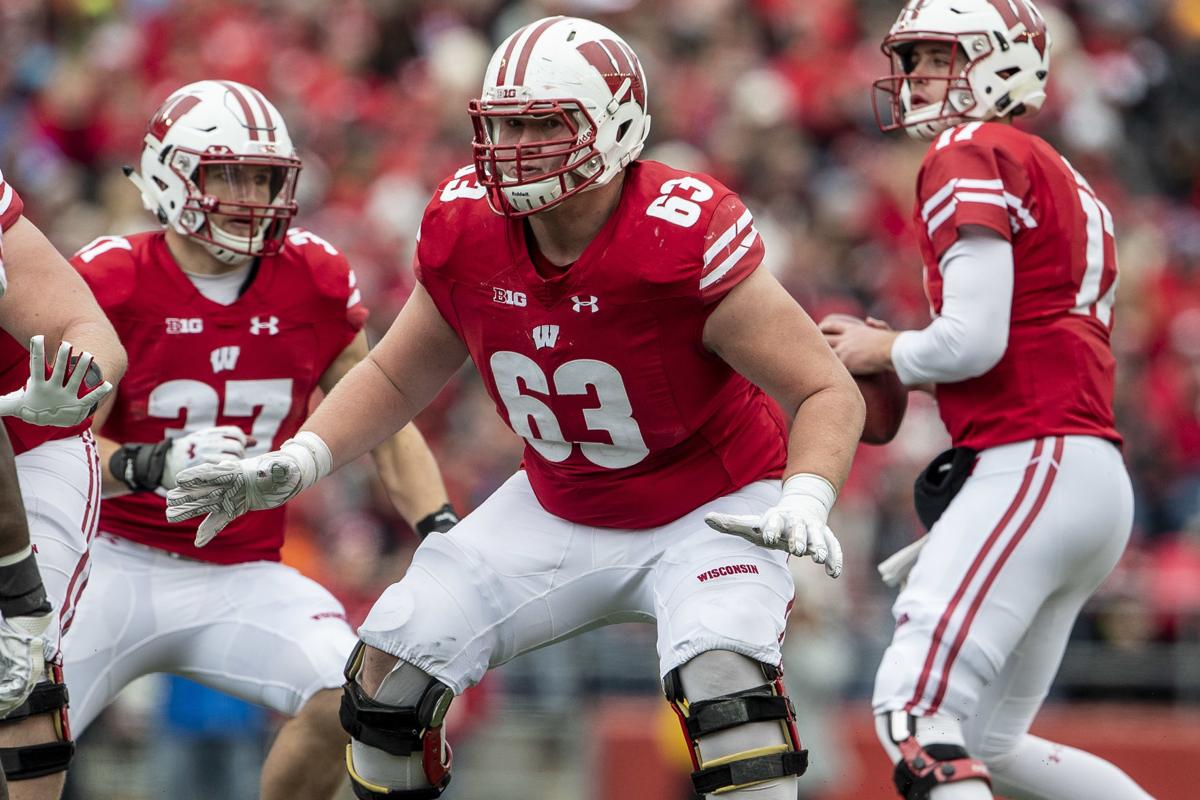 The University of Wisconsin football team benefited from Michael Dieter's versatility at every turn throughout the past four years.
When center Dan Voltz suffered a season-ending injury during Dieter's redshirt freshman year in 2015, he slid over seamlessly from guard to take his place.
After starting multiple games at both interior spots the following year, Deiter negated the Badgers' lack of depth at tackle by moving out to the edge, earning All-American honors at an unfamiliar position.
"The dude can play any position and play it at a high level," former UW right tackle David Edwards said. "I think if I'm an OL coach or a GM, the dude that has that kind of versatility is unmatched."
The Miami Dolphins hope to use that asset to their advantage in the coming years. They selected Deiter with the 15th pick of the third round (78th overall) on Friday night, making him the first UW player off the board in this year's NFL Draft.
Deiter started a program-record 54 games in all during his Badgers career - 24 at left guard, 16 at center and 14 at left tackle. He even scored a touchdown against Illinois in 2017.
You have free articles remaining.
He's expected to play guard in the NFL, although he could also potentially excel at center.
"Michael Deiter would be the definition of versatility and toughness," Badgers offensive coordinator and offensive line coach Joe Rudolph said through a video tweeted out by UW on Friday night.
"Just did an outstanding job of leading. He's unselfish and is a great example of what a Wisconsin offensive lineman is and left a great legacy."
Deiter became the first UW offensive lineman drafted since the New Orleans Saints took Ryan Ramczyk with the final pick of the first round in 2017. Thirteen offensive linemen were selected before Deiter this year.
Along with his versatility, Deiter said he's capable of providing a positive influence to an NFL locker room.
"I think I can be a good leader," Deiter said after UW's Pro Day in March. "I did it (at UW). And it's not like I'm super vocal or anything like that. It's just something I can do. I'm good at working within a team. I can make friends with anyone. I think I'm good at bringing people together."
Part 1 of a series following former Badgers linebacker Ryan Connelly's path to the NFL Draft.
The draft concludes Saturday with Rounds 4-7, which could be heavy on former Badgers.
Edwards and offensive lineman Beau Benzschawel have an opportunity to come off the board early in the day, while inside linebackers T.J. Edwards and Ryan Connelly, outside linebacker Andrew Van Ginkel, fullback Alec Ingold, safety D'Cota Dixon and nose tackle Olive Sagapolu may also be selected.
Be the first to know
Get local news delivered to your inbox!