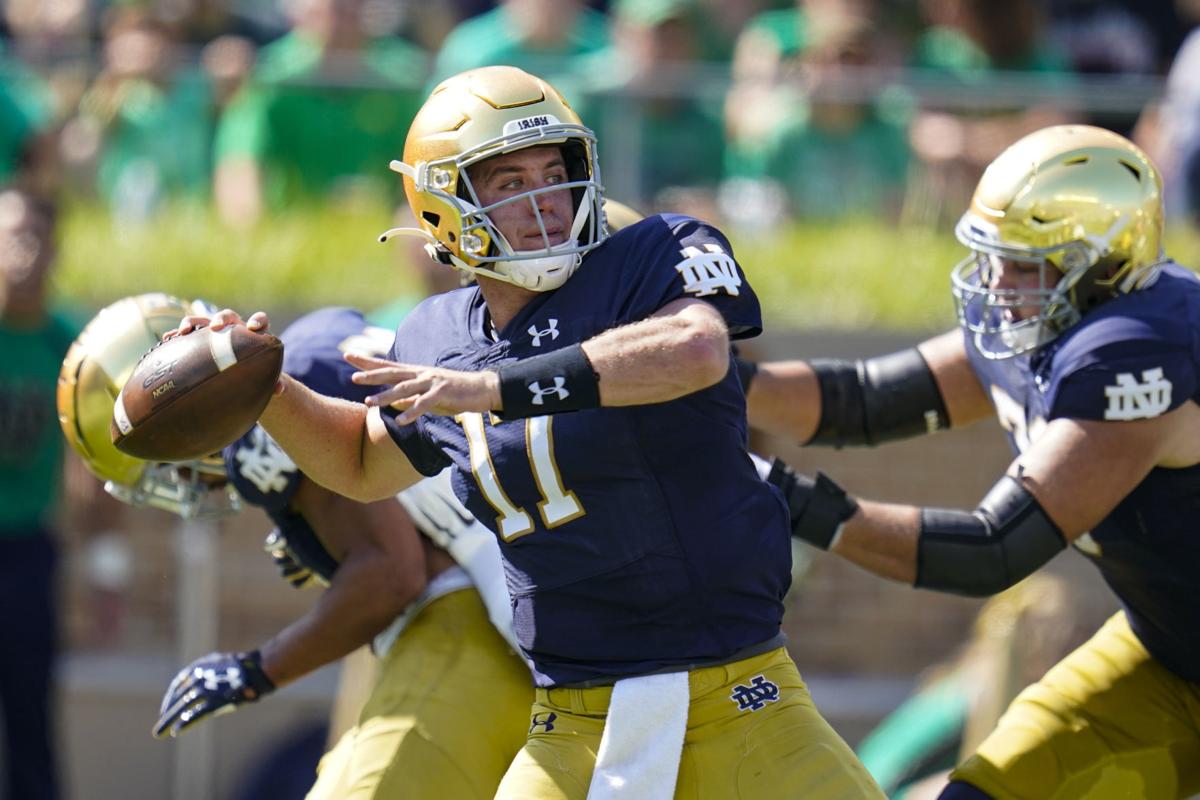 The University of Wisconsin football team is going on its first trip away from Camp Randall Stadium as it heads to Chicago for a neutral site game against Notre Dame. The teams are meeting at Soldier Field for the first of two matchups in the next four years. 
Week 4 of college football lacks any top 10 matchups, so No. 12 Notre Dame vs. No. 18 Wisconsin has garnered a lot of attention. The Badgers are the 5-6 point favorites to win, according to multiple betting sites.
Here's five things to know about Notre Dame's football team.
Jack Coan as a member of the Fighting Irish
The biggest matchup many people will have their eyes on is the battle between Notre Dame quarterback Jack Coan and UW quarterback Graham Mertz. Coan was the starter at UW for 18 games over three seasons before Mertz took over in 2020 after Coan injured his foot in preseason camp.
Coan has averaged 8.4 yards passing per attempt this season while Mertz has averaged six yards per attempt. Coan also boasts an average of more than 300 yards passing per game with nine touchdown passes, two interceptions and a 62.6% completion rate. 
The Irish utilize a two quarterback system that puts backup Tyler Buchner in for a change of pace, but Coan has seen the bulk of the snaps.
The offensive line
The history of the O-line at Notre Dame rivals that of the Badgers O-line. However, the Notre Dame offensive line really has struggled this season. They lost four starters from a season ago and have surrendered 15 sacks in three games. They've also caused a few traffic jams when failing to open running lanes. The Irish average 105.6 yards rushing per game. 
The Irish are stretching their depth chart and using a third tackle on the left side while trying to find a successful combination. 
Defense gives up big plays 
Notre Dame's defense is stacked with talented players but while their stat sheet doesn't show the struggles — allowing 28 points and 4.2 yards per game on the ground — the Irish have given up some big plays in their three games this season.
All three of their opponents tallied large numbers on the ground in a single play, which has skewed their opponents' yard-per-carry numbers. Eliminate the 89-yard run by Florida State and a 67-yard run by Toledo and they're only allowing 2.7 yards per attempt. 
Running backs, wide receivers and tight ends 
The offense has been dictating most of the Irish's success and it's because of big names like running back Kyren Williams and tight end Michael Mayer. The wide receiver room also adds some depth. 
Williams has shown versatility in running and receiving. He leads the Irish in all-purpose yards with 400 while also handling punt return duties. Mayer leads Notre Dame with 17 receptions, but opponents have recognized that Coan tends to give the ball to him but has allowed teams such as Purdue to stifle his performance. 
The wide receiver trio of Avery Davis, Kevin Austin and Braden Lenzy have combined for 23 receptions for 396 yards and two touchdowns. Davis and Austin both average more than 18.5 yards per reception. 
Kyle Hamilton
Kyle Hamilton leads Notre Dame on defense and is arguably the best safety in college football, already garnering 2022 NFL draft interest. He leads the team with three interceptions and is second on the team in tackles. 
Read more about him and how the Badgers are preparing for him here: 
Irish star defender Kyle Hamilton plays all over the field and has the potential to create massive headaches for the Badgers offense this weekend.
Wisconsin vs. Notre Dame football: 3 keys to victory, why the Badgers' running game matters so much and a prediction
WHO HAS THE EDGE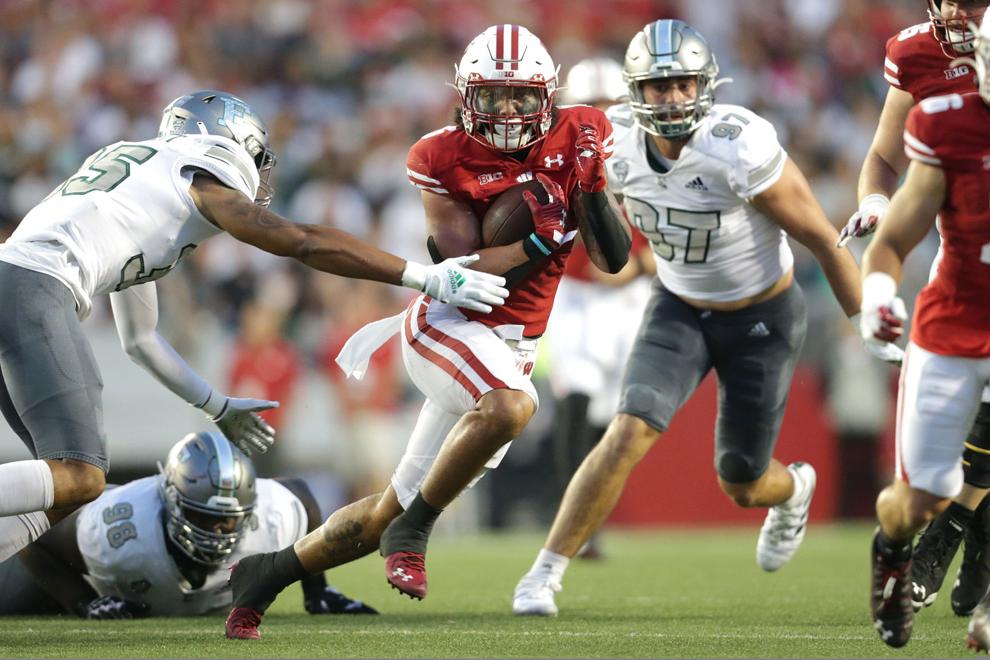 When the Badgers have the ball
The Badgers should have the ability to attack the Notre Dame defense where it is weakest — between the tackles. Notre Dame doesn't feature a standout middle linebacker or defensive tackle and likely will have trouble keeping UW's offensive line on the line of scrimmage. Big things could be in line for an emerging stable of Badgers running backs if the Badgers keep defensive end Myron Tagovaila-Amosa out of the backfield.
Chez Mellusi has gotten the lion's share of the work thus far, but there seems to be enough carries to go around after Mellusi, Isaac Guerendo, Jalen Berger and Braelon Allen all scored touchdowns two weeks ago. How UW manages its backs' workload will be interesting to see because keeping fresh legs attacking Notre Dame's front will be important.
Quarterback Graham Mertz has yet to throw a touchdown pass this season after one was called back by a penalty and another was dropped against Eastern Michigan. Notre Dame's secondary, led by safety Kyle Hamilton, is difficult to crack — their 232.7 yards per game allowed was inflated by pass-heavy Purdue. UW may need to use more motion in an effort to get the secondary out of position or rely on more play-action passing if the running game is working.
Senior receiver Danny Davis has been solid for the Badgers with 11 catches for 129 yards. Look for receivers Kendric Pryor and Chimere Dike to get more involved, especially in the flats, where they can catch the ball and create yards.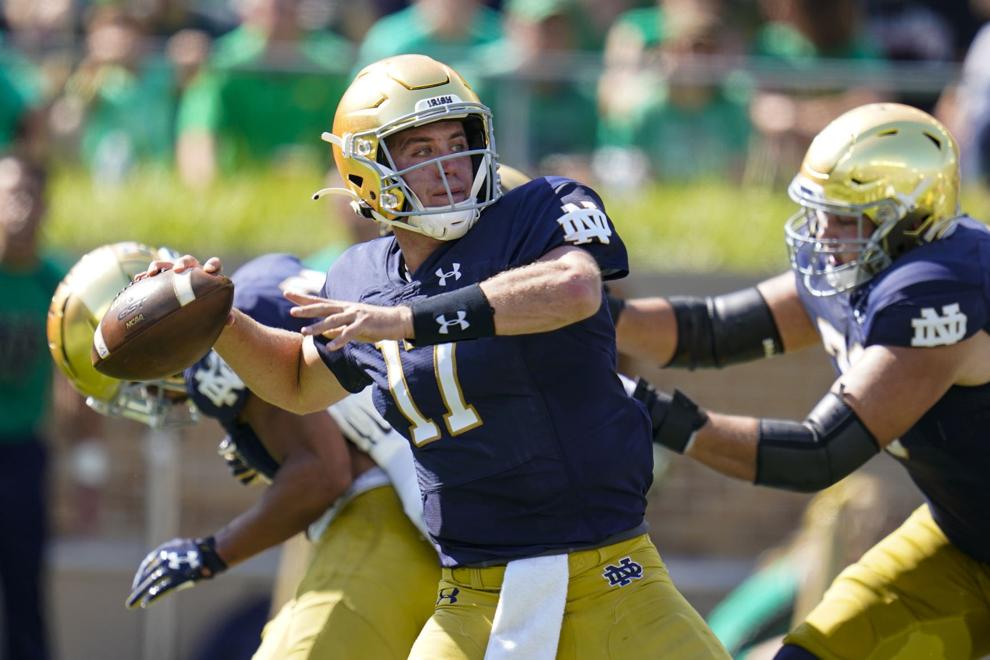 When the Fighting Irish have the ball
UW fans know Notre Dame quarterback Jack Coan well after watching him start 16 games for the Badgers, but freshman Tyler Buchner has been earning snaps in part because he's the better scrambler of the two and Notre Dame's line has struggled thus far.
The Irish have had three left tackles start games this season after Blake Fisher and Michael Carmody were injured in the first two games. Tosh Baker started last week against Purdue and ND again had difficulty handling pass rushers, allowing four sacks and 16 pressures against the Boilermakers.
Tight end Michael Mayer is Coan's and Buchner's top target, hauling in 17 catches for 206 yards and three touchdowns. Running back Kyren Williams is a tackle-breaking playmaker, but the O-line struggles have limited him so far this season (46 carries, 224 yards, 2 TDs). Senior receiver Kevin Austin Jr. will be a tough matchup for UW because the 6 foot 2, 215 pounder is adept at winning one-on-one battles on the sideline.
Williams is a difficult cover in the passing game, especially when he's matched against a linebacker, so the Badgers will have to identify where Williams lines up in the formation and ensure they have the right personnel defending him.
A big challenge for UW's defense will be to limit the big pass plays the Irish are capable of — cornerbacks Faion Hicks (listed as questionable) and Caesar Williams will need to be physical without committing penalties down the field.
Special teams
Collin Larsh has been solid for UW after winning the starting kicking job. Excluding the short kick that was blocked against Penn State, Larsh has made a 43-yarder and tries from 33 and 39 yards.
UW hasn't had many chances in the return game thus far, and don't expect them to come this week. Notre Dame only has allowed six punt returns for a total of 34 yards and it allows just 21.7 yards per kick return.
Don't look now, but UW punter Andy Vujnovich has become one of the best in the Big Ten, ranking fourth at 48.9 yards per punt. He'll have to direct his punts well to keep the ball away from Williams, who is returning punts for the Irish.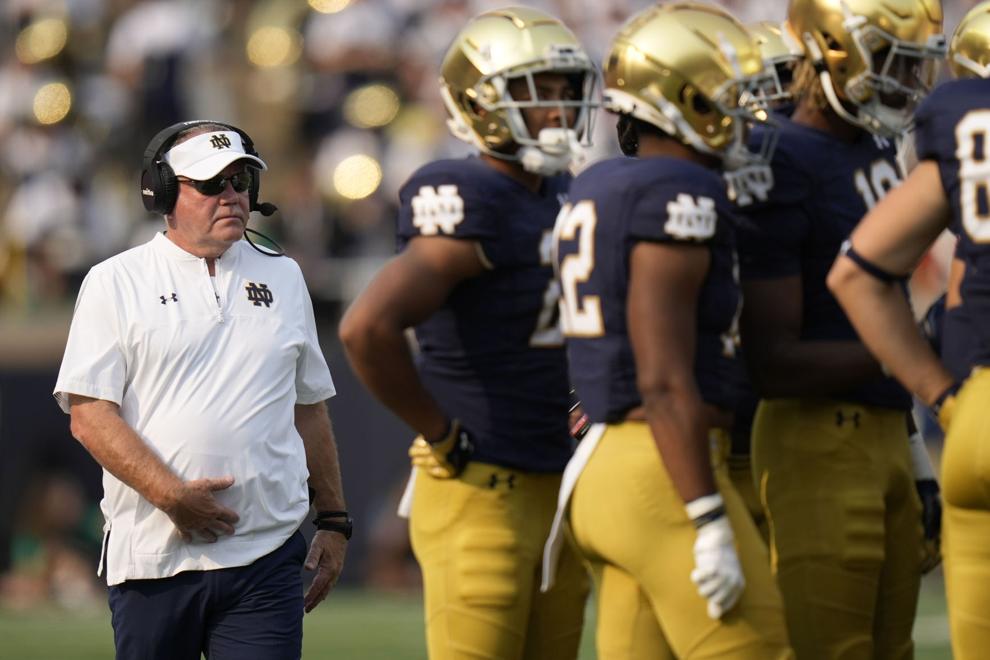 Trends
This will be the first time since 2001 that the Badgers play two ranked teams in their first three games. UW lost to No. 7 Oregon and No. 19 Fresno State that season. Paul Chryst never has started a season 1-2 since taking over at UW, but Chryst is 10-15 at UW against AP Top 25 teams.
Brian Kelly's Notre Dame teams are 6-5 in their first game against a ranked opponent in a season. Kelly is 3-2 in his last five games against Big Ten Conference opponents, dating back to 2015. He notched his 105th official win at Notre Dame last week, tying Knute Rockne for most by an ND coach.
UW last played at Soldier Field in 2011, when it defeated Northern Illinois 49-7.
THREE KEYS FOR THE BADGERS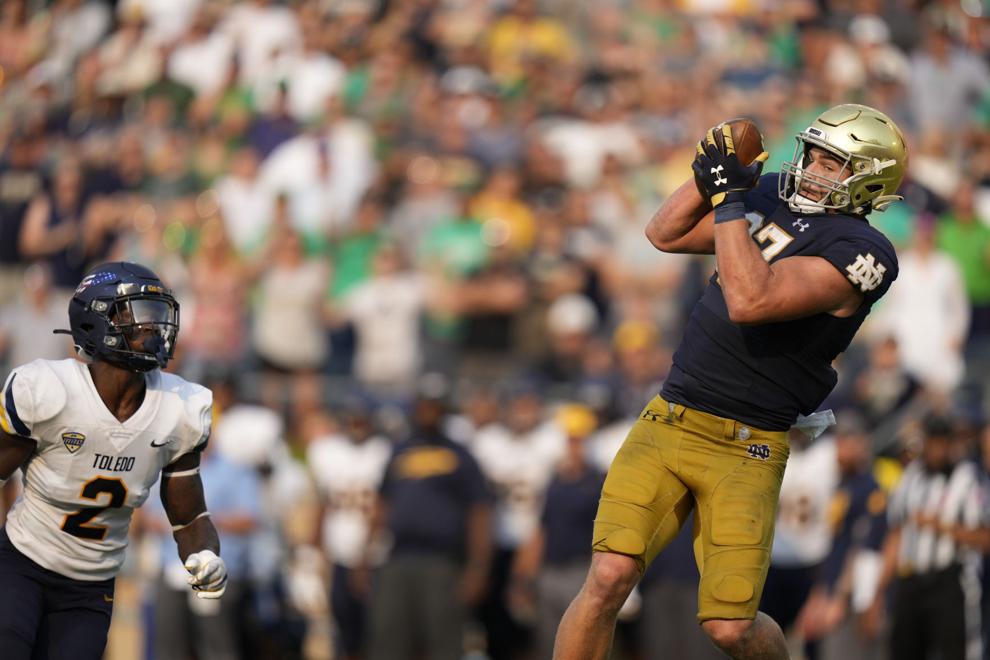 1. Bracket Mayer: Notre Dame tight end Michael Mayer is one of the best offensive weapons in the country, and quarterback Jack Coan is finding him often. UW should plan on using its outside linebackers to disrupt Mayer's route off the line of scrimmage and ensure a safety is covering the 6-foot-4½, 251-pound target. The Irish have multiple weapons who can make plays, but taking away option A in Mayer is a good place to start.
2. Attack the offensive line: The Irish's offensive line has been OK at its very best in its first three games this season. It allowed four sacks to Florida State, six sacks against Toledo and four sacks against Purdue. Pro Football Focus statistics count 38 pressures allowed by the line, and Notre Dame has rushed for just more than 100 yards per game. UW's front — especially with the return of inside linebacker Leo Chenal — is one of the best in the country and should continue to expose an O-line that's beaten up by injuries.
3. No turnovers: This one isn't rocket science, but the Badgers can't afford to give away the ball and put its defense in tough spots. After three turnovers in a loss to Penn State, UW's offense gave up the only points Eastern Michigan scored with a pick-6. It's likely the Badgers' offense again relies on the ground game given Notre Dame's difficulty stopping the run (145 yards rushing allowed per game) and the ball-hawking presence of safety Kyle Hamilton. Ball carries must protect the ball and quarterback Graham Mertz has to secure handoffs better than in the first two game this season. Mertz also has to be smart with his throws and not put too many attempts in danger of being picked off.
THREE KEYS FOR THE FIGHTING IRISH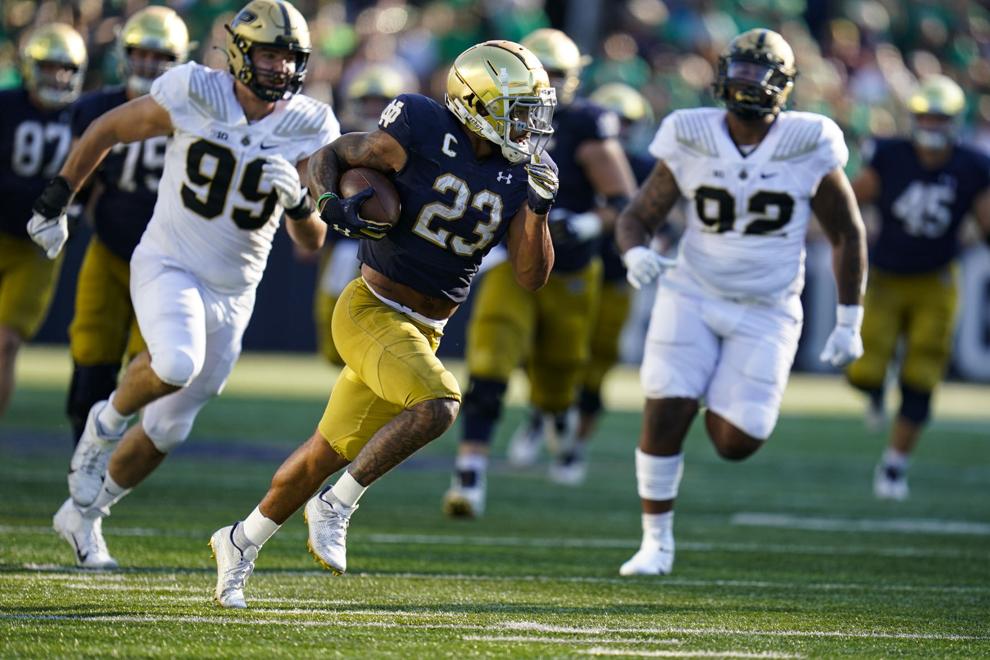 1. Decide on run game quickly: The Badgers defense has allowed a total of 66 yards rushing on 36 carries, less than 2 yards per attempt. Both Penn State and Eastern Michigan ditched running between the tackles, and the former had success getting to the edge with quick passing then challenging UW downfield. Notre Dame should do the same if its banged-up offensive line can't generate push. Wasting downs trying to establish a run game is exactly what UW wants Notre Dame to do.
2. Play Hamilton in the box: Mertz hasn't been challenging teams downfield often thus far. Notre Dame usually has star safety Kyle Hamilton play deep or in the slot so he can be close to the ball, but the Irish likely will need him in the middle of the field to make a bigger impact. Mertz most often targets the middle of the field between 10-15 yards, so placing Hamilton there and allowing him to read Mertz's eyes creates the most opportunities for turnovers or other disruptive plays.
3. Gives your tackles help: The Irish have to do a better job giving their tackles help against pass rushers, especially if they again are down to their third-string left tackle. While there are a multitude of reasons the Irish have been bad protecting the passer, many of which stem from the line losing matchups, relying on that group without help too often is another culprit. With UW outside linebackers Nick Herbig and Noah Burks both showing improved pass rushing skills this season, Notre Dame needs to keep a back, tight end or both in protection to keep Coan upright.
SERIES HISTORY
First meeting: UW won 54-0 at home in 1900
Last meeting: UW lost 31-7 at Camp Randall in 1964
UW's longest winning streak: Three games (1900, 1904, 1905)
UW's longest losing streak: Four games (1929, 1934, 1935, 1936)
THE PICKS
Colten's pick
UW has the advantage on both lines of scrimmage, something it's used to and knows how to use to control a game. If the Badgers can avoid turnovers, score touchdowns when they get in the red zone and force Notre Dame's offense to go for long drives instead of allowing big plays, they should be able to come away with the win. Fail in those areas, and Notre Dame ekes out another close one.
Badgers 21, Notre Dame 17
The Badgers and Notre Dame at Soldier Field ... Who do you like?

— Badger Beat (@BadgerBeat) September 20, 2021