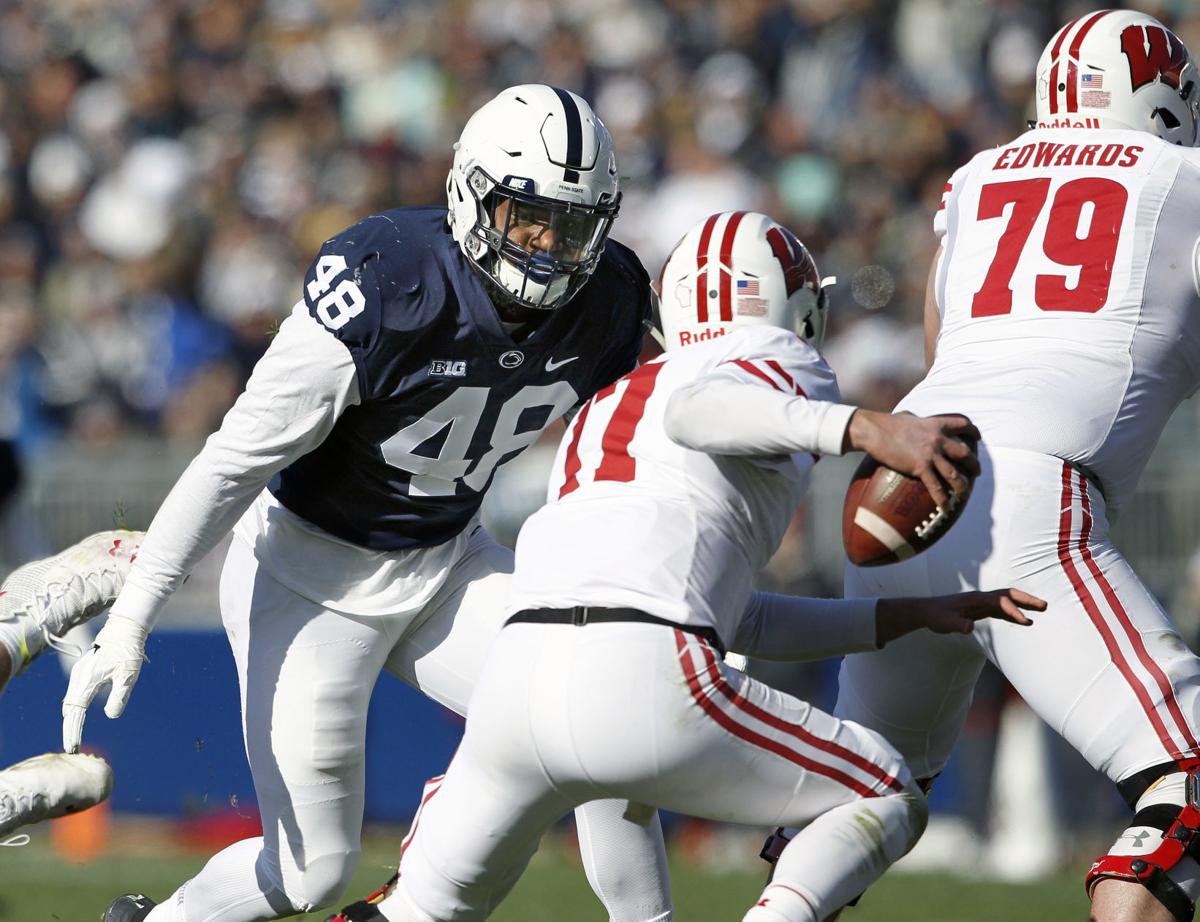 Penn State's 9-point lead late in the third quarter at Beaver Stadium on Saturday felt like a mountain to climb for a University of Wisconsin offense that looked trapped since Jonathan Taylor's 71-yard run on its opening drive.
The Nittany Lions knew the Badgers wanted to run the ball, and UW didn't feel comfortable doing much else with backup quarterback Jack Coan, who, after just four pass attempts in the first half, finished 9-of-20 for 60 yards with no touchdowns, two interceptions and a lost fumble.
Fans will blame Coan, the play calling from coach Paul Chryst, failures in recruiting that led to this point — anything, really, after watching their team unable to muster more than 3 points over the final 56 minutes against a Penn State team that hadn't held anybody under 21 since Week 3 against Kent State.
Certainly, there's plenty of blame to go around. But the one area the Badgers thought they could still count on in the passing game, the protection of an offensive line filled with All-American talent, struggled through one of its worst performances of the season in UW's 22-10 loss.
The line's shortcomings were physical as well as mental, the latter being something that's served as the group's downfall a couple times in the past. In the two videos below — back-to-back plays when the Badgers were trying to stay alive in the last couple minutes — UW's too slow in identifying where the Nittany Lions' pressure is coming from.
Penn State's inside linebackers even give themselves away in that second clip, inching forward before the snap, but four of the Badgers' six men in protection (running back Garrett Groshek included) hardly do anything while both defensive linemen collapse the pocket by bull-rushing Tyler Biadasz at the same time.
"It's a position you don't want to be in, which is fighting from behind in the noise on the road against really good pass rushers," UW offensive coordinator and offensive line coach Joe Rudolph said. "A couple times the noise and the change-ups and just being on the same page — you've got to be on the same page. It's stuff you've got to clean up."
Rudolph's right in saying the Badgers were in a tough spot late in this game, but throughout the second half Saturday there were instances where Penn State's pass rushers simply got the better of UW's line in one-on-one match-ups.
The Nittany Lions bring a straight four-man rush on the following three plays, but at least one Badgers lineman gets beat in each — David Edwards and Michael Deiter in the first, Cole Van Lanen in the second and Beau Benzschawel in the third.
The right side of UW's line appeared to suffer the most issues throughout the day, perhaps Edwards more than anyone. The junior appeared on Monday's injury report with a left arm issue, and Rudolph indicated Tuesday that Edwards is dealing with the same injury that he suffered in fall camp and hampered him through the Badgers' first few games.
"He probably could show up on the injury report every game this season," Rudolph said. "He's battled through a lot. It's something that's bugged him since camp, so just trying to give it the attention it needs and trying to get him in the best position to be successful."
While it seemed as if his injury had subsided in recent weeks, perhaps he's not actually out of the woods, and it'll be interesting to see how it affects his looming NFL decision.
You have free articles remaining.
Regardless, Saturday's protection issues weren't all about Edwards. The Nittany Lions rank in a tie for sixth nationally with 34 sacks this season, and plenty of their pass rushers are capable of producing against most lines in the country. This Badgers' line isn't like most in the country, however, and you'd expect the group to hold up a bit better than they did.
Maybe holding those guys to a higher standard is fair, maybe it isn't, but considering the Badgers' limitations on the offensive side of the ball, they at least needed their best unit to come through with a big-time performance in order to give the passing game a chance.
— Penn State also fell short in protecting its quarterbacks, as the Badgers' pass rush applied more pressure than we've become accustomed to from UW this season.
While the improvement certainly shouldn't be discounted entirely, most of it came from targeting left tackle Will Fries, who really endured a rough outing Saturday.
For reasons that remain unclear, the Nittany Lions flipped Fries, normally their right tackle, with left tackle Ryan Bates for this game, and the results led coach James Franklin to tell reporters this week that the switch "probably did not pan out as well as we would have liked."
UW threw a number of stunts Fries' way, and Zack Baun also abused him in one-on-one situations a couple times.
Even though Fries was working in an unfamiliar spot, give credit to Baun for keeping a streak of good play going in both the run and pass game.
There were a few times when the Badgers applied pressure without needing to expose Fries, though. They found success with an inside linebacker blitz that I've always been a fan of — where they drop both outside linebackers and flood the middle of an opposing offensive line.
Even though they only recorded one sack in the following three plays, T.J. Edwards and Ryan Connelly collapse the pocket enough on the other two to force the quarterback into running on third-and-long.
Here are a couple other notes from re-watching Saturday's game:
— By my count, the Badgers missed 13 tackles against Penn State, nine of which came in the first half.
— Edwards and Connelly were great in the run game yet again. They combined for 24 tackles and it kind of felt like even more when watching it back. Edwards made a couple plays near the sideline where he needed to use his speed to get out there in time. His lack of speed was a major negative in his draft evaluation last year, and it'll be interesting to see how he tests out athletically at the NFL Combine and UW's Pro Day this offseason.
— Taiwan Deal may be one of the most underrated players on this team — a legitimately good runner who never really got his chance to show what he can do as a lead back. Hopefully the hamstring injury doesn't keep him out too long. He's another guy who could be interesting to watch come Pro Day in March.