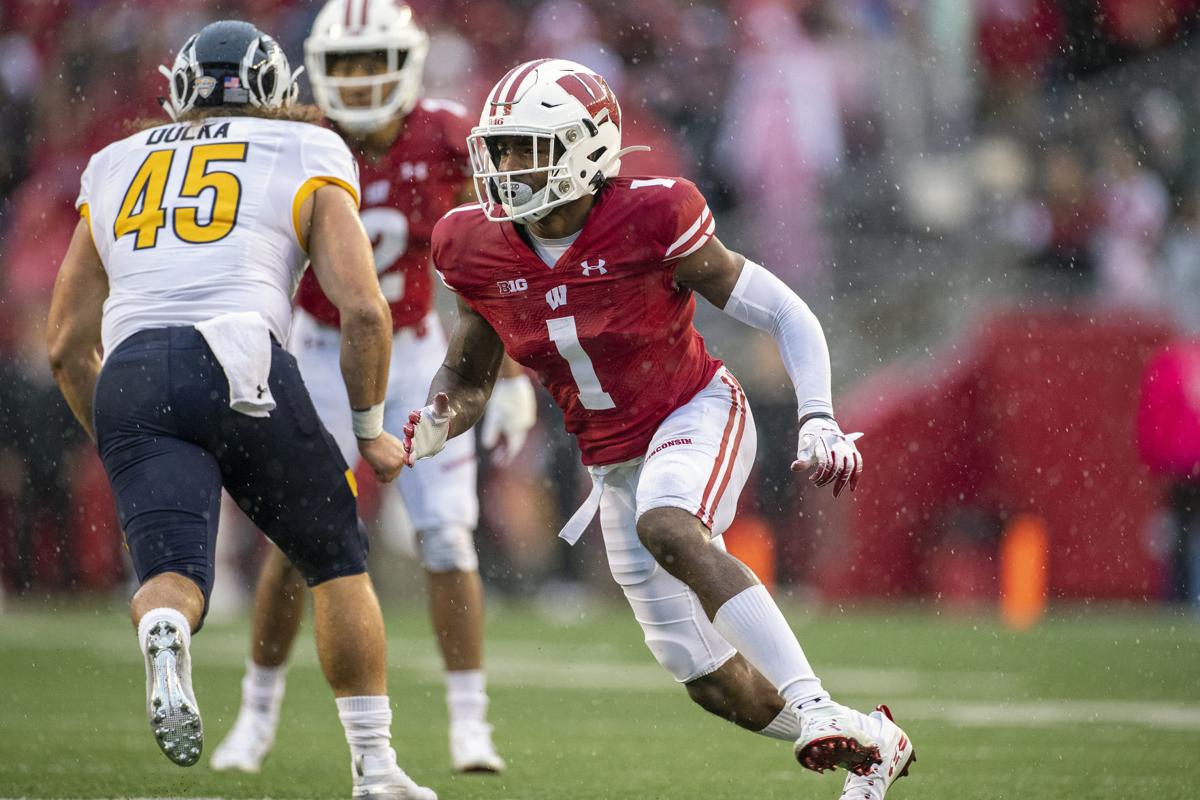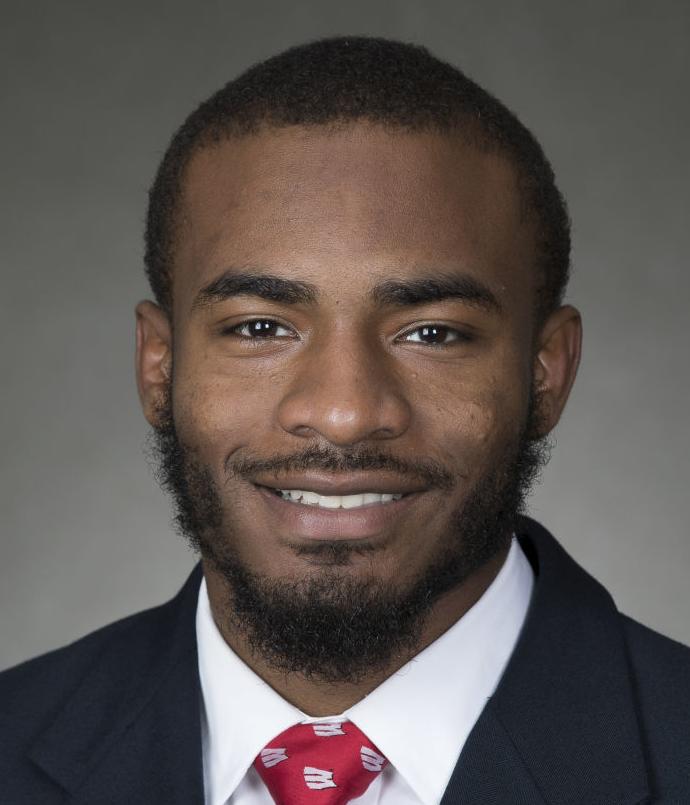 Arguably no one has spent more time around Faion Hicks than Rachad Wildgoose since Wildgoose arrived on the University of Wisconsin campus.
They knew each other before making their way to Madison, both being Miami-area recruits, and they've established a tight bond as members of the Badgers football team's secondary. The two cornerbacks also room together, so Wildgoose knows what Hicks is like outside of the football grind.
When asked to describe his running mate, Wildgoose came back to the same word often: Cool.
"Faion, that's like my brother here. He's just a cool dude all the time. He's always calm, never gets too riled up. Never too low, never too high, he's just a cool dude," Wildgoose said.
"I just feel like we've got to get back to how we were before, everybody swarming to the ball," sophomore cornerback Rachad Wildgoose says.
That's a good attitude to have as a cornerback, a position where a small mistake often gets magnified into a big gain for an opponent. Being able to stay calm and move on from those plays quickly is essential. That ability has helped Hicks, who started 11 games last season as a redshirt freshman, vastly improve this season.
Hicks has become the No. 1 cornerback, starting seven of eight games for UW (6-2, 3-2 Big Ten) as it prepares to play Iowa (6-2, 3-2) Saturday at Camp Randall Stadium in an important Big Ten West Division game. While the second and nickel cornerback spots have rotated, Hicks has staked his claim to the top spot, and his coverage is proving why he's right for the role.
As you learn from watching him, opposing offenses haven't challenged Hicks much in recent weeks. UW coach Paul Chryst has enjoyed watching Hicks grow into the player he's been recently.
"Faion's been fun to be around. None of us have played perfectly, but I think that he's done a great job of it. Like any player as they grow and mature, he's confident in what he's doing, the techniques that he's using and being asked to use," Chryst said.
"Then I think that there's a point in everyone's career where they start truly playing the game, you know, they're not thinking as much. I think he's at that point where he's playing it. It's been fun to see his growth. Obviously, we lean on him a ton."
Better than before
The Badgers were young and talented at cornerback last season, with Hicks emerging as one of the top players the team had at the position. But inexperience and poor decisions plagued the unit throughout the year.
Players in UW's secondary vowed in the offseason to return better than what they showed, knowing the same group would be together again. The first step to improving, Hicks said, was understanding the defense as a whole rather than just his role in it.
Diving into the playbook and learning aspects like where his help player is in zone coverage, where he can try to force his man to on the field, and how he can challenge a receiver at the line of scrimmage have all helped Hicks elevate his play.
Blocking A.J. Epenesa, being stout against the I-formation run, and containing quarterback Nate Stanley are all key for No. 16 UW. 
"Just being consistent at the line of scrimmage with the receivers, challenging them whenever we're in one-high (safety) situations, and knowing where to win," Hicks said. "Just seeing the amount of growth, as far as my technique, limiting the big plays, you can see it with the whole group. It's something we wanted to do. Obviously we're a lot better than we were last year. It's a testament to all of our work in the offseason."
You have free articles remaining.
Hicks' speed was never an issue — he ran a 4.57 40-yard dash time as a junior in high school, and he says he's gotten faster at UW. He's used that speed and quickness to stay locked on to receivers in coverage, but also to become a valuable player on the Badgers' special teams units.
"A lot of people don't know it, but that dude is (really) fast," senior linebacker Zack Baun said. "He's running all over the field. He's a key guy on our defense and also on special teams, he's running down as gunner. He's a willing guy, that's just willing to do whatever it takes."
Wildgoose said Hicks has become a much better player at the line of scrimmage as well. When UW defensive coordinator Jim Leonhard's defense calls for it, cornerbacks need to jam receivers at the line to disrupt timing for opposing quarterbacks.
It's a difficult technique, Wildgoose said, but Hicks is making it work.
"His confidence is very high right now. I feel like he's just getting better as time goes, getting more comfortable with his technique, getting out of his breaks better and stuff like that," Wildgoose said. "I just feel like he's just an overall better player."
Got things covered
Leonhard chuckled when the question was posed: Are teams starting to realize Hicks' improvement and throw at him less?
"He's done a great job in coverage. His guy's not open as much, that's a good thing, you don't get as many targets when that happens," Leonhard said.
It seems like a simple cause-and-effect, but teams haven't tested Hicks often in the past month. Michigan State only threw Hicks' way once, with a ball thrown well behind the receiver for an incomplete pass. Against Illinois, Hicks was targeted three times and allowed one catch, a diving effort by Casey Washington that had to be reviewed by the officials.
Ohio State was able to beat Hicks for completions on two of three tries, both of which went to Chris Olave. Olave's first catch against Hicks, which resulted in a 27-yard touchdown, was called a "scheme-beater" by safety Eric Burrell, as Olave crossed into linebackers' zones before going up the field to open turf.
Since Nate Stanley took over as the starting quarterback in 2017, the Badgers have beaten the Hawkeyes 38-14 and 28-17.
Hicks gave credit to the pass rush for limiting quarterbacks' time to throw, and said practicing against UW's talented group of receivers prepares him well for his role on Saturdays.
"All I have to do is just go to work, learn from my mistakes from last year, and just go out there and just play," he said. "I actually look forward to the ball being thrown my way, but I haven't been tested much. All I can do is just make sure my guy is covered and make sure the quarterback looks the other way. Hopefully, a few teams down the road actually try me.
"That's just a testament to the front seven getting pressure there and the defense feeding off of each other. It's been a fun year. I've just got to continue to be consistent and do my job."
Hicks should have chances to make plays Saturday against the Hawkeyes, perhaps even snag his first interception of the season. Iowa quarterback Nate Stanley has been distributing the ball pretty equally among his receivers, meaning Hicks may see some targets coming his way.
Either way, Leonhard knows Hicks will be ready.
"He's really owned that responsibility to kind of be our lead guy and he's allowing us to do some really good things on defense."
<&rdpStrong>No. 16 Badgers vs. No. 18 Iowa: Who has the edge?</&rdpStrong>
WHEN THE BADGERS HAVE THE BALL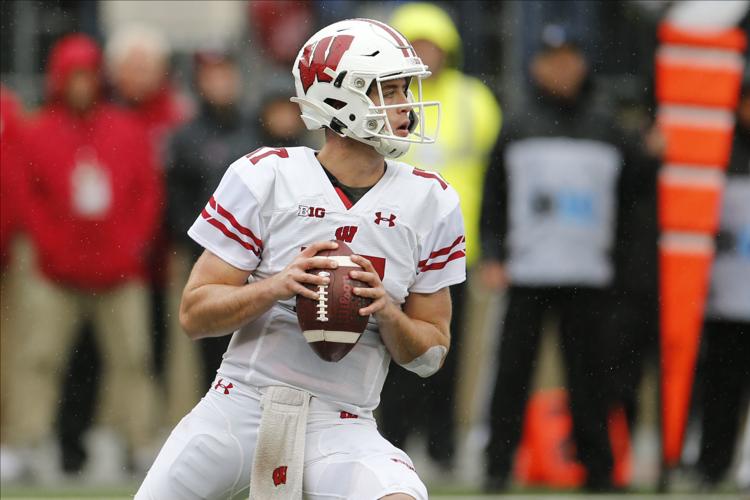 Jonathan Taylor will be itching to get things going against the Hawkeyes after his lowest output of the season against Ohio State and a bye week. The offense has struggled in recent weeks without the junior tailback's big plays, and the sledding doesn't get easier against the Hawkeyes. Iowa's run defense is the eighth-best in the Football Bowl Subdivision, allowing 87.8 yards per game.
UW quarterback Jack Coan (above) was under siege against the Buckeyes, as he was sacked five times. That pressure effectively negated what the Badgers could do through the air. He should have more time against Iowa, which isn't as talented up front as OSU, but UW must protect Coan better to have a chance to move the ball.
Iowa defensive end A.J. Epenesa is a premier pass-rusher, and will be a good test for the offensive line. Senior linebacker Kristian Welch, an Iola native, leads the Hawkeyes with 47 tackles, but won't play due to injury, per Iowa coach Kirk Ferentz. Senior cornerback Michael Ojemudia has two interceptions and six pass breakups this year, leading the 12th-best pass defense (178.1 ypg allowed) in the country.
EDGE | PUSH
WHEN THE HAWKEYES HAVE THE BALL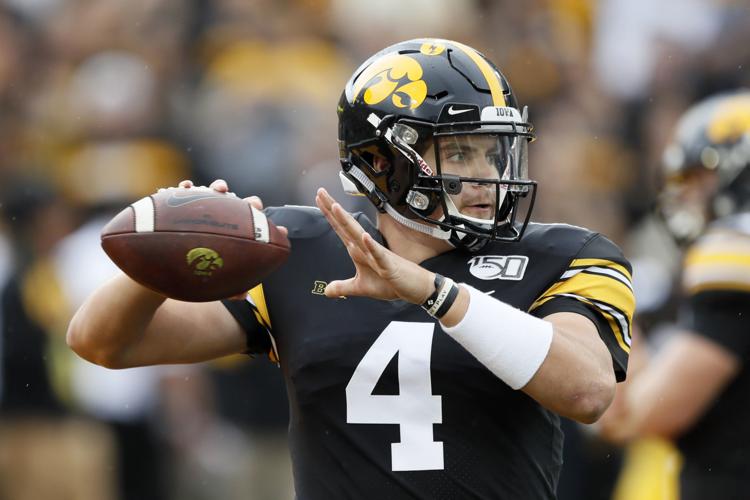 Quarterback Nate Stanley (above), a Menomonie product, is not having a great year for Iowa, completing 60.7 percent of his passes with 10 touchdowns compared to five interceptions. However, he is generating plays with his mobility, as Iowa utilizes his athleticism with bootlegs and designed roll-outs, and his TD total would be better if the Hawkeyes threw it more inside the 10 instead of leaning on the ground game. Losing two tight ends to the NFL — first-round picks T.J. Hockenson and Noah Fant — also hurt Stanley's production.
The Hawkeyes, who run most plays out of the I-formation, are averaging 24.4 points per game. A trio of running backs — Mekhi Sargent (98 carries, 443 yards, 4 TDs), former Monona Grove standout Toren Young (62-357-1) and Tyler Goodson (64-316-1) — carry the load in the backfield. Iowa's run game presents a challenge to the Badgers, who need to tackle better than what they showed against Illinois and Ohio State to avoid big plays from biting them again.
UW should be able to use its base 3-4 defense more often against the Hawkeyes, which should help free up linebackers in the run game.
EDGE | UW
SPECIAL TEAMS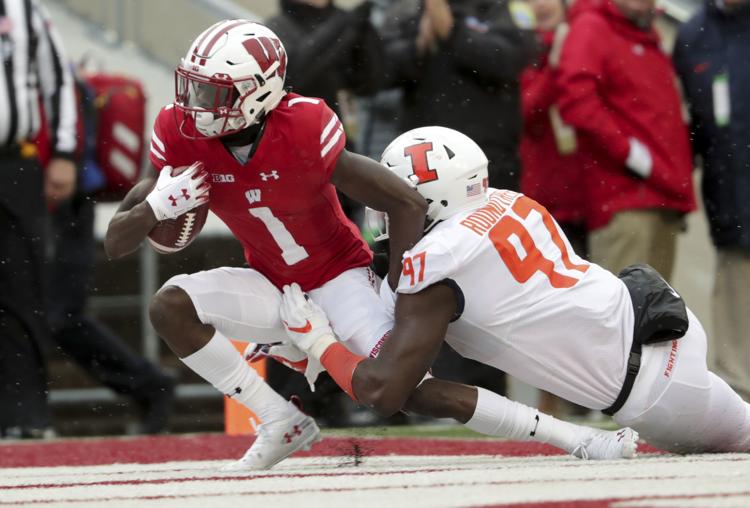 Alexander Smith's blocked punt against Ohio State was UW's first since 2014, and a highlight for a special teams unit that has struggled at times.
Aron Cruickshank (above) has only had nine kick returns this season, but he's popped two of them of 44 and 38 yards.
Iowa's Keith Duncan is 19 of 22 on field goals this season, including 10 of 12 from 40-49 yards. In a game that shapes up to be a tight one, Duncan's accuracy is a big factor in converting drives into points — a luxury UW can't always count on with Collin Larsh, who is 6 of 10 on field goals this year.
EDGE | IOWA
COACHING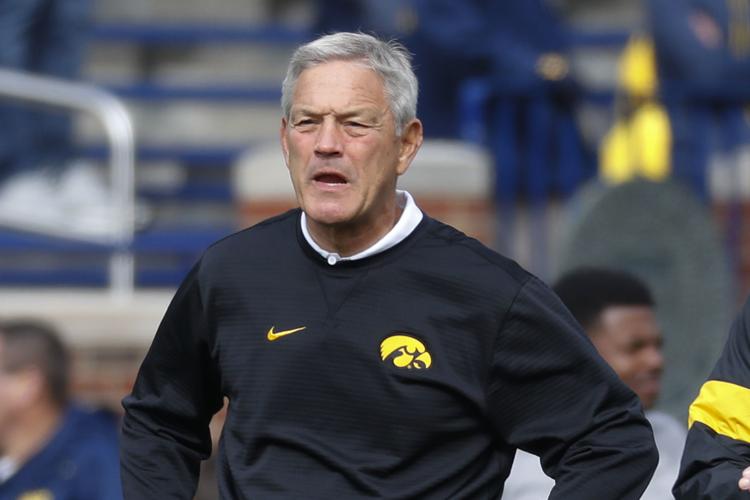 Iowa's Kirk Ferentz (above) is the longest-tenured coach in FBS, and is the only coach who was hired by his school in the 1990s. He and UW coach Paul Chryst have similar styles on the field and in constructing a coaching staff — continuity matters.
UW offensive coordinator Joe Rudolph has worked with Chryst for more than a decade, while Ferentz has longtime assistant Phil Parker as defensive coordinator for an eighth season and his son, Brian, as the offensive coordinator. Brian Ferentz played at Iowa before a career in the NFL as a player and a coach. Both teams are coming off of bye weeks, giving both coaching staffs time to correct mistakes and make adjustments.
EDGE | PUSH
INTANGIBLES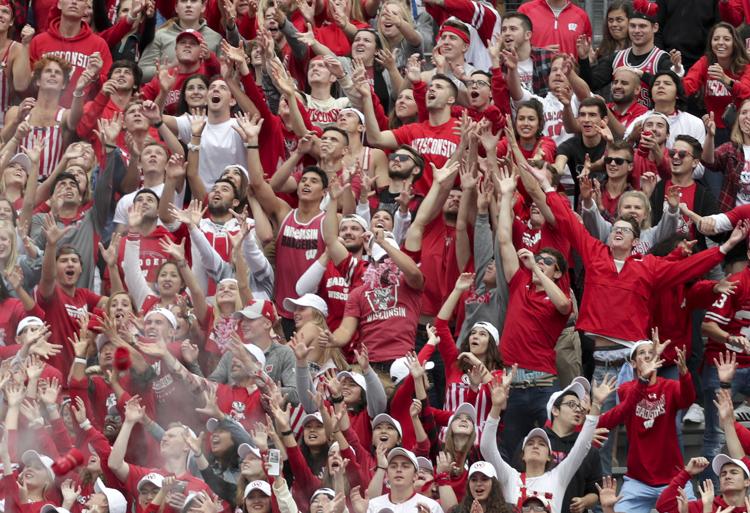 Both teams are desperate for a win. Both sit at 6-2 overall and 3-2 in the Big Ten Conference. With four games remaining in the regular season, the Hawkeyes and Badgers are very much in the running for a Big Ten West Division title, but would need to win out to give themselves a chance to qualify for the Big Ten Championship Game.
UW is unbeaten at home this year, and is playing its first home game since Oct. 12. With their chances at a conference championship hanging in the balance, expect UW to ride the home-crowd energy.
EDGE | UW
STATE JOURNAL'S PICK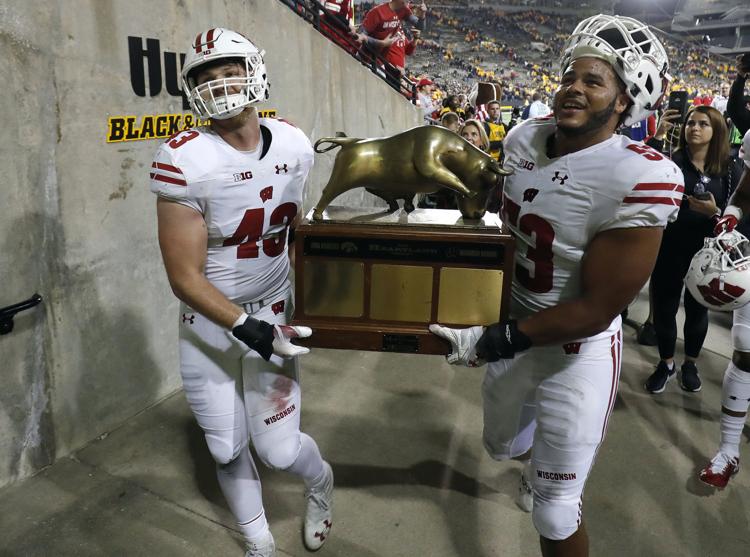 There's more talent on the Badgers' sideline — the results of the past two weeks don't change that.
But finding a way to utilize that talent is going to be key, and two weeks to prepare should be more than enough time for Chryst and Rudolph to get things together offensively.
Jim Leonhard won't allow Iowa's simple yet effective offense to create big plays, and UW keeps the Heartland Trophy.
BADGERS 20, HAWKEYES 10
THE NUMBER (UW)
5: Turnovers in the last two games for the Badgers after giving the ball away four times in the first six games
THE NUMBER (IOWA)
36: Total penalties for the Hawkeyes, whose 34.9 yards per game lost from penalties is fifth-fewest in the nation
KEY STAT (OFFENSE)
Rushing offense: UW is down to 25th in the nation at 216.4 rushing yards per game, and coming off its first game in which it failed to rush for 100 yards since 2017
KEY STAT (DEFENSE)
Sacks allowed: Iowa has given up 18 sacks this season (2.25 per game), so UW's improved rush should be able to put pressure on Stanley
Our Wisconsin State Journal team offers a closer look at the athletes that have committed to playing football at the University of Wisconsin b…