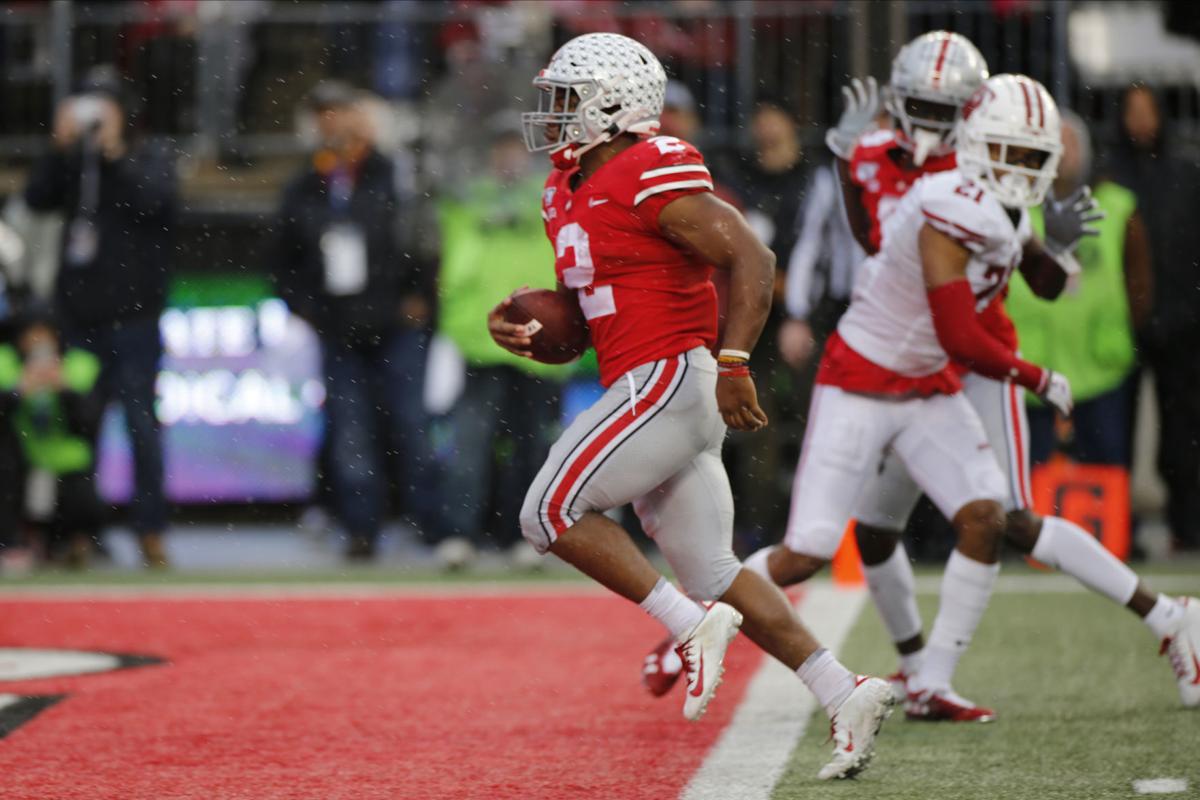 COLUMBUS, Ohio — University of Wisconsin senior linebacker Chris Orr had what he wanted.
His defensive line had occupied blocks and set up Orr for a tackle on Ohio State junior running back J.K. Dobbins. Orr, one of the Badgers' best defensive players and one of their best tacklers, broke down to make a hit near midfield on Dobbins, the Buckeyes' 5-foot-10, 217-pound tailback.
Orr was met by a stiff arm, failed to bring Dobbins to the ground, and had to watch as he broke the run toward the sideline and gained 39 yards before being tackled. Dobbins ran in a short touchdown a play later. It was that kind of day for the Badgers, who allowed a season-high 264 yards rushing, and lost 38-7 at Ohio Stadium.
"Yeah, definitely, this is the best offense we've faced," Orr said.
The duo of Dobbins and OSU sophomore quarterback Justin Fields gashed the Badgers for 191 yards of that total, and 121 of them came after halftime.
That statistic isn't entirely fair because once the Buckeyes got the score firmly in their favor late in the game, they fed Dobbins in the run game, but he scored two of OSU's four touchdowns in the second half to help them pull away from UW (6-2, 3-2).
"They're both talented. That's probably the most talented duo — quarterback-running back duo — we've seen," senior linebacker Zack Baun said. "But as far as schemes and stuff, it wasn't anything we're not used to."
Ohio State (8-0, 5-0) was effective using a zone-read rushing attack with Fields and Dobbins. Fields would see how the defense was playing his mesh handoff with Dobbins, then decide whether to hand it off or keep it himself. Four of Fields' nine runs were off of reads or by design, while the others were scrambles.
Buckeyes coach Ryan Day said he challenged Dobbins to step up his game with the Badgers and their star tailback Jonathan Taylor in town.
"J.K. ran with a chip on his shoulder. Jonathan Taylor is a wonderful back, but he felt like he wanted to be the best running back in the game today," Day said.
Orr said defending that duo was so difficult because of how OSU's line played and the attention Fields demands as a runner.
"It's always hard when you have a dual-threat quarterback, a true dual-threat. He can scramble and go get first down when it seems like it's completely out of the question," Orr said.
"Even quarterback run game, when people run the quarterback, they have a hat for a hat and they can block everybody and they just have a free runner. That's where you have to win your one-on-one blocks, which is tough when you've got a big dude on you."
Dobbins went over 1,000 yards for the season against UW, giving him 1,000-yard seasons in each of his three years at OSU. The Badgers knew the dynamic force Dobbins could be, having seen him gain 174 yards on 17 carries in the 2017 Big Ten Championship game.
Dobbins and Fields were the key figures in the Buckeyes rallying for 28 unanswered points after UW had pulled within 10-7 early in the third quarter.
"We didn't really step up in the second half when we needed to. That's something that we need to do a better job of, is coming out in the second half and continue to set the tone," linebacker Noah Burks said.
"This is a team where you've got to make plays if you want to beat them."
---
Photos: Ohio State Buckeyes roll over Wisconsin Badgers in Big Ten showdown
Buckeyes 38, Badgers 7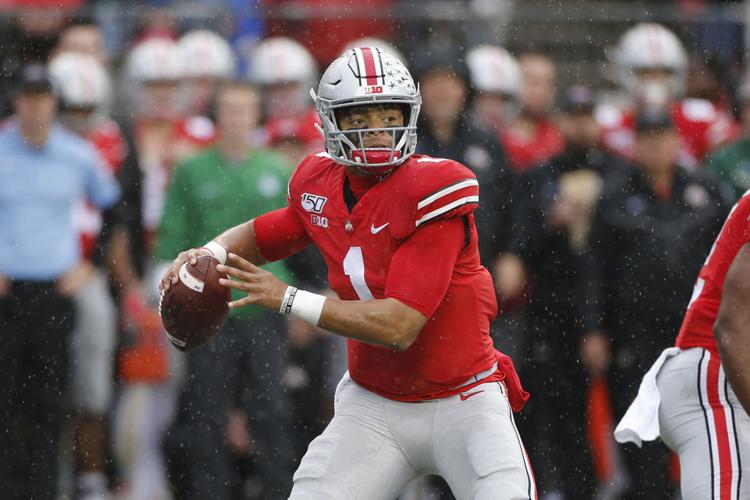 Buckeyes 38, Badgers 7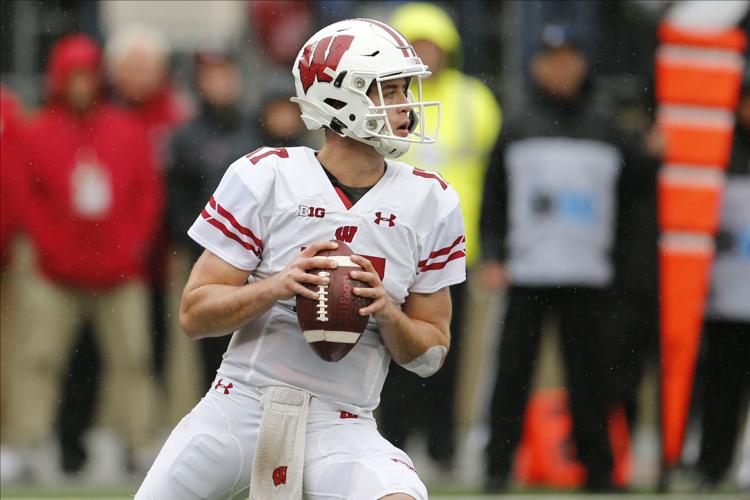 Buckeyes 38, Badgers 7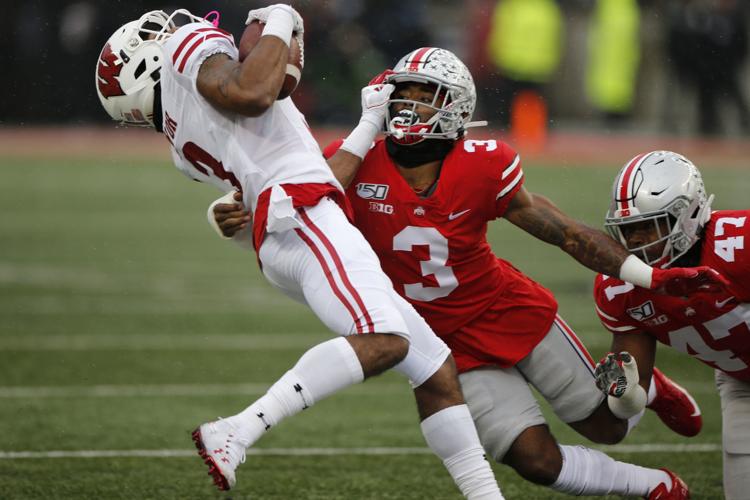 Buckeyes 38, Badgers 7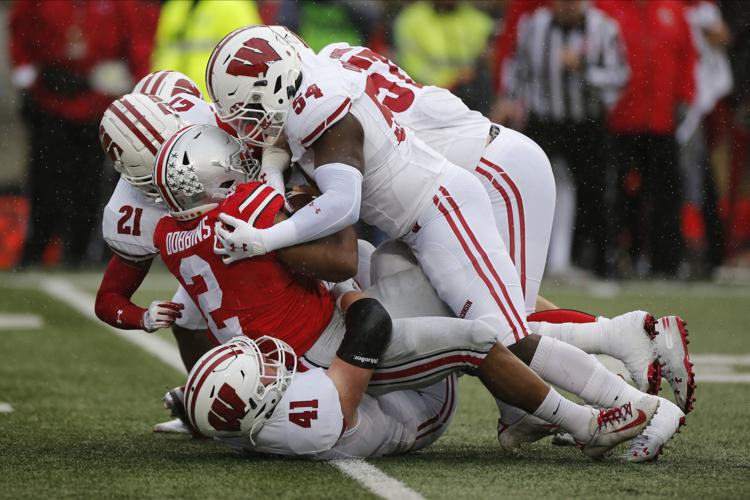 Buckeyes 38, Badgers 7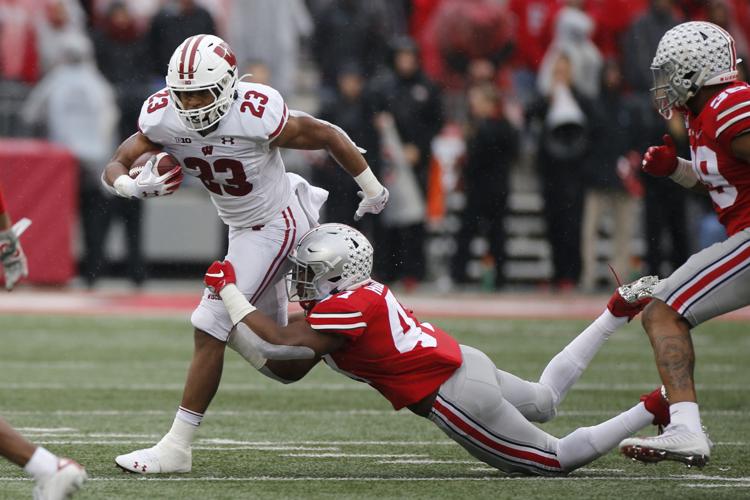 Buckeyes 38, Badgers 7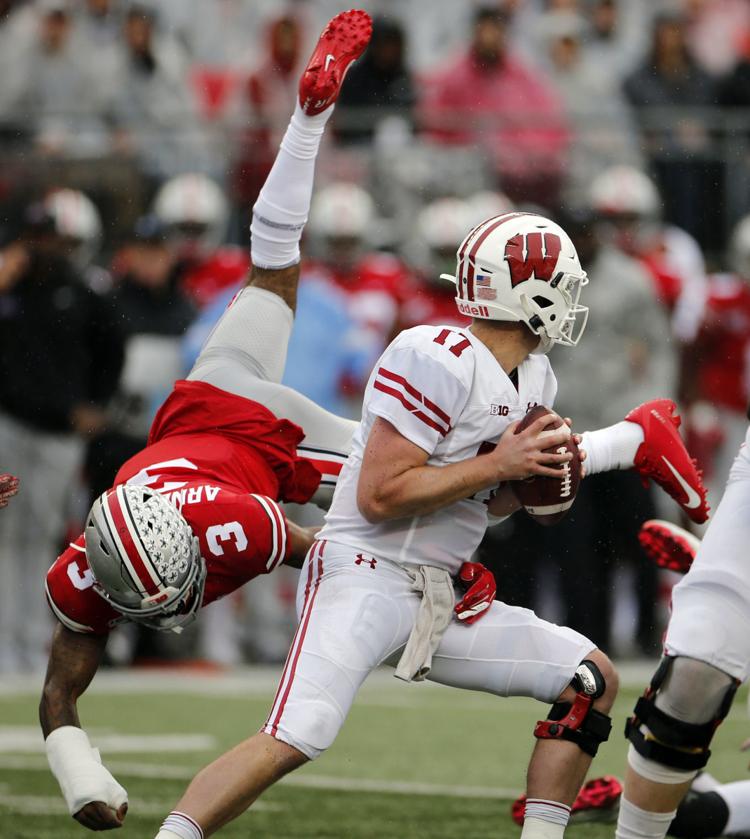 Buckeyes 38, Badgers 7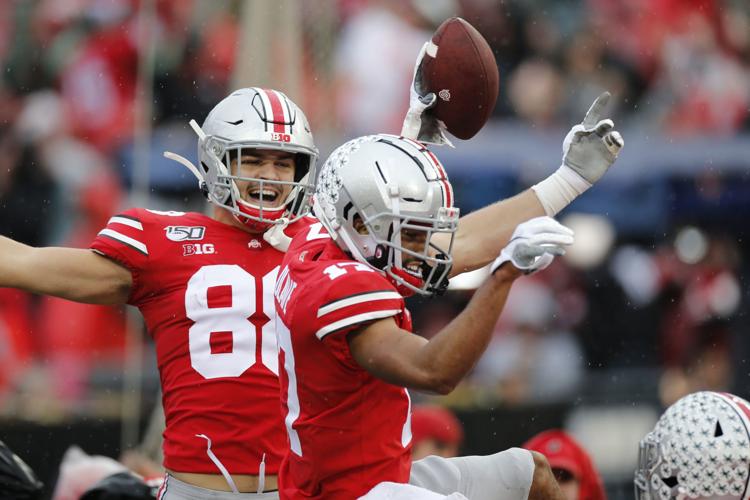 Buckeyes 38, Badgers 7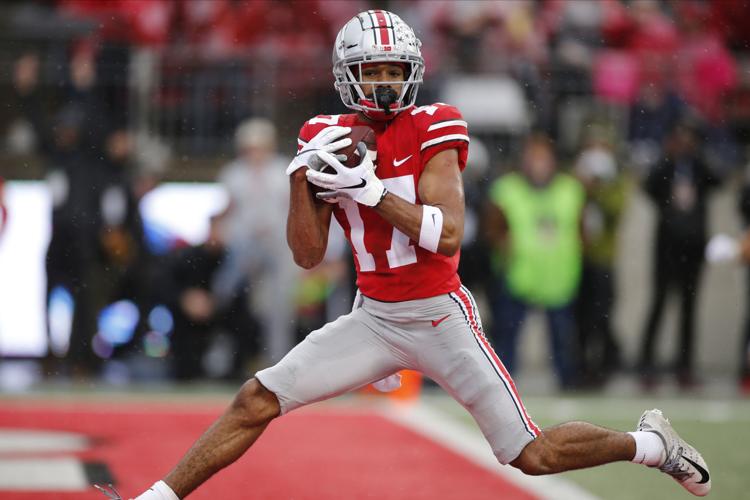 Buckeyes 38, Badgers 7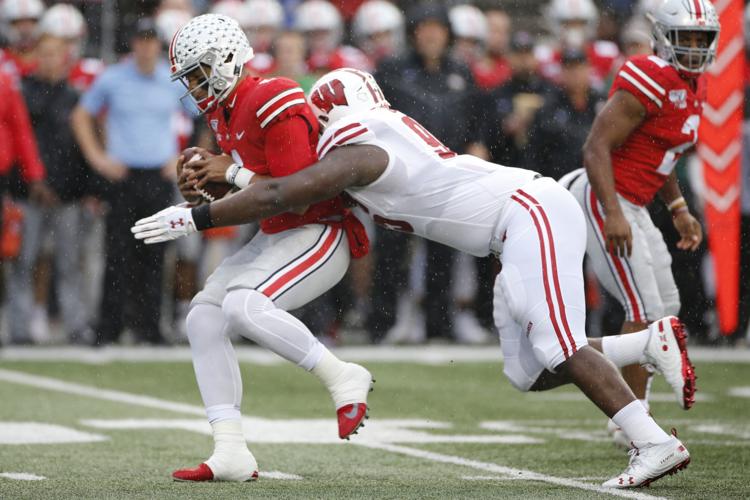 Buckeyes 38, Badgers 7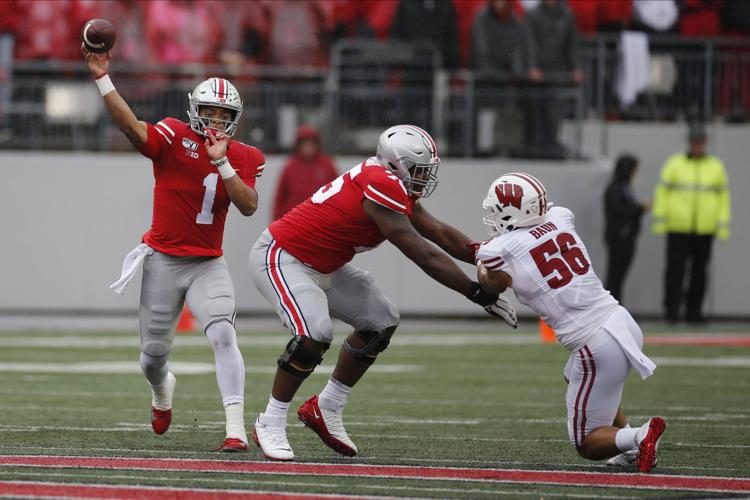 Buckeyes 38, Badgers 7
Buckeyes 38, Badgers 7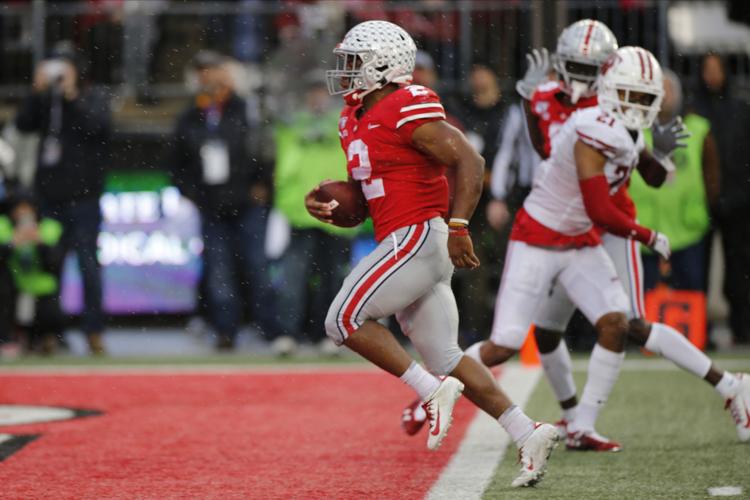 Buckeyes 38, Badgers 7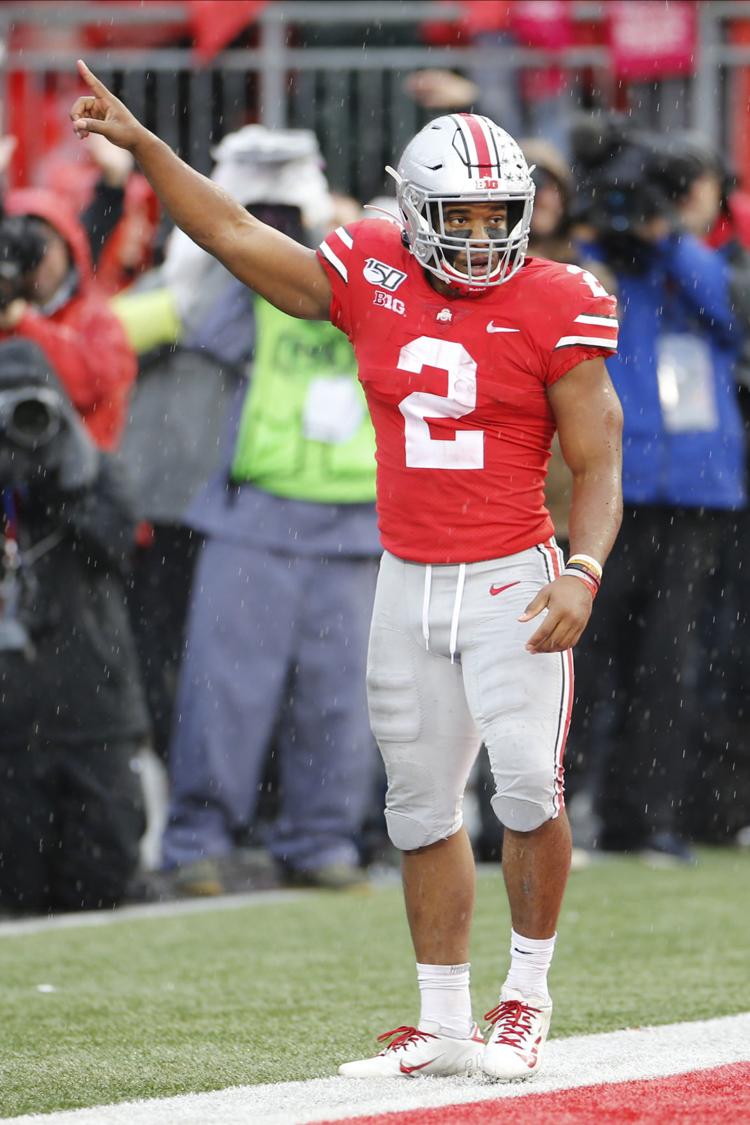 Chase Young, Jordan Fuller celebrate, AP photo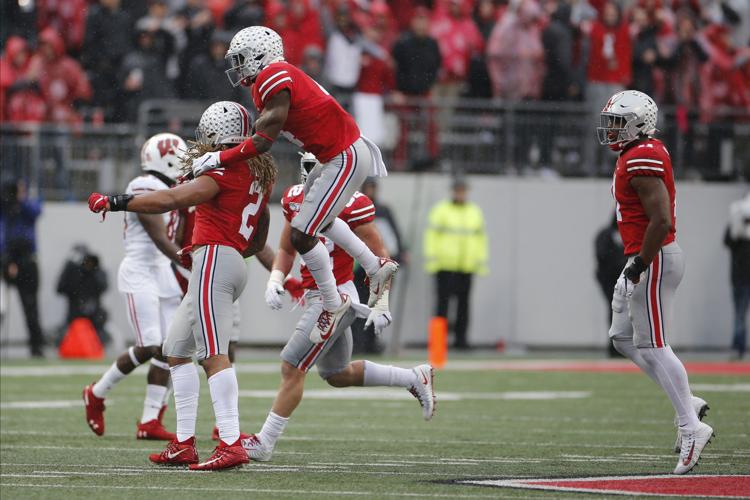 Buckeyes 38, Badgers 7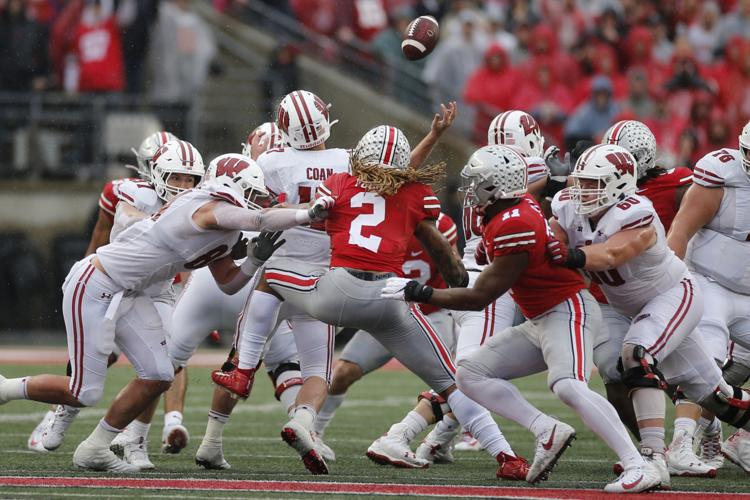 Buckeyes 38, Badgers 7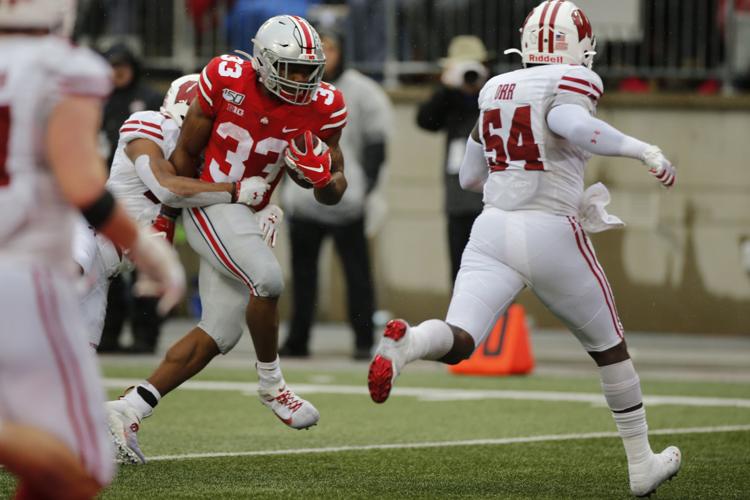 Buckeyes 38, Badgers 7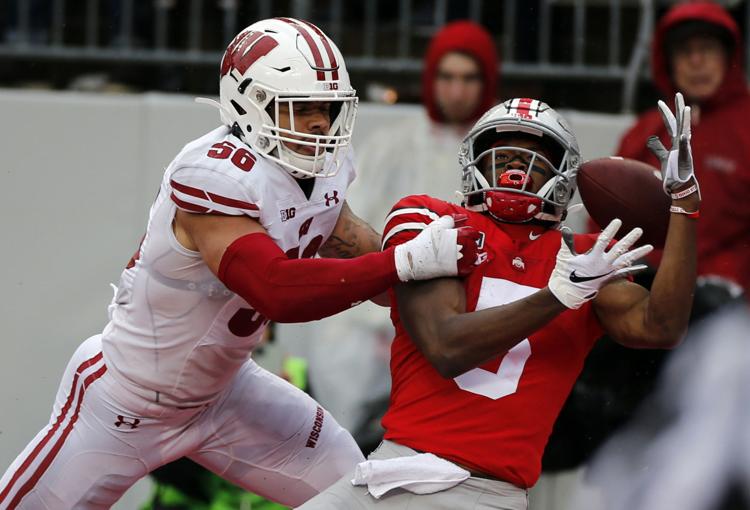 Be the first to know
Get local news delivered to your inbox!