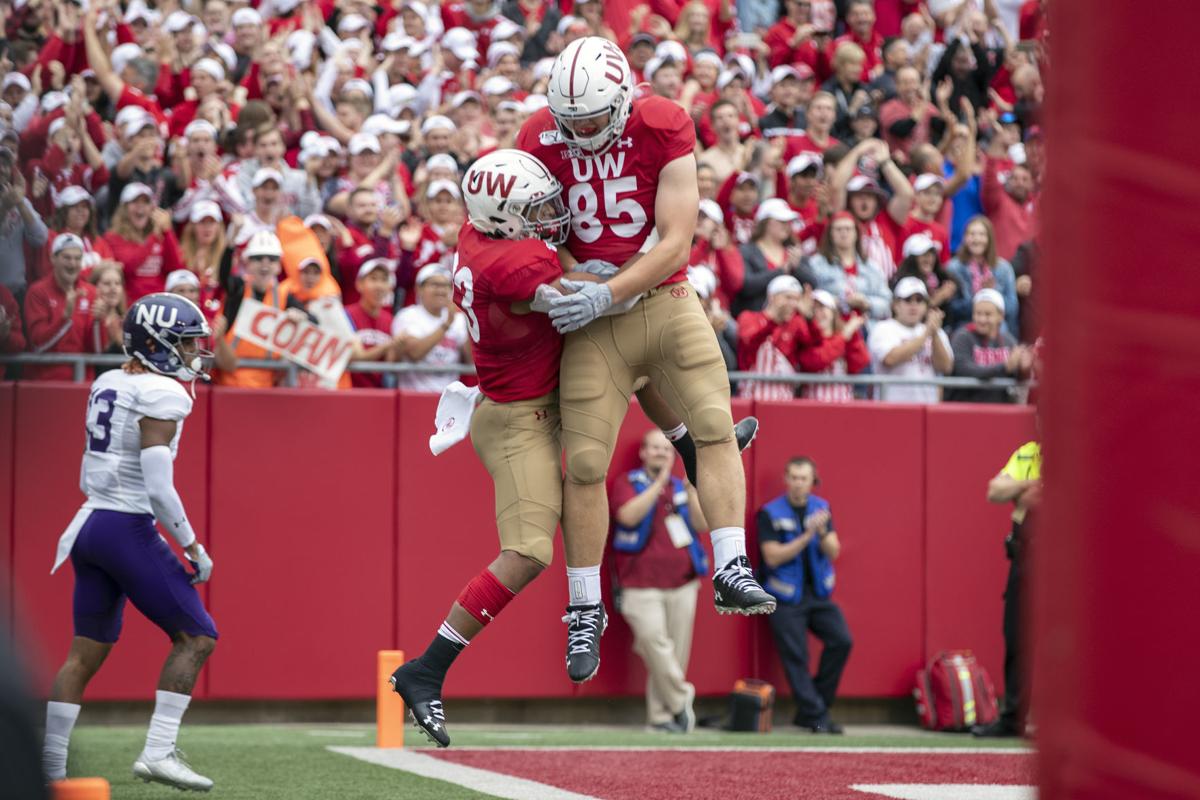 Cormac Sampson has been on the go this year.
So much so he might have forgotten to clean up after himself in the University of Wisconsin football team's offensive line meeting room.
"I haven't seen him. If you see him, tell (tight ends) coach Mick (Turner) I'd like him to stop by, he's left some pencils, he's got some garbage under his desk. We want to get it cleaned up," UW offensive coordinator and offensive line coach Joe Rudolph joked last month.
One can forgive Sampson for forgetting to tidy up. He's moving around positions and swapping jersey numbers so much for the Badgers, it's hard to keep track of everything.
Sampson came to UW last year as a tight end out of Eau Claire Memorial High School and redshirted. He went through the offseason and spring practices thinking he'd be in Rudolph's group as a tackle. When fall camp came, he was moved to center to provide depth at that spot. After injuries thinned the group of tight ends ready to play for eighth-ranked UW (5-0, 2-0 Big Ten Conference), Sampson moved back to his original position.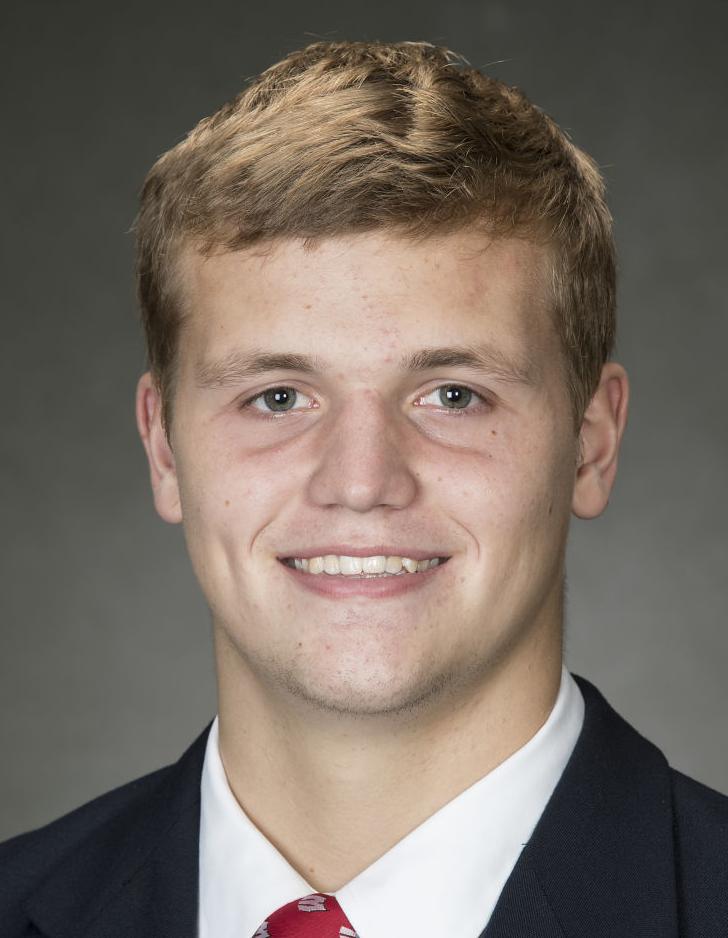 He's starting to round into form there, making the most of his chances on the field in two-tight end sets, a staple of the offense. He delivered a number of key blocks last week against Kent State, including one that sprung junior tailback Jonathan Taylor on his 48-yard touchdown run early in the third quarter.
Finally settled into a position — at least for this season — Sampson has found a way to become a consistent contributor to an offense averaging 43.4 points going into Saturday's Homecoming game against Michigan State (4-2, 2-1) at Camp Randall Stadium. The player Rudolph coined "Professor Smackdaddy" — more on that later — is showing a comfort level at tight end.
"I think he's handled it in an awesome manner. The way he's just attacked everything has been really cool. And to see him gain confidence at each transition has been awesome to see as an older guy," senior offensive lineman David Moorman said. "Because a lot of times as a younger guy, you get thrown in and it's hard to be confident going into that role. He definitely needed some time to grow into each position, but he's surprised me. I shouldn't have been surprised, but he's done an absolutely great job."
Whatever the team needs
Sampson's ability to shift positions and succeed started in high school.
Mike Sinz was hired to be Eau Claire Memorial's coach in early 2017, and he coached Sampson during his senior season. When speaking on Sampson's versatility, Sinz immediately recalled two games from that season.
After an injury on the offensive line during the week leading up to the Old Abes' game against Hudson, a Big Rivers Conference rival, Sinz moved Sampson to tackle two days before the game. His task was to slow down Cole Godbout, who's now a redshirt freshman defensive lineman at the University of Wyoming. Sampson held his own in a loss.
Later that year, Sinz put Sampson, a natural defensive end, at middle linebacker during a playoff game.
"It doesn't shock me he's doing that at Wisconsin," Sinz said. "He's a smart kid. He's going to do whatever you ask."
Sampson spent much of the year adding weight to his 6-foot-4 frame as he prepared to be a lineman. He was up to about 280 pounds when injuries at tight end — Luke Benzschawel, Gabe Lloyd and Zander Neuville are all out for the season — got to the point Sampson needed to move spots. He says he's around 270 now as he's dropping some of those pounds to be a tight end.
You have free articles remaining.
The weeks Sampson spent learning center this fall proved to be crucial to his development. UW's centers are responsible for making line calls and knowing what every position on the field is doing. Taking in and learning that amount of information for each play was difficult at first, Sampson said, but his improved understanding is helping him as a tight end.
"I've loved the approach that he's had. He'll do anything for this team, and I think that he's certainly in a role that's a good role for him and a good role for us," UW coach Paul Chryst said. "It's been important, right? We had a few games there where we weren't real deep at that position, and I think he gives us something, and it's been helpful to the offense."
His knowledge of the scheme as a whole, and getting onto the field consistently after a redshirt season, also has boosted his confidence. Sampson didn't play in the opener against South Florida but has appeared in each game since. He said playing against Central Michigan in the home opener was eye-opening.
"Getting my feet wet against Central Michigan, even if it was just that goal-line package, definitely helped. Just being like, 'OK, hey, I can compete at this level,'" he said. "That helps being confident against any other opponent we play."
Impressing teammates
Moorman knows a thing or two about switching positions.
The fifth-year senior has played offensive line and tight end this season, and lines up as a fullback in UW's "Hippo" package for short-yardage situations. Moorman said he's marveled at how quickly Sampson picks up new schemes and transfers what he's learned at one position to another.
"It's definitely a hard task. A lot of guys wouldn't be able to step up and be as effective as he's been able to do it," Moorman said. "He's a good athlete in general, so he's really good in space. He knows the routes and the shifts and motions, which took me a while to learn, and I'm still kind of iffy on. He's doing a great job, I'm so proud of him and happy for him."
Junior center Tyler Biadasz was in Sampson's ear often during training camp as Sampson was learning the ropes of the position. He said he appreciates the approach Sampson takes to his roles, varied as they may be.
"For having to do all that, from spring ball to fall camp to in season, it's actually pretty sweet to see," Biadasz said. "He's not missing a step; he gets the job done however he has to do it."
Sampson doesn't have a catch yet this season and, by unofficial count, hasn't been targeted. However, Rudolph said he's seen Sampson making big strides with his receiving skills, and that he's been "grinding" at practice to improve that part of his game.
'Professor Smackdaddy'
Whether it was the adjustment to college life or college football, Sampson was quiet through his first year at UW.
Rudolph said Sampson's quiet nature but consistently correct answers to coaches' questions earned him the nickname "Professor." Now, his play has justified the surname.
"We gave him 'Professor Smackdaddy' because he's loosening up a little bit and he's got some confidence," Rudolph said. "It's cool, he's growing up."
Biadasz and Moorman both spoke of seeing Sampson come out of his shell, and have enjoyed seeing Sampson be more expressive.
"You see it on the field — guy makes a big play and he's the first one down there to celebrate and he's showing emotion. That's what you like to see," Moorman said. "When you get confident, it kind of brings the personality out of guys. He's opening up to the group, the O-line, the tight ends. He's a huge part of our offense this season."