College sports enter a new realm Thursday with student-athletes being able to profit from their name, image and likeness.
This change in direction — prompted by years of lobbying by former athletes and state governments challenging the NCAA's model — is a win for athletes who believe they should be able to profit on their talents beyond a scholarship. However, the exact framework for how NIL payments will work nationwide still is taking shape.
The NCAA has been petitioning Congress for the better part of a year to enact a law governing NIL nationwide, but that won't happen before state laws allowing NIL payments kick in Thursday in 14 states. The NCAA Division I Board of Directors is likely to adopt interim measures covering NIL at their meeting Wednesday night, which will serve as a placeholder until federal legislation is passed.
So what does this mean in the short term? How will the University of Wisconsin handle it? And what really is name, image and likeness? Here's what you should know.
WHAT IS NIL?
Before going any further, let's break down what name, image and likeness mean in this context.
Before Thursday, an NCAA student-athlete could not make money from items or materials that used their name, pictures/video or appearance. This barred athletes from doing things like selling autographs, appearing in advertisements or other promotional materials, or selling items with their name or photo on them.
Allowing athletes to profit from NIL opportunities will open those doors and more. So the next time Barstool Sports sells a shirt (jokingly?) promoting a Badgers quarterback as a Heisman candidate, it could cut the athlete into the deal as opposed to waiting for a cease and desist letter to shut down the sale.
The NCAA's reasoning for not allowing such payments boiled down to athletes' NIL were valuable because of their station as athletes, so profiting off their NIL ended their amateur status.
If that sounds flimsy, it is. In fact, the Supreme Court called into question the NCAA's definition of amateurism earlier this month in a case separate from NIL discussions, but still exposing the changing attitudes toward the NCAA's rules governing athletes.
WHO IS GOING TO PAY THE ATHLETES?
Third-party businesses will be the ones paying athletes for their NIL.
Athletes have a number of ways to profit quickly and without much effort on their NIL, from posting sponsored content to their Instagram or TikTok pages, recording messages on Cameo, or streaming video games or chats to a paying audience on Twitch.
Sports Illustrated's Ross Dellenger reported Monday that a number of high-profile college athletes have plans to announce sponsorship deals Thursday.
There will be some limits to what athletes can be paid to promote. The NCAA's lobbying to Congress regarding NIL has stated that athletes won't be able to participate in NIL agreements with alcohol and tobacco companies, a ban that likely will extend to CBD and marijuana outlets in states where it's legal.
Athletes likely won't be permitted to enter into NIL agreements that conflict with their institution's brand partnerships. For example, volleyball star Dana Rettke couldn't sign an NIL agreement with Nike because UW is an Under Armour program.
The framework for how athletes can use their school's name or brands — for example, would Graham Mertz be allowed to be identified as "Wisconsin QB Graham Mertz"? — still is being ironed out.
HOW WILL IT WORK?
A point of contention in the early stages of NIL debate was how involved schools should be in the process.
On one hand, they're entrusted with the wellbeing of athletes and could be a resource for athletes looking to profit on their NIL. But the school being involved opens a can of worms regarding payment of players and Title IX issues if it isn't able to ensure equal opportunities.
When the Power Five conferences wrote a letter to Congress about NIL last year, one of the requests in the letter was to be hands-off in the NIL space, allowing players to handle their NIL dealings separate from their programs.
The NCAA Division I Council recommendations ban pay-for-play situations and using NIL payments as a recruiting tool, and put schools in charge of determining if athletes' NIL activities violate state laws. The recommendations also state that schools and conferences can adopt their own policies, and athletes can use a "professional services provider" for NIL opportunities.
WHERE DOES NIL STAND IN WISCONSIN?
Wisconsin is one of nine states with no NIL bill working through its state legislature. There hasn't been any vocal opposition to NIL, and Wisconsin only has one Power Five conference university in the state where the largest chunk of NIL payments likely will go.
As of Tuesday afternoon, 14 states have NIL laws in place that go into effect Thursday, and Illinois' governor J.B. Pritzker is poised to sign his state's bill in time to kick in by Thursday.
These state laws codify some of the restrictions listed earlier, but with the NCAA announcing it will allow NIL payments, there are questions regarding the necessity of the laws. Until a federal law is enacted, programs will need to set their own policies for NIL activities. 
ARE THE BADGERS READY?
Some certainly seem to be.
Mertz debuted a trademark symbol Monday and appears primed to announce an NIL deal soon, senior safety Collin Wilder announced his branded T-shirt will go on sale soon, and while other UW athletes have been posting an image saying their social media accounts were open for business inquiries.
The university launched a program called "YouDub" and inked a deal with Opendorse — a sports tech company that offers athletes education on how to find platforms to market themselves — this month in preparation for NIL payments. Opendorse can provide projections to athletes for how much they could earn on social platforms and athletes can access tutoring sessions on how to build their brands. UW also has a partnership with brand consultant Jeremy Darlow, and he's worked with UW's volleyball players and wrestlers in regards to building their social brands. 
UW officials said there have been internal meetings about NIL and they're excited for the opportunities ahead for athletes, and a UW policy will be in place after the NCAA's rules are ratified. 
Incoming athletic director Chris McIntosh — who takes over for Barry Alvarez on Thursday — said he was in support of NIL payments so long as certain parameters are kept.
"I think, if done correctly, there is a healthy, productive way for athletes to capture opportunity that will present itself in the future," McIntosh said at his introductory news conference.
"I think we have to be really careful about making sure, as I mentioned, that our athletes come first and their interests come first to this. I worry about enticement in recruiting. I worry about bad business deals for young people because it could turn into a predatory environment. So we have a responsibility to make sure that the athletes that come to Wisconsin are educated properly. And then we do our best to educate them on how to seize and how to capture opportunity, how to manage their own brand, their own likeness, so that they can take advantage of these healthy, productive opportunities."
---
Get to know current, former Badgers headed to Tokyo to compete in the Summer Olympics
Mohammed Ahmed
UW sports: Cross country (2009-12); track & field (2010-14)
Previously Olympic appearances: 2016 Rio Olympics, 2012 London Olympics
Yigit Aslan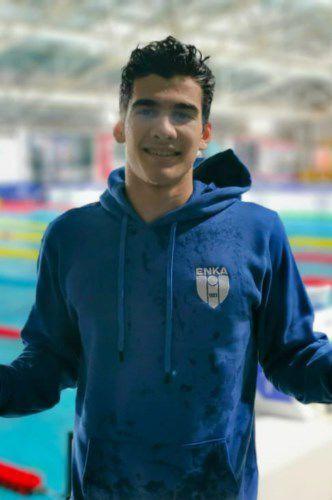 Event: 800-meter freestyle
UW sports: 2021 incoming freshman
Badgers swimmer Phoebe Bacon makes US Olympic team for Tokyo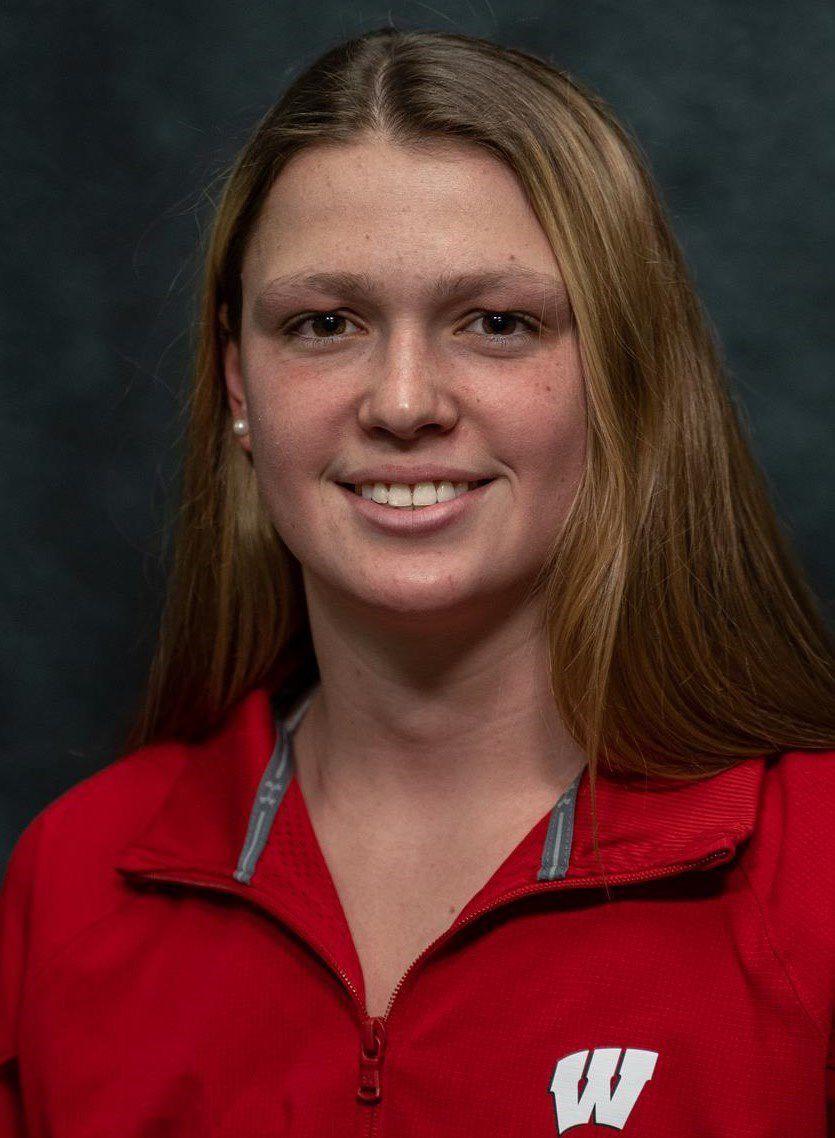 University of Wisconsin freshman Phoebe Bacon said she never imagined making the U.S. Olympic team in the women's 200-meter backstroke. Most people couldn't imagine Regan Smith not making it.
Yet that's what happened Saturday night in perhaps the biggest upset at the Olympic trials in Omaha, Nebraska. Smith, the world record holder, finished third behind Rhyan White and Bacon in the finals of the 200 back and will not swim that race at the Olympics.
Bacon finished second in 2:06.46.
Days after revealing she was diagnosed with overtraining syndrome, Simone Manuel brought the crowd to its feet on the final night of the trials Sunday with a thrilling victory in the 50-meter freestyle.
The first Black woman to capture an individual gold medal in swimming, Manuel's hopes were on the ropes after she failed to even qualify for the final of the 100 free, the event she won five years ago in Rio de Janeiro.
Nathan Adrian's bid for a fourth Olympics came up short when he finished third in the men's 50 free. Caeleb Dressel tied his American record with another dominating performance, touching about a half-body length ahead of Michael Andrew in :21.04.
Andrew earned his third individual event at the Olympics with a time of :21.48.
Kelsey Card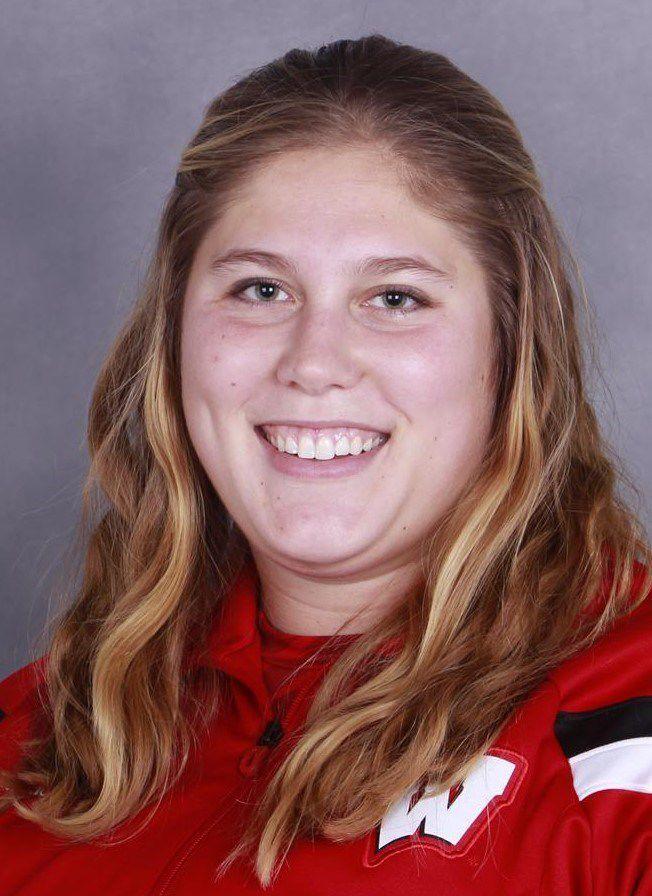 UW sports: Track & field (2012-16)
Previous Olympic experience: 2016 Rio Olympics
Rae Lin D'Alie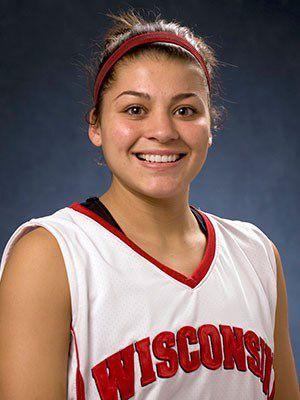 Event: 3-on-3 women's basketball
UW sports: Women's basketball (2006-10)
Formers Badgers athlete Georgia Ellenwood makes Canadian team for Tokyo Olympics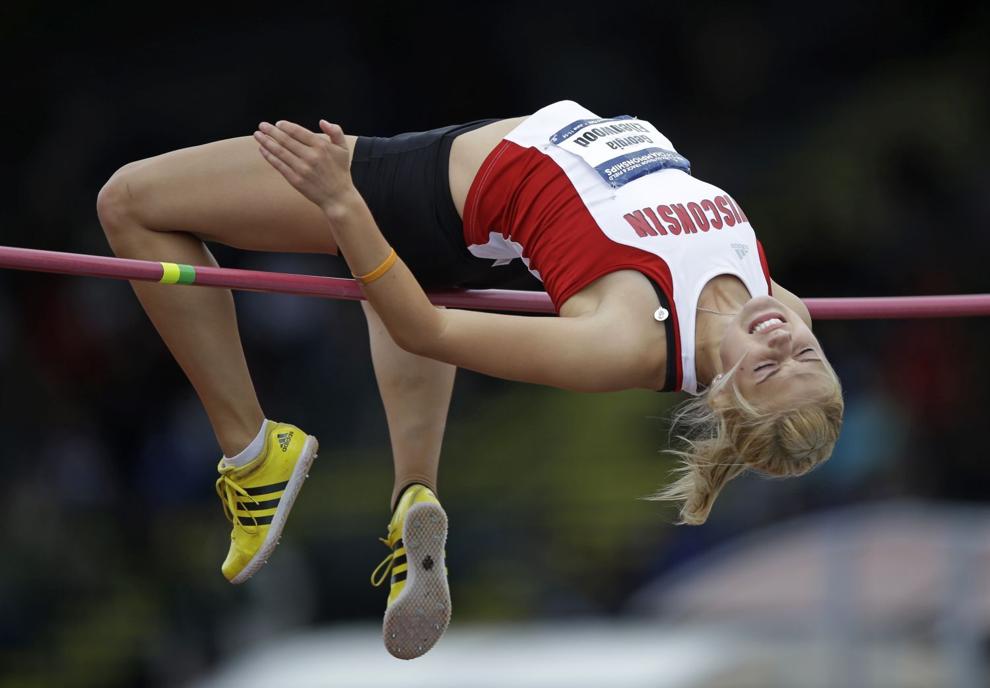 Former University of Wisconsin athlete Georgia Ellenwood will represent Canada in the Tokyo Olympics next month.
Ellenwood, a native of Langley, Canada, recorded a personal best of 6,314 points to win the heptathlon at the Stadtwerke Ratingen Mehrkampf-Meeting over the weekend in Ratingen, Germany.
Ellenwood won the heptathlon javelin with a personal-best throw of 159 feet, 4 inches, and also won the heptathlon 800 meters in a personal-best time of 2 minutes, 11.45 seconds.
Record time: At the U.S. trials Monday in Eugene, Oregon, Elle Purrier St. Pierre won the 1,500-meter race in an Olympic trials-record time to earn a spot at the games.
Purrier St. Pierre finished in 3:58.03. It broke the former trials mark of 3:58.92 set by Mary Slaney in 1988.
Monumental: New Zealand's Laurel Hubbard hefted 628 pounds in two lifts on the way to qualifying in the women's super-heavyweight division for the Olympics.
She will be the first transgender athlete to compete at an Olympic Games. At 43, she will also be the oldest weightlifter at the games.
Kelsey (Jenkins) Harshman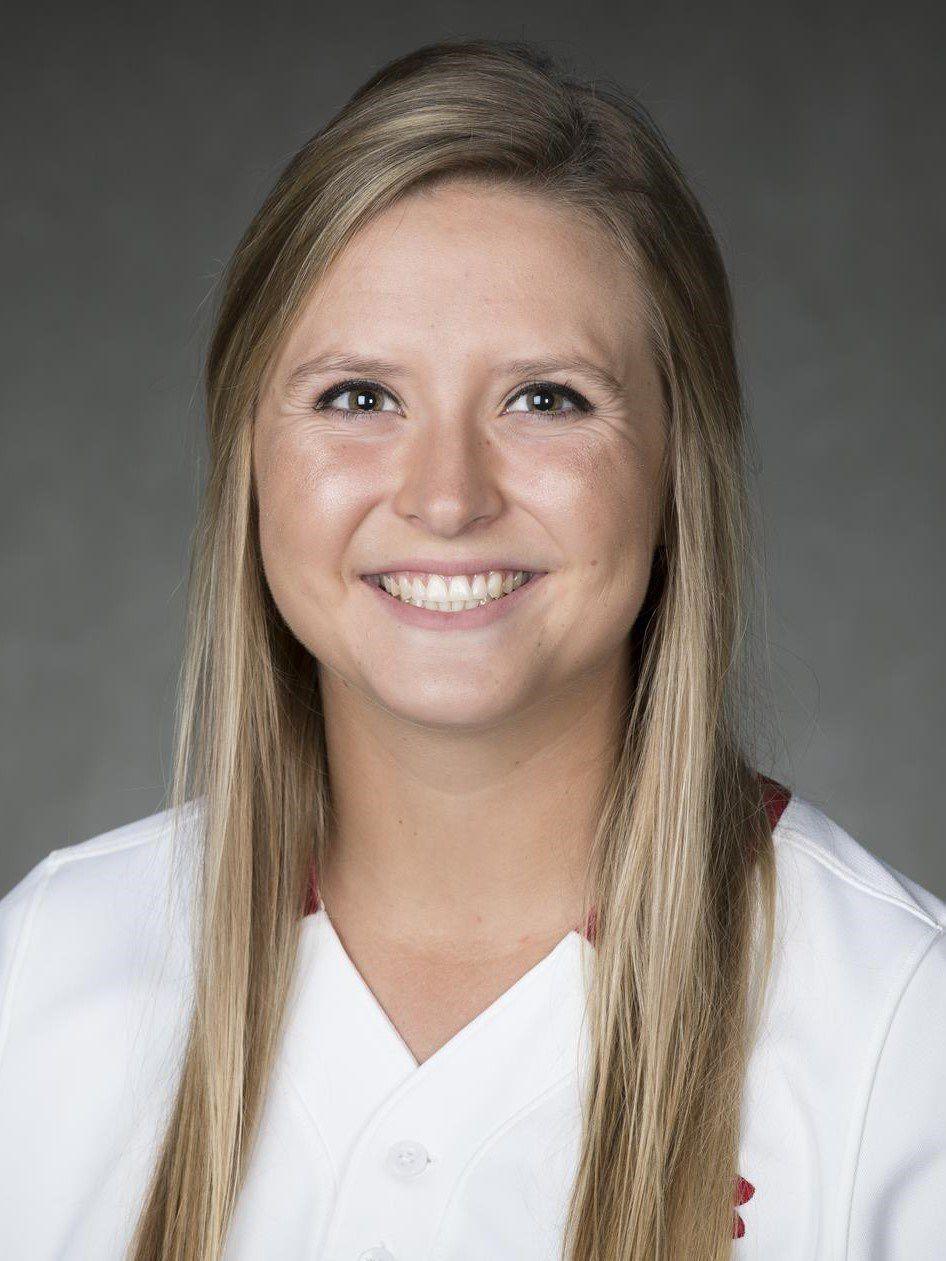 UW sports: Softball (2015-18)
Olli Hoare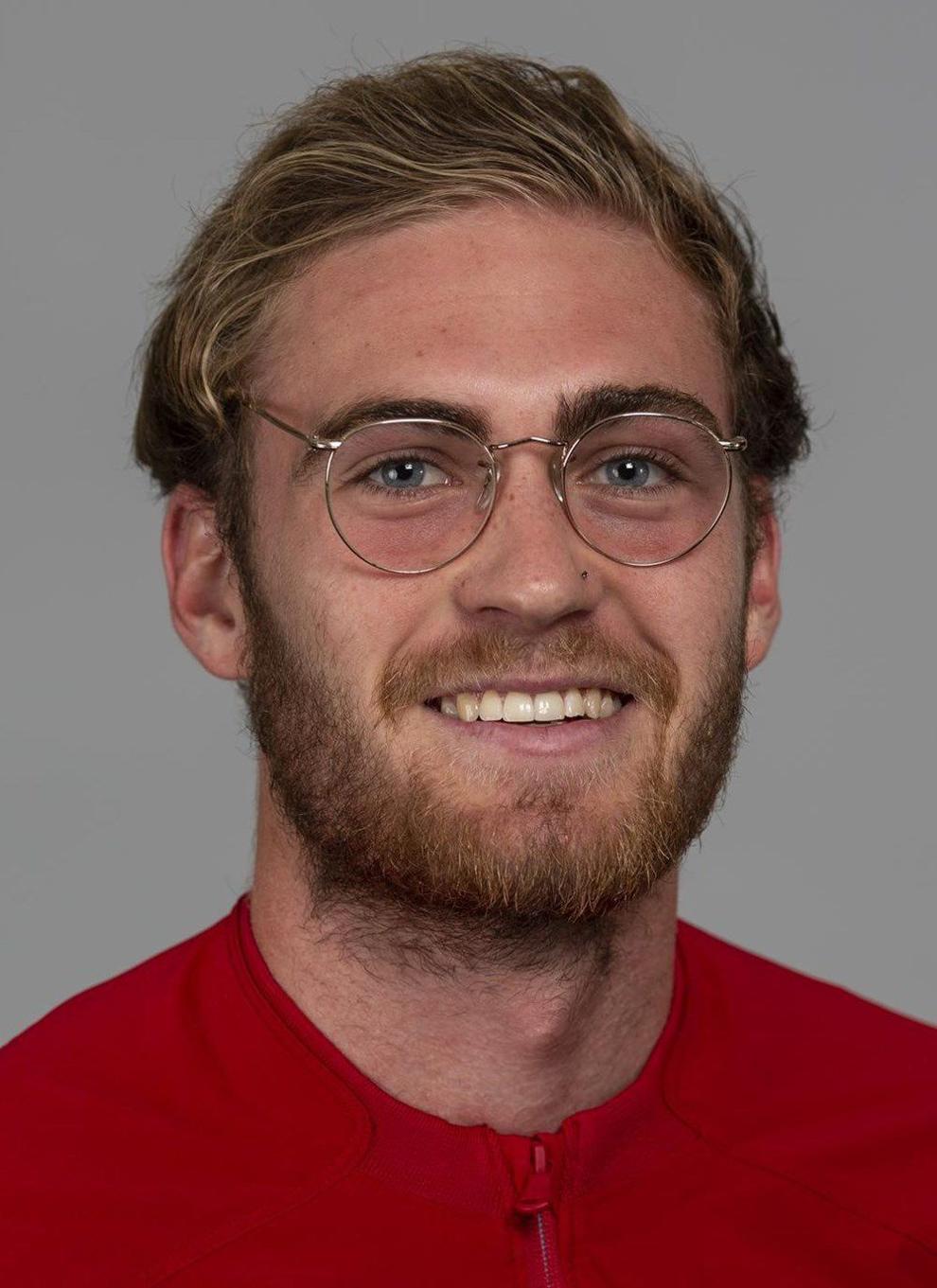 UW sports: Cross country and track & field (2016-20)
Alev Kelter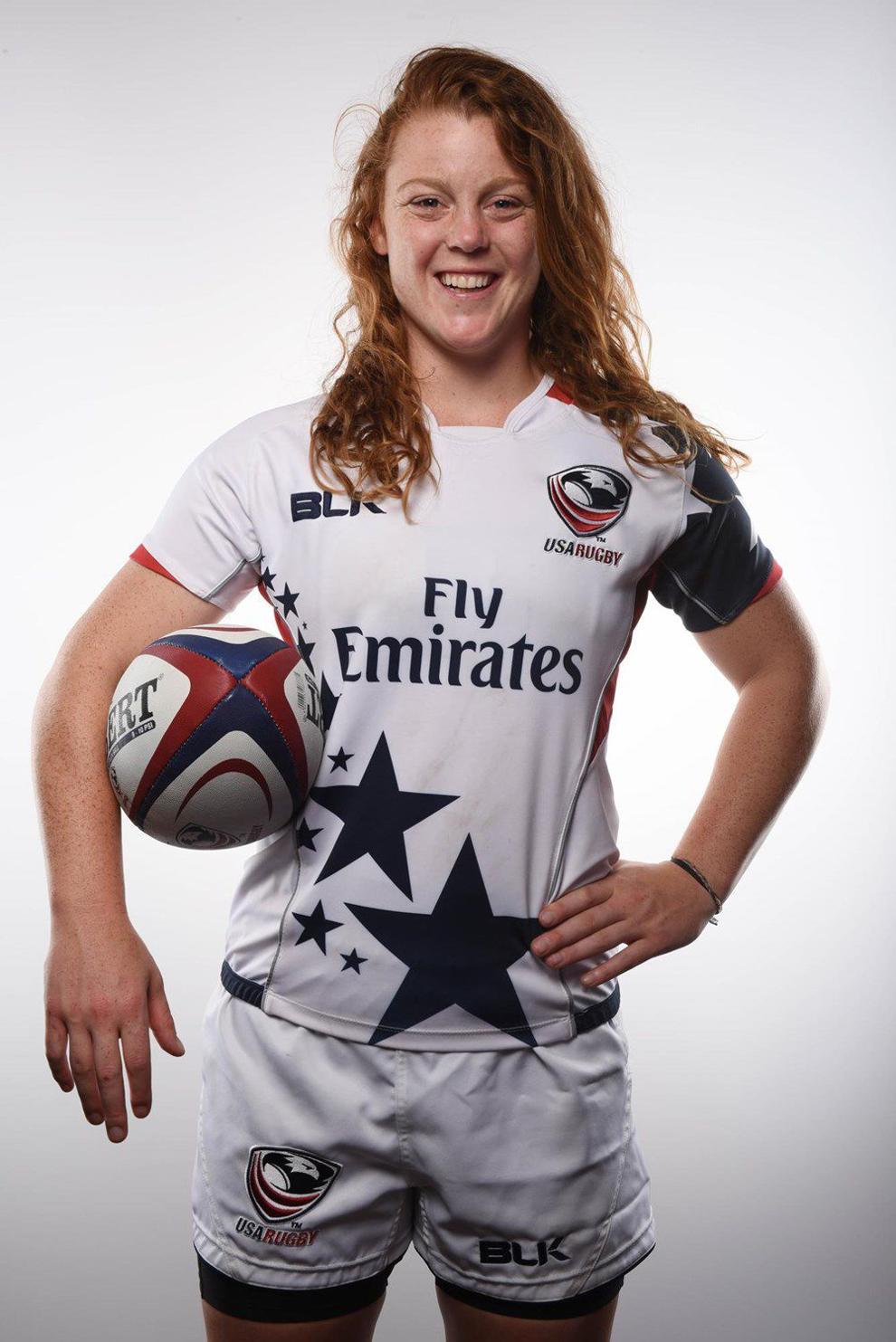 Event: Women's rugby sevens
UW sports: Women's hockey and women's soccer (2009-13)
Previous Olympic experience: 2016 Rio Olympics
Rose Lavelle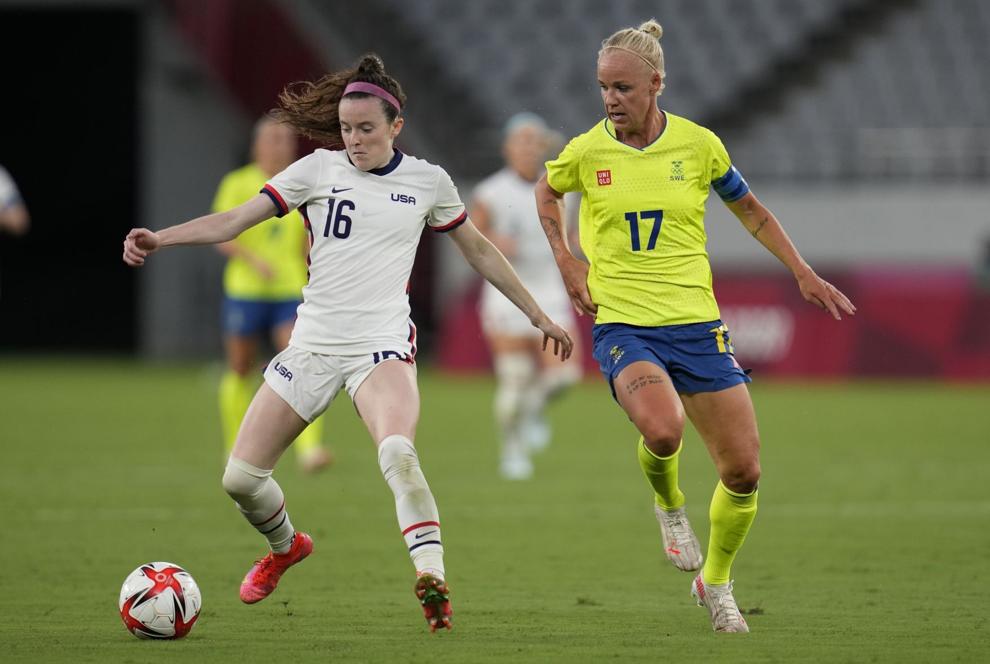 UW sports: Women's soccer (2013-16)
Morgan McDonald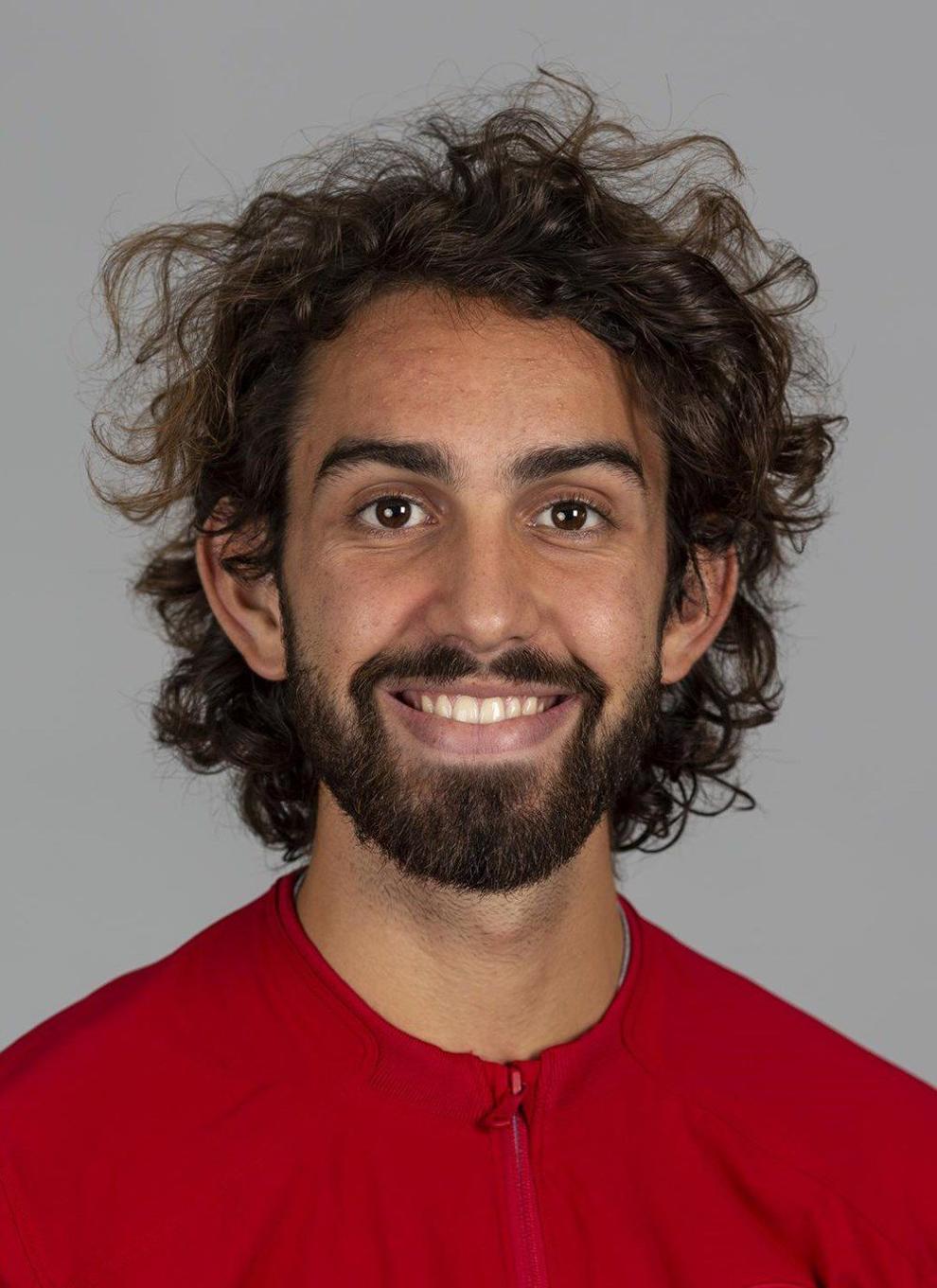 UW sports: Cross country and track & field (2014-19)
Former Badgers athlete Alicia Monson qualifies for Tokyo Olympics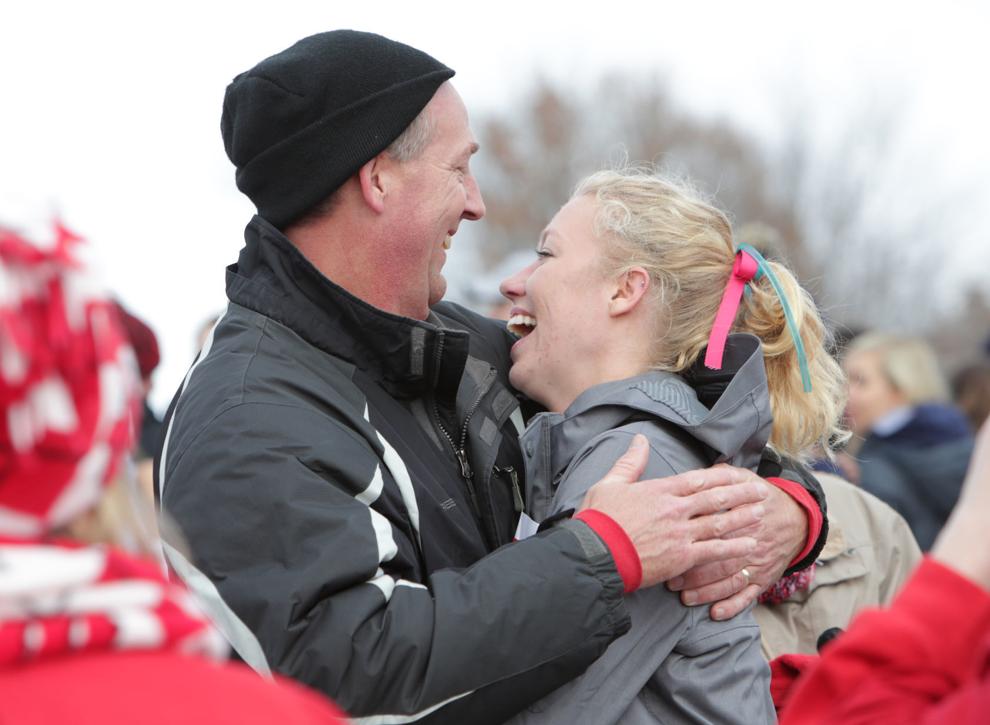 Former University of Wisconsin athlete Alicia Monson made her first Olympic team after finishing third in the 10,000 meters at the U.S. Olympic Track and Field Trials on Saturday in Eugene, Oregon.
Monson, 23, who runs for On Athletics Club in Boulder, Colorado, crossed the line in 31:18.55.
Race winner Emily Sisson clocked 31:03.82, breaking the trials record of 31:09.65 set by Deena Kastor in 2004.
Karissa Schweizer, who was three seconds behind Monson at the bell lap, placed second.
The Tokyo Olympics run July 23 to Aug. 8.
Maddie Wanamaker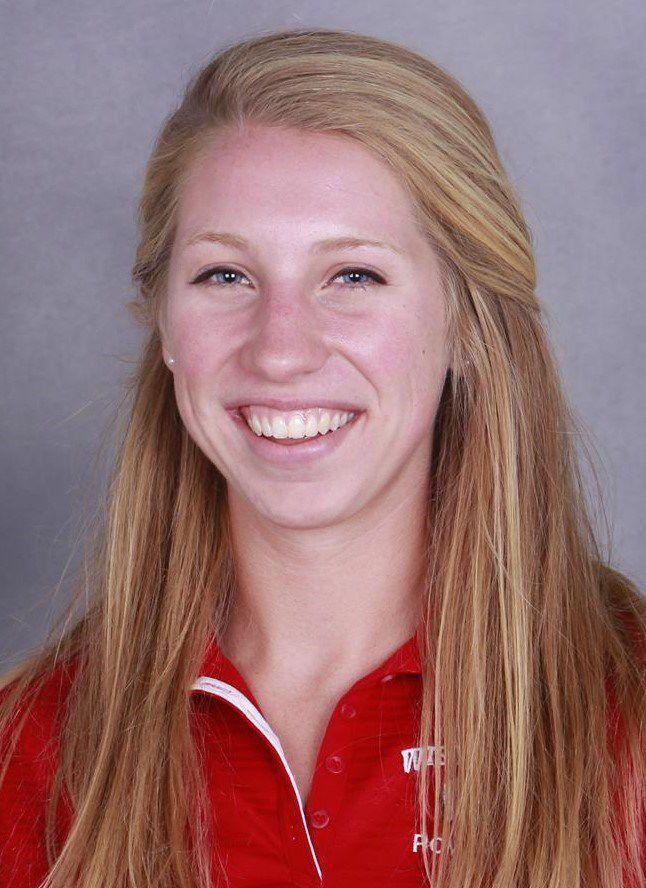 UW sports: Women's rowing (2013-17)
Zack Ziemek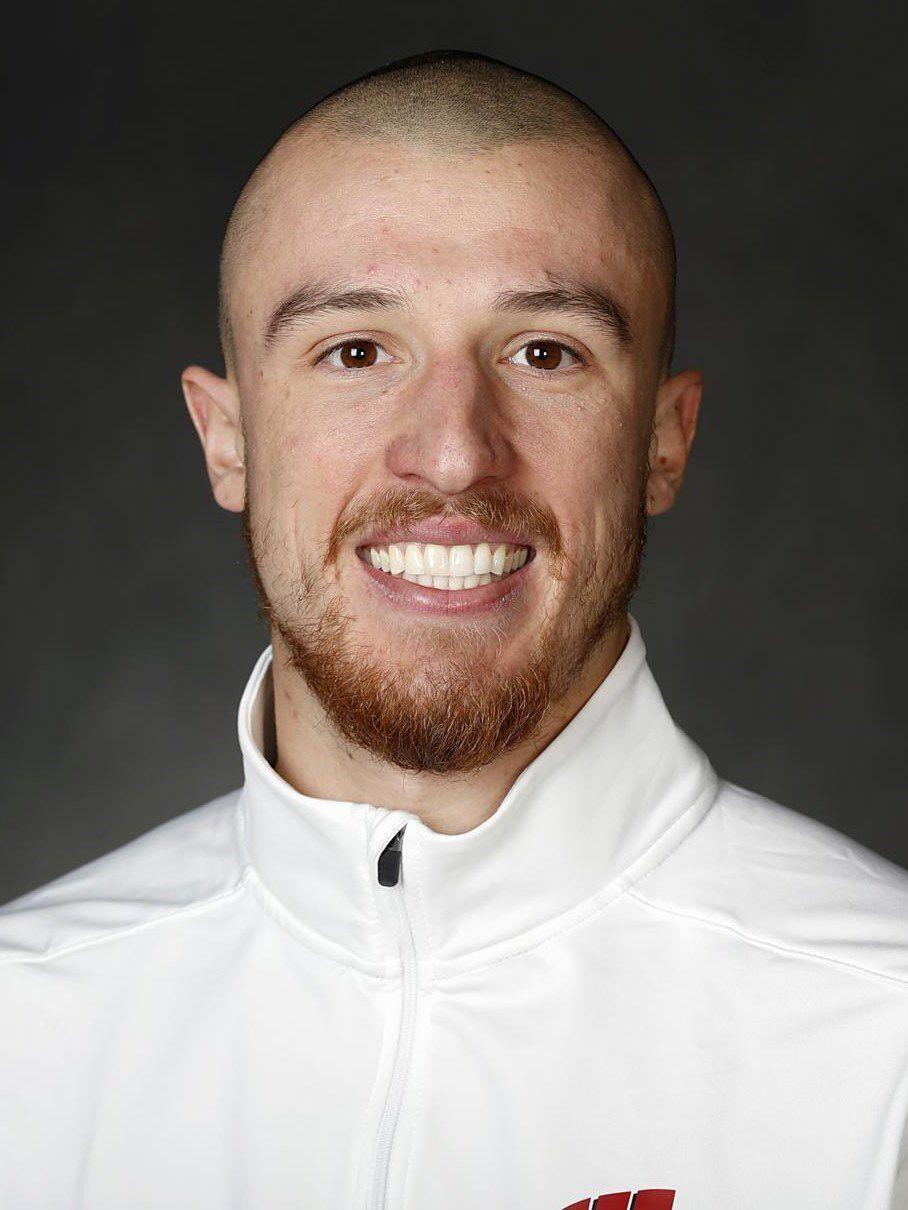 UW sports: Track & field (2012-16)
Previous Olympic experience: 2016 Rio Olympics