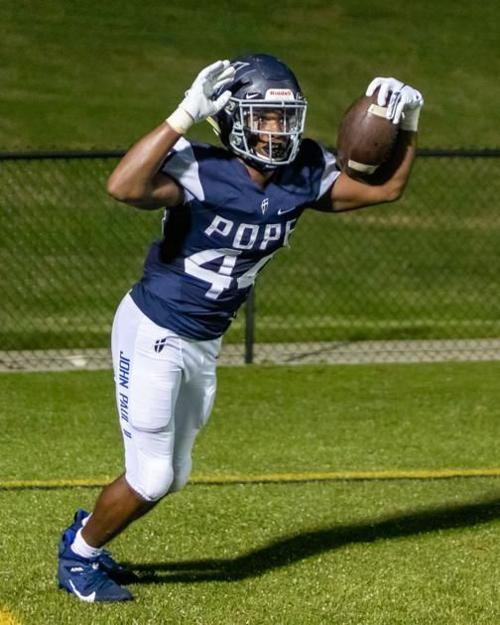 Antwan Roberts, a running back for Pope John Paul II High School in Hendersonville, Tennessee, goes through reads like a quarterback.
On plays he's handed the ball, he first checks on his pulling linemen or tight end, then shifts his eyes toward the front side of the play. He checks the outside, then assesses if there's a cutback lane. It only takes a second or two, but Roberts' eyes let him know where to aim when he puts a foot in the ground and takes off.
That vision has Roberts — a three-star 2021 University of Wisconsin recruit — on track for a stellar senior prep season before heading to Madison. After Friday's contest against Father Ryan, Roberts has 558 rushing yards and 11 touchdowns on 98 carries in three games for the 4-0 Knights.
Justin Geisinger, Roberts' head coach, said Roberts is facing defenses with extra men in the box and focused on slowing him down. Growing accustomed to that at the high school level may help Roberts' transition to the Badgers, who often see defenses loading up to stop their rushing attack.
"I think he's going to fit up there so well," Geisinger said. "He's physical, he's stronger than he looks, and he's only going to get bigger and stronger from here. He runs explosively; you're not going to arm-tackle him."
Pope John Paul II uses a gap rushing scheme with its quarterback typically in the pistol or shotgun — sets UW has run more often in recent years. But Roberts has the style of a one-cut, zone-rushing back that fits UW well. With a 6-foot-2, nearly 200-pound frame and long legs, Roberts has shown both power and speed with his runs.
"Sometimes on film it doesn't look like I'm a guy who can truck people and keep going," he said. "But I can when I need to. ... If I can make a man miss, that's my first go-to, but when it comes down to it, putting my head down and running behind my shoulders isn't a problem for me, either."
Geisinger saw something special in Roberts as a middle schooler. The way he saw the game, the way he used his talent, the frame that he could add muscle and weight to, the dynamic ability with the ball in his hands. Roberts even got playing time on the varsity team as a freshman — a rarity in his school's highly competitive conference — after injuries knocked out the starter.
After taking over the starting role, Roberts has developed more patience, Geisinger said, and the knowledge that he had to play within the framework of the offense.
"His freshman year and into his sophomore year, he'd make some mistakes trying to get outside a few times and not get inside his pullers, or not getting downhill in the 'A' gap when he's supposed to," Geisinger said. "Now he's realizing what type of runner he is, and while he does have speed and he can outrun (opponents), when we're playing really good competition, he understands he has to fit within the system."
Roberts learned that every run didn't have to be a highlight. The 4-, 5- and 6-yard gains he could get by following his blockers would wear down a defense, and open up chances for long runs later in the game.
"Just keeping the chains moving and getting first downs and (sustaining) drives is just fine," Roberts said. "Not everything is going to go for 70 (yards)."
A number of college programs, especially those close to Roberts' home in Hendersonville were interested in securing his commitment. Kentucky, Louisville, Memphis, Missouri and Vanderbilt were early scholarship offers, but when UW came calling, Roberts quickly had a favorite.
He visited Madison last season and watched the Badgers topple Purdue. He said the city and people around the program were inviting, and the tradition of successful UW running backs put the program in the lead as he weighed his options.
COVID-19 ended Roberts' junior track season early, which was difficult at first because he was excited to compete in the 100 and 200 sprints. However, the pause on normal life gave Roberts time do some deep thought about his college choices.
"(UW's) one of the best public schools, top of the nation, the football team, a great running back program that always has a great O-line, a great head coach that's building the program up. All of those things really clicked with me," Roberts said.
Geisinger — who played five seasons in the NFL as an offensive lineman — was happy to see Roberts come to a decision before his senior year, as he once did when he committed to Vanderbilt coming out of high school. Geisinger also has a connection to the UW coaching staff; Badgers special teams coordinator Chris Haering was his high school coach.
Roberts has made strides as a receiver and a blocker through his prep career, making those a focus in his senior season. And he wants to bring a full set of skills to the Badgers.
"I played on a 7-on-7 team and in doing that, and that training, I just good at routes and creating separation on routes," he said. "I can do that now."
Get to know UW's 2021 recruits