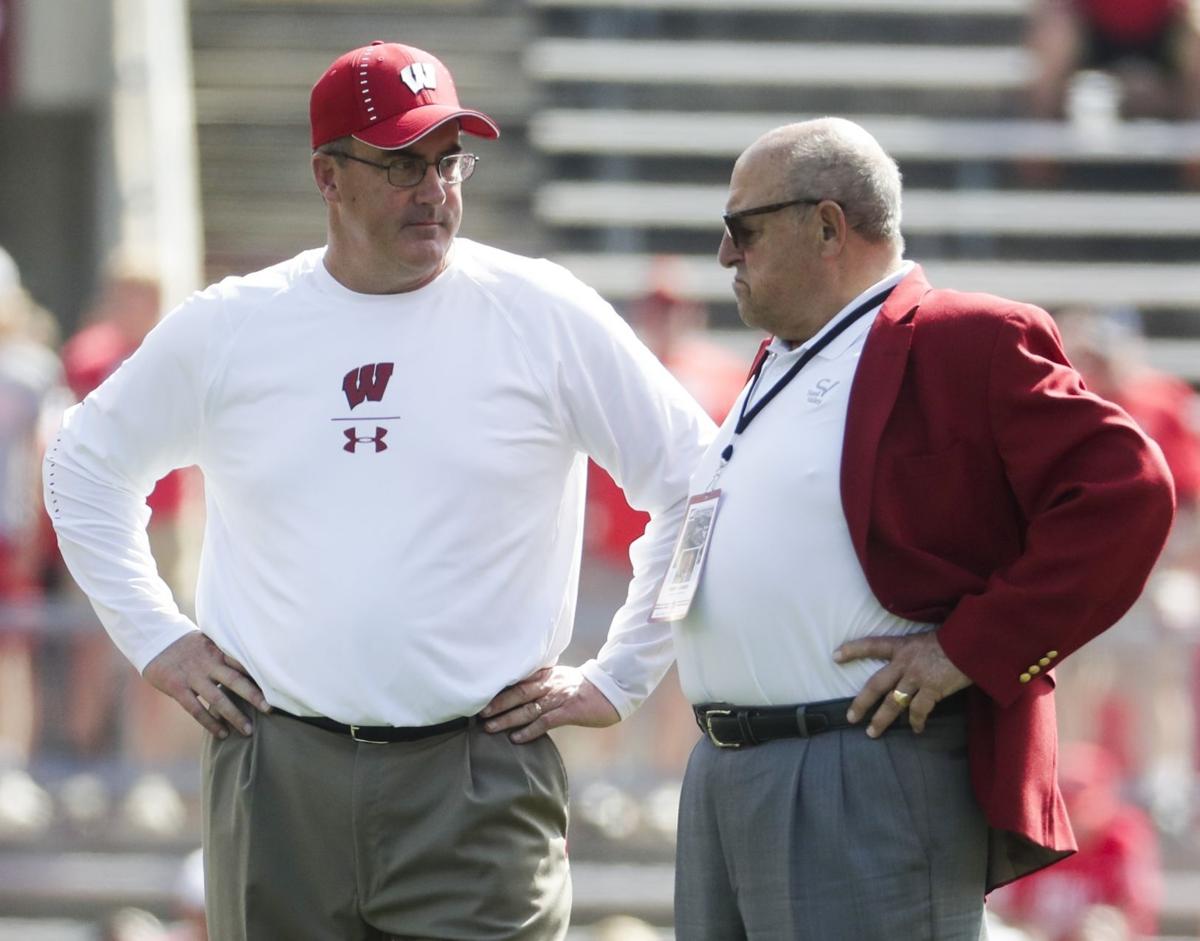 It sounds like Barry Alvarez thinks too much was made of the Big Ten's decision to reverse course on its rules and allow Ohio State to play in the league's football championship game.
"This is not rocket science," the University of Wisconsin athletic director said on his monthly radio show Thursday. "This is common sense, particularly in a year like this."
Undefeated Ohio State has played only five games because of outbreaks of the coronavirus but is fourth in the College Football Playoff rankings. The Buckeyes were scheduled to play Michigan on Saturday, but the Wolverines canceled the game because of high COVID-19 numbers.
Indiana (6-1), which lost to Ohio State on Nov. 21, was next in line to play in the Big Ten Championship Game if the Buckeyes were ineligible.
Alvarez, who chaired the Big Ten's return-to-play task force, said his opinion was formed by Ohio State having already clinched the Big Ten East Division championship regardless of the outcome of the Michigan game.
"To me, they've earned the right to play in that game," Alvarez said in his show broadcast on 1310 WIBA and Learfield/IMG College. "I don't care what we had stated early on. And we've got to protect our league. The fact that somebody has a chance to get into the CFP and play for a national championship and we're going to hold them out because they only played five games instead of six, when it's obvious when you watch them play they're a top-four team. So I made it very clear what my opinion was."
Ohio State will play Northwestern in the Dec. 19 championship game after the Big Ten got approval from Senior Women Administrators and the Council of Presidents and Chancellors to remove the six-game requirement.
The Badgers don't know who they'll face next weekend in the Big Ten Champions Week, but Alvarez threw his support behind the idea of rescheduling the rivalry game against Minnesota that was canceled Nov. 28 because of an outbreak with the Gophers.
The extra week of games for the 12 Big Ten teams not in the championship originally was intended to pair teams from opposite divisions.
"It's no secret that Minnesota has stated they'd like to play us. We'd like to do the same thing," Alvarez said. "I'd hate for us to lose that rivalry game during my watch — longest ongoing college football traditional game in the country. Boy, I'd hate to lose that. Hopefully we can solidify that and play them."
Alvarez also had some complaints with Big Ten football officiating in UW's two consecutive losses and flashed back to times when he said former coach Bret Bielema cost the Badgers games with on-field antics.
"We've really been bitten the last two weeks with some tough officiating calls — really some tough officiating calls," Alvarez said. "A couple phantom calls that really hurt us. Those are just like turnovers. You have a stop and you get an interference call that is really questionable, and it's justified when you watch film they're questionable."
The Badgers have been penalized a combined 16 times for 150 yards in back-to-back losses to Northwestern and Indiana. That's a big jump from UW's first two games, when it was flagged a combined four times for 20 yards in wins over Illinois and Michigan.
Some of the calls early in the Nov. 21 game against Northwestern were questionable, including an interception for the Badgers that was wiped out by a pass interference penalty.
The Badgers had eight penalties for 81 yards in their 14-6 home loss to Indiana last week, while the Hoosiers were flagged once for 5 yards. There was also a large disparity in the loss to Northwestern, with the Badgers finishing with eight penalties for 69 yards and the Wildcats with one penalty for 5 yards.
"We started the season not having many penalties, but I haven't been crazy about some of the calls that we've had against us that really have hurt us in two one-score games," Alvarez said.
Continuing on an officiating thread in his radio show, Alvarez said he learned a lot about how to work the people in stripes from Bob Devaney, who coached him at Nebraska. Alvarez said he remembered Devaney chasing down officials at halftime to get in a few words.
His philosophy, Alvarez said, was to plant something in the officials' heads that on close calls, they wouldn't want Devaney "chewing on them."
"It's human nature involved there where officials have a preconceived notion who's going to win the game," Alvarez said. "It's in their subconscious."
He said there were times early in his career when the Badgers were big underdogs, a fact he suspected had an effect on the officials.
"I'd tell them: Don't come into this game with any preconceived notions that they're going to beat us, that they're a better team," Alvarez said. "My guys are ready and we're going to get after their fannies now. So you call what you see. Don't imagine anything.
"We weren't afraid to get after them and chew on them a little bit. You earned every penny of your salary when you worked a game against us, in particular if you were on our sidelines."
There's a line coaches can't cross, however, and Alvarez said he once got a call from then-Big Ten commissioner Jim Delany with a complaint about how Bielema was holding up games by being out on the field to argue with officials.
"He lost some games; some officials threw some flags against him in retaliation for him embarrassing them," Alvarez said. "He cost us a couple games."
He specifically mentioned a game at Michigan State. Bielema was issued a 15-yard unsportsmanlike conduct penalty during the fourth quarter of UW's 25-24 loss Nov. 1, 2008. It was one of 12 penalties that day for the Badgers, with eight of them (for 66 yards) coming in the fourth quarter as UW was blowing a double-digit lead.
After a 5-yard obstruction penalty was called on the UW sideline — strong safety Jay Valai bumped into an official while jogging onto the field — Bielema told an official, "He wasn't really doing a good job," and was penalized. Michigan State scored the final 12 points of the game following that penalty.
"You have to be careful," Alvarez said. "There's a fine line there. You don't want to embarrass them but you want to let them know how you feel. And if you think they made a bad call, they've got to know that."
Jim Polzin contributed to this report.
---
Get to know the Wisconsin Badgers' 2021 football recruiting class