Brigham Young coach Kalani Sitake made one major change in the offseason to spark a punchless offense.
Now, inquiring minds want to know if he's pondering another significant move as the Cougars get set to take on their third opponent from a Power Five conference in as many games.
The Cougars are 1-1 heading into a game against the University of Wisconsin football team on Saturday at Camp Randall Stadium. Any positive vibes that lingered from BYU's win at Arizona in its season opener were erased by the outcomes of two games played 1,460 miles apart a week later.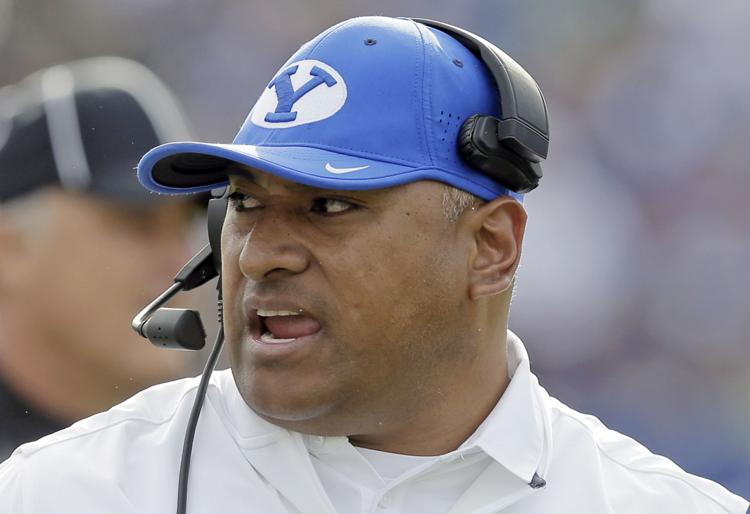 Hours after Arizona was drubbed 45-18 at Houston — taking some of the shine off BYU's 28-23 win over the Wildcats — the Cougars dropped a 21-18 decision at home to California.
Afterward, Sitake declined to point fingers at anyone in particular, saying, "There's enough blame to go around."
Naturally, however, the spotlight was directed on an underperforming offense — and starting quarterback Tanner Mangum in particular.
Mangum, a senior, is 40-for-69 passing for 405 yards with two touchdowns and two interceptions through two games. Sitake was asked if he considered inserting true freshman Zach Wilson at any point against Cal.
"I don't know," Sitake said Monday. "We look at different positions. I don't look at personnel groups right away. I am looking at why we are not clicking as a unit, as an offense and a defense. We are always evaluating how we can get the best athletes in the best position for us to win. That's all I care about."
After BYU went 4-9 last season, Sitake fired offensive coordinator Ty Detmer after the Cougars finished 107th nationally in total offense and 90th nationally in passing offense.
Injuries at quarterback played a major role in those struggles. Mangum was limited to eight games due to an Achilles' injury and, in all, four quarterbacks combined to throw 19 interceptions in 2018.
Still, Sitake wanted some fresh ideas on offense and replaced Detmer, a former Heisman Trophy winner at BYU, with Jeff Grimes.
The Cougars entered training camp with a four-way competition at quarterback. The race eventually was whittled down to two, and the experienced Mangum beat out Wilson.
In fairness to Mangum, he's not exactly surrounded by a lot of great playmakers. BYU's leading rusher, Squally Canada, is averaging 3.7 yards per carry. Its leading receiver, junior tight end Moroni Laulu-Pututau, has eight catches for 80 yards through two games.
During one stretch against Cal that began in the second quarter and lasted into the fourth quarter, the Cougars produced seven total yards in 18 plays over the course of seven drives.
BYU took over at the Cal 16-yard line after a fumble, with a chance to make it a one-score game in the fourth quarter. It ended up losing 11 yards on a drive that ended with Mangum throwing an interception.
"It was not good enough from everybody," Sitake said. "I mean, it wasn't just one guy. Everyone is being evaluated on this team, at their position. Our job as coaches is to make sure we have the right guys in the right positions to make plays, and (Mangum) is no different."
A year ago, UW rolled into Provo, Utah, and pummeled the Cougars. Alex Hornibrook went 18 of 19 for 256 yards and four touchdowns in the 40-6 win, with Jonathan Taylor getting 128 yards and a touchdown on the ground.
"They are prepared to win ugly," said Ed Lamb, BYU's assistant head coach and special teams coordinator. "And if you stop the run against Wisconsin, their answer is not, 'OK, I guess we need to pass.' It's, 'Oh, OK, game on. Now we're going to run it even more.'
"We're really excited for that challenge and just to see how our guys respond to that."