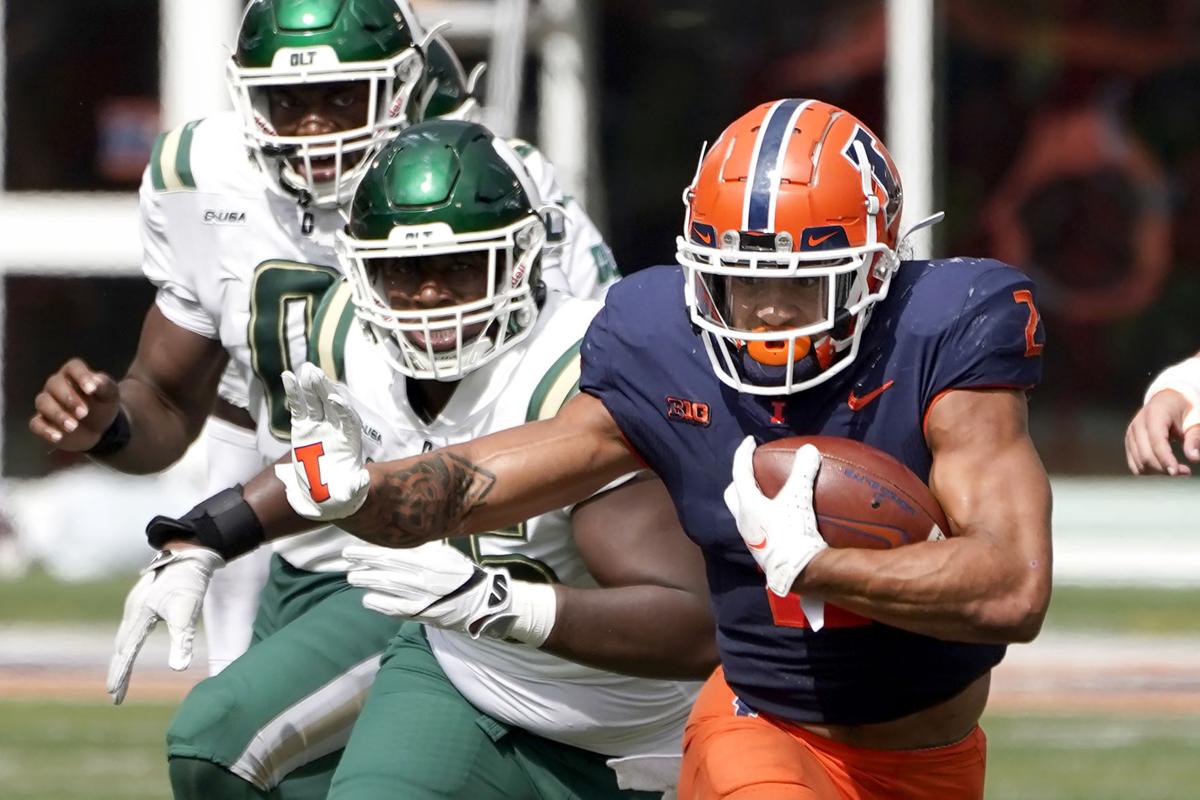 No. 4 Penn State 24, Indiana 0
Penn State defenders get excited when they're asked to defend short fields these days.
After all, it's what the No. 4 Nittany Lions (5-0, 2-0 Big Ten) do best.
Penn State forced eight punts, two turnovers and blocked a field goal to lift the Nittany Lions to a 24-0 victory over Indiana on Saturday.
Sean Clifford threw for 178 yards and three touchdowns, Jahan Dotson caught a pair of touchdown passes, Brenton Strange added one and Jordan Stout added a 50-yard field goal in the fourth quarter in the Nittany Lions' ninth straight victory.
"We're a defense who, it doesn't matter the score, doesn't matter what time of the game it is, we're going to go out there and play at a high level," defensive tackle P.J. Mustipher said. "That's who we are. Throughout the game, we're going to keep going."
Penn State opened the scoring on its second drive when Clifford scrambled left and flung a 10-yard pass to Strange with 5:28 to play in the first quarter.
Raheem Layne intercepted Clifford's pass in Penn State territory on the Nittany Lions' next possession. Although Layne returned it to the 13, the Hoosiers couldn't crack Penn State's stout red zone defense. They ran four plays inside the 5 only to turn the ball over on downs on a fourth-and-short try.
The Hoosiers (2-3, 0-2) wouldn't get any closer to the end zone the rest of the night.
"I thought that was a huge play," Franklin said. "Defensively, I just think we're playing really good, complimentary defensive football. I don't know if we're overwhelming in any area, but I think the defense is doing their job."
The offense did its part, too. After the defensive stop, the Nittany Lions responded with their longest drive of the season.
They got a boost from running back Keyvone Lee who took off for a 44-yard gain up the middle on second down. He added a 21-yard run moments later to set Penn State up inside the 5. Clifford capped the sequence with a rollout pass to Dotson in the back of the end zone. The 8-yard scoring toss made it 14-0 with 13:31 to play in the first half.
Indiana's opening second-half possession ended badly when Penix was sacked by linebacker Brandon Smith. Penix went down on his left shoulder and was down on the field for a few minutes. He walked to the locker room and was replaced by Jack Tuttle.
Indiana coach Tom Allen said after the game that Penix injured his throwing shoulder and would undergo further tests when the team returns home.
The backup didn't fare much better. On his first dropback, Tuttle was sacked hard on third down by Arnold Ebiketie.
"They played good defense," Allen said. "They make it really hard to run the football. We have to make sure we take that pressure off our throwing game, stay on the field and get first downs."
Penn State put together another strong drive and increased its lead to 21-0 when Clifford, throwing on the run again, found Dotson cutting inside Indiana's defense for a 30-yard score.
Tuttle gave Indiana some life when he completed his next three passes for a combined 58 yards, steering his teammates into scoring position midway through the third. But the drive stalled, and Smith blocked a 30-yard field goal attempt by Charles Campbell three plays later.
Clifford and Dotson have combined for 18 total touchdowns, the most for any QB-WR combo in Penn State history.
The record of 17 was previously held by Todd Blackledge and Kenny Jackson.
No. 11 Ohio State 52, Rutgers 13
Greg Schiano of Rutgers has a warning for the rest of the teams in the Big Ten Conference: No. 11 Ohio State is finding its stride.
C.J. Stroud threw for 330 yards and a career-high five touchdowns after sitting out a game to rest a shoulder and the Buckeyes won their 20th straight conference game with a 52-13 victory over Rutgers on Saturday.
"We had a bad day and we had it against a team that is finding its stride," Schiano said after suffering his worst loss since returning for a second stint with the Scarlet Knights (3-2, 0-2). "The result was there to see."
What everyone saw was a dominant Ohio State (4-1, 2-0) put a complete performance on display, especially on offense. The nation's No. 2 offense scored on its first six possessions and had its defense deliver a pick-6.
"Having a win like this after the last month, it's given us a little bit of juice now as we head into the next month of October," Ohio State coach Ryan Day said. "It was some tough times here, but we grew through it, we didn't panic, and in that we might have a good team as we head into October, November."
Stroud connected with Chris Olave on touchdown passes of 56 and 11 yards, found Garrett Wilson on a 32-yard catch-and-run, and hit tight ends Jeremy Ruckert and Mitch Rossi on scoring passes of 19 and 1 yard, respectively. The freshman, who threw four TD passes against Minnesota in the opener, finished 17 of 23 and did not throw an interception. Olave finished with five catches for a team-high 119 yards.
"This is this is what he's capable of," Day said about Stroud. "And now he's got to bring it through and be consistent."
Ohio State has beaten Rutgers eight straight times. The Buckeyes outgained the Scarlet Knights 541-346, flowed through a defense that had given up just 54 points in its first four games, and intercepted Noah Vedral three times.
Freshman TreVeyon Henderson opened the scoring with a 44-yard touchdown run on the Buckeyes' second play from scrimmage. Freshman Denzel Burke scored on a 23-yard interception return 40 seconds later.
The Buckeyes extended the lead to 24-0 on a 23-yard field goal by Noah Ruggles and the Wilson TD catch with 2:34 left in the opening quarter.
Rutgers' only major play in the game was a 75-yard catch-and-run by Aron Cruickshank on a short pass over the middle on the next series. The distance was a career best for both players. Vedral finished 16 of 26 for 152 yards.
Cole Snyder added a 12-yard touchdown pass to Josh Youngblood with 7:40 to play to close out the scoring and close the yardage gap for the Scarlet Knights.
"Major credit to Ohio State," Rutgers defensive end Mike Tverdov said. "They came out, they did their thing. It's a very good football team and we cannot afford to do what we did today against a team like that. Hats off to them. They came here and took care of business."
The result was a major letdown for Rutgers following a 20-13 loss to No. 14 Michigan on the road last weekend. They played very well in that game. They didn't follow that up this week and Schiano contributed to the problem on the opening series, using a trick play on a punt that backfired, giving the Buckeyes a short field.
Ohio State has never scored fewer than 49 points against Rutgers.
No. 17 Michigan State 48, Western Kentucky 31
Michigan State's Jayden Reed planted his right foot in the turf and juked to his left, cut back across the field and sprinted up the sideline untouched for an 88-yard touchdown off a punt return to score on special teams for the third straight week.
Reed also had a touchdown reception in the first half, giving him multiple scores for the fourth straight week, to help the 17th-ranked Spartans build a 26-point lead and they went on to beat Western Kentucky 48-31 on Saturday night.
"He can do it all," coach Mel Tucker said.
Reed had 285 all-purpose yards, including 127 yards receiving and 63 yards on kickoff returns.
Kenneth Walker ran for 126 yards, a week after being held to 61 yards rushing in an overtime win over Nebraska, and three touchdown in the first half to keep his name in the early conversation for the Heisman Trophy candidates.
"That is a dream of mine to win the Heisman," Walker said. "I had that in my notes on March 8th."
The Spartans (5-0) have won their first five games for the first time since starting 8-0 in 2015, when they ended up earning a spot in the College Football Playoff.
The Hilltoppers (1-3) moved the ball through the air effectively, but settled for three field goals in the first half and struggled to slow down Michigan State until the second half when it was too late.
"They made a lot of explosive plays and we didn't," coach Tyson Helton said. "Defensively we couldn't stop them in the first half and we held them to six points in the second half."
Reed returned the punt for a touchdown after the opening possession and had 46-yard reception for another score in the first quarter, helping the Spartans take a 21-10 lead. Walker ran for his second and third scores in the second quarter, putting Michigan State ahead 42-16.
"In the first half they were able to do whatever they wanted to do," Helton said.
Payton Thorne was 20 of 30 for a career-high 327 yards yards and a touchdown for the Spartans. Nailor had career highs with eight catches and 128 yard receiving.
Bailey Zappe, who was 46 of 64 for a career-high 488 yards, threw two touchdown passes early in the fourth quarter to pull Western Kentucky within two touchdowns.
Jerreth Sterns set career highs with 17 catches for 186 yards and had a touchdown reception for the Hilltoppers.
Illinois 24, Charlotte 14
Chase Brown rushed for 257 yards and two touchdowns and Illinois beat Charlotte 24-14 on Saturday.
It stands as the fourth best single-game rushing performance in Illinois history. His 80-yard scoring run as time expired in the third quarter was the longest run of the year for Illinois (2-4). The last Illini to rush for more than 200 yards in a game was Reggie Corbin, who ran for 213 yards against Minnesota in 2018.
"You really saw the skill set Chase Brown has," Illinois coach Bret Bielema said. "He's something."
Brandon Peters was 10 of 19 passing for 78 yards and one touchdown for the Illini. Josh McCray rushed 16 times for 64 yards. Daniel Barker caught one pass for 10 yards and a touchdown.
"For Brandon, I think we can say it was a step forward for him," Bielema said. "Overall, it was a step forward for the whole team. But we have to play Big Ten football and we're not there yet."
Chris Reynolds was 17 of 23 passing for 191 yards and two touchdowns for Charlotte (3-2).
Calvin Camp rushed seven times for 29 yards for the 49ers. Victor Tucker caught five passes for 55 yards and a touchdown, and Grant DuBose caught four passes for 70 yards. Elijah Spencer caught two passes for 34 yards and a touchdown.
"I'm disappointed," Charlotte coach Will Healy said. "Call me crazy, but I fully expected to win the game when we came in today. I believe we had plenty of opportunities to do it, and we didn't get it done."
Illinois outgained Charlotte on the ground 336 yards to 72.
Bielema was known for nurturing a hard-nosed running attack during his successful tenure at Wisconsin, and Saturday's game was the first indication of that at Illinois.
"I mean, we have some things to clean up," Bielema said. "But overall, I thought it was encouraging."
Illinois' two touchdowns in the second half both were on Brown runs, a 32-yard score midway through the third quarter and his 80-yard scamper as time expired in the third quarter.
Illinois scored first on a 29-yard James McCourt field goal midway through the first quarter after a 17-play opening drive for the Illini. Charlotte answered with a 22-yard touchdown pass from Reynolds to Tucker with 1:31 left in the first quarter.
Illinois scored late in the second quarter with a 10-yard touchdown pass from Peters to Barker to make the score 10-7 Illinois.
Charlotte then drove 66 yards on 6 plays and scored on a 22-yard pass from Reynolds to Spencer to lead 14-10 at the half.
Coming into the game, Reynolds had thrown for nine touchdowns, 16th most in the nation.
"We have a long season ahead of us," Reynolds said. "You can't let something like this hurt you for the rest of the year. We have a lot of opportunities in front of us."
Illinois faces Wisconsin next Saturday.
"I told the guys in the locker room to enjoy the moment, hug your mom and all that stuff, and then let's get busy because we have to win some Big Ten games now," Bielema said.
Minnesota 20, Purdue 13
Minnesota coach P.J. Fleck challenged his team to respond Saturday.
Trey Potts scored the go-ahead touchdown 70 seconds into the third quarter and the Golden Gophers defense pitched a second-half shutout to hold on for a 20-13 victory at Purdue.
"That was a very difficult week — mentally, physically, emotionally," coach P,J. Fleck said after earning his first second-half comeback in 50 career games at Minnesota. "To come out here and beat a really good Purdue team on the road, was great."
It was just what the Gophers (3-2, 1-1 Big Ten) needed after last week's shocking loss at home to Bowling Green.
But Minnesota cleaned up those mistakes and took advantage of their opportunities on a cool, rainy day at Ross-Ade Stadium — despite seeing the Boilermakers (3-2, 1-1) run 33 more plays and picking up 144 more yards.
After trailing most of the first half, the Gophers struck quickly in the third quarter. Tanner Morgan opened the second half with a 54-yard completion to Mike Brown-Stephens. Potts ran for 17 yards on the next play and then overpowered the Boilermakers defense for a 4-yard touchdown run for a 17-13 lead.
The Gophers defense took care of the rest. It ended one scoring threat with a sack, ended two more with good coverage and finally sealed the win with an interception on third-and-10 from just outside the Minnesota red zone.
"We weren't very opportunistic in the red zone again," coach Jeff Brohm said after his fourth straight loss to Minnesota. "It's something we've got to get better at — producing points when we get down in there tight. There were some things we did better but it wasn't good enough."
Nebraska 56, Northwestern 7
In the 10 years since Nebraska joined the Big Ten, the Cornhuskers' tightest games have been against Northwestern.
On a Saturday night when the Huskers were nearly flawless after back-to-back mistake-filled losses to ranked opponents, they posted their most lopsided Big Ten win against the Wildcats.
Adrian Martinez ran for a career-best three touchdowns and passed for another, and Nebraska broke big play after big play while putting away Northwestern early in a 56-7 win.
"We were using the last couple of weeks to fuel us this week," Martinez said. "A big play to open the game got the crowd behind us, and that initiated it. Tonight we can say we executed the way we should."
The Cornhuskers (3-3, 1-2 Big Ten) were sharp from the get-go and dominated a matchup that had seen eight of the previous 10 games in the series decided by eight points or less.
"We're a lot better team than we have been," Nebraska coach Scott Frost said. "This was one game. This is what I know this group can do. It's a good first step. We can still get better."
The 49-point margin was Nebraska's largest in a win against a Big Ten opponent. For Northwestern (2-3, 0-2), it matched the second largest in a loss in Pat Fitzgerald's 16 years as coach.
"Obviously not our night and credit Nebraska," Fitzgerald said. "They played incredibly well and were able to execute their option plays in the first half, and that kind of snowballed."
Martinez connected with Samori Toure for a 70-yard pass on the game's first play from scrimmage — a sign of things to come — and the Huskers went into halftime with a 35-7 lead.
Zavier Betts opened the second half with an 83-yard touchdown run down the sideline, and Martinez hit Toure in stride for a 38-yard score to make it 49-7.
The Huskers had seven plays go for at least 20 yards and their 657 yards were their most in two years. Their 427 yards rushing, a good amount of them coming on old-school Nebraska triple-option plays, were their most since they ran for 458 against Illinois in 2014.
Martinez rushed for 58 yards and TDs of 1, 1 and 25 yards and completed 11 of 17 passes for 202 yards.
Jaquez Yant had 109 of his 127 yards rushing in the first half, including a 64-yard burst. Yant, the No. 4 running back, entered the game with five carries for 25 yards.
Northwestern all but abandoned the run game after falling behind. Evan Hull, who ran for 216 yards against Ohio last week, had 31 on seven carries.
Ryan Hilinski was 25 of 39 for 256 yards and a touchdown.
Northwestern drove to the 1 in the second quarter with a chance to pull within two touchdowns, but linebacker JoJo Domann barged through to knock the ball loose from Hilinski and Deontre Thomas recovered for the Huskers.
The Wildcats didn't sniff the end zone again.