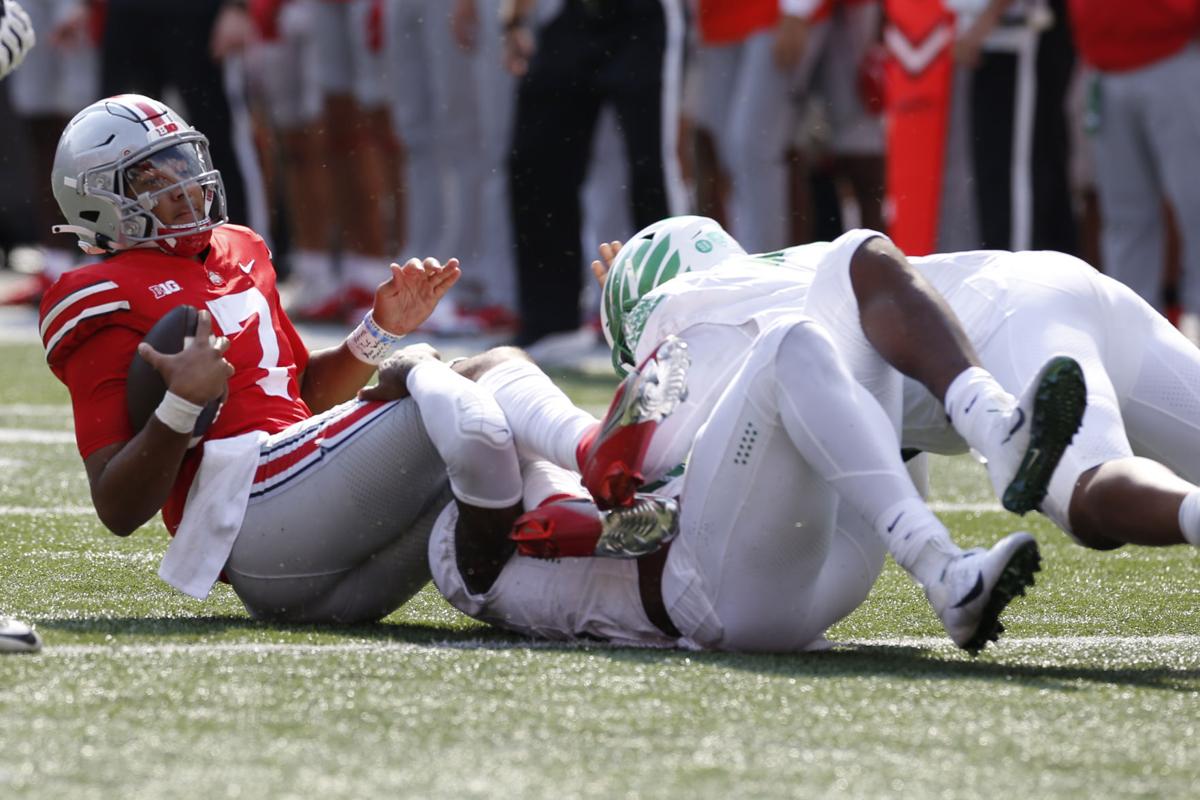 C.J. Verdell watched on TV last week as Minnesota's Mohamed Ibrahim shredded Ohio State's disheveled defense early. The Oregon running back thought he could take advantage in the same fashion.
Verdell, who has struggled with injuries the past two seasons, made it happen. He ran for 161 yards and scored three touchdowns as shorthanded No. 12 Oregon stunned No. 3 Ohio State 35-28 on Saturday.
"We saw the Minnesota running back was having a good game, and we wanted to do the same thing," the 5-foot-8, 211-pound Verdell said.
Verdell and quarterback Anthony Brown exploited holes in Ohio State's defense and handed the Buckeyes their first regular-season loss in nearly three years and the first of third-year coach Ryan Day's tenure.
The Buckeyes' last loss in the regular season came at Purdue in October 2018 under Urban Meyer.
Ohio State (1-1, 1-0 Big Ten) never led the game it was favored to win by 14 1/2 points despite gaudy numbers from freshman quarterback C.J. Stroud. Its front seven struggled to contain Verdell, control the edge and get after Brown in front.
"They quickly adapted and just played with grit and toughness, knowing this was going to be a slugfest," Oregon coach Mario Cristobal said.
The Ducks (2-0, 0-0 Pac-12) were without star defensive end Kayvon Thibodeaux and linebacker Justin Flowe.
"It's hard to express in words the magnitude of coming out here down a couple of guys due to injury, and just playing really, really gutsy football, executing at a high level," Cristobal said. "A tremendous job of preparation and turning it into a reality by our players and coaching staff."
The Buckeyes had a chance to tie it late after pulling within a touchdown with 7:55 to go. But when they got the ball again, Stroud took his first sack of the day and then was intercepted by Verone McKinley III on a desperation sideline pass on third-and-18 at the Oregon 35 with 2:50 left as a crowd of more than 100,000 sat stunned.
Stroud, trying to show he is a worthy heir to Justin Fields, likely will be fine. It's the Ohio State defense that needs work.
Twice in the first half Verdell scurried around the left end — one of them was a pitch pass on fourth-and-1 — and went untouched into the end zone from 14 yards out. Travis Dye exploited the left side again, running from 5 yards out to give the Ducks a 28-14 third-quarter lead.
"This is not fatal," Day said. "Certainly, it hurts."
Stroud, in his second start, was 35 of 54 for 484 yards and three touchdowns. That was the second most yards in Ohio State history, just 15 short of Dwayne Haskins Jr.'s 499 against Northwestern in 2018. Stroud's success was partly due to some brilliant catches by receivers Chris Olave, Garrett Wilson and Jaxson Smith-Njigba. He threw two touchdown passes to Smith-Njigba and one to Wilson.
No. 10 Iowa 27, No. 9 Iowa State 17
Iowa defensive end Zach VanValkenburg and offensive lineman Jack Plumb marched across the end zone with the Cy-Hawk Trophy perched on their shoulders, showing it off to the Hawkeyes fans who had come to Jack Trice Stadium to see the biggest game in the history of the rivalry with Iowa State.
The trophy checks in at about 90 pounds and for all the progress the ninth-ranked Cyclone have made in recent years, they just can't pry it away from the Hawkeyes.
Jack Campbell returned a fumble 6 yards for a touchdown and No. 10 Iowa ran its winning streak against Iowa State to six games with a 27-17 victory Saturday that ruined the most-anticipated home game in Cyclones history.
In the first Cy-Hawk game matching ranked teams in 65 total meetings, the Hawkeyes (2-0) were not about to play the foil for Iowa State's feel-good story.
The Cyclones (1-1) hosted ESPN's "GameDay," and after years of mediocrity — at best — they came into this season ranked in the top 10.
Ames was rocking, but the rivals from across the state sucked the life out of Jack Trice.
Iowa linebacker Jestin Jacobs said the atmosphere was "crazy."
"You really can't describe it until you're in it," Jacobs said. "Just to get that win in hostile territory fills you with emotion."
Iowa turned four takeaways into 20 points, ran its overall winning streak to eight games and its winning streak against ranked teams to five. Iowa has not won that many in a row against ranked opponents since 1960.
"Polls in September, they really don't mean a lot," Iowa coach Kirk Ferentz said. "But for us it's all about building a team."
This Iowa team looks like a contender in the Big Ten thanks to its defense.
"You talk about physicality, that's what you do at Iowa," said Campbell, who had eight tackles and half a sack.
The Hawkeyes used the same formula as last week when they had two defensive touchdowns in a rout of Indiana, another upstart program looking to build off 2020's success.
The Cyclones came into this season with sky-high expectations, a loaded and experienced roster and hot-commodity coach. One significant milestone has eluded Iowa State during its program renaissance and four straight winning seasons of under Matt Campbell: A victory against Iowa.
Maybe the Cyclones will have better luck in the Big 12 because the Hawkeyes remain heartbreakers.
"Somewhere along the line I have failed this team to be prepared for this moment," said Campbell, who fell to 0-5 against Iowa. "I think the lack of execution really falls on my shoulders."
With the Cyclones backed up to their goal line, All-American Breece Hall was stripped by Jacobs. Campbell scooped the bouncing ball and took a couple of strides into the end zone to make it 21-10 with 5:08 left in the third quarter.
The Hawkeyes celebrated while Hall was face down on the turf for a few extra seconds, frustrated by a critical mistake. One that has become so common in this series for Iowa State.
Hall was held to 93 total yards and a touchdown on 20 touches.
Matt Hankins had two of Iowa's three interceptions against Brock Purdy, who was benched for Hunter Dekkers early in the fourth quarter.
Hankins' second pick at the end of the third quarter left the Hawkeyes in Iowa State territory and seemed to kill all hope for the Cyclones' sellout crowd of 61,500.
"You could definitely feel it, just the momentum shift," Hankins said. "Definitely feel the energy change."
The hype song "Jump Around" blared inside Jack Trice Stadium heading into the fourth quarter, but it hardly caused a stir in the stands on a hot, mercifully overcast day in Ames.
Caleb Shudak hit a 22-yard field goal to make it 27-10 with 12:53 left in the fourth and that was pretty much it.
The Hawkeyes' offense managed just 173 yards, but it was good enough.
No. 11 Penn State 44, Ball State 13
When Penn State hired Mike Yurcich to be its new offensive coordinator, the team's backs and receivers were ecstatic.
They knew there likely would be a lot of opportunities for all of them to make plays. The No. 11 Nittany Lions' 44-13 win against Ball State on Saturday was the showcase they had in mind.
Sean Clifford completed 21 of 29 passes for 230 yards, ran for a touchdown and threw for another on an afternoon that saw seven different players contribute scoring plays and 14 more touch the ball for an offense that rang up 493 total yards.
"That's going to be a common theme," Clifford said with a grin. "The more guys that get touches the better, especially early in the year."
Running back Noah Cain added a rushing touchdown and wide receiver Jahan Dotson added another, linebacker Jesse Luketa returned an interception 16 yards for a touchdown, and Jordan Stout kicked three field goals for the Nittany Lions (2-0).
Backup quarterback Ta-Quan Roberson added a 23-yard touchdown pass to Theo Johnson to cap Penn State's sixth straight win dating to last season.
"I just thought this week on first and second down, offensively we were more effective," Penn State coach James Franklin said. "I just thought we were more balanced. We were more efficient."
Penn State scored on four of five first-half possessions, led 24-6 at halftime, and played suffocating defense. It was the kind of start the Nittany Lions wanted, especially as they welcomed back nearly 106,000 fans to Beaver Stadium for the first time since 2019.
The diehards didn't have to wait long for Penn State to score.
Cain scored on a 5-yard run to cap a 13-play opening drive. Clifford dove into the end zone from a yard out on Penn State's next possession to make it 14-0 less than 10 minutes in.
After a pair of three-and-outs, the Cardinals got on the board on Jake Chanove's 24-yard field goal. He added a 23-yarder as time expired in the first half.
Penn State's defense all but shut the door in the second. The Nittany Lions held the Cardinals to just 142 yards and forced a pair of turnovers.
Luketa's pick-six made it 31-6 with 5:56 left in the third.
The Cardinals (1-1) crossed midfield just twice in the second half. They were able to capitalize in the fourth quarter with Carson Steele's 5-yard run.
Ball State quarterback Drew Plitt completed 25 of 39 passes for 176 yards with two interceptions. He was replaced by John Paddock in the fourth quarter.
"The most disappointing part, I think, on my end right now as soon as the game is over is just some of the opportunities that we did have," Ball State coach Mike Neu said. "We didn't make some plays when there were some available plays to be made."
It was clear from their opening possession that the Cardinals would try to get the ball to star wideout Justin Hall as much as possible.
But for most of the day, the senior wideout wasn't on the same page with Plitt, who overthrew him twice on their opening drive. Plitt continued to miss Hall in the first half, where he finished with five catches for just 22 yards on 10 targets.
The Nittany Lions ensured Hall wouldn't hurt them on special teams, too. Stout punted away from him on all his kicks.
Luketa, who's played defensive end and linebacker this season, all but ended Ball State's hopes when he made a one-handed interception deep in Cardinal territory and returned it 16 yards for a score.
The Nittany Lions have an opportunity to move into the Top 10 with No. 3 Ohio State's loss to No. 12 Oregon and shaky performances from No. 5 Texas A&M and No. 8 Notre Dame, who squeaked out wins against unranked teams.
Minnesota 31, Miami (Ohio) 26
Treyson Potts listened intently to Mo Ibrahim between drives, the injured Minnesota star now serving as an unofficial coach and unwavering supporter of his successor in the backfield.
Potts picked up where Ibrahim left off, rushing for 178 yards and two touchdowns in his first career start to help the Gophers fend off Miami of Ohio 31-26 on Saturday.
"That's my partner in crime. He was right there the whole game with me, helping me manage the game and just giving me pointers. I've always been on his hip. I love that dude," said Potts, the third-year player from Williamsport, Pennsylvania, who put the game away with 83 yards in the fourth quarter on 12 of his 34 carries.
Ibrahim's season ended on an ill-fated plant of his foot on the turf in the opener last week against Ohio State. The 2020 Big Ten Running Back of the Year was an honorary captain for the pregame coin flip, rolling out to midfield on a scooter to support his surgically repaired lower left leg.
"Mo was a great teammate on the sideline. You've got to imagine how hard that is," coach P.J. Fleck said. "He's the ultimate competitor. It was an emotional week."
Tanner Morgan connected with Dylan Wright and Daniel Jackson on scoring passes in the second quarter as the Gophers (1-1) took a 21-3 lead into halftime, before Redhawks (0-2) outgained them 128-15 in total yards in the third quarter to make them sweat it down the stretch. Brett Gabbert threw to Jack Sorenson for a 23-yard touchdown that cut Minnesota's lead to one with 12:32 to go.
"You have all the energy and all the belief at that point in time," said Miami coach Chuck Martin, whose Redhawks were beaten in 2014 and 2015 by Fleck's teams at Western Michigan.
"Get it to the fourth quarter, and you've got a chance. That was our whole philosophy when I was in the Mid-American Conference," Fleck said.
Then freshman Bucky Irving, who could find his way into the mix behind Potts in the backfield, made the game-changing play when he bobbled the kickoff before returning it 43 yards. Potts took five straight handoffs to gain the remaining 53 yards and give the Gophers a badly needed cushion.
"They're going to come at you," Martin said. "They always do."
Tyler Nubin intercepted Gabbert's third-down pass on the next drive to set up a 50-yard field goal by Matthew Trickett to make it 31-20.
Nubin also broke up Gabbert's fourth-down throw from the Minnesota 48, but the Redhawks kept the ball on a roughing-the-passer penalty on Rashad Cheney Jr. and scored on the next play when Mac Hippenhammer snagged Gabbert's 33-yard toss in tight coverage in the end zone. The 2-point conversion play failed with 3:43 to go.
The Redhawks had two timeouts, but the Gophers had Potts and their experienced, imposing offensive line. Potts had five consecutive carries to drain the clock, capped by an 11-yard rumble on third-and-4 near midfield with 1:28 left.
"If that's what it took, that's what it took," Potts said.
The Redhawks, who won the MAC in 2019, fell to 0-5 against the Gophers and 12-49-2 all-time against Big Ten teams. Their last win was in 2003 against Northwestern.
Gabbert went 14 for 28 for 201 yards and carried six times for a team-leading 27 yards. A.J. Mayer, who struggled in Gabbert's place last week, took a handful of snaps and scored on a short run in the third quarter. Graham Nicholson also made field goals of 45 and 46 yards for the Redhawks.
Michigan State 42, Youngstown State 14
Payton Thorne threw for four touchdowns, including two long strikes to Jayden Reed, and ran for another score as Michigan State rolled to a 42-14 victory over Youngstown State on Saturday.
Thorne connected with Reed on Michigan State's first play from scrimmage, the second straight game in which the Spartans scored from 75-yards out on its opening play.
They also combined on an 85-yard score during the second quarter. Thorne completed 15-of-21 passes for 280 yards.
The duo built chemistry long ago. They were high school teammates at Naperville (Ill.) Central.
"We've had a ton of those plays and those aren't going to be the last two," Thorne said. "We're just going to keep building. It's crazy how things have ended up and today was pretty cool."
Reed caught four passes for 181 yards, while Jordon Simmons rushed for 140 yards on 19 carries for the Spartans (2-0), who led 35-7 at halftime.
Demeatric Crenshaw rushed for 69 yards on 18 carries and a touchdown for the Penguins (1-1).
Kenneth Walker III scored on a 75-yard run on the first play from scrimmage in the Spartans' season-opening victory at Northwestern. This time, he took a handoff and pitched it back to Thorne on a flea flicker. Reed caught the ball at the Penguins' 37 and raced into the end zone on the 75-yard score.
"I wish we could score every play on the first play," Reed said. "We did it last week and this week. That's the standard, so we're going to make that the goal for next week as well."
Youngstown coach Doug Phillips admitted the first play caught his team off-guard.
"It did shock," he said. "We knew coming into the game we had to handle the atmosphere and the emotion, and knowing they had just rushed for (326) yards, and one flea flicker would probably be a good first play. It definitely got the ball rolling for them."
Thorne scored on a 10-yard run midway through the first quarter.
Thorne's 85-yard pass to Reed with 13:59 left in the first half gave the Spartans a 21-0 advantage. Thorne's 20-yard pass to Elijah Collins and Walker's 6-yard run accounted for Michigan State's other first-half scores.
Thorne found Jalen Nailor on a 16-yard scoring pass in the third. Michigan State finished with 595 yards of total offense.
"The plan was to come out and attack and be aggressive," Spartans coach Mel Tucker said. "The opponents change but the standard does not change. We've got to come out and set the tone. ... That's the way we need to play. I don't know any other way to play."
Phillips was impressed with the Spartans' efficiency.
"We knew going in that we had to have a good run offense," he said. "We had to eliminate big plays and we had to tackle. And those three things really in the first half is what we didn't get done today."
Purdue 49, UConn 0
Purdue quarterback Jack Plummer threw four touchdown passes in the first half, three to wide receiver David Bell, as the Boilermakers rolled over winless UConn 49-0 Saturday afternoon at Pratt & Whitney Stadium.
After punting on its first possession, Purdue (2-0) scored touchdowns on each of its next five to take a 35-0 lead at halftime.
"While things weren't as great as we wanted on the first series or two, we found a way to regroup and played well from there," Purdue coach Jeff Brohm said.
The Boilermakers, a 34-point favorite by most sports books, scored two more touchdowns with their first two drives in the second half with many second-stringers in the lineup.
Plummer completed 16 of his 20 passes, racking up 245 yards and four touchdowns. Bell caught six of the passes for 121 yards and three touchdowns. Both were replaced to start the second half.
In their first game under interim coach Lou Spanos, who took over Monday following Randy Edsall's abrupt retirement, the Huskies advanced inside Purdue's 20-yard line only once in the game.
"We feel awful. Our team feels awful that we're not executing. We're just disappointed for our fans," Spanos said. "But our players, they're teammates to each other. We're getting closer as a team. Now, we've got to make sure it transfers on game day. We do good stuff in practice, but we have to do better on game day."
UConn (0-3) has lost 28 of its last 29 games against FBS competition.
"It was great to see our guys come through and do what we needed to do in this game," Brohm said. "When you face a team that's going through some adversity, you have to make sure your guys come ready to play and understand that on any given day anybody can win. That's college football."
It was UConn's most lopsided shutout loss since a 49-0 loss to New Hampshire Nov. 7, 1931.
UConn quarterback Steven Krajewski, making his first career start, completed 14 of his 25 passes for 99 yards. He also ran 11 times for 42 yards.
"Not where it needs to be. There's a lot of things I can do better and cleaner," Krajewski said when asked to evaluate his performance. "I'll get better. My teammates will get better, the coaching will get better."
Purdue running back Zander Horvath left the game in the first quarter with an injury to his left ankle and did not return.
"Looks like Zander will probably be out for a little while," Brohm said. "We'll see how long that will be come (Sunday) or Monday."
UConn honored members of its 2011 Fiesta Bowl team during a halftime ceremony. Some 15 players from that team, including star defensive tackle Kendall Reyes, attended Saturday's game. A surprise crasher to the BCS party that season, UConn lost to Oklahoma 48-20.
The Huskies have not had a winning season since that 2010-11 campaign.
Rutgers 17, Syracuse 7
Rutgers took advantage of two Syracuse second-half miscues and downed the Orange 17-7 Saturday.
An unsportsmanlike conduct penalty against Syracuse (1-1) coach Dino Babers after he disputed a personal foul call on Orange linebacker Mikel Jones gave Rutgers (2-0) a first down on the Syracuse 11. Kyle Monangai ran it in on the next play to give the Scarlet Knights a 7-0 lead with 6:46 to go in the third quarter.
A fumble by Syracuse quarterback Tommy DeVito was recovered on the Orange 10 and a 27-yard field goal by Rutgers' Valentino Ambrosio made it 17-7 with 8:23 remaining in the game.
"I'm not quite sure what happened," Babers said of the unsportsmanlike call. "I thought I saw a play (on which Jones was called for the personal foul) and I'm trying not to get fined. I thought I saw a play where we tackled a guy and he got pushed back. I saw a personal foul called. I didn't see a targeting.
"As far as I know, I know I've never had a personal foul penalty called on me as a head coach. I know I've never had one called on me as an assistant coach and I'm pretty doggone sure that I never had one called on me as a player and I've been playing since the 60s."
"I didn't see it. I don't know how it happened," Rutgers coach Greg Schiano said. "In the heat of the battle you get upset when you think you were wronged."
Rutgers' 2-0 start is the team's first since 2014.
Noah Vedral was 22 of 28 for Rutgers for 145 yards and a 30-yard touchdown pass to tight end Jovani Haskins. He was sacked four times by a Syracuse defense that held the Scarlet Knights to 198 yards.
"I thought he did a heckuva job," Schiano said. "Took care of the football. Made plays when he had the chance. I thought he did exactly what he had to do."
"I thought the defense played extremely well," Babers said. "I think the kicking game, maybe it cost us as much as the offense not scoring enough points. I thought the defense came out in some tough situations with some amazing energy and some fantastic stops. You're supposed to win these types of games unless you turn the ball over more than the other team and you lose the kicking game."
The Orange turned the ball over three times. Rutgers had no turnovers.
The Scarlet Knights sacked DeVito five times and Garrett Shrader once. DeVito was 15 of 25 for 149 yards and one interception.
Following a scoreless first half, both teams traded punches in the third quarter. After Monangai's score, it took the Orange just 52 seconds to tie on a 24-yard burst up the middle by Sean Tucker. The Scarlet Knights returned the favor when Vedral found Haskins wide open in the middle of the field for a 30-yard score.
Syracuse held Rutgers, which scored 61 points in its season opener against Temple, to just 49 yards and five first downs in the first half. The defense also sacked Vedral three times.
"We knew this was going to be a grimy, tough, gritty game. That's what it was going to be. They have a scheme that's very, very hard to prepare for unless you're an elite group, and we're not there yet, offensively," Schiano said. "On offense, we have to work to do. We had some field position today that you should capitalize on, and we didn't."
Backup punter Colby Barker shanked a punt for 8 yards. The Orange had a punt blocked in the first quarter, muffed a punt that it recovered and missed a 29-yard field-goal attempt.
Adam Korsak punted six times for a 52.2 yard average and pinned the Orange inside its 20 five times.
Virginia 42, Illinois 14
After seeing his offense start slowly in its season-opening win over William & Mary, Virginia coach Bronco Mendenhall designed his practices this week to correct that.
The offense came quickly as Virginia scored touchdowns on its first two possessions Saturday against Illinois on its way to a 42-14 win.
"I have a belief that we're designed for the results we get," Mendenhall said. "And so we just flipped the script."
Brennan Armstrong threw for five touchdowns and became the third quarterback in program history to pass for over 400 yards as Virginia snapped a 9-game regular-season losing streak in non-conference games against Power Five opponents.
Armstrong threw for 171 yards and two touchdowns in the opening quarter, connecting with tight end Jelani Woods for a 32-yard score and wide receiver Dontayvion Wicks from 28-yards out, for a 14-0 lead while many fans were still filing into the stadium for the unusual 11 a.m. kickoff.
Armstrong went 27 for 36 for 405 yards, joining Kurt Benkert (who did it twice) and Marc Verica as Virginia quarterbacks who surpassed 400 yards in a game.
Wicks finished with a pair of touchdown catches for Virginia (2-0).
Virginia's defense, coming off its first shutout since the 2018 Belk Bowl, sacked quarterback Artur Sitkowski three times and held the Illini without points on 12 of 14 possessions.
"Obviously to start the game the way we did defensively, giving up two big scores, we battled ourselves back into it," Illinois coach Bret Bielema said. "Obviously we did not hold them defensively. We had a few things go against us but the reactions were good, so, we've got a lot of work to do."
Wide receiver Deuce Spann caught a 33-yard touchdown pass in the first quarter for the Illini (1-2), and running back Chase Brown capped the opening drive of the second half with a 21-yard scoring run.
Northwestern 24, Indiana State 6
Evan Hull ran for 126 yards and two touchdowns and Northwestern beat Indiana State 24-6 on Saturday.
Hull led the way for a Wildcats rushing unit that surpassed last week's 117 total yards against Michigan State at the half and finished with 209. He ran for 51 yards on the team's opening drive and capped it with a 3-yard touchdown run.
"When you look at where you're at as a Big Ten team playing against a FCS team, you have to pound the ball," Northwestern coach Pat Fitzgerald said. "For the most part, when we targeted things right and executed I thought we did a good job."
The Wildcats (1-1) never trailed, stopping the Sycamores (1-1) in the first matchup between the two programs.
After throwing for 283 yards against Michigan State, Hunter Johnson finished with 66 yards passing with a touchdown. The senior completed 9 of 16 passes in his second start as the Wildcat starter.
Freshman Anthony Tyus III rushed for 71 yards for Northwestern, which outgained Indiana State 275-169 in total yards and 209-91 in rushing.
"The credit goes to our guys," Fitzgerald said. "They were the ones who executed cleaner, they looked like they had fun. We're far from where we need to be and that's what's most exciting to me as this group's coach: We can be so much better and we have to commit to that and I know the guys will."
Indiana State's Anthony Thompson passed for 132 yards and a touchdown, completing 21 of 34 passes in his second start for Indiana State after transferring from Northern Illinois.
Matt Sora rushed for 13 yards to lead the Sycamores.
"It's very motivating for the offense, especially when they give us so many short fields," Hall said of the team's strong defense. "When we come into the huddle and we have that momentum, it's so important to capitalize on it."
The Wildcats went 92 yards and scored on a Johnson 25-yard pass to Malik Washington to make it 14-0 with a few minutes left in the first quarter.
Brandon Joseph energized Northwestern to start the second half. The returner ran it back 46 yards on a punt that set up a 47-yard field goal. Joseph returned the next punt 50 yards.
Hull added his second touchdown in the middle of the fourth when he scored on a 13-yard run to make it 24-0.
Indiana State got on the board late when Thompson completed a 9-yard pass to Zach Larkin.
"We came in to win the game and we were confident we could," Indiana State coach Curt Mallory said. "We didn't flinch. We came here to battle and that's what this team is about. We'll continue to stick together."
Nebraska 28, Buffalo 3
Before Saturday, it had been two years since Nebraska won consecutive games.
Never mind the Cornhuskers' 28-3 victory was against a Buffalo team from the Mid-American Conference and that it followed last week's win over Fordham of the Championship Subdivision.
Nebraska (2-1), trying to find traction under fourth-year coach Scott Frost, has lost games to teams from the MAC and Sun Belt Conference in recent seasons. So this was a sign of progress and very much needed considering what lies ahead.
"A win is a win in my book," quarterback Adrian Martinez said. "We knew we were capable of beating this team and we should beat them. There are a couple things we need to fix. We have a big game next week."
A big game, indeed. The Huskers go on the road to play their former Big Eight/Big 12 rival in No. 4 Oklahoma. The game marks the 50th anniversary of the 1971 "Game of the Century" that catapulted the Huskers to a second straight national championship.
Martinez played one of his best games in the tune-up for the Sooners, passing for 296 yards and a pair of 68-yard touchdowns to Samori Toure, and he also ran for 112 yards.
"I thought Adrian played another great game," Frost said. "He's a big-time player. He's missing some weapons right now, some guys not in the game (because of injury). We should have scored more in the first half and didn't and got bailed out by a couple big plays Samori and Adrian made."
The Bulls (1-1) dropped to 1-10 all-time against Big Ten opponents. Their point total was their lowest since a 38-0 loss to Western Michigan on Nov. 19, 2016.
"Proud of the way our team competed, but there are no moral victories," first-year Buffalo coach Maurice Linguist said. "I told the team this in the locker room, that we aren't fighting for moral victories because we prepare and we plan to win."
Martinez was at his best making something out of nothing when plays broke down during an afternoon when the temperature reached the mid 90s.
Martinez looked as if he would get sacked on a third down from his 25, but he ducked and sidestepped the blitz and went 71 yards to set up Gabe Ervin's first short touchdown run.
In the second half, Martinez was flushed from the pocket and about to get tackled when he desperately shoveled the ball to Chris Hickman, who turned the play into a 27-yard gain.
Martinez's first touchdown pass came on a short toss to Toure, who turned it into a 68-yard catch-and-run. The second was a perfect strike Toure caught in stride running a post pattern.
Buffalo was the first Nebraska opponent held without a touchdown since the Huskers' 44-8 win over Northern Illinois on Sept. 14, 2019.
Luke Reimer, an inside linebacker who arrived at Nebraska as a walk-on two years ago, made a career-high 16 tackles.
With the Huskers up seven points, he made a shoestring tackle on Ron Cook in the first half to snuff out a fourth-and-3. Reimer later tipped the ball to himself for his first career interception and ran it back 22 yards to set up Ervin's second short touchdown run.
"That's the stuff we've seen from Luke since his first day here," Frost said. "We were lucky enough to get him to walk on. It was the second day we thought we should scholarship him. He's going to make a lot of big plays here."