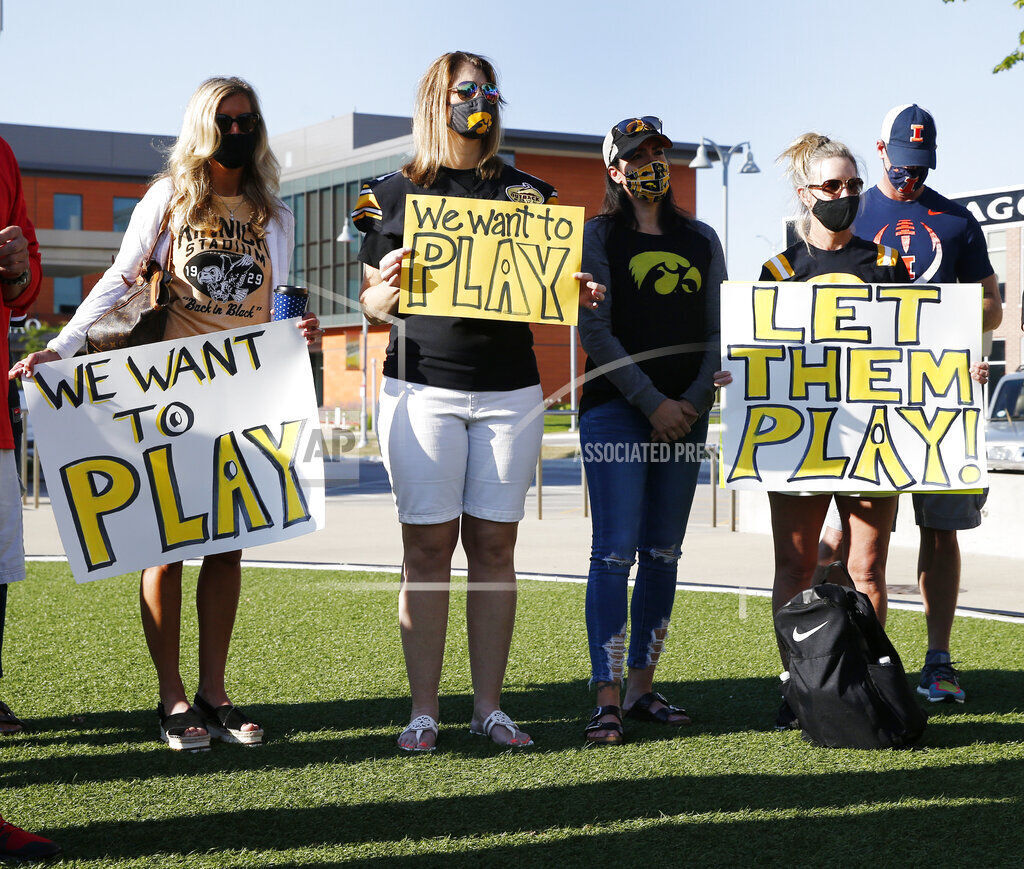 Big Ten Conference football fans might not need to wait until 2021 to see games.
One of the many options being considered at the conference level has the football season for the University of Wisconsin and the rest of the Big Ten starting around Thanksgiving, an earlier start date than the spring-semester dates that had been previously discussed.
The discussions of a Thanksgiving start date were first reported by the Milwaukee Journal Sentinel and were confirmed by a number of outlets.
Big Ten teams would play eight games in the winter in this plan, and the season would wrap up in early-to-mid January.
The Big Ten's return-to-play plans are still in the early stages, with Thanksgiving, New Year's Day, early January and late January start dates still being options, according to a report from Yahoo Sports.
The Big Ten was the first Power Five conference to cancel the fall football season earlier this month due to the COVID-19 pandemic, but recent developments in testing are providing optimism that teams might begin playing earlier than once expected.
One such development, a $5 antigen test created by Abbott Laboratories, can diagnose a COVID-19 infection in about 15 minutes. UW athletic director Barry Alvarez told reporters earlier this month that a rapid-response test would be beneficial in order to keep practices and games free of infected players, but a UW-produced saliva test wasn't fast enough for such a use.
An earlier start might allow the conference to lessen the changes needed for the 2021 fall football schedule.
UW is scheduled to begin classes next week, but other colleges slated to play football this fall such as Notre Dame and North Carolina have been forced to close their campuses due to outbreaks after classes began. If the Thanksgiving plan is adopted and UW's academic calendar isn't altered again, the Badgers' games would take place after the fall semester is concluded.
The Big Ten has been bombarded with criticism since it decided to cancel its fall sports schedule, with players, coaches, administrators and parents publicly questioning the science and reasoning to make the decision when the conference did.
Parents have demonstrated outside the Big Ten offices in Rosemont, Illinois, and have released scathing letters to conference commissioner Kevin Warren. The Big Ten also was sued on Thursday by eight Nebraska football players who want the decision overturned.
Any plan will need the approval of university presidents and chancellors, and the Big Ten will only play if certain benchmarks related to the coronavirus — such as transmission rates, testing capacity and availability, and testing accuracy — are met in each of the 11 states that are home to the league's 14 schools.
Badgers fans weigh in on Big Ten's move to cancel fall sports