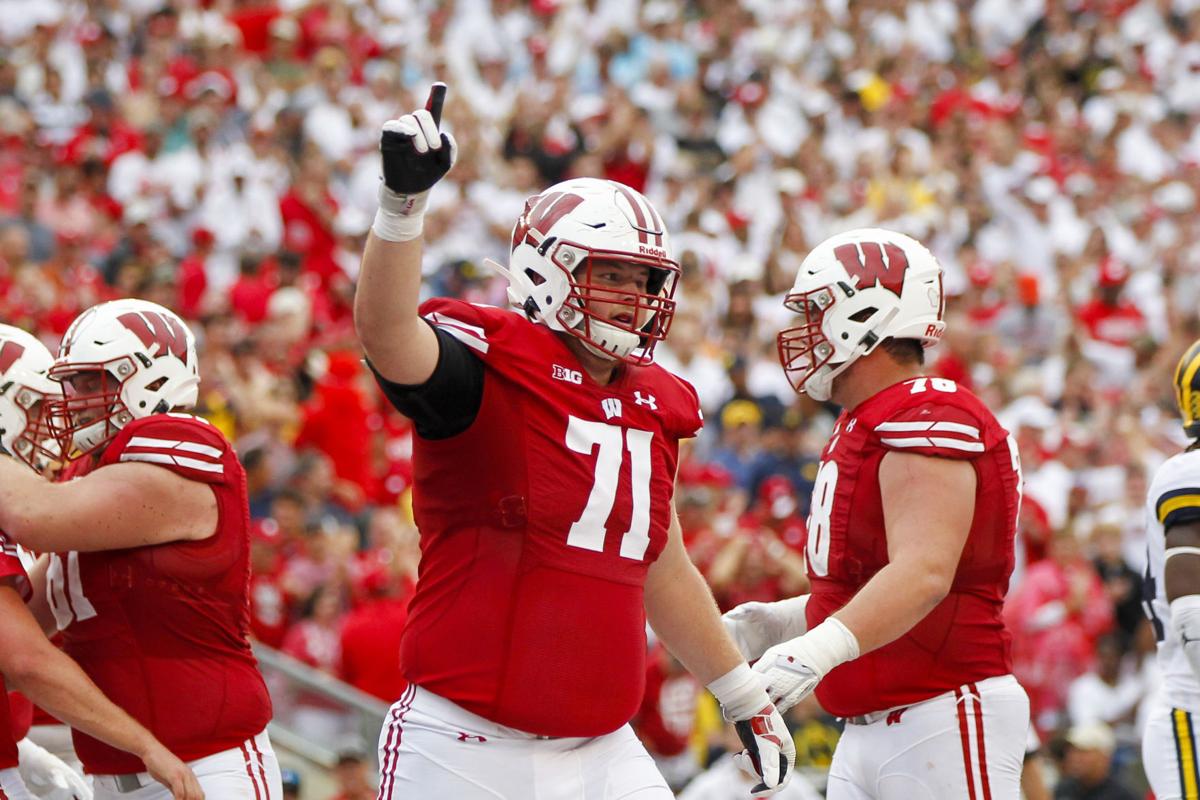 This fall will be wildly different than the one Cole Van Lanen expected, or wanted.
His senior season as a tackle on the University of Wisconsin football team has been canceled. The Big Ten Conference decided none of its teams will play football this fall due to concerns about the COVID-19 pandemic. The Big Ten is developing plans to potentially play games in early 2021, but no details have been decided upon yet.
The situation puts Van Lanen and the rest of his NFL-bound upperclassmen teammates and peers in the conference in a bind. They must decide between a spring-semester season — in whatever form the conference cooks up — or preparing for the NFL draft.
"There's a lot of possibilities. I could just say, 'Screw it,' and go out and train. Maybe there's a way I could train and do spring ball. Maybe I just do the spring ball and hopefully the draft gets pushed back. Will I stay for a whole other year?" Van Lanen said Friday. "I'm starting to piece things together, what I want to do, but there's still a lot of people I need to talk to, still a lot of things I need to find out for myself to make that best decision, because I only get one."
Van Lanen said he'll use the next two weeks off from workouts at UW to give his plans thought, and it may take him the rest of the fall to decide what to do.
Plans for spring-semester football are still in their infancy at the conference level. Purdue coach Jeff Brohm detailed his idea of how the conference could fit two seasons into one calendar year, as has Ohio State Ryan Day. Day's plan calls for an early January start, while Brohm's goes from February to April. Some players and their parents are still pushing for a fall season, with Ohio State QB Justin Fields sharing a petition Sunday trying to get the Big Ten to reverse course. 
UW senior safety Eric Burrell faces the same decision as Van Lanen, and he's already taken full advantage of the academic opportunities at UW — he has his undergraduate degree and is on pace to graduate with his master's degree in December. If spring-semester football doesn't comes to fruition, Burrell said "it'd take a lot of convincing" to come back to school for two additional semesters in order to play football in the fall of 2021.
"I've got two degrees, I've been here for five years, so I'm not in favor of coming back for the fall. But I will definitely consider the spring if they come up with a situation," Burrell said. "I'm looking to take that next level, I think I've earned my right to do so, so I will definitely have to weigh my options to see what's best for me and my family."
The NFL draft is currently slated for April 29-May 1, 2021, but there is flexibility in the league's collective bargaining agreement with the NFL Players Association that says the draft can be held anytime between Feb. 14 and June 2.
The Big Ten and the Pac-12 are the only Power Five football conferences to cancel the fall football season thus far, but other FBS conferences like the MAC and Mountian West have done the same, as well as the entire FCS. If enough of its draft pool decides to try to play football this spring, the NFL might find it best to delay the draft and allow college players to showcase their skills early next year.
That would be ideal for Van Lanen, he said, because he doesn't believe he's put enough on tape to warrant a draft pick he'd be happy with. Van Lanen said he was playing through injury last season, one in which he started 13 of 14 games — his lone missed game was due to a concussion suffered in practice.
He believes a strong senior year could elevate the NFL's opinion of him.
"Do I think I could still get drafted? Yeah, I think so. But I think tape could get me drafted in a better spot," Van Lanen said. "A spring season would really help me. There probably isn't going to be senior bowls, so the only tape I could have a chance (with) now is next spring."
Players in Burrell and Van Lanen's position do have the option of transferring to a school that is playing football this fall, but there's a number of hurdles to clear to do that. Burrell said he considered making such a move, but decided against it.
"I don't want to regret making that decision," he said. "It's too much jumping through hoops that it's not worth it to me."
Futures without football await a majority of Big Ten upperclassmen, and they too deserve answers quickly from leadership about eligibility, scholarships and a spring season.
"I like the concept and what they're talking about right now," Van Lanen said. "I know a lot of guys do. We're pretty pumped for it."
---
Badgers fans react to the canceled football season