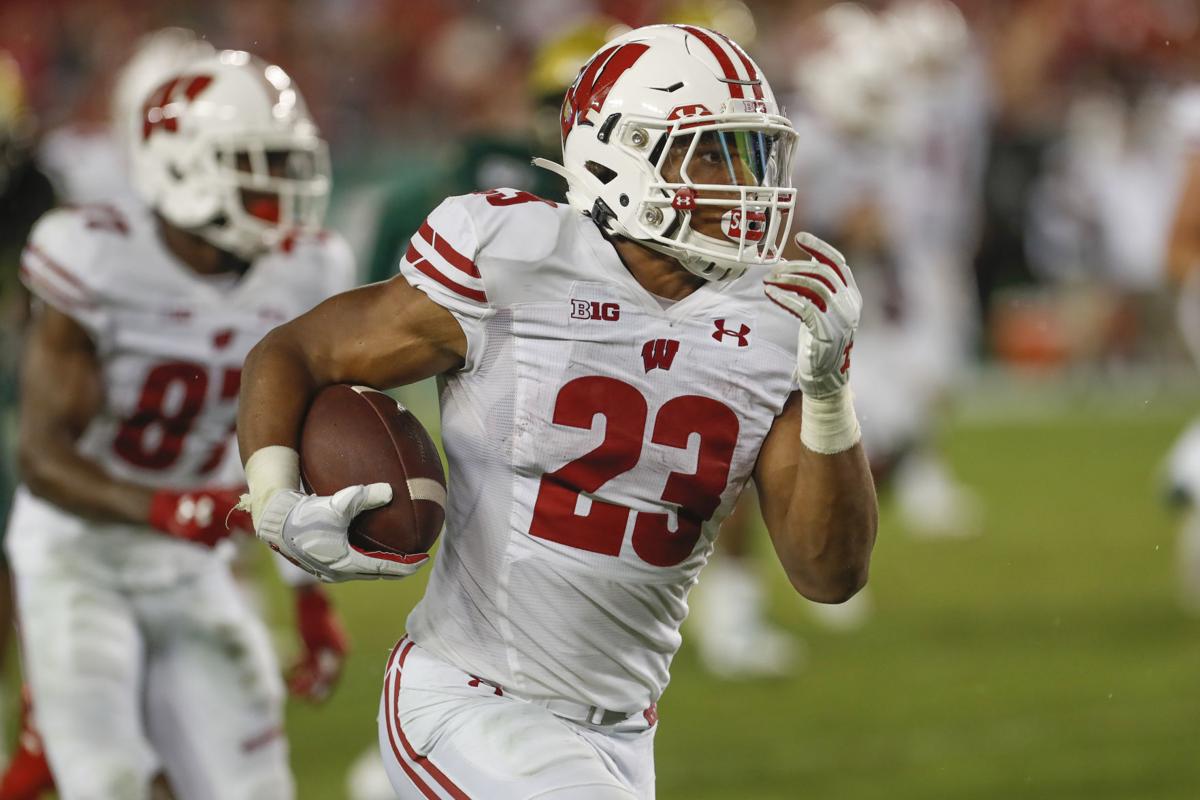 TAMPA, Fla. — Jonathan Taylor already had produced an MVP-worthy game Friday night by the time the University of Wisconsin football team lined up for its third offensive snap of the second half.
The junior tailback took his spot seven yards behind the line of scrimmage, leaning forward with his hands on his knee pads. In front of him was a mass of bodies: a tight formation included wide receivers Danny Davis and Quintez Cephus lined up just outside the tackles on each side of the offensive line, with tight end Jake Ferguson and fullback John Chenal two yards back in a double-wing set.
Taylor took the ball and raced 38 yards for his fourth touchdown of the game, the capper of a magnificent outing that helped the No. 19 Badgers open the season with a 49-0 victory over South Florida at Raymond James Stadium.
It was the 18th and final time UW put the ball in Taylor's hands, 16 times via handoff and two through the air. He racked up 183 total yards — 135 rushing, 48 receiving — despite not touching the ball over the final 28 minutes of the game.
"He's one of a kind," UW junior center Tyler Biadasz said. "He's the best back in college football. That dude makes some plays and he proved tonight he can do both — run, pass, you name it. He's that dude. He's a b-a-a-a-a-d man."
There were any number of highlights from which to choose from Taylor's first four-touchdown day of his career: his 37-yard burst on the opening series of the game; a 36-yard touchdown on a screen pass; his 12-yard scoring reception just before halftime in which he split two defenders before stretching over the goal line, much to the relief of junior quarterback Jack Coan, who'd made the ill-advised decision to throw short of the end zone with the clock ticking down and UW out of timeouts.
But the final touch was arguably the most special, and the magic had as much to do with Taylor's patience and vision as it did his power and speed.
Left guard Kayden Lyles pulled on the play and was followed closely by Ferguson, who also was lined up on the left side. Taylor nearly tripped but regained his footing before arriving at the line of scrimmage with seemingly no place to go. A pair of his teammates, right guard Jason Erdmann and Lyles, were blocking his path, and right tackle Logan Bruss also was engaged with his man in the area.
Another tailback might have put his head down and tried to drive the pile forward for a few yards. Not Taylor, who hesitated just long enough for his linemen to do their jobs.
You have free articles remaining.
"I saw two of our blockers with their butts together, so I knew the block was going to split any second," Taylor said. "So I had two guys in the hole and I just had to buy just a second, a split second, in order for that crease to open up and I could hit it."
It opened, and Taylor hit it. He squeezed through the hole, made a sharp cut to the outside and raced to the end zone unscathed.
"Personally, I think he's the greatest player in the country and I don't think I'm being biased at all," Ferguson said. "He's the ultimate weapon. I wouldn't want to block for anybody else. It's awesome blocking for three or four seconds and, all of a sudden, you look up and he's running in the end zone."
Taylor admitted he was most proud of his work as a receiver, a huge area of emphasis for him in the offseason. The touchdown receptions were the first of his career and it was only the third time in 28 career games that he had caught at least two passes in a game.
Neither reception was difficult by any means, but both were confidence-builders as Taylor tries to prove he has another dimension to his game.
"Happy with it all," Taylor said. "But you work all offseason like I did, to have that receiving touchdown come to life, so really excited about that and it motivates you when you finally see that hard work pay off and you want that feeling again."
Naturally, there was talk afterward of Taylor's place in the Heisman Trophy discussion. He entered the season with 12/1 odds to win the award, per BetOnline. Only four players in the country — Clemson quarterback Trevor Lawrence (9/4), Alabama quarterback Tua Tagovailoa (11/4), Oklahoma quarterback Jalen Hurts (9/1) and Nebraska quarterback Adrian Martinez (10/1) — have shorter odds.
Any Heisman talk at this point is premature, though it didn't hurt that Taylor's season debut came on national television on a day when the college football schedule was light.
Taylor, for his part, juked a Heisman question as if it was a would-be tackler.
"I feel like if we come out and play like this every single game, our season, everything will fall into place," Taylor said. "That's No. 1, coming out and winning games like this. That's first and foremost on my list."