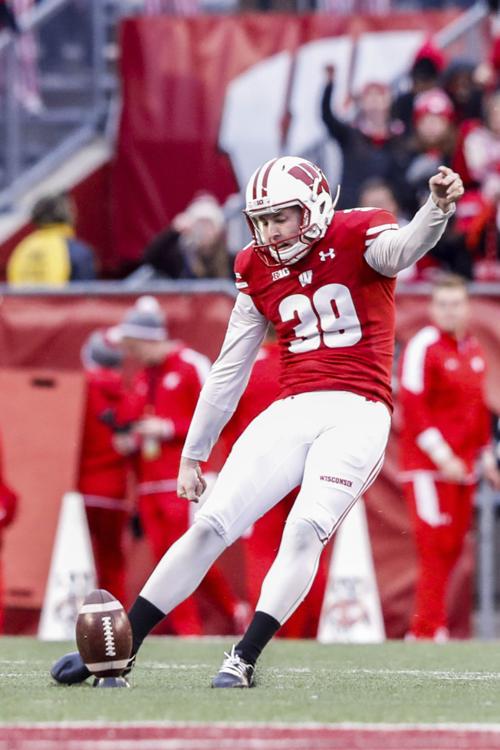 It's difficult to determine who's having more fun after University of Wisconsin kickoffs this season — kickoff specialist Zach Hintze or his teammates.
The senior's celebrations of his touchbacks have gained traction on Twitter, and his teammates are quick to chest-bump and mob Hintze when he returns to the sidelines.
Against Northwestern on Sept. 28, UW's defense scored two touchdowns, but was penalized on each play to back up the kickoffs to the 20-yard line. Hintze booted the first to Northwestern's 7, and got a touchback on the second. He yelled, "Challenge me!" to his sideline after each.
Hintze knows the impact he can make by giving UW's defense — one of the best in the country — good field position to work with.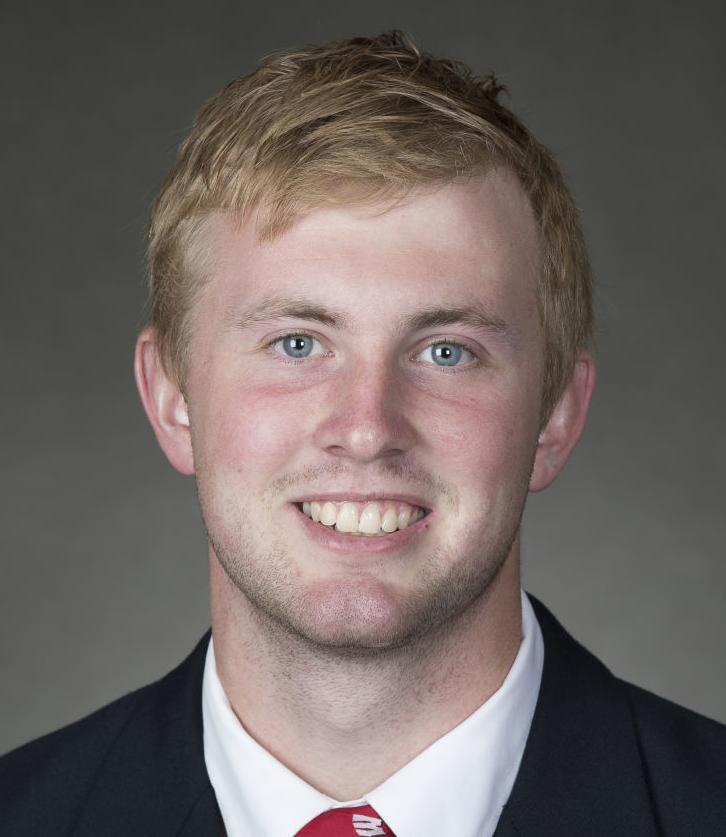 "They love anything that helps. I give them (field position at the) 25 a lot, but anything I can give less than that is even better," Hintze said. "I think it's a big momentum play. Especially when they're going out on defense, a huge play on special teams really gets them going as they're trying to get a three-and-out."
The fifth-year player from Fond du Lac has improved his ability to create touchbacks each season as the kickoff specialist. This season, 35 of Hintze's 44 kickoffs have been touchbacks, which ranks third in the Football Bowl Subdivision. His 79.5 touchback percentage is the best of his career, as is his 64.7-yard average on kickoffs.
Hinzte said he's altered his practice routines and his training in order to increase distance on kicks.
"I have definitely structured my practice around improving my tempo and stride toward the ball. I think that definitely has helped me," he said. "This year, I'm better than what I was last year at this time. I've just got to keep rolling with it."
Against Michigan State, a 38-0 win in which Hintze had six touchbacks in seven tries, he made the tackle on the lone kickoff return he allowed.
Hintze, who's earned the nicknames "Legatron" and "The Leg" from his teammates, has steadily grown through his UW career. That continues the improvement he's experienced since he started playing football his junior year of high school at St. Mary Springs.
His first athletic passion was soccer, and he found early success with his explosive kicks in that sport. But by his junior year, the St. Mary Springs soccer program was struggling with low numbers, and considering co-opting with another school to field a team. With the program in flux, Hintze decided to return to the football field for the first time since grade school.
"Finally, about midway through junior year, I thought I could take this to the next level," Hintze said.
Opponents have only had two drives that were started with a kick return begin beyond the 30-yard line, and the average starting field position for UW opponents after kickoffs is the 24½-yard line.
Badgers coach Paul Chryst said he appreciates how Hintze takes away chances from opponents' return men.
"As you keep going it seems like the returners get better and better. Those are chances for big plays and when you get those touchbacks, those are big," he said. "He's done a really good job."
UW defensive coordinator Jim Leonhard — who returned punts during his playing career for the Badgers — echoed those sentiments. Leonhard's been able to direct his group without opponents getting momentum from a big return.
"If you can eliminate those (returns) and go ahead and line up and play first down and make a team drive, it gives you a lot of confidence out there as a defense," Leonhard said.
After Hintze made his tackle Saturday against the Spartans, he jumped and celebrated with senior linebacker Chris Orr. He said his teammates ribbed him for hogging the action on the kickoff unit.
"I trust my guys, so I always try to hang it up for them. They love when I hit touchbacks, but a lot of them say, 'Hang this one up, I want to make a play.' It's really fun, especially to get in on the action," he said.
Ohio State start time
UW will play No. 4 Ohio State at 11 a.m. on Oct. 26 at Ohio Stadium in Columbus. The game will be televised on Fox.
The Badgers (6-0, 3-0 Big Ten) have lost six straight games against the Buckeyes (6-0, 3-0), with all but one of those contests having been one-score games.
UW last defeated Ohio State in 2010, a 31-18 home win for the then-No. 18 Badgers over the top-ranked Buckeyes.
Be the first to know
Get local news delivered to your inbox!