As they study film in preparation for their first game in nearly three weeks, the receivers on the University of Wisconsin football team are likely excited by what they see.
Michigan's secondary is struggling mightily this season. Its pass defense is ranked 104th out of 123 teams in the FBS and it has allowed more than 300 yards through the air in each of the past two games.
Even if they're rusty from the layoff caused by a COVID-19 outbreak within the UW program, facing the Wolverines (1-2) at 6:30 p.m. Saturday at Michigan Stadium could be the kick-stat the No. 13 Badgers (1-0) need to get their season back on track.
"Looking at them the past couple weeks, knowing Michigan, you know they're always going to have good defense. That's kind of what they're known for," UW senior receiver Kendric Pryor said.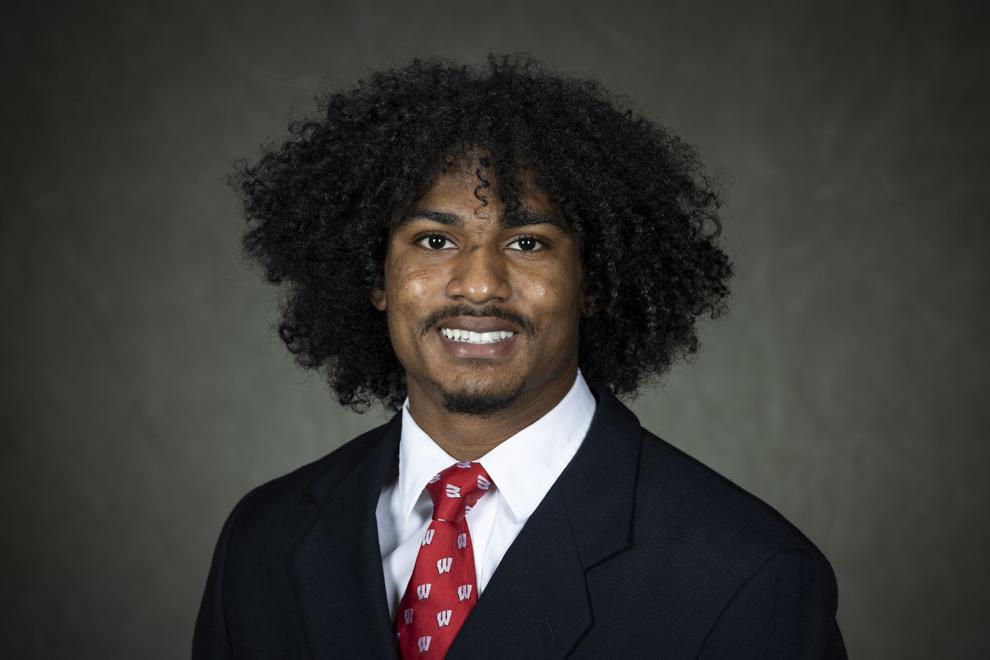 "But I feel very confident in our preparation that … (they're) probably basing us off our first game which was two weeks ago and we're definitely not the same team as two weeks ago. But I know they're going to do some adjustments, too, off the past two games they had, they're going to do some adjustments and try to give us their best shot. I know things aren't going how they thought or how they want it to go."
In the Badgers' season opener, redshirt freshman quarterback Graham Mertz tied program records with five touchdown passes and 17 consecutive completions, and set the program record with a completion percentage of 95.24% (20 of 21 passing). He — along with the Badgers' receivers, tight ends and backs — cut through Illinois' Cover-2 zone defense en route to a 45-7 win. Mertz, who was one of the 30 individuals in the program to test positive for COVID-19 since Oct. 21, was on track to return to physical activity and, if that goes well, practice this week.
If he's available to play, Mertz and the UW offense will face a different challenge against Michigan. Wolverines defensive coordinator Don Brown's man-coverage-heavy scheme often asks the cornerbacks to play press coverage on the line, initiating contact with receivers and attempting to disrupt their timing with the quarterback.
"I think coach (Alvis) Whitted has done a great job of really giving those guys confidence in releases," UW offensive coordinator Joe Rudolph said.
"I like the way he's worked with the guys, I like their confidence when they're faced with those situations, it seems like they have a toolbox. Kind of like what you want to give, I say it with the O-line, you've got a toolbox, what do you want to use in this situation? How are you going to borrow from what we've worked on to win? I see that in his teaching."
The Wolverines' man coverage has been under an aerial assault the past two weeks, allowing 323 passing yards and three touchdowns to Michigan State and 344 yards and three scores to Indiana. The Spartans' Ricky White had eight catches for 196 yards and a touchdown against Michigan, while Indiana's Ty Fryfogle (seven catches, 142 yards and a touchdown) and Whop Philyor (11 catches, 79 yards) found open space in the secondary often.
In MSU's next game — last Saturday against Iowa — it threw three interceptions and scored just seven points.
Michigan's defensive backs have also given up big yards and first downs in penalties, with seven defensive pass interference or holding penalties in the past two games.
UW coach Paul Chryst said he sees the struggles the Wolverines' have had defensively, but was quick to credit the offenses they'd faced.
"There's a receiver from Michigan State that made some tremendous plays. Those count, but I don't know … I like our group, but you've still got to go execute and do that," Chryst said.
"You don't see a team (in Michigan) with a ton of missed tackles, or missed-tackle opportunities. You don't see some things where they're always getting beat at the same thing where you say, 'This is something that they're just not covering or they're vulnerable to it.' I know where they're at and what other teams have done against them, but it's not one of those … where you look up and say, 'OK, that's going to happen, we can bank on that being part of it. That's who they are this year.' I think it's a defense we've got a lot of respect for. We've played them a lot and have got a feel for it. We've been inconsistent against them, right? So it's going to be a big week of preparation for our guys and then it comes down to when you play, you've got to execute."
Michigan's secondary isn't getting help from the pass rush, either. The Wolverines haven't tallied a sack since their opener at Minnesota, which was down multiple starting offensive linemen. That rush took another hit this week when experienced junior defensive end Aidan Hutchinson fractured a bone in his leg. He's out indefinitely after his injury required surgery.
If the Badgers can hold off Kwity Paye — Michigan's defensive end prospect that ranks high on NFL draft boards — there should be opportunities to attack down the field for Mertz and his receiving threats.
"People always wonder where Wisconsin receivers are, but over the past couple years, we've made plays in these games," Pryor said. "As you go back to last year, you've got receivers and tight end making plays against tight coverage. So it's like, people talk about how they try to get physical and play man, but I feel like we're confident and we're ready for this opportunity."
---
Get to know the Badgers' 2021 recruiting class