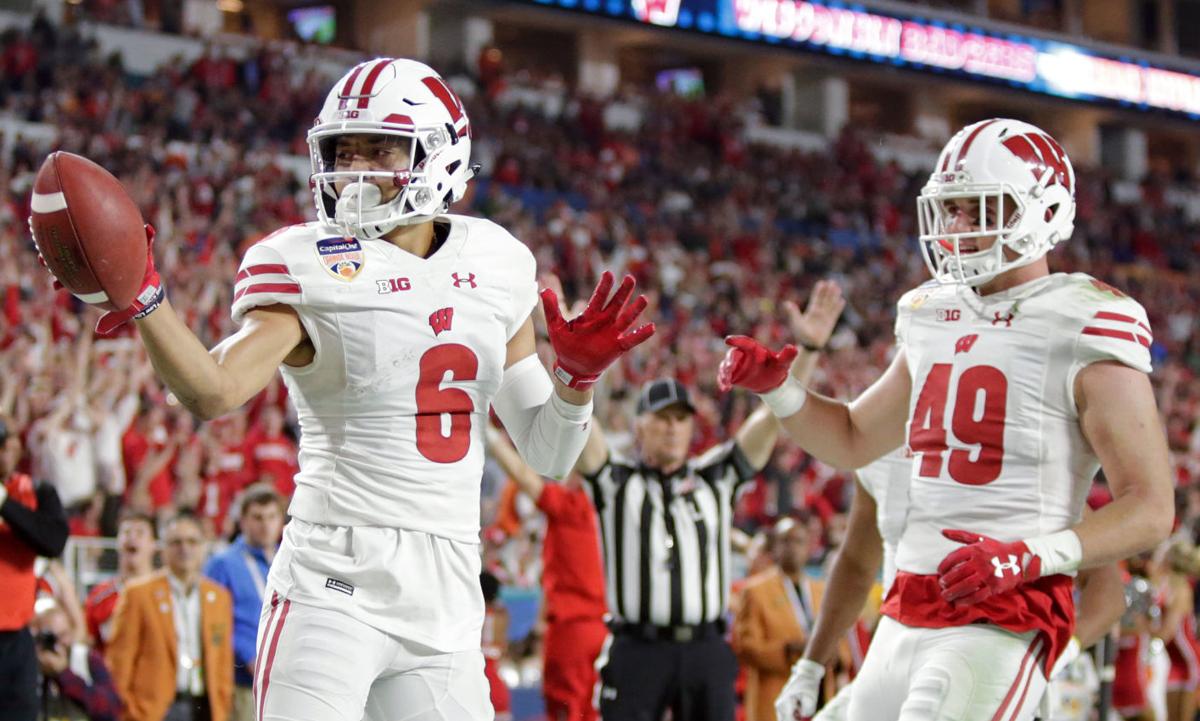 University of Wisconsin coach Paul Chryst suspended sophomore wide receiver Danny Davis for two games Wednesday after Davis' involvement in an alleged sexual assault became public.
"Based on the information I have available to me at this time, I have decided to suspend Danny Davis for the first two games of the season," Chryst said in a UW release. "Should further information become available that warrants a reevaluation of the length of the suspension, I will assess that information.
"We have a high standard of conduct within our football program and we cannot accept behavior that is not consistent with that standard."
Davis will miss games against Western Kentucky and New Mexico before returning against BYU on Sept. 15. Per the release, he'll be allowed to practice with the team during his suspension.
"It's the most strict (suspension) that I've done to this point," Chryst said. "I certainly feel that it's appropriate."
Davis' roommate, Badgers junior wide receiver Quintez Cephus, was charged Monday with second- and third-degree sexual assault of two intoxicated women from an incident that occurred in April. According to a criminal complaint obtained by the State Journal, Davis allegedly laughed and took photos of the women.
You have free articles remaining.
Cephus released a statement Saturday declaring his innocence and announcing that he'll take a leave of absence from the team.
After charges were filed against Cephus on Monday, UW Athletic Director Barry Alvarez announced Cephus had been suspended from the team for violating the Student-Athlete Discipline Policy, which bars him from practices and games. Cephus will appear in court Thursday at 10:30 a.m.
When asked by the State Journal on Monday whether Davis might also face charges connected to the incident, District Attorney Ismael Ozanne said, "I don't think I can answer that right now."
Davis' suspension comes one day after UW postponed Chryst's previously scheduled media availability in order to gather more information regarding the allegations against Cephus and Davis. Chryst declined to comment Wednesday on the details of the criminal complaint and at what point he was made aware of Davis' involvement in the incident.
Without Cephus and Davis, the Badgers still have a strong group of wide receivers heading into their season-opening game Aug. 31 against Western Kentucky at Camp Randall Stadium.
Junior A.J. Taylor and sophomore Kendric Pryor are proven at the position, while true freshman Aron Cruickshank could become a playmaker as well after impressing this offseason.
Sophomores Adam Krumholz and Jack Dunn and true freshman Taj Mustapha could battle for the fourth spot on the depth chart in the absence of Cephus and Davis.
"In the spring and in the summer and the fall, I think (Krumholz and Dunn) have and they need to have gotten better," Chryst said. "And then you've got some of the young guys, two of which were here in the spring in Aron and Taj, which I think they know more now and are more comfortable now than they were in April. ... We've just got to keep, as you would any time, keep helping them grow and develop and get confident."