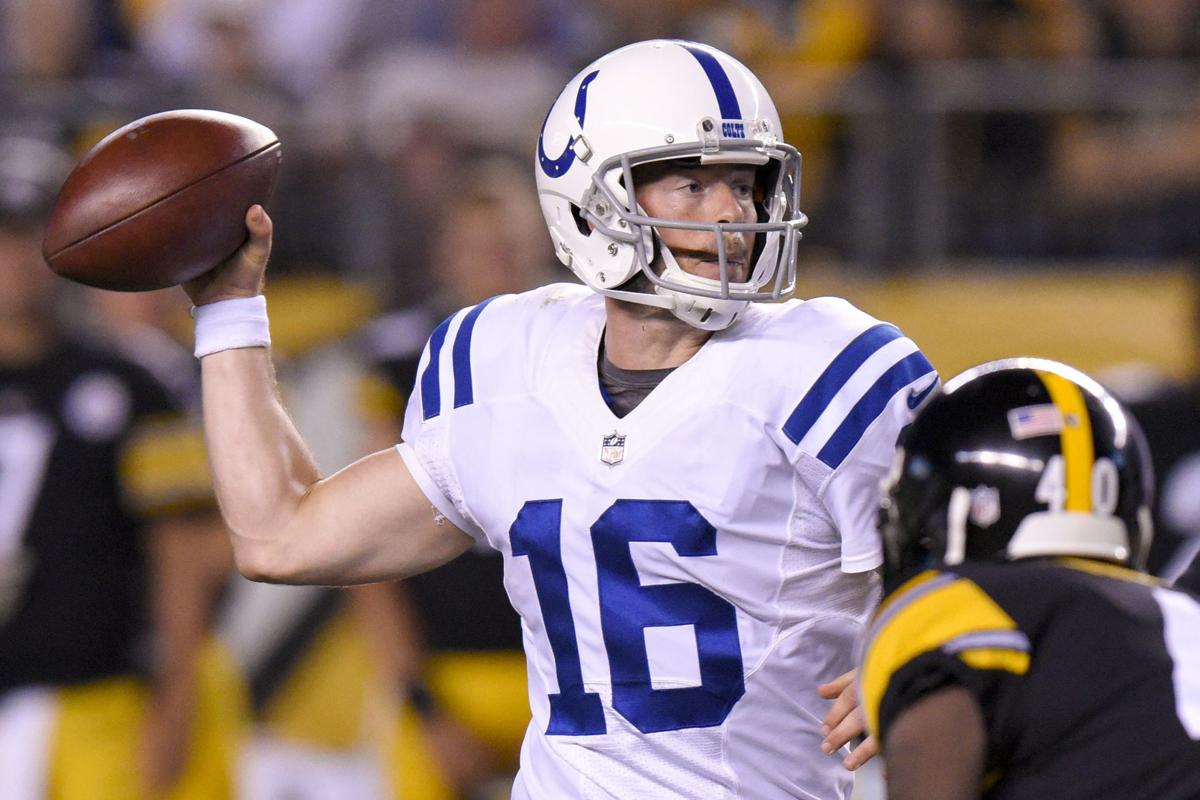 Once the University of Wisconsin football team cleared out of the McClain Center after practices last season, you could often find Scott Tolzien preparing for his own workout.
The former Badgers quarterback and seven-year NFL vet last played for the Indianapolis Colts in 2017, and he knew he'd only wait so long for another chance to play at football's highest level.
"Like most do, you kind of give it a year to see if the phone rings," he said Tuesday before the Legends of Wisconsin Classic golf outing at University Ridge Golf Course. "I didn't want to be that guy still working out three years from playing, trying to get back in the league."
So, despite being drafted in the third round of the Alliance of American Football Quarterback Draft by the Birmingham Iron in November, Tolzien retired in order to move forward with the next chapter of his life.
This season, he'll be an analyst for the Badgers, tasked with scouting opponents.
"This is a good way for me to get my feet wet (in coaching) and try it out and see where it goes from there," he said. "I don't want to predetermine anything. I just kind of want to see how it goes and work my hardest, try to be an asset as much as I can. At the end of the year I can go from there."
Thomas won the Outland Trophy for the Badgers in 2006 before making 10 straight Pro Bowls for the Cleveland Browns.
Tolzien said his best mentors throughout his football career were coaches, and he feels he has plenty to offer back after playing the sport for more than 20 years.
You have free articles remaining.
Those mentors include UW coach Paul Chryst, the Badgers' offensive coordinator during Tolzien's time in Madison from 2006-10.
Tolzien credits Chryst for being open to helping Tolzien with his post-career options, something the fifth-year UW head coach has afforded a number of former Badgers since returning to Madison in 2015.
"He's always curious to hear what you're doing after football," Tolzien said of Chryst. "He's never pumped the gas on me saying, 'Hey, you better get into coaching,' or anything like that. He's always just said, 'Hey, what are you interested in? I'm here to help you.'
"So it was more, he put it on me, and when I said, 'Hey, I'm interested in potentially trying this thing out,' he was more than willing to help me, which I'm appreciative of."
The Watt brothers sparred about over who spends the most on golf before J.J. Watt got the others to admit he won on Thursday.
Tolzien, who compiled a 21-5 record as UW's quarterback in 2009 and 2010, started only four games during his professional career with the Colts, Green Bay Packers and San Francisco 49ers.
His seven-year career spanned much longer than a typical undrafted free agent, though, and it wasn't easy for Tolzien to finally retire.
He said he views football as "the greatest team sport there is," and remaining involved in the game allows him to be "part of something that's bigger than yourself."
"It's always tough (to retire), but at the same time, I'd like to think my best years are ahead of me," Tolzien said. "I don't think you try to live in the past and say those were my glory days or anything like that. You try to make your future your best days yet."