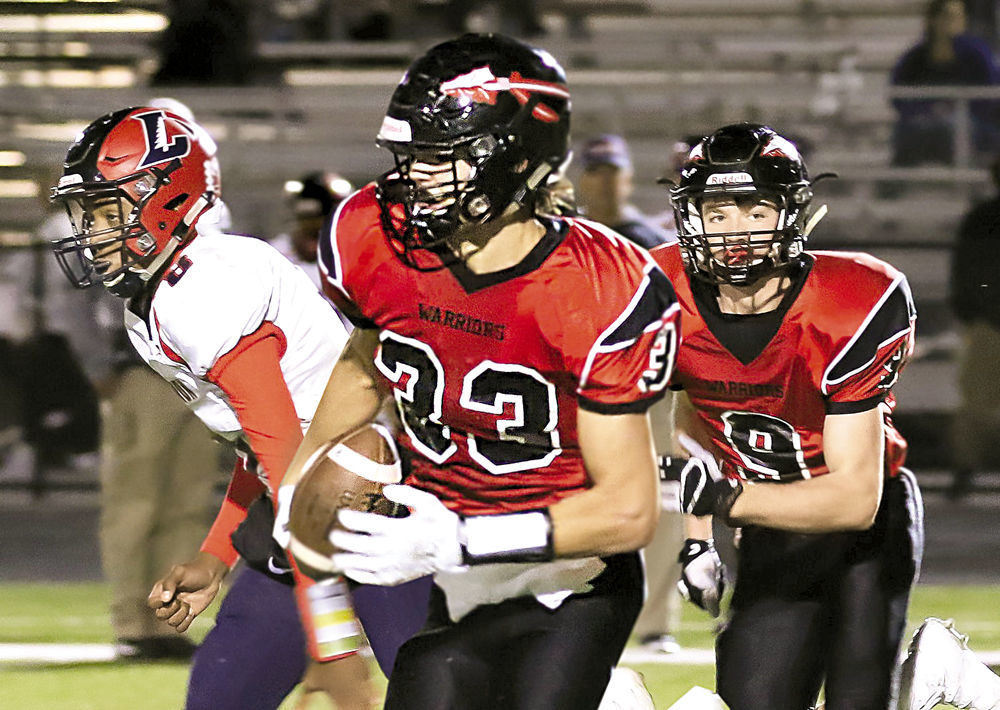 Hayden Rucci honed in on one goal when his final season at Warwick High School in Lititz, Pa., ended last year.
The University of Wisconsin incoming freshmen dropped lacrosse in the spring and created a routine that could physically prepare him for Division-I football before moving to Madison in June.
Go to school. Go to the gym. Eat.
"My mom, every week she would stockpile the fridge with turkey lunch meat," Rucci said. "Me and my brother would actually split a pound of turkey lunch meat (every day), and then I would do a protein shake and just keep eating."
Rucci's weight hit 260 pounds at one point, 30 more than when he began his offseason training, and the 6-foot-4 tight end eventually settled on 250 as an ideal number.
The transformation might have been necessary if Rucci wants a chance to factor into the Badgers' offensive plans during his first collegiate season. It isn't easy for an 18-year-old freshman to play tight end for UW, which relies heavily on the position to bring extra muscle in the run game.
"Obviously, I'd love to play," Rucci said, "but I'm definitely not expecting anything. I just wanted to be ready if they needed me."
The opportunity may present itself for Rucci or fellow true freshman Clay Cundiff.
You have free articles remaining.
The Badgers, who regularly use three-tight end sets, are hurting for depth beyond sophomore Jake Ferguson and junior Luke Benzschawel. Two others at the position, Gabe Lloyd and Coy Wanner, are not currently on UW's 110-man fall camp roster due to injury.
Rucci started his first camp with the Badgers this week, and tight ends coach Mickey Turner plans on giving the freshmen at his position plenty of reps.
A jury found former Wisconsin Badgers receiver Quintez Cephus not guilty of two sexual assault charges Friday after deliberations lasting less than 45 minutes.
"Both those freshmen, I'm not going to hold them back in camp," Turner said. "They're both 250-plus.
"They had great summers. They looked really good. We're going to do some two-group stuff in practice where they're both mirroring each other, so it's double the reps. So instead of watching every time, it's like, 'Hey man, here's your chance. Show me you can do it.'"
Turner said Rucci has "turned into a brick" this offseason, and he's not reluctant to be utilized as a blocker. He actually prefers it.
During the recruiting process, he was turned off to programs searching for receiving-heavy tight ends. He said that included his childhood favorite Penn State, where his father, Todd Rucci, played offensive line in the early 1990s.
The Badgers, who open the season at South Florida on Aug. 30, have four weeks to develop more depth behind Ferguson and Benzschawel, and Hayden Rucci gave himself a head start with the work he put in during the winter and spring while still in Pennsylvania.
Rucci could still redshirt or play mostly on special teams this season, but if needed, he's in a much better place to help UW's offense than he was eight months ago.
"I'm more of a traditional tight end, I guess you'd say," Rucci said. "There's a lot of guys today who are kind of just receivers, and there are some guys who are kind of just bigger, extra tackles. I'd say I'm a mix of both. I take a lot of pride in my blocking, and I still have that ability to run routes, catch passes, score touchdowns.
"A lot of schools I had been talking to were looking more for just a receiver, and I know I'm not that kind of tight end. I'm both, and that's how I wanted to be used. I'm excited to be utilized as that."