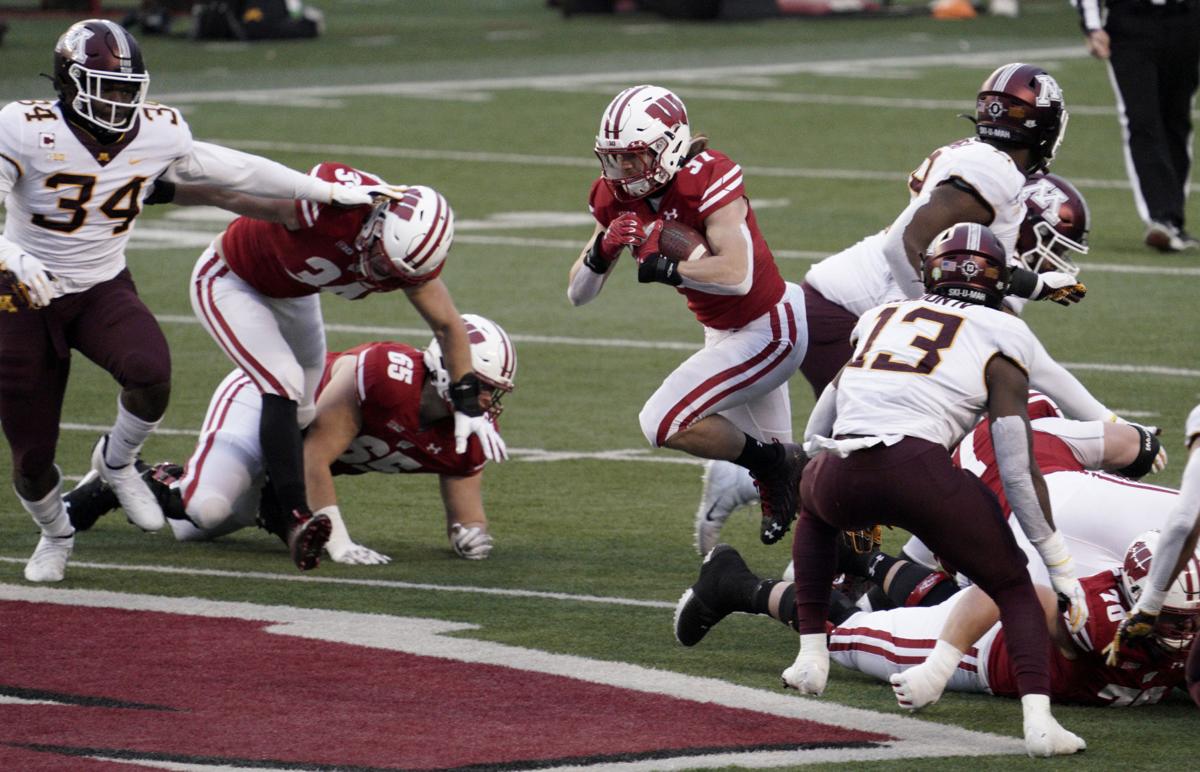 Afterward, Garrett Groshek still had enough energy in reserve to run from one end of Camp Randall Stadium to the other while carrying Paul Bunyan's Axe.
The senior running back was heading from the goal post on the north end of the field to the one on the south end, somewhat reluctantly it turns out. Either way, it was a fitting moment: a straight-line route from a guy who had done a lot of north-and-south running for a University of Wisconsin football offense that desperately needed a spark Saturday.
It was the first 100-yard game of Groshek's career — his previous high was 73 against Nebraska two seasons ago — and the first time a UW player has topped the century mark this season.
"I thought it was a tremendous performance," UW coach Paul Chryst said. "I was just impressed with the way he just kept driving the pile. I thought it was a guy that played with a decided heart and put it all out there. It shows you what he cares about this team and was going to do anything he could to help this team."
Groshek was the only experienced tailback remaining on UW's roster with freshman Jalen Berger and sophomore Nakia Watson unavailable for the game.
Brady Schipper (three carries) and Julius Davis (one) filled in at times to give Groshek a breather, but he carried a heavy load with 24 rushing attempts to go along with four receptions.
"Whatever it took to win the game, whether that was zero or 30, anywhere in between," Groshek said. "As long as we're able to win, I was willing to do whatever."
Groshek had played in 45 games at UW before getting his first career start Saturday. He had runs of 15 and 13 yards on the Badgers' opening drive before it stalled and ended with Collin Larsh missing a 46-yard field goal attempt.
Two series later, Groshek went untouched up the middle for a 39-yard touchdown that tied the game at 7-7 early in the second quarter.
Groshek did some of his hardest running with the game on the line in the second half and overtime. He had six carries for 33 yards on a drive that ended with Larsh making a 31-yard field goal to extend UW's lead to 17-10 early in the fourth quarter, then had runs of nine and 10 to move the Badgers into Minnesota territory after the Gophers had tied the game.
Even though Groshek was moving the chains and wearing down the Gophers, UW tried to catch Minnesota off guard by attempting a deep pass on a first-down play from the 40. It was a curious coaching decision and Chase Wolf's pass was picked off in the end zone, giving Minnesota the ball with 1 minute, 19 seconds remaining.
But the UW defense held its ground to force overtime and Minnesota missed a field goal on the first series of that session. This time, the UW coaches put the ball in Groshek's hands five consecutive times to set up the winning 30-yard field goal by Larsh.
"Just love the opportunity to be able to close a game out," Groshek said. "Not just me, but the entire group out there, the receivers and quarterbacks, O-line especially, and (fullback Mason Stokke) and the tight ends. Everybody was looking forward to just getting back to Wisconsin football, running the ball, and we just wanted an opportunity to close the game out."
The only thing left to do was parade around with the Axe and follow tradition by chopping down the goalposts. Groshek was content to look on and let his teammates do the chopping, but he was overruled by Jon Dietzen.
UW's left tackle essentially picked up Groshek and forced him to take over the Axe duties.
"I wasn't sure if I was going to chop the goalpost down or not," Groshek said. "But they made sure that I did. Just to have all those guys feel that it was important for me to do it means a lot, especially coming from a whole bunch of my brothers."
Why wouldn't a senior captain, especially one as dedicated to this program as Groshek has been, want to take his turn with the Axe?
"To me, it's always been more important to win the game," Groshek said. "I love playing football. I don't really need any trophies or anything like that. Just go out and do your job, but they wouldn't let me get out of there without doing it."
Perhaps that was just Groshek's teammates' way of returning the favor. After all, he'd done everything to make sure the Badgers wouldn't get out of the game without a win over their border rivals.
---
Photos: Badgers take down Golden Gophers in OT