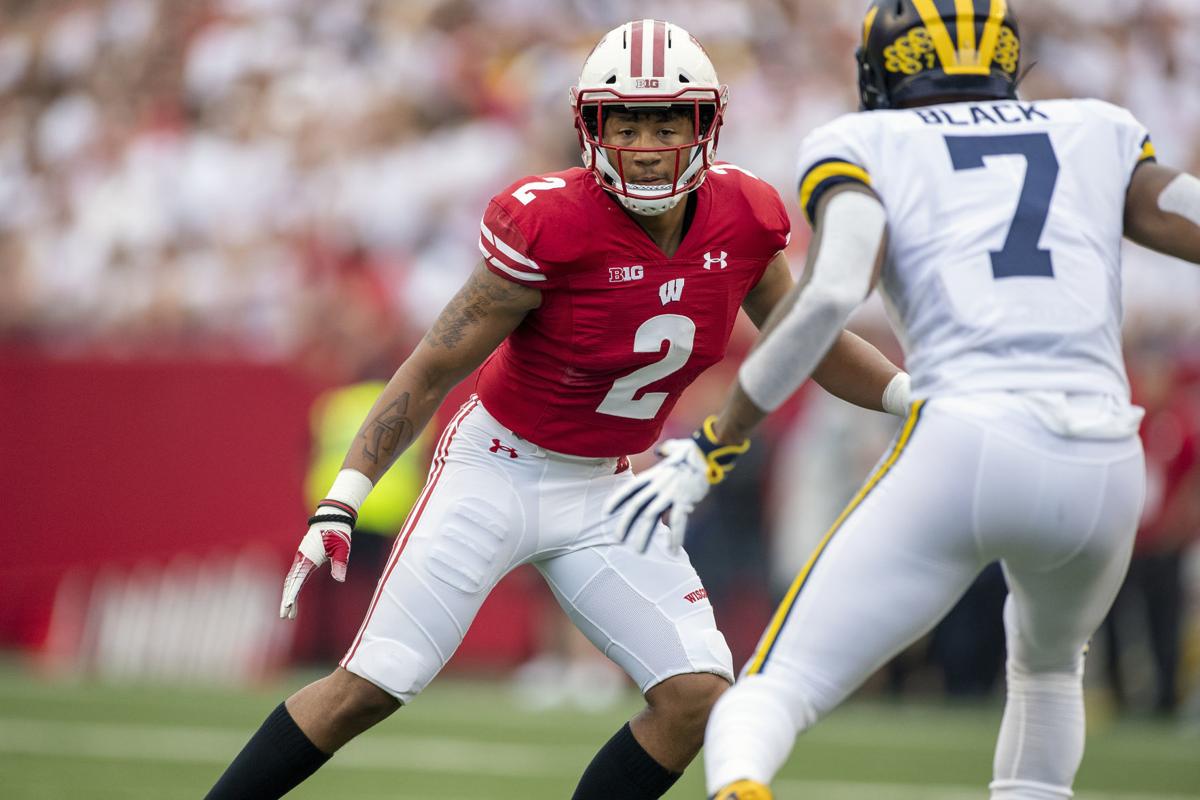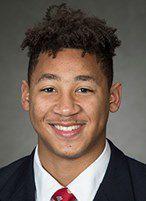 Reggie Pearson always believed in the instincts he brought to the football field. He just didn't always know how to harness them.
The University of Wisconsin redshirt freshman safety said he felt like he developed a good feel for how plays were unfolding in front of him during his career at River Rouge High School in Michigan. But it took him time to find that same sense as a member of the Badgers.
More reps helped, as Pearson ascended to one of the starting safety roles in coordinator Jim Leonhard's defense, and he's showing each week how his instincts and reactions to them can result in hard-hitting safety play.
"I feel like it's something everybody should take on themselves and build as a trait. I've been pretty instinctive since high school," Pearson said. "Just constantly being in the film room with (Leonhard), he teaches us certain things that definitely help."
Justin Fields, a transfer from Georgia, has been the trigger man for a Buckeyes offense that averages 49.7 points and 526.7 yards per game.
From the time Pearson suited up for a UW practice, his aggressiveness has made him stand out.
It's a characteristic that comes along with playing safety, a position where collisions often happen at full speed. But Pearson's aggressiveness was something Leonhard said he needed to learn how to control in order to be most effective.
"That's how (Pearson) likes to play the game. To me, I'm seeing throughout the course of the year he's starting to learn where to get his eyes, how to trust his eyes. So not only is he playing aggressive, but he's right more often than not," Leonhard said.
Pearson is utilizing his instincts and aggressiveness by becoming a factor at the line of scrimmage. That's not always easy from his safety spot, but he says film study and working with Leonhard is helping him trust himself when he decides to come to the line to stop a play.
Pearson has 17 tackles this year, including 2½ for losses. Two of those tackles behind the line came last week against Illinois. The first, on the Fighting Illini's first play of the game, saw Pearson dart to the line and cut down Illinois running back Reggie Corbin for a 5-yard loss. On the second, Pearson finished off a tackle on a swing pass to Corbin for another 5-yard loss.
You have free articles remaining.
UW's offense is averaging 39.7 points per game, its highest average through seven games since 2013.
Pearson brings a hard-hitting mentality to No. 13 UW's secondary, and he has forced two fumbles this year.
That's an aspect to his game that came from former Badgers safety D'Cota Dixon, according to Pearson's teammate and fellow safety Eric Burrell.
"(Pearson is) very athletic, he's very physical. I think that's one thing that we really emphasize from last year to this year, just being physical at the point of attack. Guarding receivers and tight ends, I think we both took a jump, all our other safeties, too," Burrell said.
Having Pearson be a willing and strong tackler in the run game is part of why the Badgers (6-1, 3-1 Big Ten) lead the Football Bowl Subdivision in rushing yards allowed per game (58.4). He will be crucial in UW's attempt to slow J.K. Dobbins, the top running back for No. 3 Ohio State (7-0, 4-0), when the teams meet Saturday in Columbus.
In the past two games, a win over Michigan State and Saturday's last-second loss to Illinois, Taylor has a long run of 22 yards and has posted his two of his three worst per-carry averages of the season.
Pearson hasn't allowed an aggressive attitude toward run support to affect his production as a pass defender either. He has four pass breakups, two of which were close to interceptions. He said he feels like even with added responsibilities, he's processing what he sees quicker.
"I've definitely matured since last year, with the playbook and the roles that I have now. It's just about not letting it overpower me," Pearson said. "Coach Leonhard gives us a good run around on what they do, so I'm just keying on what certain people do. I kind of know what's coming, or what might come. I'm starting to think faster."
With that maturity also comes patience.
Leonhard said early this season, Pearson would try to force the action or make a play outside of his role in the scheme. He said it was done with the right intentions, but Pearson is gaining a better understanding, and learning that staying within his boundaries will in the long run bring more plays his way.
"Now he's just trusting, it might not happen for a while but then all of a sudden they're going to rattle off in a hurry. You saw that last week. I think he made five or six plays in the first 10 or 15 snaps, just all over the field," Leonhard said. "So that gives you confidence and hopefully will settle him down and just trust, 'Do my job and I know there's going to be opportunities out there.'"