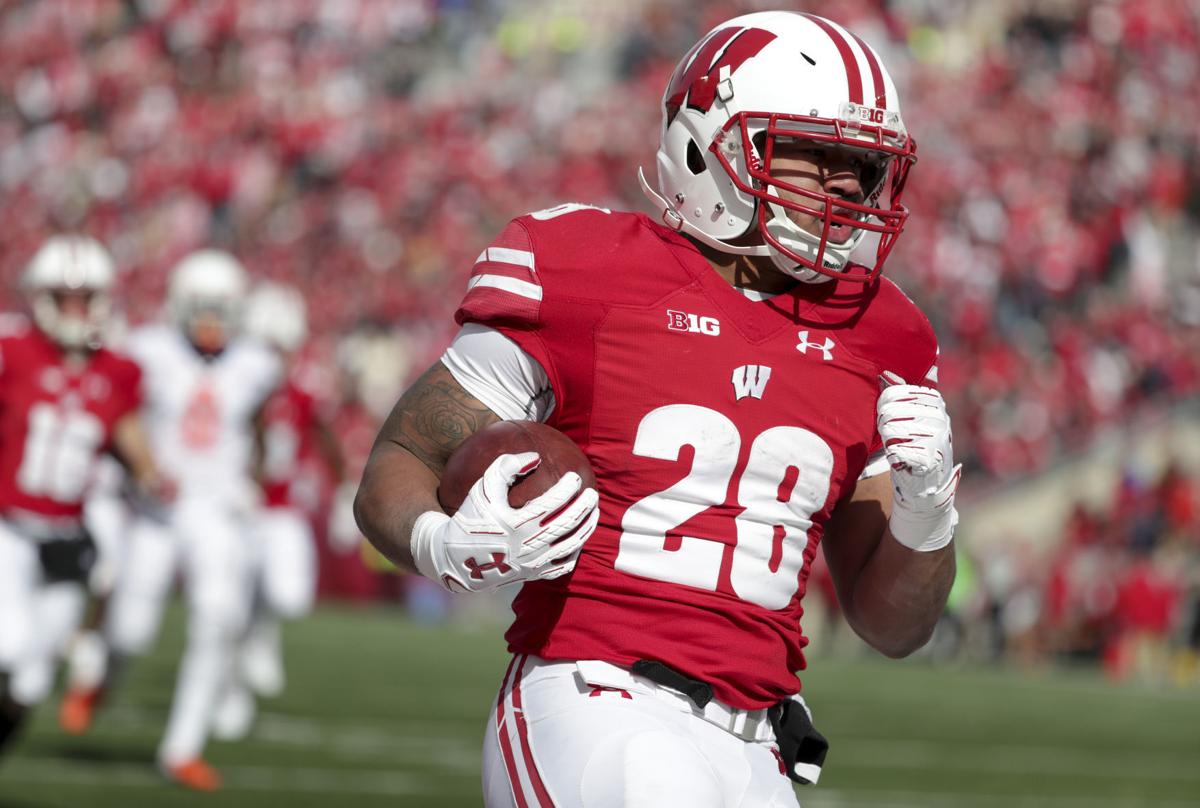 University of Wisconsin left guard Michael Deiter knows it comes with the position he plays. Every so often, his own running back will deliver an unexpected blow from behind as he's trying to push through the line for extra yardage.
When Taiwan Deal's the one handing out the punishment, Deiter doesn't need to turn around to identify the ball carrier.
"The dude runs hard. He runs physical, and it's fun to watch," Deiter said. "Sometimes you feel it, though, when he hits you in the back. ... It happens a lot in practice, and I'm like, 'That must have been Taiwan.'"
Deal rushed for 111 yards and two touchdowns on 12 carries in the Badgers' 49-20 victory over Illinois on Saturday at Camp Randall Stadium, and his physical style's earned him a consistent role during his final year at UW.
After missing a season and a half with ankle injuries, Deal has settled in as an ideal compliment to Heisman Trophy candidate Jonathan Taylor. Deal's rushed for 353 yards on 52 carries in 2018, a 6.79 average, and scored five touchdowns.
Saturday marked the first time since the fourth game of his career - a 147-yard performance against Hawaii in September of 2015 - that Deal reached 100 yards. The 12 carries matched his highest since Week 2 of the 2016 season.
"I think he brings a lot of anger when he's running," UW fullback Alec Ingold said. "He missed out a couple years with that ankle, not being healthy. He's making up for lost time. He runs the ball with a chip on his shoulder."
You have free articles remaining.
Deal's first touchdown midway through the third quarter extended the Badgers' lead to 35-17 after Illinois had gained some momentum and cut into the deficit.
He disappeared into a cluster of bodies just past the line of scrimmage before finding a way to squirm through the crowd. Just when everyone in the stadium thought Deal had been stopped, he broke free for a 39-yard score.
"I kind of cut it back and I saw a little gap and I just trusted that landmark," Deal said. "Just ran through the smoke and came out the back of it."
Deal added a 6-yard touchdown in the fourth quarter that capped off an 11-play, 86-yard drive and erased any hope for an Illinois comeback. Nine of Deal's 12 carries on the day went for more than 5 yards.
The performance came one week after the senior carried the ball just once for 1 yard in a 38-13 loss at Michigan - a game in which UW's offense only ran 49 total plays.
"I loved how he ran," Chryst said. "Taiwan was kind of how he's been all year when you get a chance to get some plays run, and last week we didn't. We weren't as good on third down and had fewer plays (last week), but I thought Taiwan ran hard (against Illinois), ran behind his pads. The long run that he had, that came at a good time for us. That was big."
Deal's body only allowed him to play in 16 games over the first three years of his UW career, and he's relishing the opportunity that's come his way this season. His teammates say they can see that simply from the way he runs the ball.
"I honestly just get out there and I just run," Deal said. "I'm a competitor, and I just like going against the opposite color. ... Taking advantage of every moment, you learn that through injury when you're not out there ... so that's pretty much how I run."