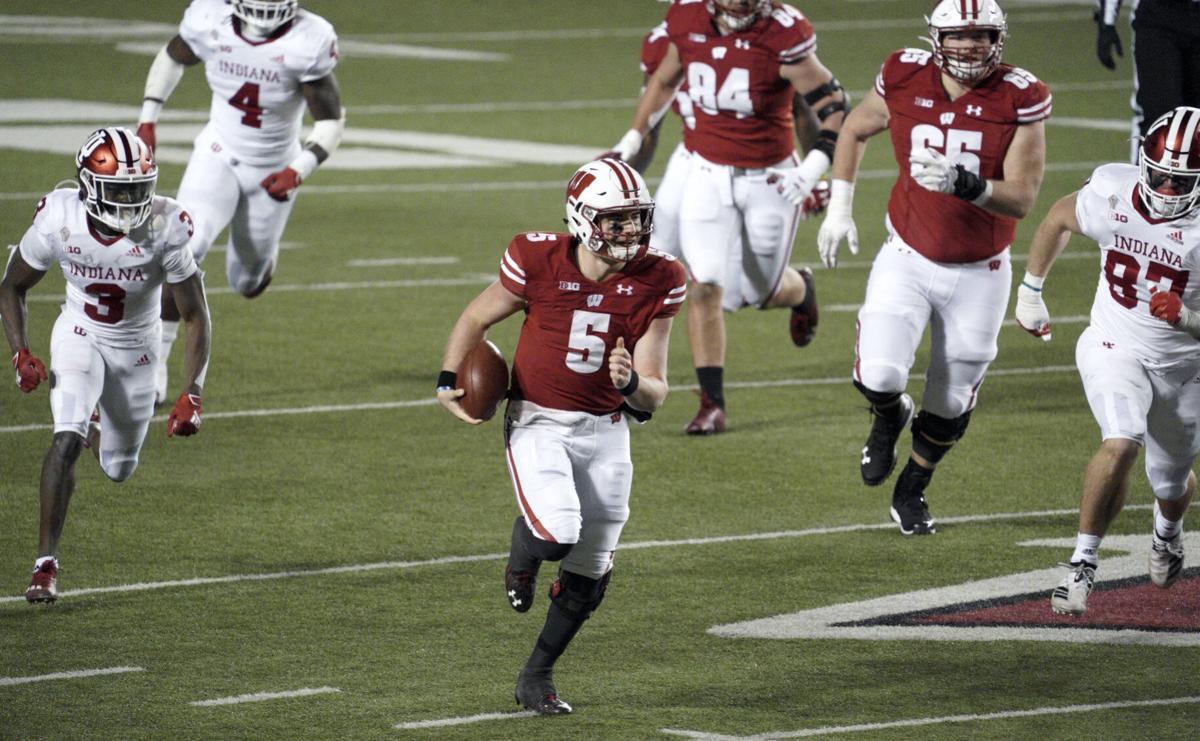 As the University of Wisconsin football team prepares to kick off the 2021 season, the Wisconsin State Journal is offering an unprecedented inside look at this year's roster.
From players breaking down their teammates' performances in camp and what to expect this season, to beat reporter Colten Bartholomew sharing his expertise on key position battles and players to watch, we've got Badgers fans covered.
In the first part of our position-by-position breakdown series, UW tight end Jake Ferguson discusses this year's quarterback corps as we take an in-depth look at Graham Mertz and Co.:
Depth chart
Projected starter — Ht.; Wt.; Yr.; Hometown
Graham Mertz — 6-3; 227; So.; Overland Park, Kan.
Chase Wolf — 6-1; 200; Jr.; Cincinnati
Danny Vanden Boom — 6-5; 207; Sr.; Kimberly, Wis.
Deacon Hill — 6-3; 248; Fr.; Santa Barbara, Calif.
Teammate's take
Overview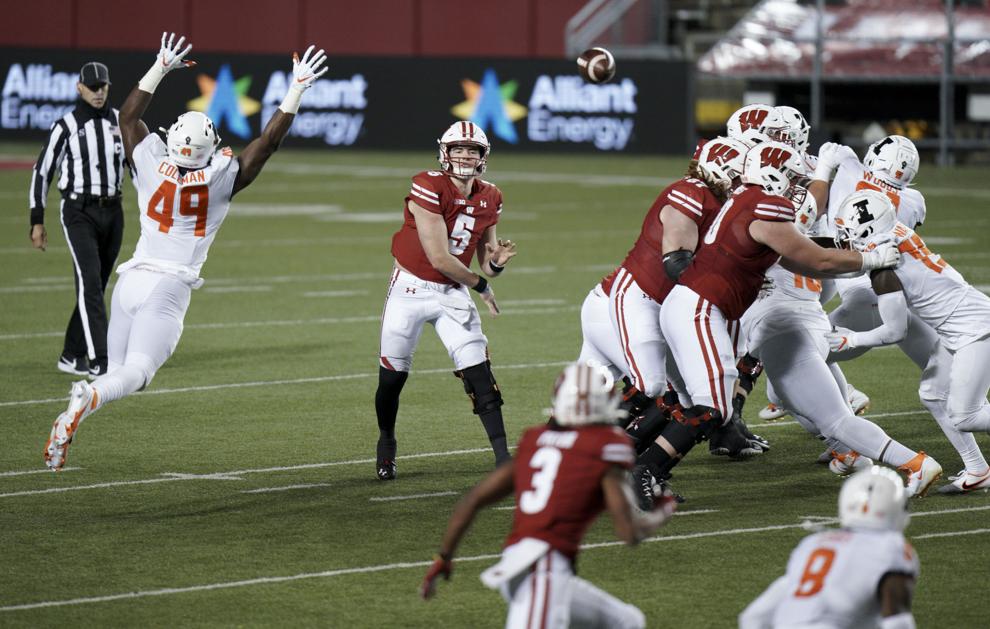 Graham Mertz (above) enters a season as the known starter for the first time in his UW career. He took the first team reps throughout spring practices and entered fall camp with high expectations. Mertz was named to the preseason watchlist for the Davey O'Brien Award, given to the top quarterback in the country, and he's been in the spotlight as one of the Big Ten Conference's most important players coming into the season.
But the Mertz hype train fell off the tracks for a time last season. After lighting up Illinois (above) for five touchdowns in his starting debut, Mertz struggled with his timing, accuracy and footwork through the middle of the season, finishing with nine TDs and five interceptions. However, he was battling through a COVID-19 infection and shoulder injury, along with his top two receivers being injured for a majority of the season. Mertz believes his issues were solved through repetition during the offseason, and UW's chances of winning the Big Ten ride on Mertz elevating his play and thereby the Badgers' offense as a whole.
A healthy receiving corps should allow Mertz to push the ball down the field more often, an area in which he's among the best in college football. He completed 7 of 18 passes of more than 20 air yards last season, per Pro Football Focus. Those throws resulted in 220 yards, three touchdowns and no interceptions.
Mertz must eliminate the turnovers he committed last season. He gave away the ball an average of once per game between picks and fumbles.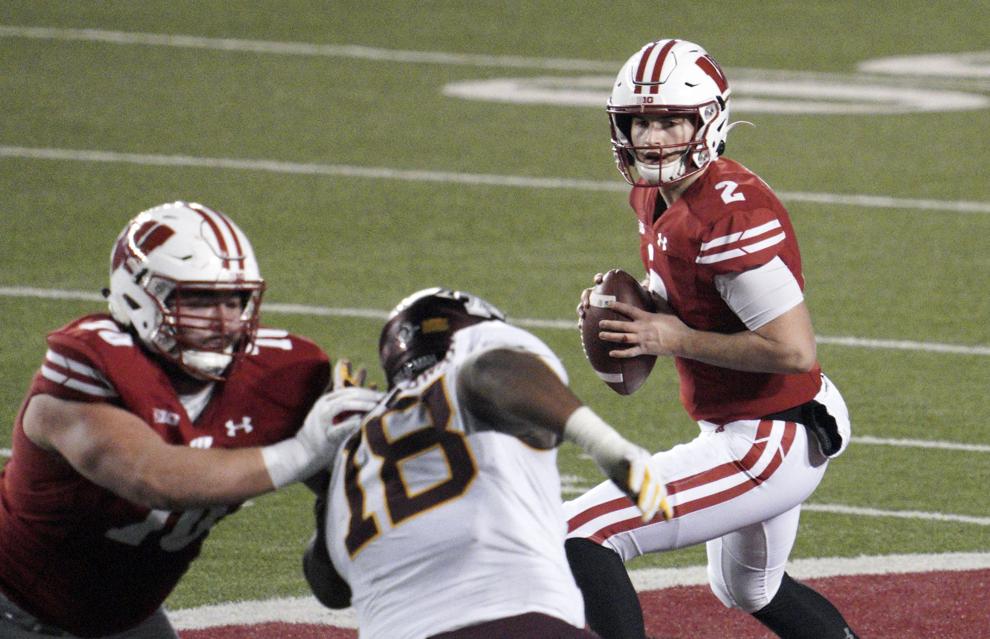 Chase Wolf (above) projects to be Mertz's backup and Danny Vanden Boom is the elder statesman in the room. Wolf brings more athleticism to the QB spot and stepped in to throw a go-ahead touchdown pass against Minnesota, but he had two interceptions in eight attempts last season. Wolf's mobility was a useful weapon at times, but opponents often knew he was coming into games for designed quarterback runs.
Ready to make a leap
Mertz has all the physical tools a quarterback needs and says he's in a better mental space than ever before entering this season.
If Mertz can play as well as he feels, Russell Wilson's program record of 33 touchdown passes set in 2011 could be in jeopardy.
Looking forward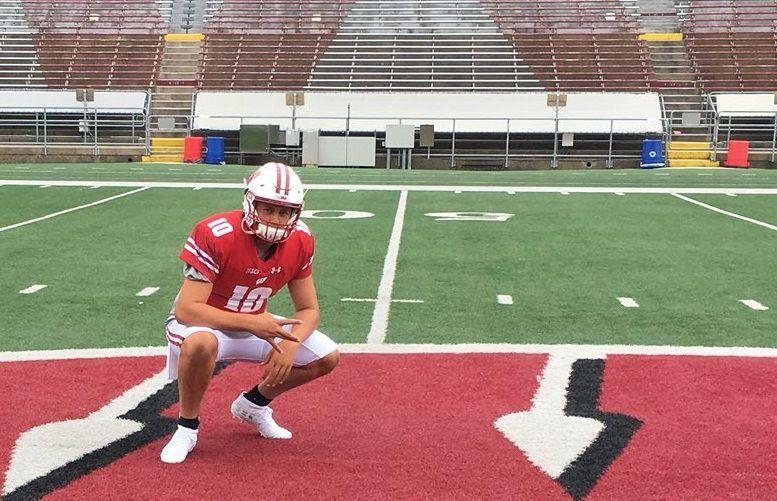 If things go well for Mertz, it could be his last season at UW.
Enter freshman Deacon Hill (above), who gained recruiting buzz after he committed to UW and stuck to his word after some late offers, including one from UCLA. Hill isn't likely to compete for the starting job immediately, but he could put pressure on those second or third spots on the depth chart. His arm strength is his best asset, but adjusting to the speed of the college game after not playing at the highest level in high school would be a tough ask.
The number
6.27 | Average yards per pass attempt by the Badgers last season, the program's worst since 2004 (6.17).
---
Get to know the Wisconsin Badgers' 2022 football recruiting class
MYLES BURKETT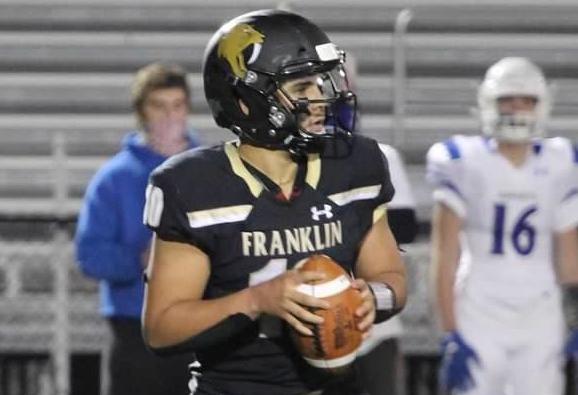 Myles Burkett became the Badgers' first Class of 2022 recruit when he announced his decision in January.
The 6-foot-1, 200-pounder from Franklin is a three-star recruit per 247Sports and Rivals, and showed great mobility and arm strength in his junior season. He battled back from a knee injury as a sophomore to throw for 1,236 and 11 touchdowns and rush for 180 yards and a score in a pandemic-shortened season.
He's the first in-state quarterback to earn a scholarship out of high school since 2011.
BARRETT NELSON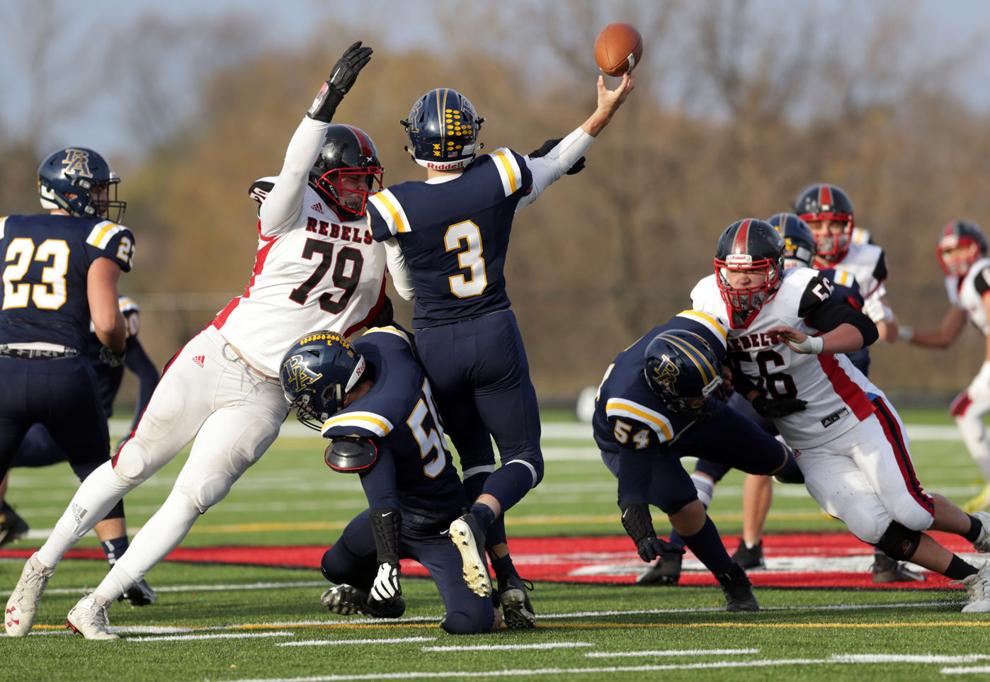 As his recruiting stock started to rise, the Badgers were able to secure a commitment from Fall Rivers' Barrett Nelson in late June.
The offensive tackle was 6-foot-6 and 255 pounds after his junior season, and his quickness off the ball has made him a load on both the offensive and defensive lines. Nelson is a three-star recruit per 247Sports and a two-star on Rivals.
He had offers from Iowa State, Northwestern, Nebraska, Purdue and others before choosing UW.
Nelson's father, Todd, was a Badgers offensive lineman in the late 1980s, and his brother, Jack, is currently an offensive lineman for UW.
JT SEAGREAVES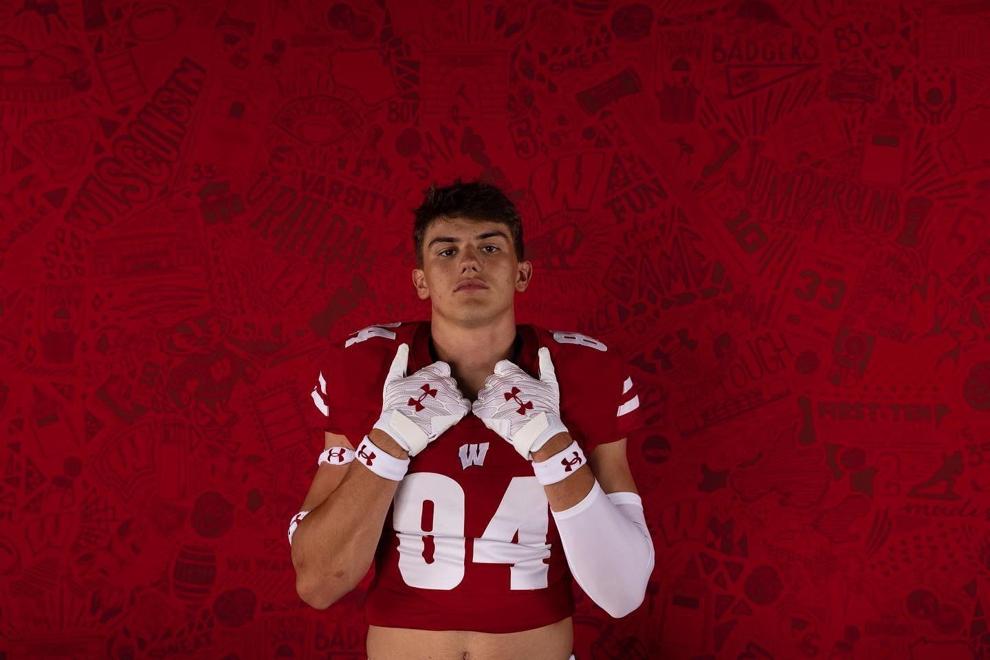 After wowing UW coaches at a pair of camps, Monroe tight end JT Seagreaves accepted a scholarship offer in late June.
Seagreaves is an intriguing prospect for the Badgers — at 6-foot-6 and 220 pounds, he has the physical frame to grow into an imposing tight end, and he possesses sprinter speeds. He's averaged more than 21 yards per catch each of the past two seasons and was starting to gain more Power Five conference interested when he committed to UW.
Seagreaves is a three-star recruit per 247Sports and a two-star according to Rivals.
CADE YACAMELLI
In multiple trips to UW's campus in June, Cade Yacamelli was called "a football player" by UW coaches rather than locking him into a position. He earned a scholarship offer after an impressive camp workout and accepted it in late June.
The consensus three-star athlete was starting to earn more recruiting attention from Power Five schools when he accepted the Badgers' offer. UW was the first Power Five offer for the 6-foot, 200-pounder. He's played receiver, running back and defensive back in high school, but likely projects as a receiver or defensive back in college.
The Penn Trafford High School product has good quickness and change-of-direction that make him dangerous with the ball in his hands.
A'KHOURY LYDE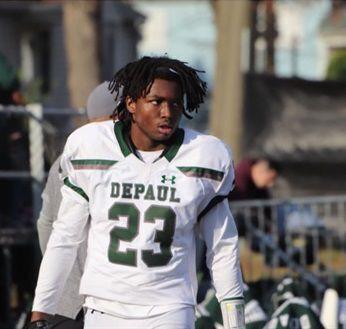 When A'Khoury Lyde accepted a UW scholarship offer in late June, he became the first player on the defensive side of the ball to commit in the 2022 class.
Lyde (5-foot-11, 170 pounds), a consensus three-star recruit, has strong ball skills and a willingness to hit that separates him from other cornerbacks.
The Wayne, New Jersey, native is the eighth-ranked player in his state, per Rivals.
TOMMY MCINTOSH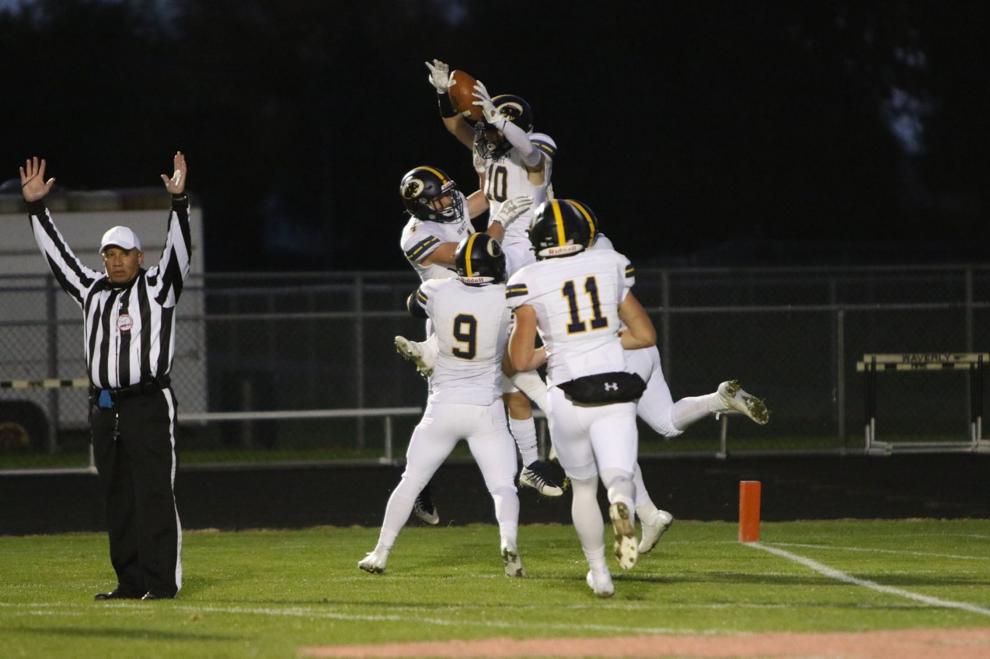 The Badgers landed a tall, speedy receiver when Tommy McIntosh committed in late June. 
The DeWitt, Michigan, native stands 6-foot-5 and weighs 200 pounds. He uses his body to shield off defenders at the point of the catch and does well catching the ball away from his body. His Hudl page lists a 4.47-second 40-yard dash time, and he has breakaway speed when he gets in the open field and can use his long strides.
A consensus three-star wide receiver chose the Badgers over offers from Cincinnati, Indiana, Iowa, Vanderbilt and Wake Forest.
CURTIS NEAL
UW beefed up its defensive front by landing defensive tackle Curtis Neal. 
Neal — a 6-foot-2, 310-pounder — had more than 25 scholarship offers, and reportedly was deciding between UW and Ohio State at the end of his recruiting process. Neal is a product of William Amos Hough High School in Cornelius, North Carolina, where the Badgers found receiver Devin Chandler in last year's cycle.
Neal, with his size and strength, likely fits best as a nose tackle in the Badgers' 3-4 scheme.
AVYONNE JONES
Jim Leonhard may have found another rangy, smart cornerback to add to his secondary in Avyonne Jones, who committed in to UW in late June. 
Jones — who hails from Southlake, Texas — was on campus the weekend of June 18 for an official visit and had narrowed an extensive offer list to UW and California. The 5-foot-11, 180-pound defensive back was previously committed to Oklahoma State, but retracted that commitment in late May.
With good recovery speed and a good feel for getting his hands between a receiver's at the point of the catch, the consensus three-star prospect is a good fit for what UW cornerbacks coach Hank Poteat said he wants from his position group.
JOE BRUNNER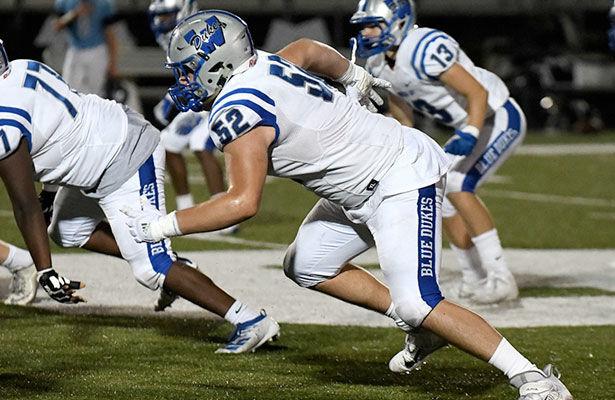 The Badgers landed the top-ranked player in Wisconsin for the sixth consecutive recruiting class when Joe Brunner committed the last week of June.
Brunner — a 6-foot-6, 300-pound prospect from Milwaukee who attends Whitefish Bay High School — is a consensus four-star recruit and a top-10 offensive tackle in the nation. 
He held at least 16 Power Five scholarship offers, including ones from a majority of the Big Ten Conference, LSU, Notre Dame, Oregon and Tennessee.
VINNY ANTHONY II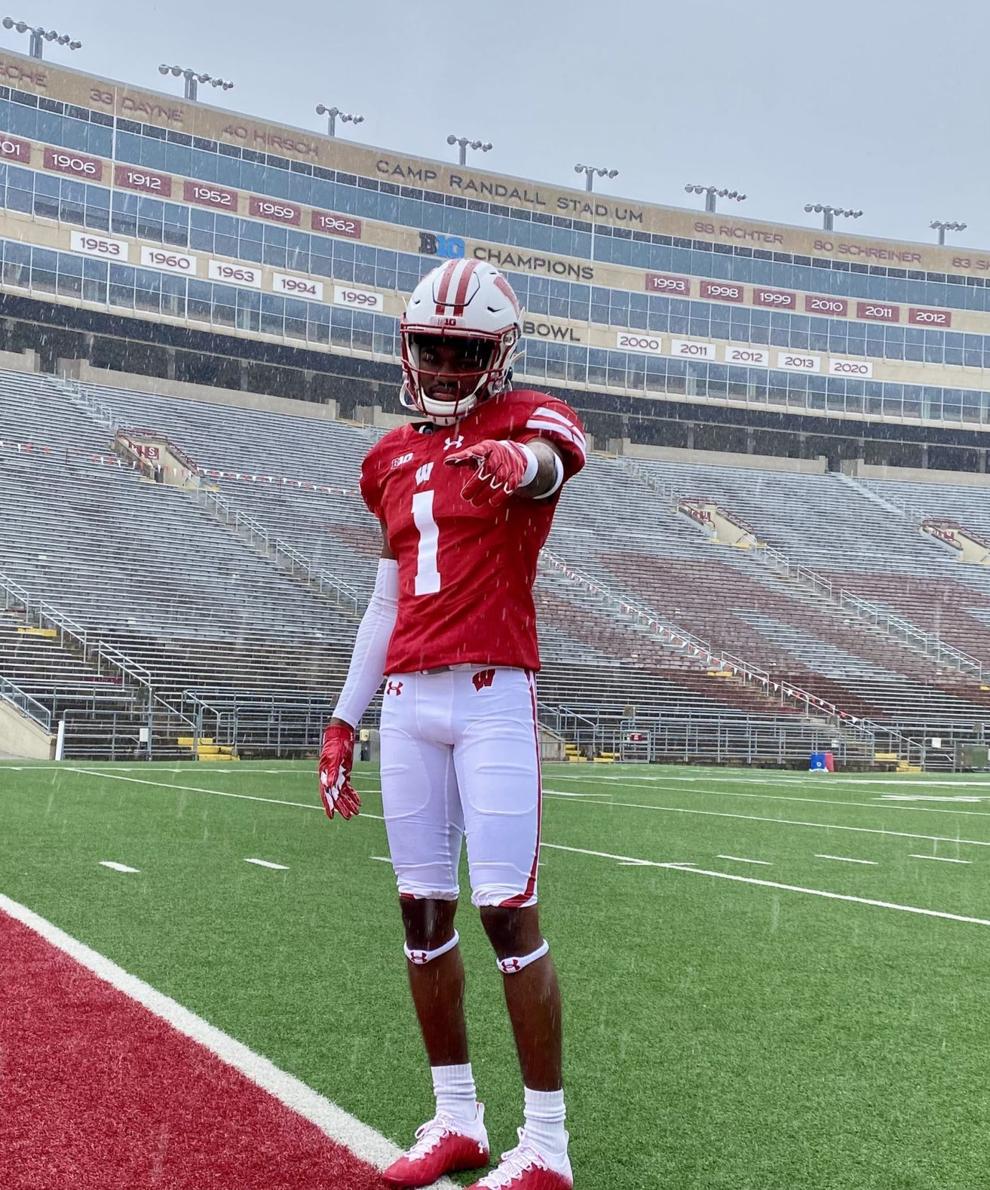 Receiver Vinny Anthony II — a consensus three-star prospect from Louisville, Kentucky — joined UW's class on June 30. 
Possessing a good burst of speed and long arms that extend his catch radius, the 6-foot-1, 170-pound Anthony has a chance to play across the formation as a receiver. 
Anthony chose UW over Cincinnati and Duke.
AUSTIN BROWN
Austin Brown — who hails from Johnston City, Illinois, a small town outside of Carbondale — was considering offers from Boston College, Illinois, Michigan and Northwestern before choosing UW. The consensus three-star prospect had 21 known scholarship offers.
Brown committed to UW on the Fourth of July.
At 6-foot-1 and 195 pounds, he has a good frame already and his high school film shows a willingness to lay big hits and attack blockers. He also plays quarterback for Johnston City.
KALON GERVIN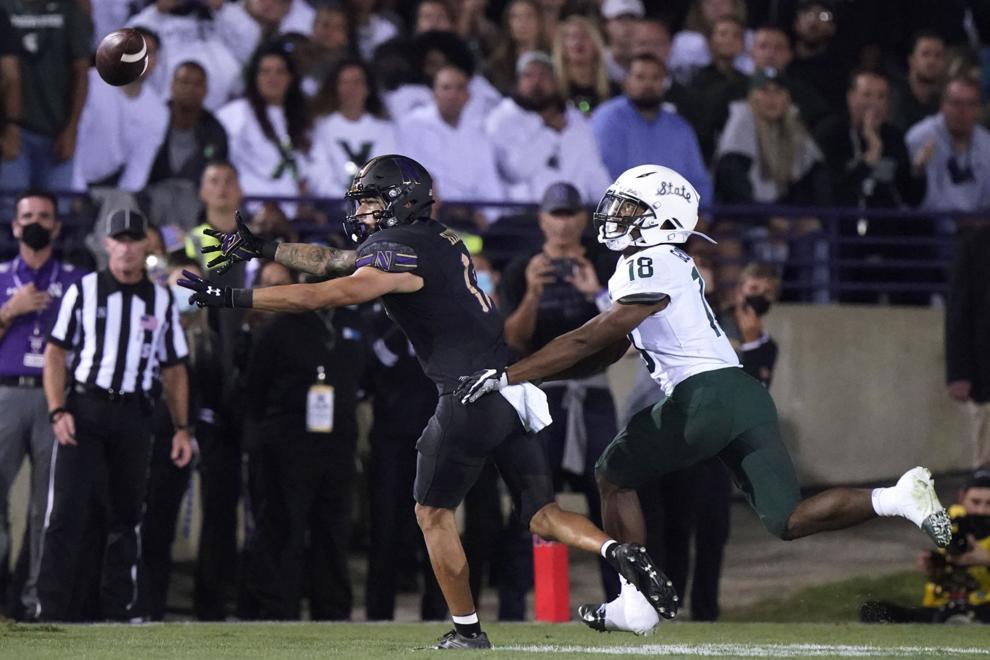 The Badgers locked in their first incoming transfer of the class in late October in Kalon Gervin, a cornerback from Michigan State. 
Gervin played in 19 games for the Spartans, including seven career starts. He had 22 tackles, four pass breakups and a fumble recovery at MSU. The 5-foot-11, 180-pounder from Detroit will add some experience to a cornerback group that loses its top two starters to graduation.
Gervin was offered a scholarship by UW coming out of high school. 
TRISTAN MONDAY
UW added an athletic defensive line prospect in mid-November when Tristan Monday flipped his commitment from Arizona to the Badgers. 
UW was interested in Monday since he arrived in high school, but his size then didn't lend itself to a natural position fit in the Badgers' defense. Now standing 6-foot-4 and weighing 240 pounds, he'll start his career as a defensive end. UW offered him a scholarship in early November and he accepted it after visiting campus Nov. 12-14. 
Monday is a consensus three-star recruit from Scottsdale, Arizona, who had offers from Arizona, Baylor, Colorado, Florida State and Iowa State. 
After much discussion and thought, Tristan has changed his commitment and will be accepting a football scholarship offer from the University of Wisconsin. He has the utmost respect and admiration for the University of Arizona but this is an opportunity he cannot ignore. pic.twitter.com/hqf8GGqZwp

— Tim Monday (@pappamonday) November 16, 2021
AIDAN VAUGHAN
Vaughan, a 6-foot-4 linebacker from Walled Lake, Michigan, committed to UW in late November, choosing the Badgers over offers from programs like Colorado, Florida State, Illinois, Iowa, Minnesota and others.
Vaughan is rated as a three-star recruit by 247Sports and Rivals.
Vaughan has been a late-riser on the recruiting trail, with all of his Power Five offers coming since October, but he has potential to be an inside or outside linebacker for the Badgers. He could fill the big-bodied outside 'backer role that C.J. Goetz currently has for UW or could be a hybrid type of linebacker like UW pulled in with Jake Ratzlaff in the 2021 cycle.