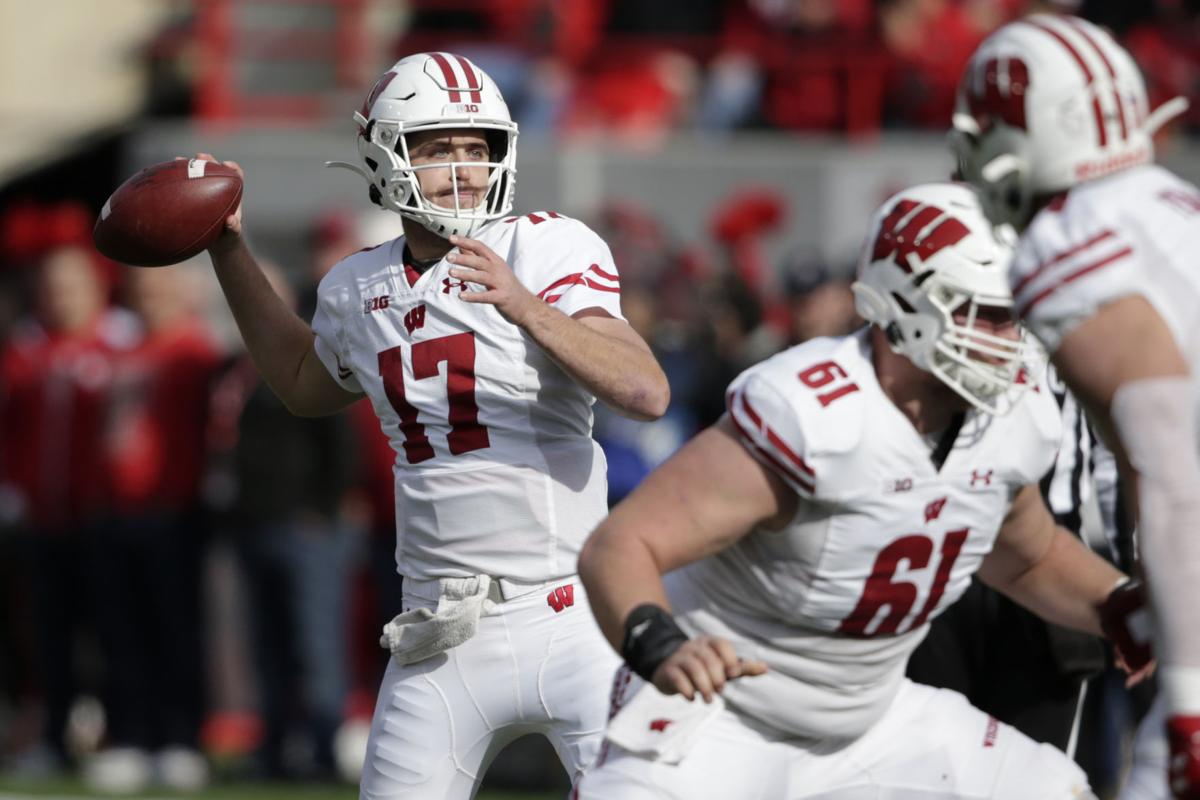 Jack Coan is just fine not being the center of attention. In fact, he much prefers it.
Getting the junior quarterback to talk about himself is difficult, and his thoughts regarding his play or what he does on the field for the 13th-ranked University of Wisconsin football team turn to the talents of his teammates more often than not. But there's one aspect of his game Coan doesn't mind discussing — preparation.
Coan, whose team sits at 9-2 and has a chance to win the Big Ten Conference's West Division when it travels to No. 9 Minnesota (10-1) on Saturday, tries to hone into one element of his role and improve it each week. He does that on top of studying the week's opponent and the wrinkles installed to attack it.
"He's been a great leader for us. He's been really working his ass off in the playbook," junior center Tyler Biadasz said. "I think our schematics and our coaches do a great job putting us in the best position, too. I think we're all on the same page. He's been a great leader and a great quarterback. We trust him in the pocket and he trusts us, you always love that bond. He's done a great job."
The Badgers had an off week at the beginning of the month, and used it to get the offense back on track after a pair of sub-par performances in losses to Illinois and Ohio State.
In the three games following that bye, UW is averaging 35.3 points per game and 520.3 yards of offense. While a resurgent run game and stellar performances from junior tailback Jonathan Taylor led the charges in those games — wins over Iowa, Nebraska and Purdue — Coan did his part.
He is 44 of 65 passing (67.6 percent) for 538 yards and five touchdowns in November.
"I feel really confident. I think a lot of that comes through my preparation, and a lot of that comes through my teammates," Coan said of his play this month. "I've got a lot of great teammates around me and I know that they're going to help me play well."
Coan's two interceptions this month, one apiece against Iowa and Purdue, weren't issues with decision-making or reading the defense. Rather, they were physical issues with the throw. His pick against the Hawkeyes was intended for tight end Jake Ferguson, who was open between two defenders. The throw was a bit low and ahead of Ferguson, and that allowed Matt Hankins a chance to pick it off.
You have free articles remaining.
Against Purdue, Coan made a play-action fake, and threw a ball deep down the Badgers' sideline to an open Quintez Cephus. Coan didn't get enough on the throw and it was intercepted. Coan said, "I had him" to backup Chase Wolf as he came back to the sideline.
Those kinds of mistakes are ones UW coach Paul Chryst can accept, as he knows Coan's progressing well in his first full season as a starter.
"I think he's continuing to grow, and continuing to understand what we're doing, understand what defenses are doing," Chryst said. "Hasn't been perfect, but he works, he works at it. I think when you do, there's also trust, right? When you trust what your preparation is, when you trust the guys that you're playing with, when you trust what you're seeing, I think that helps any player, not just quarterbacks, be a little bit more decisive.
"In many ways, they play the game instead of thinking it. Obviously, I don't mean to say that there's not thought going in, but I think he's playing the game and continues to work at that."
Teammates see the work Coan puts in throughout the week, and it deepens the level of trust they have in him.
"Jack's going to do what he needs to do, everything he needs to do to get his body right, get his mind right, to just be as sharp as he can possibly be," senior receiver A.J. Taylor said. "It makes everybody else want to do the same."
This week against the Gophers, Coan will have to battle a ball-hawking secondary that has 14 interceptions this season. He'll have to handle bad weather — rain and snow are expected to hit the Twin Cities throughout the weekend.
As often has Coan likes to shift the focus off of himself, offensive coordinator Joe Rudolph said Coan's attention to detail when it comes to making new plays and concepts work draws eyes.
"Something that may not be a clear picture or as quick a decision on a Tuesday, really gets better Wednesday, it's more locked in Thursday, Friday it's flying and you kind of see that evolution with him throughout a week," he said. "They know that's from the prep that he has."