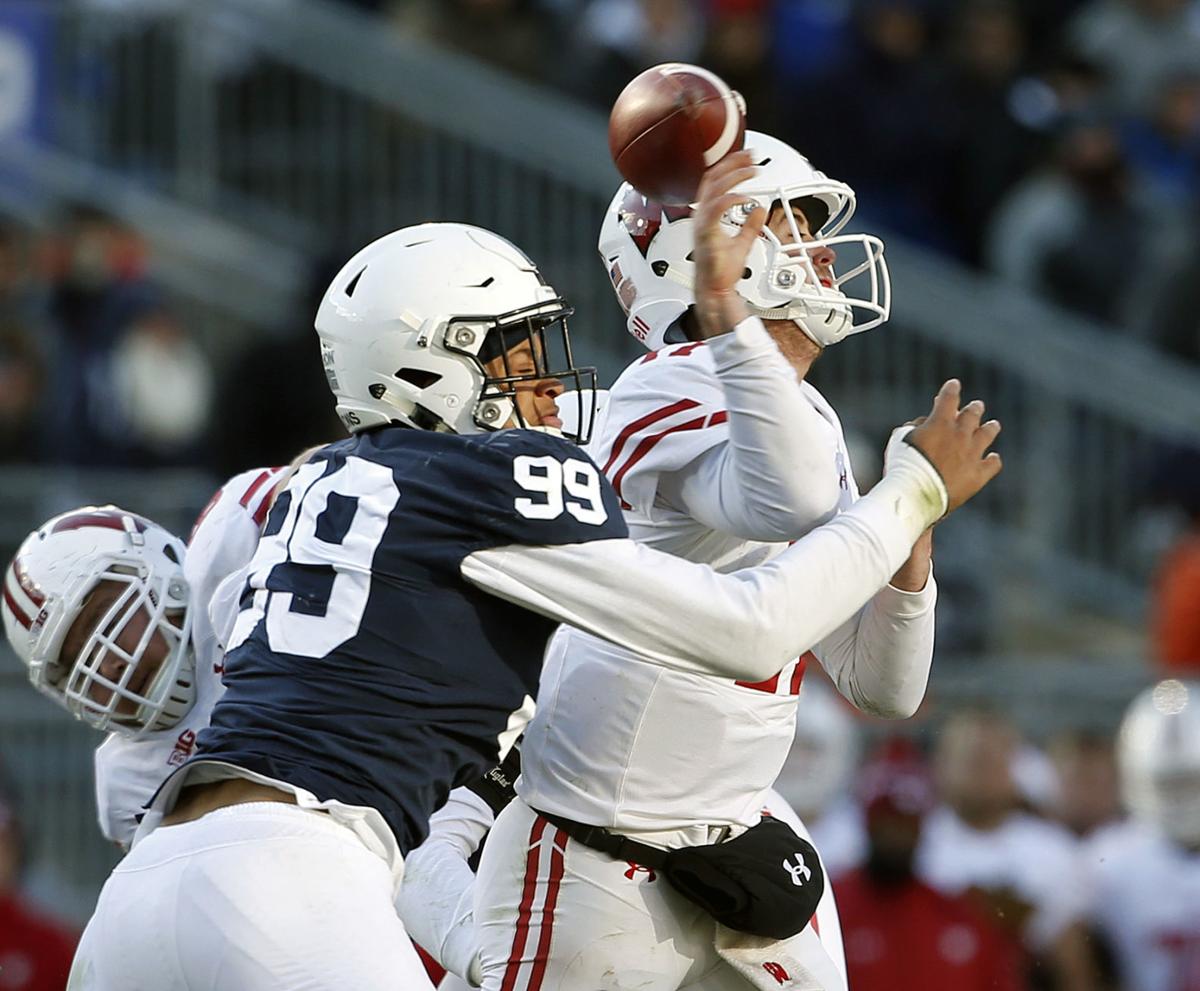 Predictably, the University of Wisconsin's offensive numbers in its 22-10 loss at Penn State on Saturday weren't pretty.
The Badgers produced their lowest point total in more than two years, and their 60 passing yards marked the lowest output in a game since 2014.
It proved to be a different level of test for backup quarterback Jack Coan, who made his second career start after also filling in for the injured Alex Hornibrook two weeks earlier at Northwestern. The sophomore finished the day at Beaver Stadium 9-of-20 passing with no touchdowns, two interceptions and a lost fumble, and with Hornibrook questionable once again for UW's trip to Purdue this week, Coan's teammates are trying to do everything they can to help him rebound from a rough outing.
"We're trying to back him 100 percent, let him know that we're here," UW running back Jonathan Taylor said. "We know the situation. We know he was thrown into the fire. It was kind of a situation that only few people actually take off with it. It's a process, so we're just trying to help him through it because we know it's not easy."
Hornibrook, healing from his second concussion in three weeks, practiced in pads Tuesday and threw some extra passes with Coan afterward, giving hope that the junior can make his return against the Boilermakers on Saturday.
Offensive coordinator Joe Rudolph said Hornibrook was "able to do a little bit" in practice but that the Badgers "don't yet know where he's at."
Until he's cleared, UW may need Coan to make another start on the road. While Coan didn't find the success he hoped for against Penn State, he said his first two starts prepared him to take another crack at it if needed this week.
You have free articles remaining.
"I was into the game and, you know, just fighting out there," Coan said. "I feel like a lot's been thrown at me, and starting two away games in the Big Ten has definitely prepared me."
Coan said he managed to stay even-keeled against Penn State as the game continued to slip away from the Badgers, and Rudolph said Coan's a player who possess the built-in mental toughness needed to move on from a bad day and look forward to the next game.
Both Rudolph and Badgers coach Paul Chryst aren't worried about Coan's confidence dipping after his performance in State College.
"Are there things that he can do better?" Chryst said. "Absolutely. He knows them. But he's done enough throughout all this to have confidence. There's a competitiveness to him that I love. He wants to get better."
Coan needs to improve in order to help spark a struggling offense. In three games this season, he's completed 58.6 percent of his passes for 282 yards with two touchdowns and four turnovers.
While Coan's working through some growing pains in the first meaningful playing time of his career, though, UW's other offensive players are addressing their own issues, too. The Badgers' offense fell short of expectations prior to Hornibrook's absence, and UW wants to find a way to conjure up more success over its last two games - regardless of who's under center.
"I know we've got to help him out more," UW tight end Jake Ferguson said. "We're trying to back him up and really, whoever starts this weekend, I think we really just need to back him up no matter what happens and just give him that opportunity to make plays.
"Everybody's going to have their bad games. But what we need to do is pick them up and support them and give them somebody to lean on. We need to do that for (Coan), and like I said, just be ready for whoever takes that starting spot."