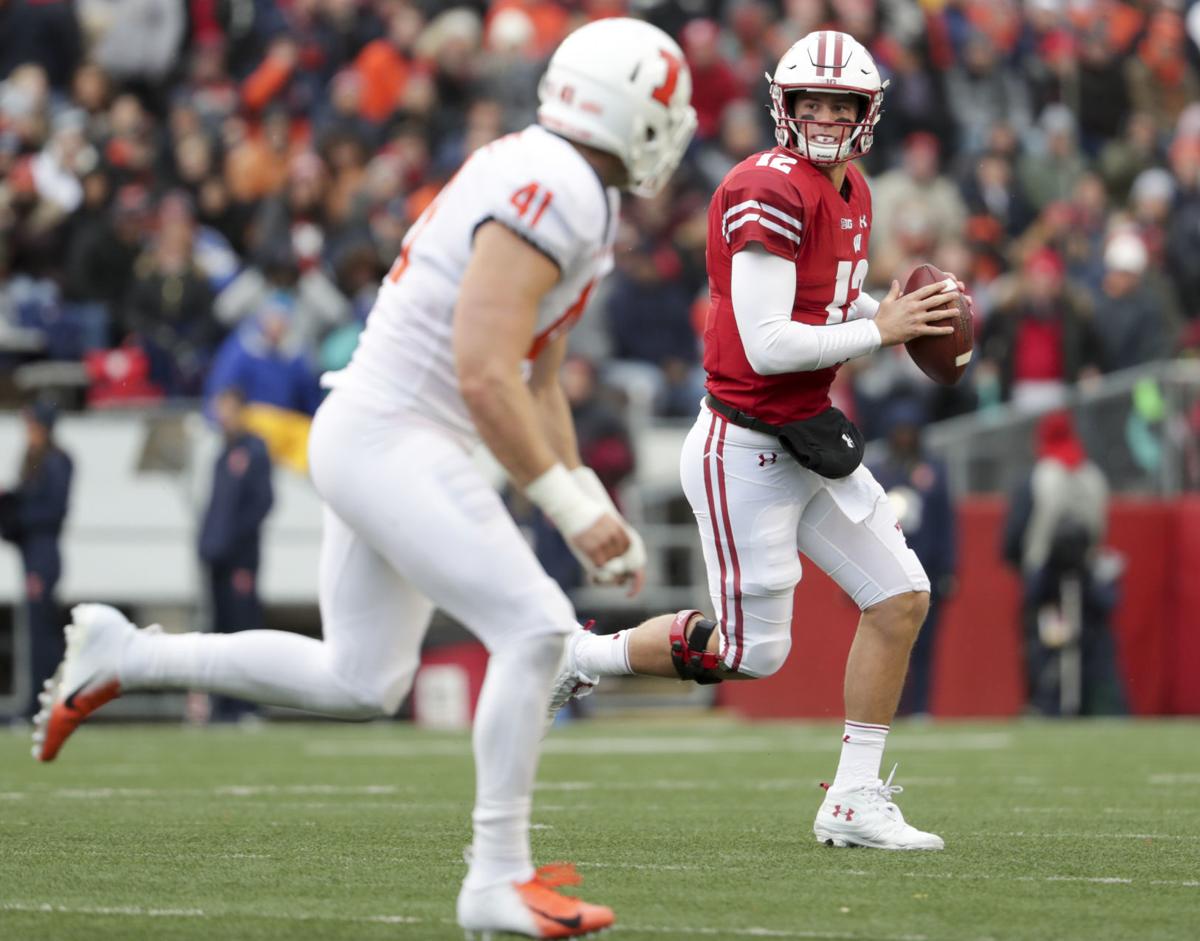 Quarterback Alex Hornibrook took perhaps more criticism than ever after a poor performance in the University of Wisconsin's loss at Michigan last week.
And while he misfired on a number of passes early in the 23rd-ranked Badgers' 49-20 victory over Illinois on Saturday at Camp Randall Stadium, he ultimately put together a three-touchdown performance that maintained UW's faith in him as its starter.
"Had a couple that weren't great, but I see what he was seeing and liked his decision-making," UW coach Paul Chryst said. "Obviously the picks you want to look at a little bit closer and see. But I thought he made some really good plays. The best part about Alex is he keeps playing and doesn't let the previous play, good or bad, affect what's happening next."
Hornibrook completed 13-of-22 passes for 188 yards with three touchdowns and two interceptions.
Not much game time elapsed between Hornibrook's two picks. The first came in the final seconds of the first half, when he seemingly threw the ball directly to defensive back Stanley Green, who returned it 49 yards to set up a field goal. His second occurred less than 4 minutes into the second half when his pass was tipped at the line and intercepted by linebacker Jimmy Marchese. Illinois running back Ra'Von Bonner scored two plays later.
The Badgers improved to 5-2 overall, 3-1 in the Big Ten with a 49-20 Homecoming win over Illinois on Saturday at Camp Randall Stadium. 
Hornibrook said the first interception was simply a miscommunication between he and intended receiver A.J. Taylor.
"That was the look I wanted," Hornibrook said. "We just weren't on the same page. ... It was just one little error. It was a bad result, but it was something we cleaned up right away when we got to the sideline."
The junior quarterback also threw back-to-back touchdowns late in the second quarter to tight ends Jake Ferguson and Kyle Penniston after takeaways by the Badgers' defense and added a 19-yard scoring toss to fullback Alec Ingold in the third quarter.
Hornibrook's now completed 59.6 percent of his passes this season for 1,251 yards with 11 touchdowns and six interceptions.
You have free articles remaining.
Wisconsin State Journal reporter Jason Galloway collected some of the best tweets after the Wisconsin Badgers beat the Illinois Fighting Illin…
"The thing about Alex is, every single play, he's the same," Ingold said. "He doesn't get rattled at all. So when things are going great, he's the same Alex as when things are going bad. It's that consistency factor that we love on the offense.
"I think when you're not Alex, you hear (the criticism) a lot. No one wants to say it to his face. But the thing about Alex is, he doesn't let it faze him. ... He's a leader on this team, and he knows that he can't ride the waves like everyone else can. He's got to be that consistent leader on the team. He does that really well."
Snow storm hits Camp Randall
An unexpected snow dump overcame Camp Randall during the first half Saturday, accompanying the heavy winds that swirled all game.
"It was real," Chryst said. "I thought the kids embraced it, but it was coming. I think it was a factor in some of the turnovers and takeaways that we got. The wind was all day, and yet I felt like we could kind of cut through it when we needed to. We did a good job in the kicking game, both directions."
The snow stopped and melted by the second half, leaving the turf looking as if it had never happened in the first place.
Many UW players thought the snow actually boosted the team's play. The Badgers recorded five first-half turnovers, and Hornibrook's touchdown throws to Ferguson and Penniston gave them a 28-7 lead late in the second quarter.
"I think it kind of fueled us a little bit," UW running back Jonathan Taylor said. "The stadium started going wild. We were pumped up on the sideline. We were kind of rolling when it started snowing, so I feel like it just kind of added fuel to the fire."
Extra points
True freshman inside linebacker Jack Sanborn played in his fifth game of the season Saturday, meaning he will not redshirt this year. ... True freshman cornerback Rachad Wildgoose said he was told by the coaching staff after UW's loss at Michigan last week that he'll continue to start at cornerback, even when the group is at full strength. ... Nose tackle Olive Sagapolu (left leg) left midway through Saturday's game and did not return. Chryst did not have an update on his status.