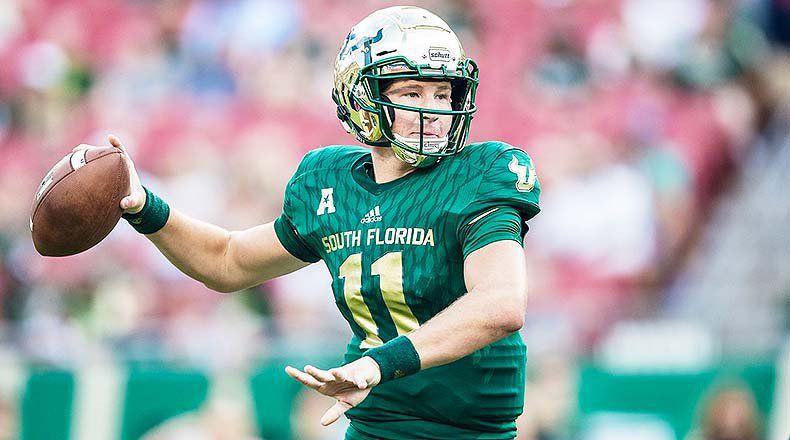 Jim Leonhard's preparations for the University of Wisconsin football team's season opener included watching video clips from NCAA Division II games.
That research helped Leonhard, the defensive coordinator, get a better idea of what South Florida's new offensive system might look like when the Bulls play host to No. 19 UW on Friday night at Raymond James Stadium.
South Florida coach Charlie Strong revamped his staff after the Bulls ended a bizarre 2018 season with a 7-6 record: After winning its first seven games of the season, Strong's team lost its final six by an average margin of 17.5 points.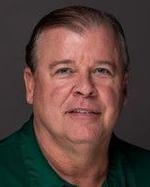 Among the changes was adding Kerwin Bell as offensive coordinator. Bell spent the previous three seasons as the head coach at Valdosta State, which won the NCAA Division II title in 2018.
Leonhard and the other UW coaches watched video from South Florida to learn more about the Bulls' returning personnel on offense. They also spent time watching Valdosta State games as a reference point for Bell's offensive system.
"You're just trying to piece it together," Leonhard said Tuesday. "You know you're not going to have all the answers. And if you are trying to go by what you've seen on tape, you're probably going to miss something so you really have to get your guys dialed in to what our rules are. Who are we? What are we going to do? What's the plan, and what are your adjustments? Because more than likely, something is going to show up that you haven't prepared for."
Bell's relationship with Strong dates to 1984, when the latter was a graduate assistant at Florida and the former was starting at quarterback as a redshirt freshman walk-on.
After a four-year career with the Gators, Bell spent 13 seasons in the professional ranks, with stops in the NFL, Canadian Football League and World League of American Football.
He lists two major coaching influences: Lindy Infante, his coach with the Indianapolis Colts (and a former Green Bay Packers coach); and Steve Spurrier, who was Florida's coach when Bell joined the staff as a graduate assistant in 1990.
Bell describes his offense as a pro-style passing game that utilizes spread concepts.
"We think we've got the best of both worlds," Bell said. "We can get the ball in the hands of our best players when we need to and want to and try to utilize our strengths in open-field situations."
Valdosta State averaged 52 points per game en route to going 14-0 last season. Bell's team scored at least 45 points in all but one game and was never held below 30 points.
How's this for balance? Valdosta State finished with 3,658 yards through the air and 3,676 on the ground. It produced 40 rushing touchdowns and 50 passing scores while operating out of a no-huddle system.
"We're going to go fast, but we're also going to try to execute at a very high level," Bell said. "With our spacing, with our timing, with our rhythm of our system, what I try to do is obtain perfection on the field."
Valdosta State utilized a lot of one-back, four-receiver sets but Bell seems excited to have a true tight end, senior Mitchell Wilcox, at his disposal with the Bulls. South Florida also returns a 2,700-yard passer (senior Blake Barnett), 1,000-yard rusher (senior tailback Jordan Cronkrite), small-but-speedy slot receiver (5-foot-5, 168-pound sophomore Johnny Ford) and a deep threat (sophomore wide receiver Randall St. Felix).
"We know from a skill standpoint they're going to be able to spread the field," Leonhard said, "and they're going to be able to create one-on-one matchups that you have to win."
Leonhard stressed the importance of sound tackling. The same message is being driven home by Strong as the Bulls prepare for a UW offense led by junior tailback Jonathan Taylor.
South Florida was one of the worst teams in the country last season at stopping the run, surrendering 247.5 yards per game on the ground. The Bulls played the final seven games of the season without middle linebacker Nico Sawtelle, who also won't be available for the opener against UW.
"We need to improve on tackling," Strong said. "We missed a ton of tackles last year. There were a lot of big plays that were given up."
Tight end commits
An oral commitment was received from Cam Large, a tight end from the East Coast, on Tuesday.
The 6-foot-4, 245-pound Large, who is from Connecticut but plays at Noble and Greenough School near Boston, chose UW from a group of four finalists that included Alabama, Georgia and Ohio State.
Large, who had over 30 scholarship offers, is the 14th known commitment in the 2020 recruiting class.
Be the first to know
Get local news delivered to your inbox!