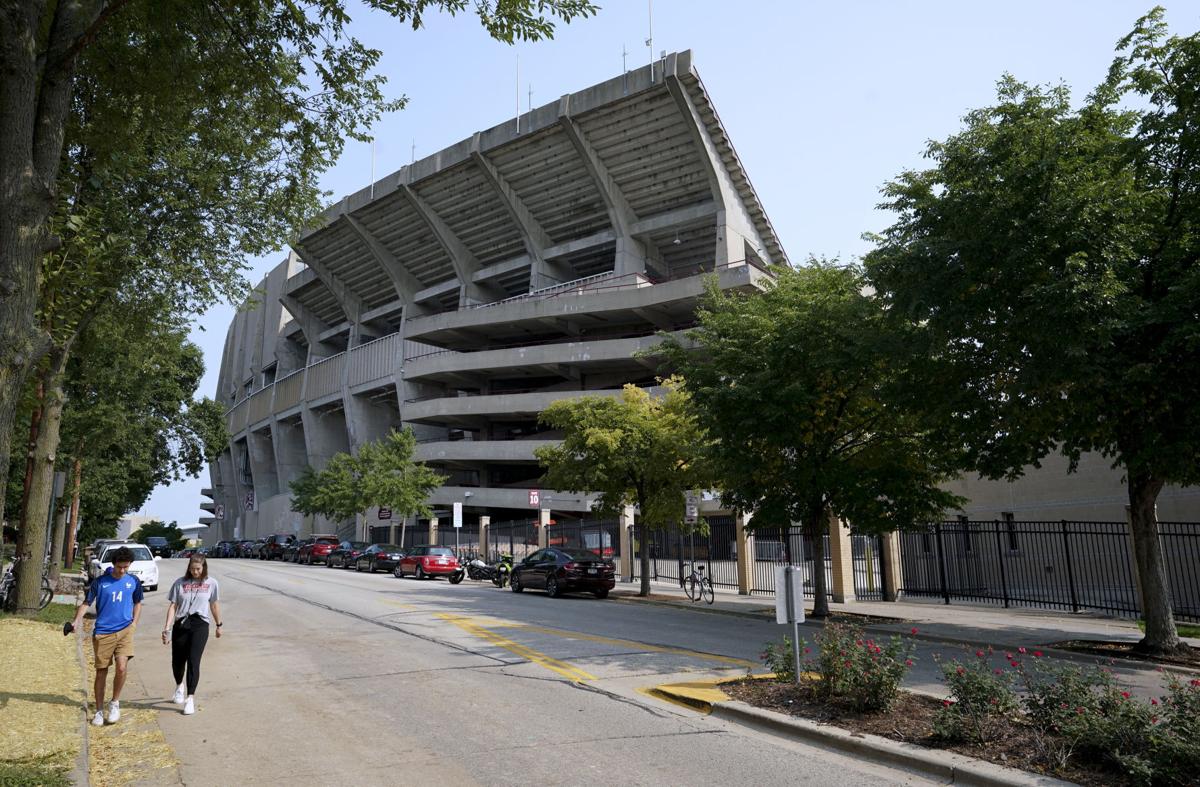 While fans won't be allowed into Camp Randall Stadium for University of Wisconsin football games in 2020, the athletic department is planning to accommodate some people in the stadium on game days.
Fewer than 1,500 people, mostly family members of players and Badgers football staff members, are expected to be in the stadium for home games starting Oct. 24, senior associate athletic director Jason King said Wednesday.
The Big Ten Conference decided not to allow the general public into football games during the 2020 season that was delayed by the COVID-19 pandemic.
The count of people allowed into Badgers home games includes about 500 parents of UW players and 70 family members of coaches and other staffers, King told the Joint Campus Area Committee.
UW is planning for around 400 parents of members of the visiting team for each game, King said. Only people deemed essential to game operations will be allowed beyond those groups.
Big Ten football players and staff members will be undergoing rapid COVID-19 testing daily to guide participation decisions. The same tests also will be given to all those whose jobs require them to be on the field during games, King said.
Members of the Joint Campus Area Committee voiced concerns Wednesday about the potential for fans to tailgate and gather around Camp Randall on game days.
Committee members also asked for the volume of stadium speakers to be reduced so noise doesn't spill outside the venue.
"What we're trying, really, to do is to not have large numbers of the public who are drawn to the perimeter and the spaces around Camp Randall," said Ald. Tag Evers, 13th District.
Campus planning director Gary Brown said UW parking lots will be closed on game days other than what's needed for the few attendees and those who have campus business in the area. Transportation planner Rob Kennedy said the facilities will be monitored.
"We will be out there," Kennedy said. "And I think we'll be able to control it well."
Bidar told the committee that the City Council will consider action to prohibit the vending of food or merchandise that normally takes place outside of Camp Randall on game days. She said the city also won't approve temporary alcohol licenses for this football season.
Bars and other establishments that are licensed to have beer gardens will be restricted, Bidar said. Those businesses won't be allowed to serve from a bar in the beer gardens, she said; all serving will take place at tables that are limited to six people and distanced from each other.
House parties are another issue, Bidar said.
"I have less concerns about alcohol licensed establishments than I have about other non-licensed activity," she said.