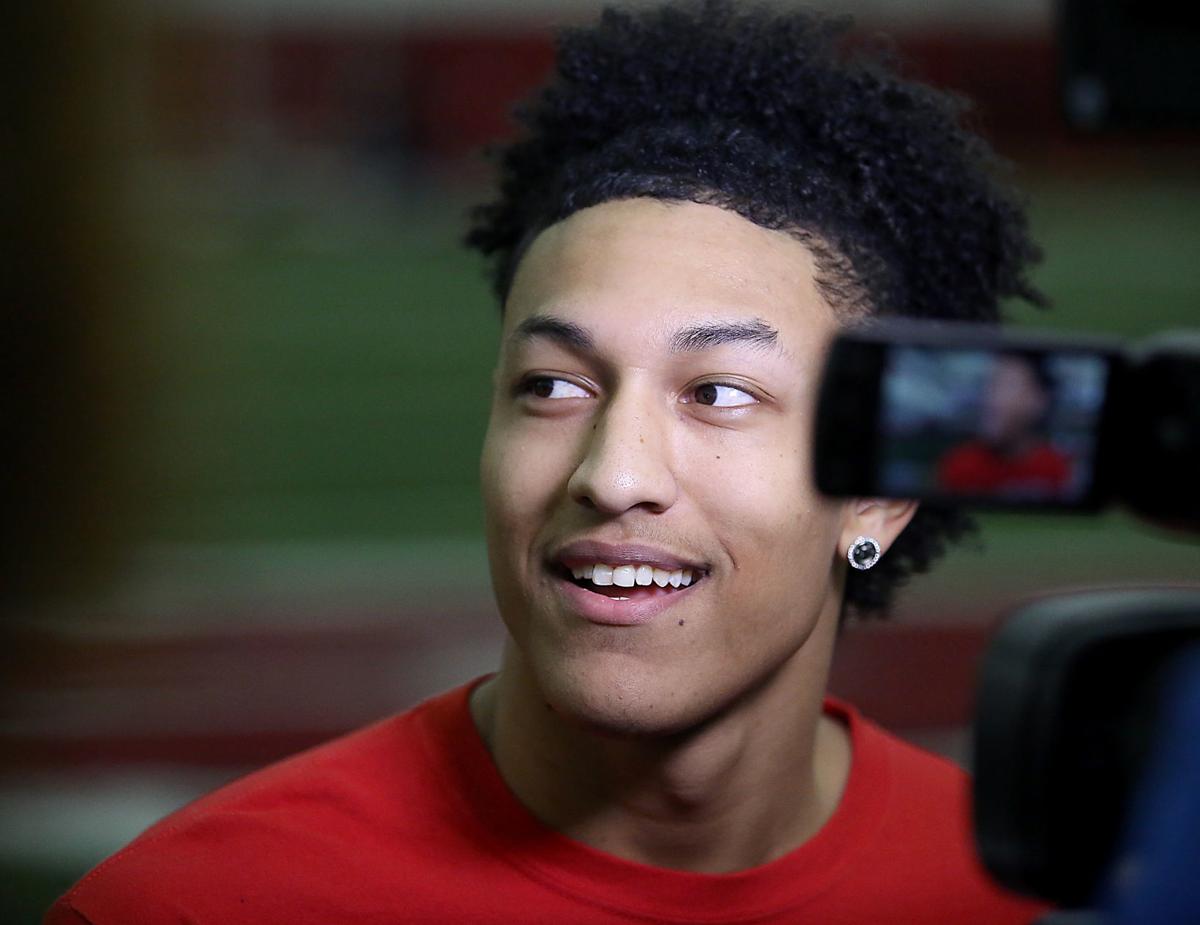 The University of Wisconsin's outside linebacker competition already began weeks ago. Spring practice only proved that it likely won't stop anytime soon.
Despite little experience beyond returning starter Zack Baun, the group left their final practice Friday full of candidates to earn their first extended playing time this season.
"It's going to be a competition through and through ... all the way through the summer, all the way through fall camp, up until that first game," junior Noah Burks said.
"We're all out here fighting for reps. We're trying to set the tone for what we're going to get coming in the fall. ... Yes, we want to get better (this spring), but we're always competing."
Burks took first-team reps in base packages this spring, while sophomore Izayah Green-May ran with the ones when the Badgers went to nickel.
It remains to be seen how junior Christian Bell will fit in after he missed the entire spring due to injury. Senior Tyler Johnson, once thought as the favorite to start opposite Baun this season, isn't even guaranteed a spot in the two-deep.
Burks played sparingly on defense last season, recording four tackles, but Baun said he may be both more physically and mentally ready to compete on a play-by-play basis this season.
"He's gotten a lot stronger," Baun said. "He's not getting pushed around as much. He's doing a good job of developing, knowing the playbook and being where he needs to be."
Green-May could be in the same position. The 6-foot-6 Bolingbrook, Ill., native said he gained about six pounds from last year, putting him at 228. He wants to add five or six more before the start of the season.
Green-May said the added weight could help him hold the edge against 300-pound linemen and bigger tight ends. He also mentioned an increase in his football IQ, which gave him a better understand what to do and how to do it - something that's also increased his confidence on the field.
"The confidence aspect helped me so much and boosted my game a lot. It really did," he said. "I wish I could have came in earlier with that same confidence, but it took me a little longer to get a hang of the playbook, then we had a coaching switch."
The arrival of new outside linebackers coach Bobby April III last year meant a change in some run techniques for the group centered around attacking blocks more head-on and playing multiple gaps.
Many players raved about how much they enjoyed those changes, but it also came with an adjustment period.
"I think it was a necessary adjustment," Burks said. "I don't think it was the easiest. But I think we got it done, and at this point where we are now, I think we're very comfortable with the way that (April) wants us to play and take on blocks."
Inside linebacker Ryan Connelly (New York Giants), outside linebacker Andrew Van Ginkel (Miami Dolphins) and offensive lineman David Edwards (Los Angeles Rams) were the only three University of Wisconsin players selected during the final day of the NFL Draft on Saturday.
The Badgers' outside linebackers - particularly Green-May, if he holds onto a first-team spot in nickel packages - are also tasked with helping revive a pass rush that wasn't effective enough in 2018.
Injuries to Baun, outside linebacker Andrew Van Ginkel and defensive ends Garrett Rand and Isaiahh Loudermilk didn't help matters last season, but UW will need to find someone who can harass opposing quarterbacks among its group of unproven outside backers.
Defensive coordinator Jim Leonhard said he expects they'll be up for the challenge.
"With guys gaining some experience and hopefully having a deeper group on top of that, I think we'll be able to get to the quarterback a little bit better," he said. "I think both the D-line and the outside linebacker groups have taken a big jump forward.
"There's some guys that maybe haven't played a lot of snaps yet that are ready, or getting ready. They don't have to be game-ready today, but you're seeing fundamentally more consistency and you're seeing a little bit more urgency out of some guys because they see the competition and they realize there are big roles to be won."
Be the first to know
Get local news delivered to your inbox!