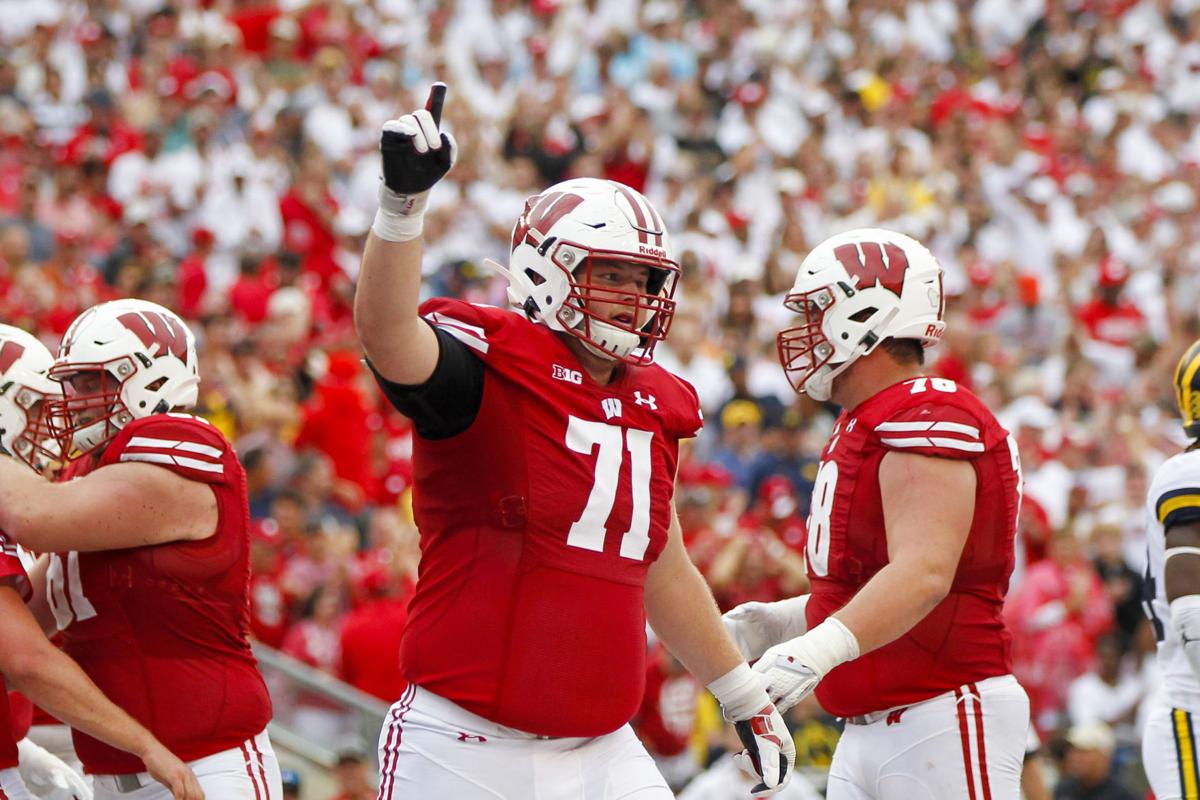 The University of Wisconsin football team's offensive line sees itself as the engine of the program.
Junior left tackle Cole Van Lanen has been around long enough to see the effect the offensive line playing well can have on the team. It goes beyond just producing rushing yards or protecting the quarterback; Van Lanen says the entire team plays better when the offensive line is setting the tone and winning the line of scrimmage.
That hasn't happened in No. 16 UW's past two games, and the results — an upset loss at Illinois and a blowout defeat at No. 3 Ohio State — speak for themselves. Van Lanen said that starting with Saturday's game against No. 18 Iowa at Camp Randall Stadium, the offensive line needs to get itself, and the team, going in the right direction.
"We know that, especially on the offense and as a team, the O-line really is like a leader group to the whole team. How we're doing, how we lead, how we bring energy, how we do anything is really rubbed off on the whole team. We've got to bring that," Van Lanen said.
Blocking A.J. Epenesa, being stout against the I-formation run, and containing quarterback Nate Stanley are all key for No. 16 UW. 
"We haven't the last two games, but we did in games prior, just look at the results. The team gets more into it and everything. As a group, that's how we can better ourselves. Obviously we're sharing things technique-wise, but that part of it is huge for our O-line to do."
The line's issues aren't complicated — Van Lanen and junior center Tyler Biadasz both spoke Monday about not having every player on the line on the same page. That's easily correctable, they said. But the line also hasn't had the success winning one-on-one battles it did early in the season.
Whether that's due to better competition in Big Ten Conference play or poor technique, those are the situations the Badgers (6-2, 3-2 Big Ten Conference) must win to get the offense back on track after accumulating just 30 points in the past two games. Joe Rudolph, UW's offensive coordinator and offensive line coach, said his group needs to adapt better to new defensive looks during games.
"One of the key parts of an O-line is being able to keep adjusting, and moving with the flow of the game," Rudolph said. "'OK, this is how they're taking away this, this is what they're bringing.' So being able to adjust a little bit. So that's an area we look to improve, along with consistency."
Van Lanen, one of the leaders and more experienced players on the line, has said poor plays for the offense often come down to one player missing an assignment. Correcting those mistakes can be difficult because it simply comes down to execution, he said.
You have free articles remaining.
"It's hard, and I even have those plays where I'm the guy (who misses an assignment). It's everybody," he said. "Because you never know if the backside of play, that's the cutback. Or a wide receiver blocking, that could be the last block for a touchdown and that could be a major touchdown for the game.
"We just need to have a mindset that we know how to play football and we just need to go after every guy, every team that's in front of us, no matter who they are, and just go get it."
The steady rotation at guard Rudolph used the first seven games stopped against Ohio State, as the same five players — Van Lanen, David Moorman, Biadasz, Jason Erdmann and Logan Bruss — played the majority of the game. Rudolph said he's trying to find the right balance of putting the best five on the field while also building continuity in the group.
"The guard rotation was more because you're trying to find the best guys, and no one's really necessarily stepped up and said, 'Boom, this is mine. I'm friggin playing at a level that's different,'" Rudolph said. "That's the battle you've got because you are going to have a guy out and you want that next guy to be ready, but you also want to build that continuity a little bit, so that's something we're trying to do too."
Iowa (6-2, 3-2) presents a physical challenge up front. The Hawkeyes use a big line and trust their front four to create pressure on the quarterback.
Iowa doesn't have an other-worldly talent like Ohio State's Chase Young, but defensive end A.J. Epenesa is one of best in the conference. At 6-foot-6 and 280 pounds, he blends power and quickness to get into the backfield.
Biadasz said the Iowa line's biggest strength is how well it understands its scheme.
"They're always tough to play. They do a really good job, they're smart. That's the one thing all the coaches are hitting at, they're smart and you've got to be able to win the line of scrimmage," he said. "I think that's a great challenge for us this week. We're looking forward to it. Coming off a bye week, being well-prepared, I think we're ready for that challenge. We're definitely going to go for it."
Saturday's game serves as a de-facto elimination game in the Big Ten West Division race for the Hawkeyes and Badgers — the loser's path to a division title becomes arduous.
Van Lanen says UW's line is focused on what's at hand and moving on from past mistakes.
"That's what we're going to do, and that's what we've talked about, that's what we've harped," he said. "It is what it is, those games we can't take away, but we have a lot of season left and can do a lot of great things, so that's what we're going to do."