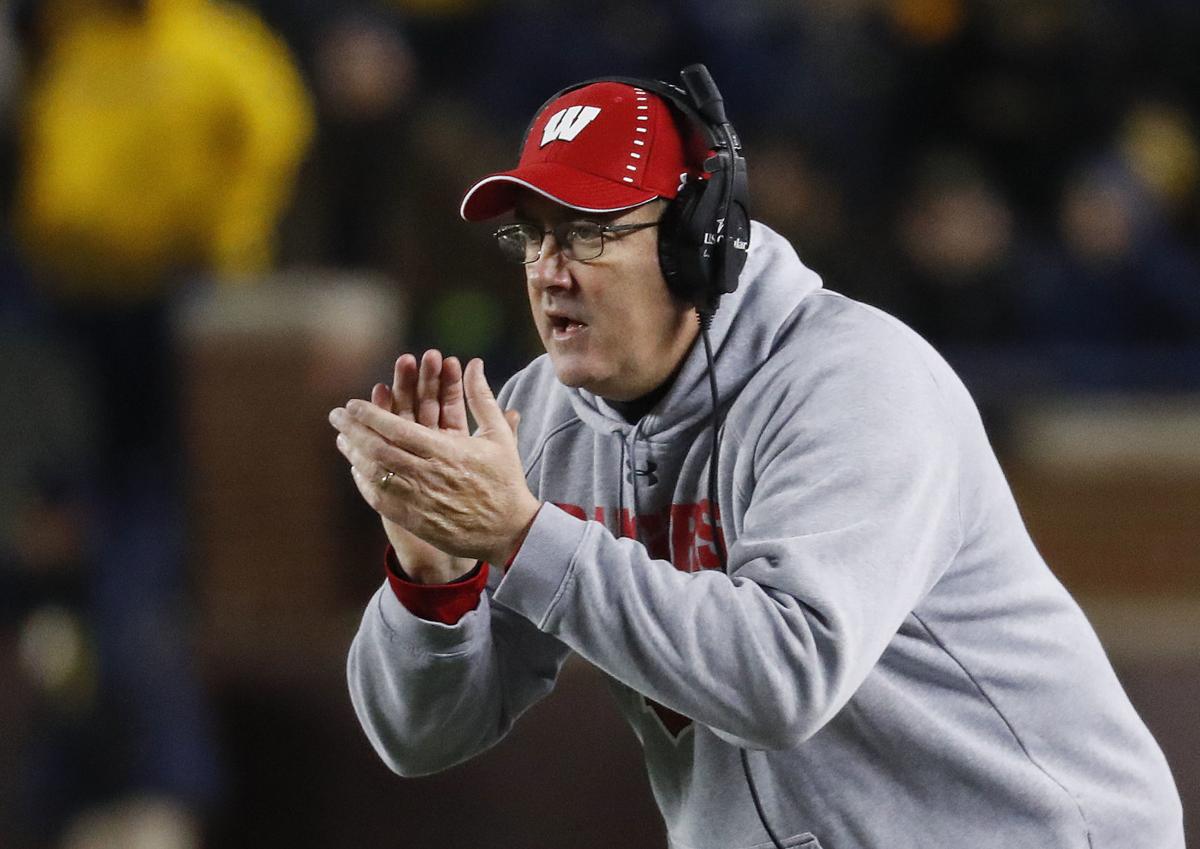 At the end of Keeanu Benton's unofficial visit to Madison last April, the Janesville Craig prospect was told University of Wisconsin coach Paul Chryst wanted to speak with him in his office.
Benton felt like pounds of sweat were dripping off him as he walked into the room. This visit wasn't even scheduled until three days prior, and now he sensed a big opportunity coming from the program he ranked above any other during the recruiting process.
"I was nervous, shaking, trembling a little bit, thinking I was going to get a preferred walk-on," Benton said. "That would have been enough for me to say I want to go there. But when he offered me a scholarship, I was stuck for a second, and my mouth kind of dropped. I didn't know what to say."
Benton, who began his first fall camp with UW on Thursday, probably shouldn't have been so surprised.
According to Craig High coach Adam Bunderson, Benton, a nose tackle, ran shuttle and three-cone drills as fast as any back or receiver on the Cougars' roster. His wrestling background — Benton was a two-time state runner-up at Craig — also helped polish his footwork, balance and hand speed.
"He was the best athlete on our team," Bunderson said. "A lot of times you get D-linemen that are big, they're strong and they don't give ground. But his athleticism is just off the charts.
"He's just phenomenal in terms of his athleticism, and I think that's what really sets him apart."
Nakia Watson, Bradrick Shaw, Isaac Guerendo and Julius Davis could all compete to replace former Badgers running back Taiwan Deal this season.
Bunderson also foreshadowed Benton's physical growth earlier this year. In March, the coach said Benton was still learning exactly how to work out. The three-sport athlete went from football to wrestling to either baseball or lacrosse throughout his high school career, and he hadn't spent a long period of time pushing himself in the weight room — something that changed when Benton opted not to participate in a spring sport this year.
You have free articles remaining.
"Once he gets that," Bunderson said, "I think he's going to put on some good weight pretty quick."
Even Bunderson likely couldn't have predicted such a quick transformation.
Four months ago, Benton said he weighed 283 and wanted to work his way up to 290. Before the Badgers opened camp Thursday, the 6-foot-4 true freshman weighed in at 315.
Benton entered the offseason with that type of goal in mind. The two things he's stressed more than anything were weightlifting and speed - two areas where he already outclassed other high school players but had room to grow if he wanted to continue dominating at an FBS program.
"I've got to work on my weightlifting and speed," he said in April. "That's what I've been doing every single day - working on my weightlifting and speed to get better at the next level."
Benton appears to be succeeding thus far, and now he's got four weeks to show UW's coaching staff he deserves a shot at playing time this season.
The Badgers lack depth at nose tackle. Sophomore Bryson Williams looks like the clear starter at the position, but sparingly used senior Gunnar Roberge is currently the only other nose tackle on UW's roster besides Benton.
Game attendance is lagging across the country, so athletic departments need to respond — and more attractive matchups is one of the answers. 
Chryst said Friday that his team could still use defensive end Garrett Rand at nose if needed. Fellow true freshman Gio Paez may get his shot on the inside during camp as well.
The Badgers want to get their best defensive linemen on the field, regardless of where exactly they line up, but Benton could still make a case for reps behind Williams.
"I think in camp you've got to see, what is the development of Bryson and the group behind him, and then kind of, how are things playing out at the end spot," Chryst said. "In that way, in my mind, there are some similarities to O-line - you better get your good players in position to play. And Keeanu's one of them certainly right now."