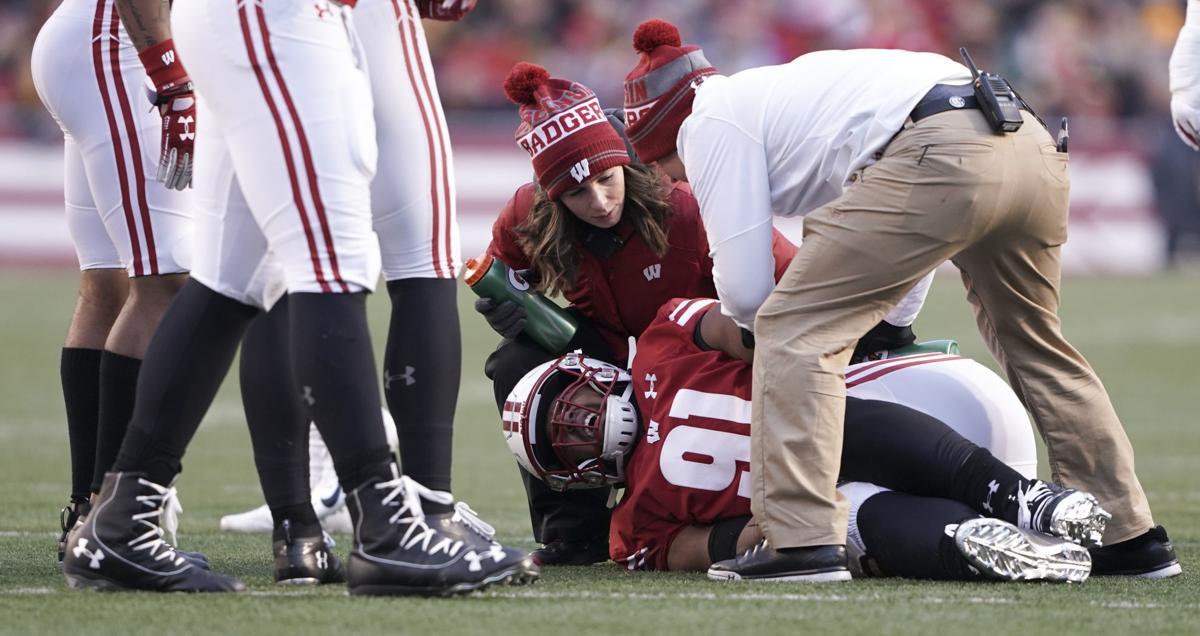 Bryson Williams won't get the homecoming for which he hoped.
The sophomore nose tackle for the University of Wisconsin football team won't play Saturday when the Badgers travel to his hometown of Lincoln, Nebraska, to face the Cornhuskers. Williams was ruled out due to a left leg injury he sustained in the first half of Saturday's 24-22 win over Iowa.
This will be the second time that the No. 15 Badgers have to adjust to playing without one of their top defensive linemen — Williams missed three games earlier this season after sustaining a sprained knee during a practice after the opener at South Florida.
"When he had first gone down, my first thought was for him. It's tough to come back from an injury just to have something happen again. It's always tough on players," junior defensive end Isaiahh Loudermilk said.
Williams was injured on the first play of an Iowa drive in the second quarter. After taking on a block from Iowa center Tyler Linderbaum, Williams' left leg buckled under him and he dropped to the ground. He was helped to the sideline by trainers and left the field on a cart.
The Badgers' defensive line proved to be capable of absorbing Williams' injury earlier in the year, and will need to do so again with three pivotal Big Ten Conference West Division games on the slate to close the regular season. UW (7-2, 4-2 Big Ten) can still win the West Division if it wins out and No. 7 Minnesota (9-0, 6-0) stumbles at No. 23 Iowa or at Northwestern.
Former Janesville Craig standout Keeanu Benton has been a key factor in the defense continuing to play well without Williams. The Badgers allowed just 51 rushing yards after Williams left the field, and Benton, who started the game, played the rest of the way.
"I feel like we definitely set the tone by going out there, punching them in the mouth, being physical up front and letting them know we're going to dominate the whole game," Benton said. "(Williams' injury) definitely hurt us, in a way. Now we're short on a man, of course, we need all of our people. We've got to find a way to push forward without him and hopefully he recovers."
Given the way Nebraska (4-5, 2-4) runs its offense — a spread system design to create space and use a handful of speedy ball carriers in those areas — how much Williams would've played and how much Benton will play Saturday will be a decision for defensive coordinator Jim Leonhard.
Against similar spread teams, UW has used its nickel package more often than its base 3-4 defense. Benton has played some in the nickel look, but doing so moves him out of his natural nose guard position.
The Badgers have been getting strong play out of a trio of defensive ends, who occupy the two down lineman spots when the Badgers deploy their nickel defense. Loudermilk, junior Garrett Rand and sophomore Matt Henningsen have rotated series and become a solid front after Loudermilk and Rand battled injuries last season.
"Last year, it felt almost like a completely different D-line because we had an offensive linemen (Kayden Lyles) who switched over for us, which was huge for us last year, but having the line that we have now, there's a lot more depth," Loudermilk said.
"People grew a lot from the end of last year to now, so I feel like as a unit we've been able to step up a little bit more, and stuff the run a little bit better."
UW ranks fifth in the Football Bowl Subdivision in stopping the run, allowing opponents 84.4 yards per game. It is one of 10 teams in FBS not yielding more than 100 rushing yards per game.
Senior inside linebacker Chris Orr, who leads the Badgers with nine sacks and is second with 50 total tackles, said the defensive line is doing more than just eating blocks like some 3-4 lines are asked to do.
"They're making plays," Orr said. "Getting pressure, nobody can key up just one person. Can't just say, 'Oh, Zack's (Baun) coming.' Or looking at me and Jack (Sanborn) on the sideline. You have to account for everybody and be honest to your rules.
"Just like how the offensive line makes the entire offense work, they make our entire defense work."
Looking ahead
The Big Ten will announce the start time for UW's home finale against Purdue after the Badgers' game against Nebraska is complete.
Be the first to know
Get local news delivered to your inbox!