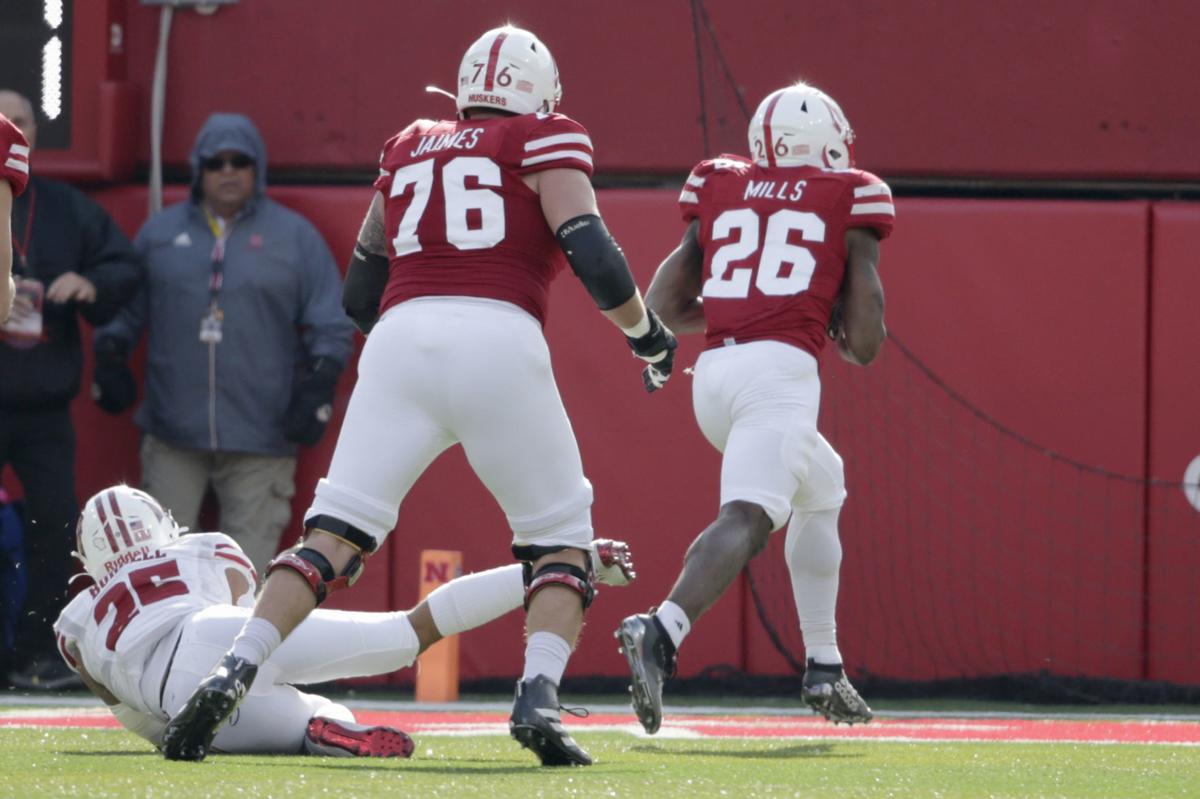 Knowing the struggles the defense had against spread offenses with mobile quarterbacks, like the one UW faced at Nebraska last week, Leonhard tried a new personnel package with his unit's nickel defense. He mixed his traditional package of two linemen, four linebackers and five defensive backs with a grouping of three linemen, three linebackers and five defensive backs.
That 3-3-5 defense — used on 21 of the 60 plays Nebraska ran — had mixed results. It allowed some big plays both on the ground and through the air, but it also yielded a turnover and some of the shortest runs of the day for the Cornhuskers.
"Just matchup-wise, just giving them a little bit different front with the coverage that we could run behind it. Definitely helped us at times," Leonhard said of the package. "They do some unique things in the pass game off of their runs and we felt like we needed to get the fifth DB on the field and I think it helped us out in a lot of cases."
The 3-3-5 unit — which took outside linebacker Noah Burks off the field and added a safety or a cornerback depending on Nebraska's personnel — allowed 194 yards in its 21 snaps, an average of 9.2 yards per play. However, that total and average ballooned after a third-quarter drive when Nebraska went 75 yards on four plays against the unit. Before that series — the last snaps the grouping played — Nebraska managed 119 yards on 17 plays against the 3-3-5, or 7.0 yards per play.
Allowing 7 yards per play isn't stellar, either, but Nebraska finished the game with an average of 8.3 yards per play, so it was a tick better than what UW did overall.
Linebacker Jack Sanborn picked off a pass after linebacker Chris Orr tipped it in the second quarter when the Badgers were in the 3-3-5. Sanborn said the grouping adds speed, and he believes that package can be valuable for No. 14 UW in the final weeks of the season, starting with Saturday's game against Purdue.
"It's definitely still a work in progress to really understand, know exactly what you're doing at all times. But I think as a defense we understand it pretty well, especially after just the little time we had prepping it," Sanborn said.
Keeping an extra defensive linemen on the field helped against the inside run while another defensive back gave Leonhard flexibility with his pass coverage. But the Cornhuskers rushing game attacked the edges more often than not, and the unit had some communication breakdowns.
One that stands out was the play that capped a quick scoring drive for Nebraska, a 23-yard pass from Adrian Martinez to J.D. Spielman. Safety Collin Wilder said there was miscommunication in coverage about where help would be coming from, and that allowed Spielman to be wide open in the end zone. Senior linebacker Zack Baun said that comes with the territory of working in a new personnel package.
"I think it was new guys in new positions, new situations. Obviously when you do something like that, you're kind of taking a risk of putting a guy in a position where he's not really used to or not familiar or hasn't practiced a whole lot," Baun said.
Nebraska's offense also had the advantage of a bye week to prepare for the Badgers, and its system of using no-huddle tempo and waiting for play calls at the line allowed Cornhuskers' coach Scott Frost to pick plays to isolate the weaknesses of the look without UW being able to adjust.
"Their staff did a great job of holding their cadence and kind of, essentially, just reading our defense and changing their call," Orr said. "So they pretty much were waiting for the perfect play for each defense that we ran."
How Leonhard and the players adjust and improve in the 3-3-5 could be crucial for the final two games of the regular season and a potential appearance in the Big Ten Championship Game. Purdue, next week's opponent Minnesota, and the two teams with the best chance at winning the Big Ten East Division (Ohio State and Penn State) feature offenses that may require using the faster 3-3-5 look.
Regardless of the personnel package or the offensive scheme they're facing, the Badgers again hurt themselves with missed tackles.
Two Dedrick Mills runs in particular — one that set Nebraska up at the UW 2-yard line and another down UW's sideline that gained 43 yards — were allowed to continue because the Badgers missed tackles or were trying to push him out of bounds instead of tackling.
"There were some plays that looked like bad football. There's no way around it, and it's addressed with the guys. That can't be the standard, that can't be allowed, it can't be OK, some of the effort on how we finished some plays," Leonhard said.
"Unfortunately, there were too many snaps of that, and at this point of the year, we have to go practice, we've got to do whatever we can do to get guys ready, we've got to be fresh. We've got to get guys back physically the best we can, or rotate more and get guys on the field that are fresh and that are going to finish those plays."
Van Lanen out
Starting left tackle Cole Van Lanen has been ruled out for Saturday's game because of a head injury.
Van Lanen was not listed on Monday's injury report. Sophomore Tyler Beach will start in Van Lanen's place against Purdue.
<&rdpStrong>No. 14 Badgers vs. Purdue: Who has the edge?</&rdpStrong>
WHEN THE BADGERS HAVE THE BALL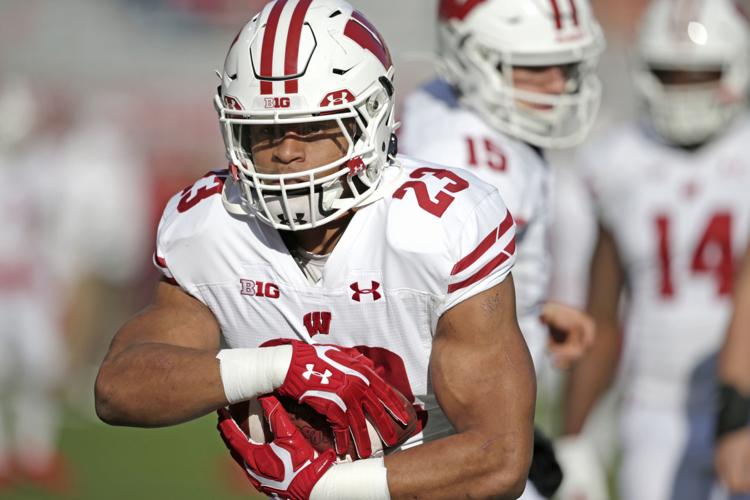 The Badgers enter this game with their run game rolling.
They churned out 300 yards on the ground against Iowa two weeks ago, and put up 320 last week at Nebraska. Junior running back Jonathan Taylor (above) had 454 of those yards as he climbed the Big Ten and national record books with his performance against the Cornhuskers. That trend has a good chance of continuing against Purdue, which is in the bottom half of the Big Ten and in the middle of the pack nationally with 172.2 rushing yards allowed per game.
UW leaned on its ground game to seal wins in its past two games, and did so while using mostly two-tight end or two-running back sets. Wide receivers have been a big help in the run game as well, adding an element of speed via jet sweeps.
UW receiver Danny Davis scored twice in the fourth quarter to force last year's meeting into overtime, and the Badgers came away with a triple-overtime victory. Look for Davis to play a significant role in this year's game as well.
Purdue's defense is led by linebacker Ben Holt, whose 99 total tackles are second in the Big Ten. Holt, a graduate transfer from Western Kentucky, is the son of Purdue co-defensive coordinator Nick Holt.
EDGE | UW
WHEN THE BOILERMAKERS HAVE THE BALL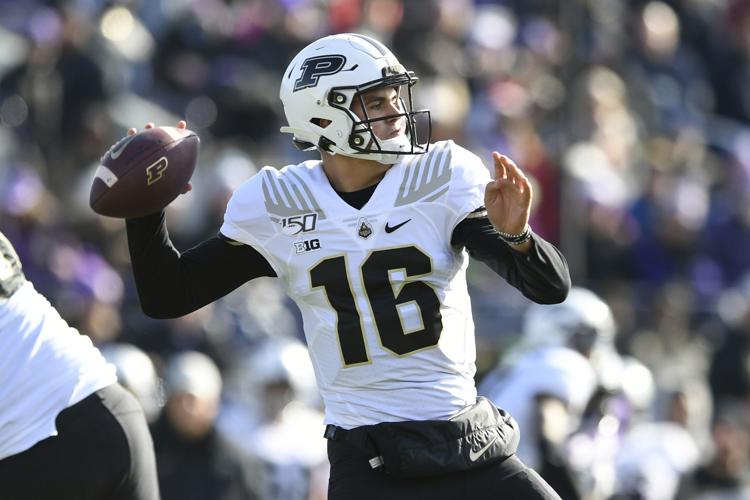 A season with a great deal of promise for Purdue has been derailed due to injuries to its top offensive weapons.
It started with a September game against Minnesota, when quarterback Elijah Sindelar (broken collarbone) and receiver Rondale Moore (left hamstring) went down. Jack Plummer filled in for Sindelar, but he broke his ankle earlier this month against Nebraska.
Aidan O'Connell (above) is now under center for Purdue, and he's engineered winning drives in the fourth quarter against Nebraska and Northwestern the past two weeks. Freshman David Bell has become the go-to receiver, as his 65 catches, 791 yards and five touchdowns are all team-bests. Payne Durham, a 6-foot-5 tight end, has been a threat in the red zone, scoring four touchdowns on eight catches. UW's secondary will be tested with this passing attack, which ranks second in the Big Ten.
The Boilermakers don't run the ball much or effectively (76.8 yards per game), which means the Badgers' pass rush will have a lot of chances to get after O'Connell.
If senior Zack Baun can register ½ a sack or more, he and Chris Orr (10) will become the first pair of Badgers to tally 10 or more sacks in the same season since Tarek Saleh (14) and Bryan Jurewicz (10) in 1996.
EDGE | UW
SPECIAL TEAMS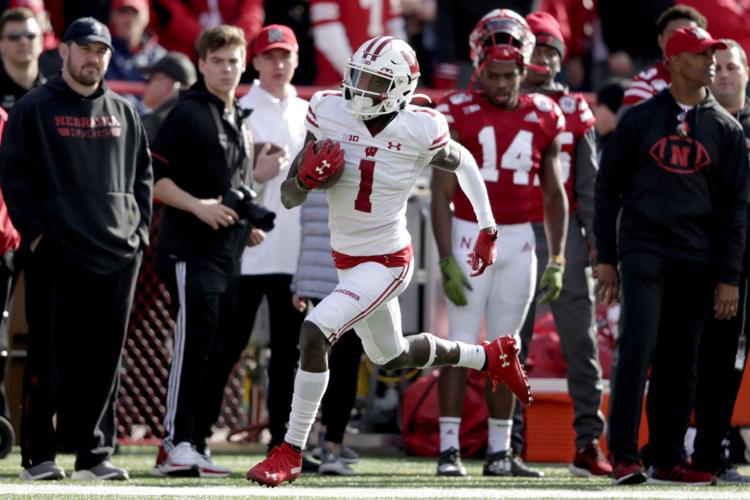 UW had one of its better days of the season on special teams against Nebraska. Sophomore Aron Cruickshank (above) boosted his kick-return average to a Big Ten-best 28.4 yards after taking a kick 89 yards to the end zone, sophomore Collin Larsh went 3-for-3 on field goal attempts, and senior punter Anthony Lotti pinned the Cornhuskers at the 4 with one of his two punts.
Moore's injury took away Purdue's best kick/punt returner, but Jackson Anthrop has taken over both roles with some success. J.D. Dellinger is 10 of 12 on field goals this year, including 10 of 10 inside 40 yards. Purdue uses multiple punters — Zac Collins for rugby-style kicks and Brooks Cormier for traditional punts — and both average about 40 yards per try.
EDGE | PUSH
COACHING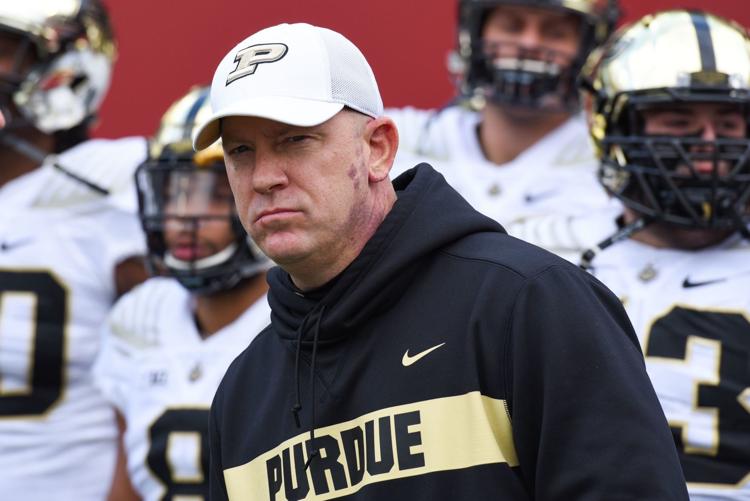 The Boilermakers were able to retain coach Jeff Brohm (above) this year after Louisville pushed hard to hire him in the offseason, and he's delivered a good coaching performance despite the injuries his team has suffered.
Half their losses are one-score defeats, and they won two straight Big Ten games before a bye last week. Brohm's creativity on offense and quick production from freshmen has shown his skill in getting players ready on the fly.
UW's Paul Chryst has his team back on track and in a position to win the Big Ten West Division if it can win out. How defensive coordinator Jim Leonhard adjusts his unit to the spread offense it sees this week will be critical after allowing a season-high 493 total yards at Nebraska.
EDGE | UW
INTANGIBLES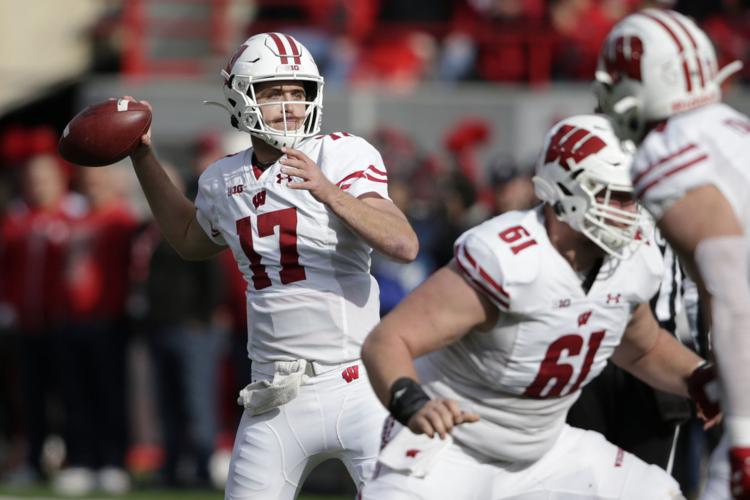 The Badgers' stretch run got a shot of energy when Iowa knocked off Minnesota last week, giving them a path to the Big Ten West Division title once again. That, coupled with the final game at Camp Randall of the season, should give UW a wave of energy to use.
The Badgers also know what can happen when overlooking an opponent, so they won't take Purdue lightly. The Boilermakers are trying to make a push for bowl eligibility — they need to win out to get to six wins.
EDGE | UW
STATE JOURNAL'S PICK
Too much is riding on this game for the Badgers not to come out with energy and get an early lead. Purdue will make some plays, but Jonathan Taylor and the offensive line will churn out another win to set up a winner-take-all matchup at Minnesota. Purdue's losing streak against UW will reach 14 games.
BADGERS 35, BOILERMAKERS 21
THE NUMBER (UW)
6.97: Yards per play over the past two games for the Badgers
THE NUMBER (PURDUE)
42.6: Pass attempts per game for the Boilermakers, which leads the Big Ten and is third-most in the FBS
KEY STAT (OFFENSE)
Third-down conversion defense: UW's mark of .242 leads the FBS, even after Nebraska went 6 of 12 last week on third down
KEY STAT (DEFENSE)
Fumbles recovered: Despite forcing 11 fumbles, Purdue's three fumble recoveries rank tied for 122nd in the nation
Video: Paul Chryst on Badgers beating Nebraska, and Purdue coming Saturday