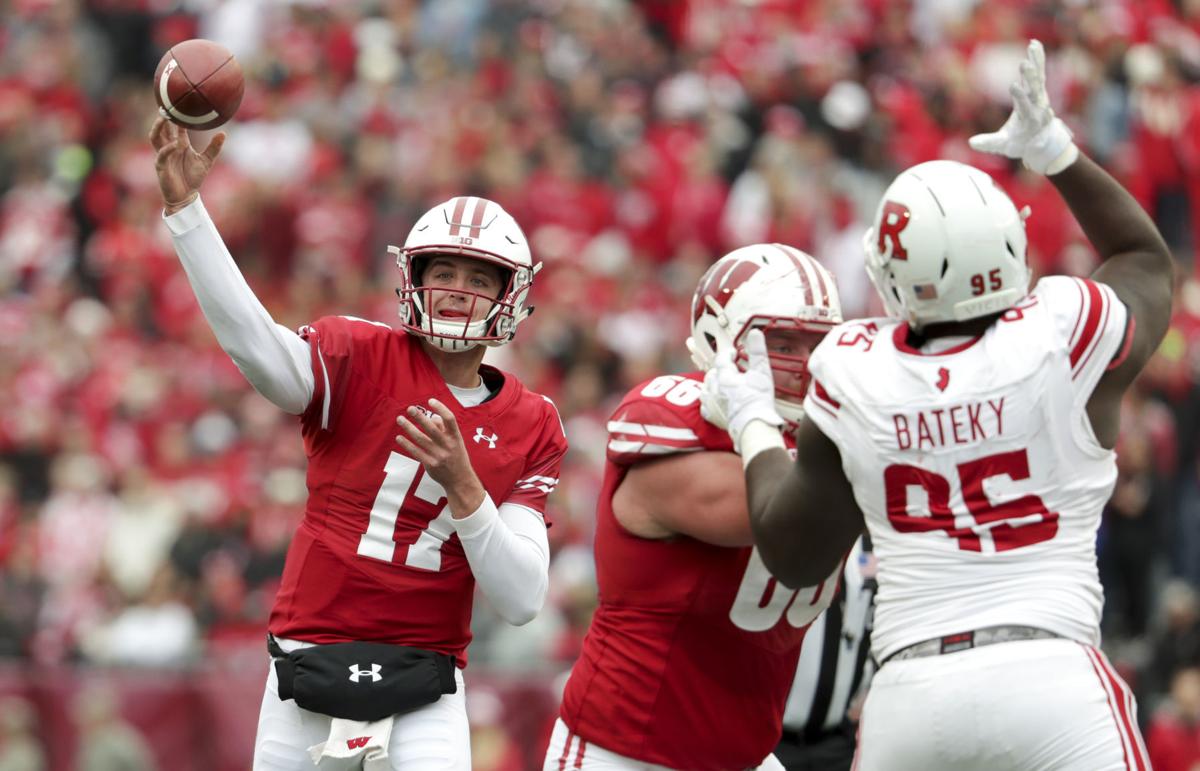 There was no pomp and circumstance when it came time for University of Wisconsin football coach Paul Chryst to name a starting quarterback.
The first depth chart of the 2019 season was released Sunday morning and junior Jack Coan's name was listed first, with freshman Graham Mertz and redshirt freshman Chase Wolf sharing the backup role for now.
That's been the expected outcome since training camp opened on Aug. 1. Every rep Coan has taken during those three-plus weeks has been with the No. 1 offense, but he said there wasn't a formal announcement that he'd won the job.
"There was never really the talk or anything," Coan said as the No. 19 Badgers continued preparations for the season opener at South Florida on Friday. "It's just when the 1s go out, I go out."
It's been Coan's job to lose since last season ended with him starting UW's victory over Miami (Fla.) in the Pinstripe Bowl. Later that winter, three-year starter Alex Hornibrook left the program and ended up on Florida State, leaving Coan as the only quarterback with any real experience on the UW roster.
Mertz and Wolf had solid camps, according to Chryst, but neither of them was able to overtake Coan. While he's spent most of his two seasons as a backup, Coan made four starts during the second half of the 2018 season.
In 11 games overall with the Badgers, Coan has completed 62 percent of his passes for 551 yards with five touchdowns and three interceptions.
"Ever since I got here, I always tried to view myself as the starter and put myself in the starter's shoes," Coan said. "So I don't think anything's going to really change."
Other news from the depth chart:
• Junior Quintez Cephus, who rejoined the program last week after being acquitted on sexual assault charges earlier this month, is listed in the two deep.
How much Cephus will contribute in the opener remains to be seen. He sat out all of last season and missed the final five games of the 2017 campaign with a leg injury.
"I think we still need to use this week. How he's come in and the way he's picked it up, it's been good. We're just glad to obviously have him back. … I think he's in good shape, but I think you've got to get into playing shape. We'll see how this week goes, but I certainly feel like he can give us something."
Coan said he's been impressed so far by Cephus, who had 30 receptions for 501 yards and six touchdowns in nine games as a sophomore prior to being injured.
"He looks great," Coan said. "For someone who hasn't played in a year and a half, it's amazing. He's going to be really great."
• The starting guard positions on the offensive line are still up for grabs. Senior Jason Erdmann and sophomore Kayden Lyles of Middleton are listed as co-starters at left guard, with sophomore Josh Seltzner of Columbus and Lyles listed as co-starters at right guard. Lyles played defensive end season because UW was so thin at that position group.
• Sophomore Collin Larsh, a former Monona Grove standout, won the kicking job over senior Zach Hintze.
• Sophomore John Chenal is listed at the starter at fullback, with junior Mason Stokke as the backup.
• Redshirt freshman Jack Eschenbach is listed as the backup tight end behind sophomore Jake Ferguson. Junior tight end Luke Benzschawel, who injured his right leg during camp, won't play in the opener. Chryst said Zander Neuville, who was granted a sixth year of eligibility earlier this month, has done limited work in camp and may find out later this week if his workload can increase.
As for the quarterbacks, Chryst said he thought the whole group improved during camp. In terms of Coan specifically, Chryst said his footwork and command of the offense are areas that have gotten better since last season ended.
"He's got a better understanding of himself, of our offense, of what (opponents) are doing and I like the progress he's made," Chryst said.
UW quarterbacks coach Jon Budmayr said during camp that he's been impressed with Coan's approach during the offseason. The two had a meeting last winter about goals and Coan made it clear that, as the veteran among the quarterbacks, he wanted to set the standard at that position group.
When Coan returned to Madison for the start of winter conditioning, his teammates could tell that he was a changed man.
"He just felt different," junior wide receiver Kendric Pryor said Sunday. "His confidence, his maturity, the leadership role he took on, him just being more confident and taking over and taking control of situations."
Coan worked with former NFL quarterback Phil Simms on improving his throwing mechanics while he was away from UW on break, but becoming a better leader was also an important offseason goal. He tried to sit with different teammates at dinner to learn more about their lives outside of football. Pryor said Coan did a good job of taking charge and setting the tone during offseason workouts.
"I really truly believe he wanted it more than those other three quarterbacks that we've got," junior center Tyler Biadasz said. "He truly put himself out there. He's one of our leaders on our team and that was throughout the summer. It was constant, he was always putting himself in that position and I think that he's truly a great leader for our team and I think he's going to be a big role guy this year for us."
Be the first to know
Get local news delivered to your inbox!