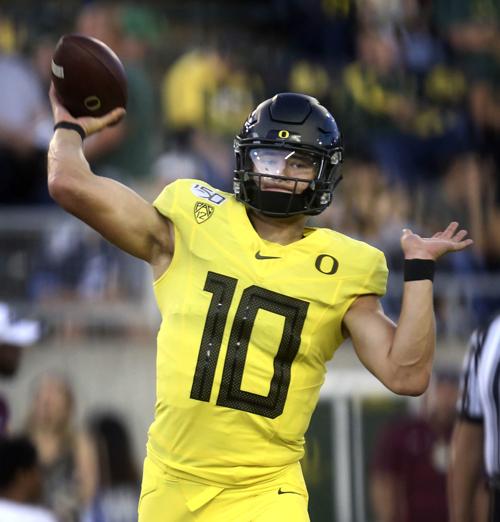 PASADENA, Calif. — Justin Herbert's attitude screams quarterback, even when he's not in his helmet and shoulder pads.
From how he sits — straight up and assertive — and fields questions, the direct answers he provides and how he commands a crowd, it makes sense he's a person his Oregon football teammates follow. His attitude and strong play on the field have led the No. 7 Ducks (11-2) to the Rose Bowl against the University of Wisconsin (10-3) and have him rated among the top quarterback prospects in this spring's NFL draft.
His reverence for his role on the team is a major reason why he didn't think about sitting out this game like a number of highly-regarded college players have in recent seasons.
"This is the Rose Bowl. This is everything we've ever been working for," Herbert said. "It never crossed my mind, and I don't think it ever crossed anyone else's mind on our team. We're so excited, and this is such a great opportunity for our team and our program."
Discussion of his NFL future has followed Herbert the past two seasons. He would've likely been a first- or second-round pick if he entered the draft after last season, but he chose to come back for his senior year.
According to his teammates, Herbert downplays what could be next for him.
"To be honest, you wouldn't even notice he's a guy like that or focused on the NFL," running back CJ Verdell said. "It's about us and about this team, and about whatever he can do to be most ready for the games."
The Rose Bowl will be the last game at Oregon for Herbert and offensive coordinator Marcus Arroyo, who accepted the head coaching job at UNLV. Arroyo, who has been the coordinator or co-coordinator at Oregon the past three seasons, spent 2014 as the quarterbacks coach for the Tampa Bay Buccaneers.
Arroyo said Herbert has developed NFL qualities in the way he processes the game.
"The game slows down every year for a quarterback. And I think that people saw that come to light in regards to making decisions and seeing the field and working together with different guys and different timing," Arroyo said.
"He's been fortunate to be around a lot of these guys for that many years. He's had to work with some new guys throughout the course of the season and through injuries and that happens. I think that he's done a great job of growing and understanding protections and fronts and understanding down and distance, situational football, things that will help him not only this week but in the future."
Herbert — a native of Eugene, the town Oregon's campus is located — has started for four years. His 3,333 passing yards and 32 touchdowns this season are both career highs, and he's been particularly good in big moments. He had four TD passes at Washington; completed 80.8 percent of his passes and had three scores at USC; and played a big role as a rusher to help the blowout victory against Utah in the Pac-12 Championship Game.
The Badgers have played their fair share of experienced quarterbacks this season. Michigan's Shea Patterson, Michigan State's Brian Lewerke and Iowa's Nate Stanley were all in the third or fourth year as a starter when they lined up against UW.
That experience means tricking Herbert with schemes will be difficult, so execution becomes even more important.
"They make better decisions, they're very mature," cornerback Faion Hicks said of playing veteran quarterbacks. "He could've left last year. He doesn't make a lot of mistakes. It's hard with him. He does a good job going through his progressions — that's really what sticks out the most to me."
Herbert's ability to run was a key part of Oregon's game plan in its last game, a win over the Utes to clinch a spot in the Rose Bowl. He had 35 yards on seven carries, but two of those rushes went for first downs and three others set up short-yardage situations. His willingness to keep the ball on read options got Utah off balance and Verdell ended up tallying 208 yards and three scores.
Herbert — listed at 6-foot-6 and 237 pounds — isn't the big-play rushing threat Ohio State's Justin Fields or Nebraska's Adrian Martinez are, but UW defensive coordinator Jim Leonhard said Herbert gets back-breaking first downs that can wear a team out.
"He's more athletic and he can run a little better than teams give him credit for," Leonhard said. "Anytime you can have a great call … anytime an outside linebacker wins on a pass rush and (Herbert) steps up and runs for a first down, you've got him beat and then it is a little bit demoralizing for a defense."
Herbert said he knows he's in for a challenge with the UW defense, a unit he calls "as good as they come." But he's looking to put an exclamation point on a strong career at Oregon with a good game in the Rose Bowl.
"This is everything that I ever hoped for," he said. "This is the experience that we wanted when a lot of us decided to come back, and this is the potential that I knew our team had. It's just been so much fun, and it's been such a great year, and it's exactly the reason why I came back."
---
A look back: Badgers' history in Rose Bowl
Jan. 1, 1953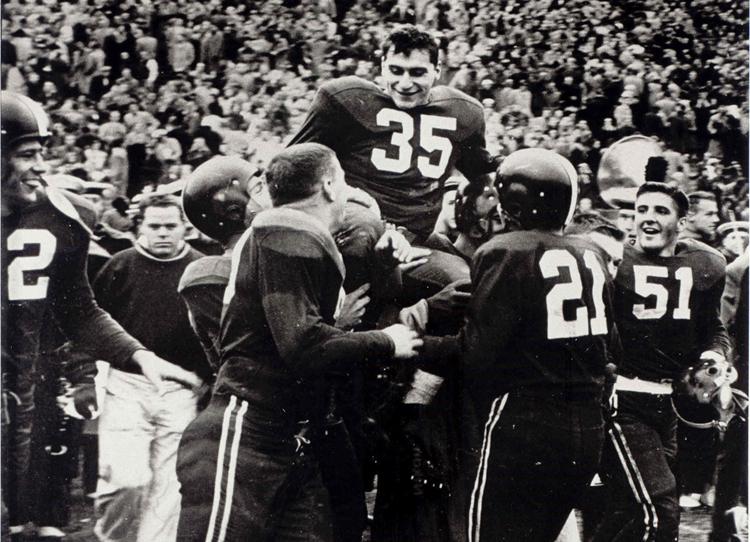 Recap: Alan Ameche's lone appearance in the Rose Bowl didn't go his way.
The Badgers, playing in their first bowl game in program history, battled the Trojans to a halftime tie, and looked poised to score after Ameche (photographed above) gained 54 yards on a run and got UW just outside the red zone. A fumble nixed that drive, and gave USC momentum to score on the ensuing possession.
UW got inside the USC 5-yard line the next possession, but was stopped on a fake field goal try. Both defenses tallied two interceptions, but the Badgers couldn't find a score.
The Badgers gained 211 yards on the ground, led by Ameche's 133.
Jan. 1, 1960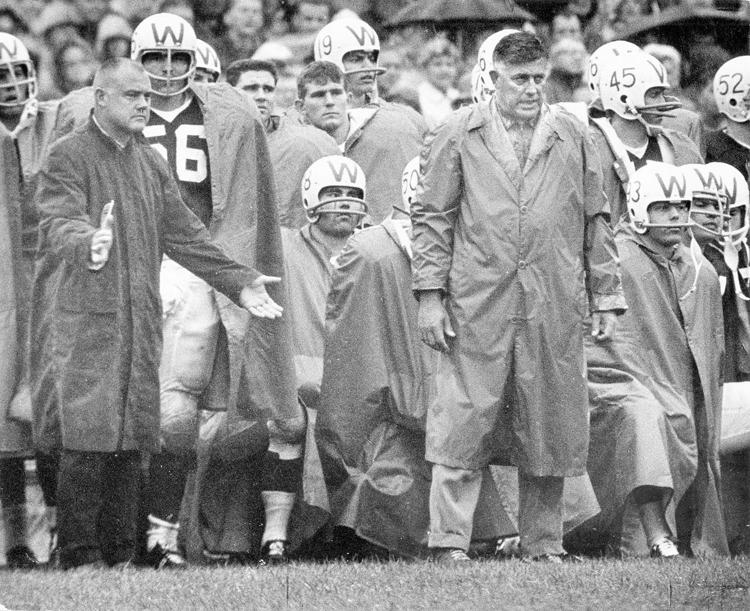 Result: Washington 44, UW 8
Recap: The Badgers' strong defense under coach Milt Bruhn (above) finally failed them after the offense turned it over four times, all on fumbles.
Washington scored the first 17 points in the first half, and after UW got on the board with Tom Wiesner's short run late in the second quarter, the Huskies answered with a touchdown to lead 24-8 at the break.
After a third-quarter Badgers' drive was stopped inside the 10, UW's offense never threatened again. Washington's rushing attack outgained the Badgers 215-123.
Jan. 1, 1963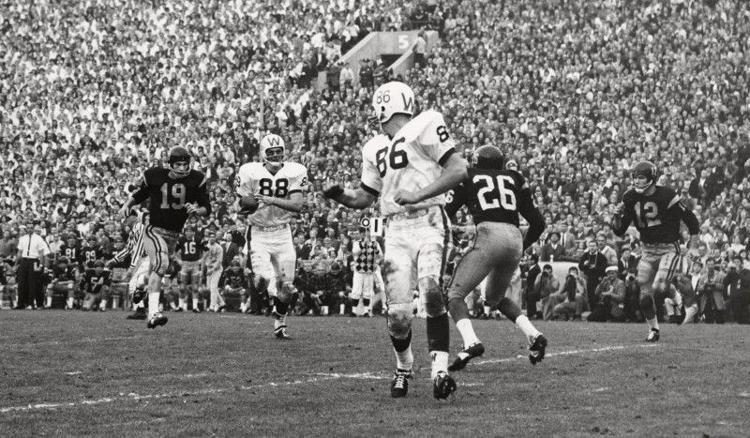 Recap: After falling behind 42-14 in the second half, UW mounted one of the best comeback efforts in Rose Bowl history.
UW quarterback Ron Vander Kelen led a pair of quick scoring drives to get back into the game, and then a bad punt snap by USC gave the Badgers the ball back late. Vander Kelen led the three-play scoring drive to draw within a score, but USC was able to hang on.
Vander Kelen passed for 401 yards and completed 33 of 48 passes; he also had three interceptions. His 401 yards were a program and Rose Bowl record at the time, and he was named the co-MVP of the game. Pat Richter hauled in 11 passes for 163 yards for UW.
Hal Bledsoe (101) and Willie Brown (108) each went over 100 yards receiving for USC.
Jan. 1, 1994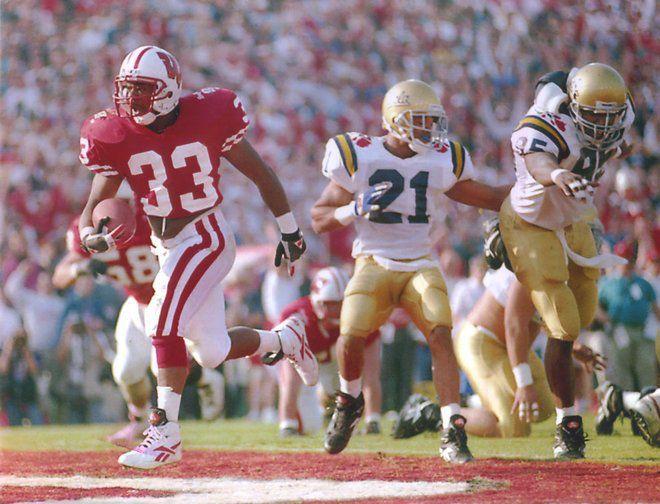 Recap: The Badgers finally broke through in their fourth chance at a Rose Bowl.
The defense forced six turnovers — five fumbles and one interception — and the offense did just enough to down the Bruins. UW running back Brent Moss tallied 158 yards and two scores on 36 carries, and quarterback Darrell Bevell's 21-yard scramble in the fourth quarter proved to be the winning score.
UCLA tallied 500 yards of offense, but didn't score a touchdown until the fourth quarter.
The Bruins made a last-gasp attempt to win the game, but were stopped at the Badgers' 18-yard line and the clock ran out before another snap could take place.
Jan. 1, 1999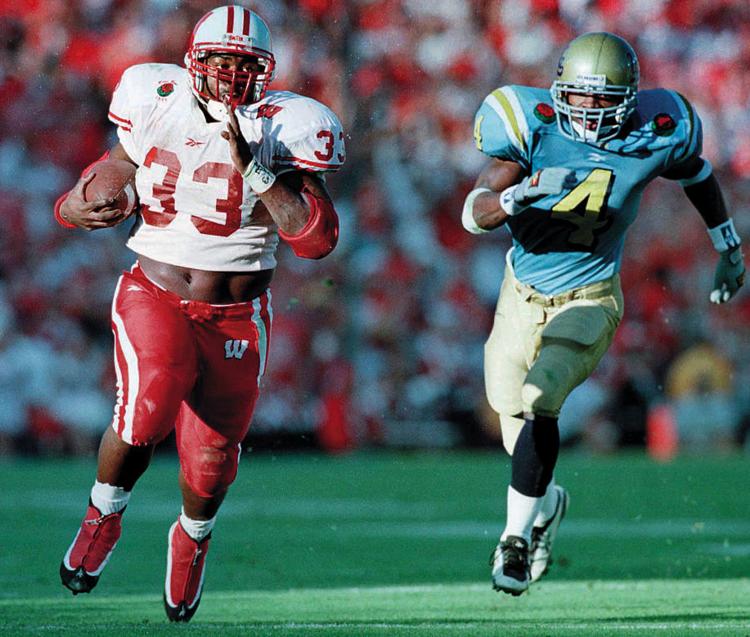 Recap: After finishing in a three-way tie for the Big Ten title, the Badgers were heavy underdogs going into the 1999 Rose Bowl. But a dominant performance from Ron Dayne and the UW offensive line was enough to power UW to a win.
Dayne scored three times in the first half, including a 54-yard run late in the first quarter, to help the Badgers build a 24-21 lead at halftime. He scored again in the third quarter, this time from 22 yards out. Jamar Fletcher had a 46-yard interception return for a score off UCLA's Cade McNown that scored the winning points.
Dayne finished with 246 yards, and was named the game's MVP. Quarterback Mike Samuel had 154 yards passing and added 65 yards rushing for UW.
Jan. 1, 2000
Result: UW 17, Stanford 9
Recap: UW made history by becoming the first Big Ten team to win back-to-back Rose Bowls after it defeated the Cardinal.
Ron Dayne, the Heisman Trophy winner, and his Badgers came out of the gates slow, and trailed 9-3 at halftime. But Dayne kicked things off quickly in the second half with a 64-yard run to give UW life. Dayne scored later on the drive, and quarterback Brooks Bollinger punched in a 1-yard TD run in the fourth quarter to help seal the win.
UW's defense, which held Stanford to minus-5 yards rushing, came up with a sack on a fourth down to end the Cardinal's final drive.
Dayne won game MVP again after capping his UW career with 200 yards on 34 carries.
Jan. 1, 2011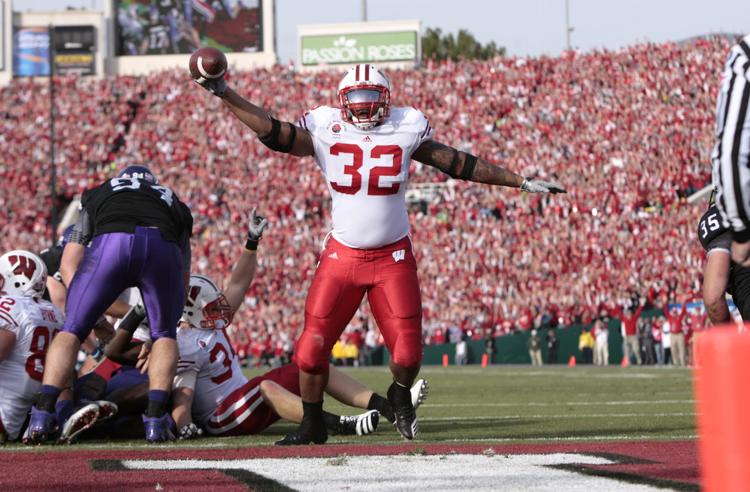 Recap: The Badgers' chance for a thrilling comeback in the last two minutes was dashed when TCU's Tank Carder broke up a pass on a two-point conversion try.
UW had trouble moving the ball in the red zone despite having three dependable tailbacks in Montee Ball, John Clay and James White. Ball finished with 132 yards and a score, while Clay had 76 yards and a TD.
TCU's Andy Dalton threw for a touchdown and ran for one in the first quarter, and led a third-quarter touchdown drive that proved to be the difference. Dalton threw for 219 yards.
Jan. 2, 2012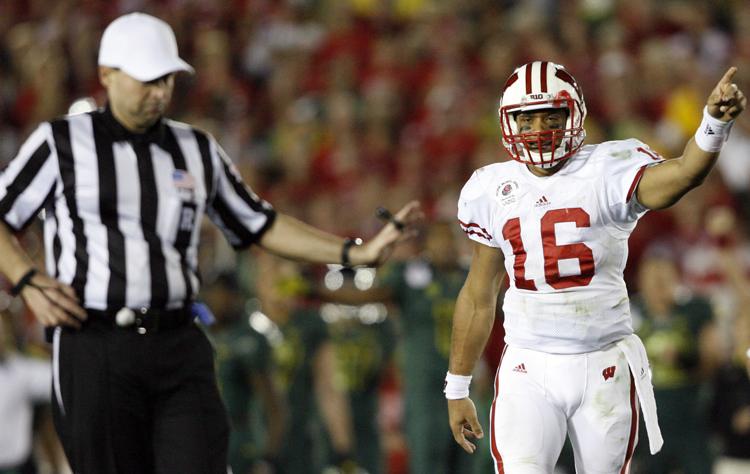 Recap: The Badgers came up just short in what was the highest-scoring Rose Bowl to that point.
UW quarterback Russell Wilson tried to spike a pass in the final seconds to give the team one more play to go for a tying score, but time ran out before the spike could be executed.
The Badgers led five times against the high-flying Ducks, but couldn't keep pace in the fourth quarter after Oregon took the lead for good. Two second-half turnovers helped sink UW.
Wilson had 296 yards and two touchdowns passing, and had a rushing score. Montee Ball had 164 yards on 32 carries. Oregon's LaMichael James (159) and De'Anthony Thomas (155) each had big games, with Thomas scoring on runs of 91 and 64 yards.
Jan. 1, 2013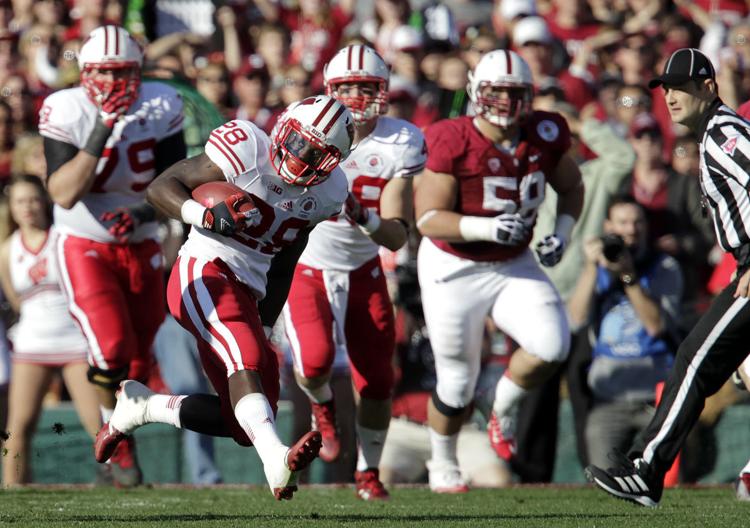 Result: Stanford 20, Wisconsin 14
Recap: Another Rose Bowl comeback came up just short for the Badgers.
After falling behind 14-0, UW got back into the game by scoring twice in the second quarter. Down six and with the ball in the final minutes of the fourth quarter, Badgers' quarterback Curt Phillips was picked off to end the threat.
Montee Ball became the first player to score a touchdown in three consecutive Rose Bowls, and had 100 yards on 24 carries.
Barry Alvarez coached for the Badgers after Bret Beilema took the head coaching job at Arkansas prior to the game.