When teams prepare to play against Ohio State, their focus is rightly on Buckeyes defensive end Chase Young.
Young has earned that attention. His 16½ sacks lead the Football Bowl Subdivision despite missing two games last month due to a suspension for violating NCAA rules. Containing Young is crucial because, as the University of Wisconsin football team learned in its October loss at Ohio Stadium, Young can single-handedly swing games.
But even on plays on which Young is blocked well — rare as they are — the No. 2 Buckeyes (12-0, 9-0 Big Ten) have proven to have a secondary that can make life miserable for opposing quarterbacks. That's what junior Jack Coan will have to contend with when he leads the No. 10 Badgers (10-2, 7-2) into the Big Ten Championship Game on Saturday night in Indianapolis.
"They really have no weaknesses in their secondary. All guys that are back there can cover extremely well and have great technique. They're just great players," Coan said.
The Buckeyes allow opponents to complete 50.6 percent of their passes, and allow just 141.1 yards per game, which is second-best in the FBS behind third-ranked Clemson. Ohio State has more than twice the amount of interceptions (15) than passing touchdowns allowed (seven), with UW being the only opponent this season to not throw a pick against this secondary.
Michigan last week posted the most passing yards the Buckeyes have allowed this season with 305, but it took 43 attempts in a lopsided game to do so.
Obviously, Young and Ohio State's stellar pass rush influence the passing game a great deal, but the secondary has done its part to restrict the airspace when opponents pass.
"They complement each other. If you go back and look at the number of pressures or quarterback hits or sacks, there's no doubt that they're generating it up front, whether it's the defensive linemen or the linebackers. But I also think you see some of it because there's not a place to go with the ball, so it gives you that extra bit of time," UW coach Paul Chryst said. "That's where they're playing really good defense, because I think they complement each other."
Ohio State is working with tremendous talent in its secondary, and showed it this season. Two of its starters, cornerback Jeff Okudah (three interceptions, six pass breakups) and safety Jordan Fuller (two, four), were selected to the All-Big Ten first team by conference coaches and media members. Another starter, cornerback Damon Arnette (one, five), was a second-team selection by coaches and the media. Versatile cornerback Shaun Wade (one, eight), who has played all over the secondary, was a third-team pick by coaches and the media.
The Buckeyes' depth in the secondary was tested last week, as Wade sat out against Michigan due to an injury. In his absence, Amir Riep played more snaps and he had an interception in the fourth quarter. Safety Marcus Hooker was pressed into more action due to an injury to safety Josh Proctor, and he had a pass breakup as well.
"I think it was real special. I see them growing up in practice, but it hasn't really been in a game yet," Fuller said of the performance. "I'm really proud of my guys for really stepping up and really not missing a beat. That second half was amazing."
UW offensive coordinator Joe Rudolph said the Buckeyes' assertiveness in the secondary sets them apart.
"They're aggressive to the ball. You see sometimes that ball's going and you're like, 'Ahhh,' and someone cuts underneath and makes a play," he said. "I think that's what you see stand out the most out of them, they're aggressive. You expect it out of them, you expect that type of fight to resist any type of separation, but their playmaking ability, I think, is what really helps make them stand out."
Coan knows just how difficult it can be to find success passing against Ohio State — he had a season-low 108 yards on 10 completions against the Buckeyes in October.
But Coan is coming off a strong stretch of play in November, including his 280-yard, two-touchdown performance against Minnesota last week in which he posted a 205.1 efficiency rating, his best of the season. He also made two brilliant throws against Ohio State in the previous matchup, one that went for a touchdown to A.J. Taylor and one to Quintez Cephus down the sideline to put UW in scoring territory in the second half.
"We know it's going to be a challenge for us because they have so many great players," Coan said, "but we're going to believe in each other and we're going to cut it loose."
---
No. 10 Badgers vs. No. 2 Ohio State: Who has the edge?
Who has the edge when the No. 10 Badgers take on No. 2 Ohio State for the Big Ten title?
WHEN THE BADGERS HAVE THE BALL
Since the Badgers were shut down offensively against Ohio State in October, the offense has been more diverse and open to taking shots down the field. Receiver Quintez Cephus (above) had 18 catches, 310 yards and three touchdown receptions in November as he and quarterback Jack Coan displayed a great connection. Cephus torched Minnesota's secondary for two big plays, including a 47-yard touchdown, on the same third-quarter drive last week.
Cephus' big day against the Gophers was aided by their insistence to slow down junior tailback Jonathan Taylor, but he still had three total touchdowns to improve to a nation-best 25 this season.
Along with the use of jet sweeps and jet motion to threaten to edges of run defenses, UW debuted end-around runs last week, one of which turned into a 26-yard touchdown for receiver Kendric Pryor. The added layers to the offense helped the Badgers average 36 points and 503.5 yards of offense over the past four games.
UW must do a better job against Ohio State's Heisman Trophy-caliber defensive end Chase Young in this rematch. Young controlled the line, tallied four sacks, and forced Coan to fumble twice in October. Young leads the FBS with 16½ sacks.
Even if the Badgers contain Young, the Buckeyes' defense possesses tremendous speed at the second and third levels. Linebacker Malik Harrison leads Ohio State with 63 total tackles and he has 16 for loss. Jeff Okudah is one of the top defensive backs in the Big Ten, and he has three interceptions and six pass breakups this season.
EDGE | PUSH
WHEN THE BUCKEYES HAVE THE BALL
J.K. Dobbins (above) was motivated to be the best running back on the field when these teams met in October, and he had one of his best games of the season against UW. Dobbins, a junior, racked up 163 yards and two touchdowns on 20 carries, and added 58 yards on three catches.
He and sophomore quarterback Justin Fields were a nearly unstoppable tandem in Ohio State's backfield — Fields had 28 yards and a touchdown rushing, and threw two touchdowns to receiver Chris Olave. When Dobbins occasionally comes off the field, backup Master Teague (780 yards, four touchdowns) has shown similar explosiveness and big-play ability. UW had success pressuring Fields, sacking him five times, and it will need a similar pass-rush effort to keep Fields uncomfortable in the rematch.
Questions remain regarding how well the Badgers defense can slow an option-based spread offense with a mobile quarterback like Ohio State's. That scheme gave UW fits in the first matchup, and against Nebraska in the middle of November. Led by cornerback Caesar Williams' four pass breakups, the Badgers' secondary held its own against Minnesota's pair of star receivers last week, and held the Gophers without a touchdown for nearly 52 game minutes. Isaiahh Loudermilk and Garrett Rand were stellar on the interior defensive line against Minnesota, collapsing the line and stifling the inside run, and need to be again to slow down Dobbins.
EDGE | OHIO STATE
SPECIAL TEAMS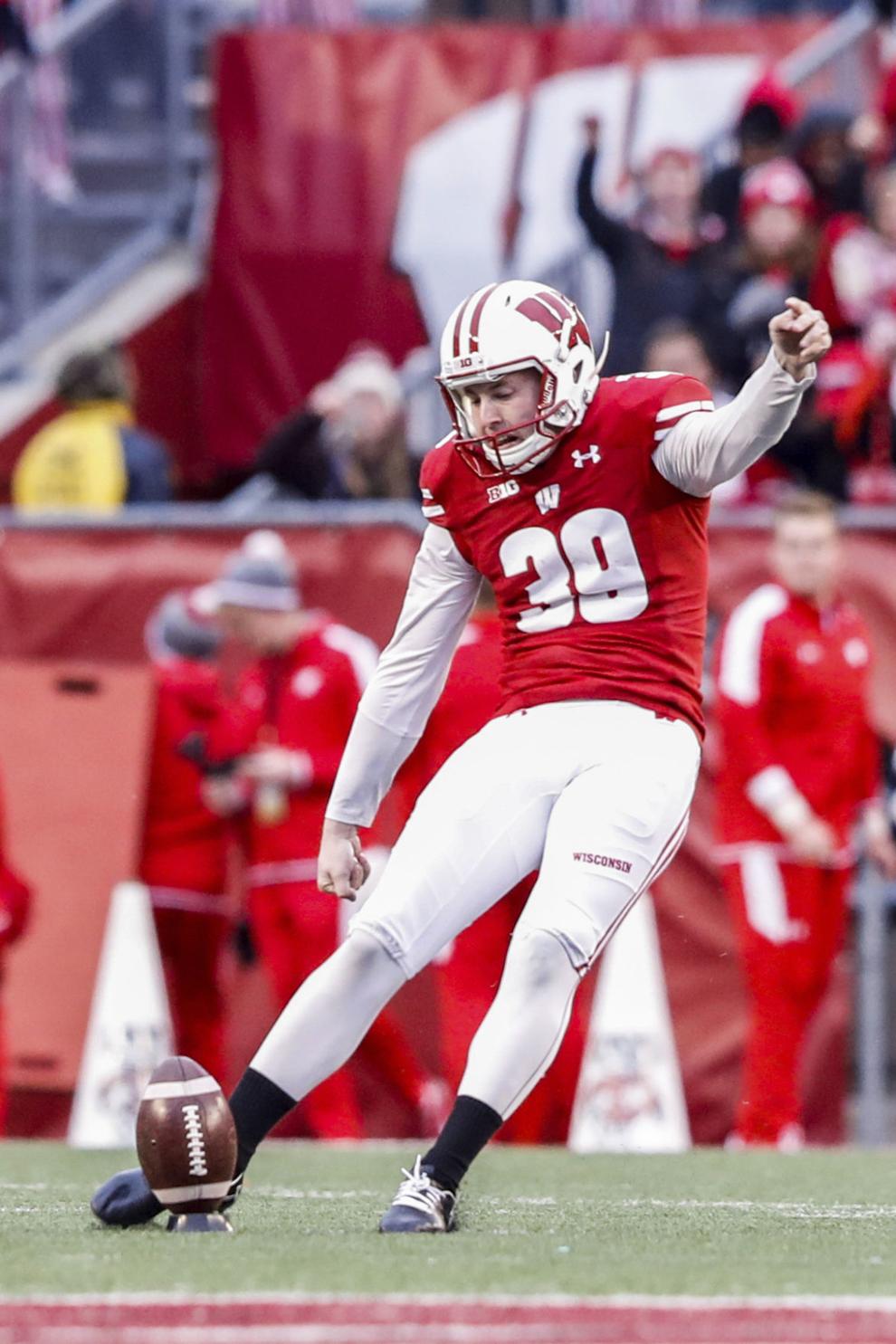 In all but one area, the Badgers' special teams have also experienced a big turnaround in the past month.
Senior Zach Hintze (above) took over as the placekicker last week against Minnesota, made a short field goal and went 5-for-5 on point-after tries. He also made a 62-yard field goal to set a modern-era program record against Purdue.
UW pulled off a reverse on a kick return last week to gain a total of 56 yards and set up a short touchdown drive. The Badgers led the Big Ten in kickoff return average at 25.9 yards per return this season.
Senior punter Anthony Lotti is struggling as his career wraps up — over the past three games, his eight punts have averaged 35.3 yards.
Ohio State punt returner Garrett Wilson lost a fumble against Michigan, and its kick coverage has been average throughout the season.
EDGE | PUSH
COACHING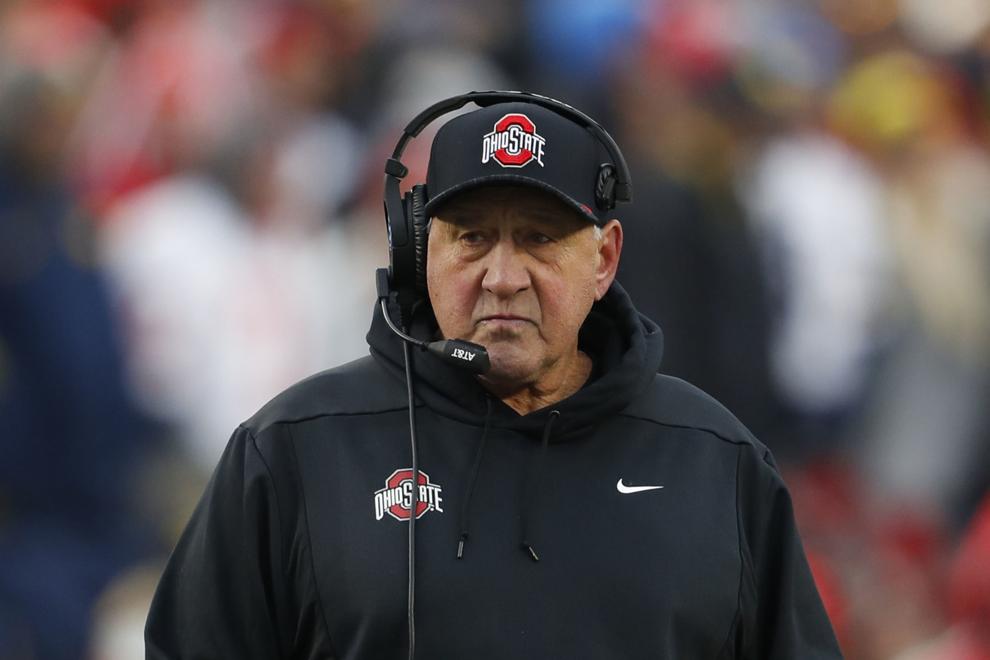 Ryan Day has guided the Buckeyes to an unbeaten regular season in his first year. His offense has generated two Heisman Trophy candidates and made so many games blowouts that he could pull starters early and keep them fresh for a postseason run.
Co-defensive coordinators Greg Mattison (above) and Jeff Hafley have maximized Young's potential and have directed their unit to be one of college football's best.
UW coach Paul Chryst and offensive coordinator Joe Rudolph have done well creating new looks for the offense late in the season, but how they deploy those wrinkles against the Buckeyes will be key, as will defensive coordinator Jim Leonhard's adjustments on defense.
EDGE | PUSH
INTANGIBLES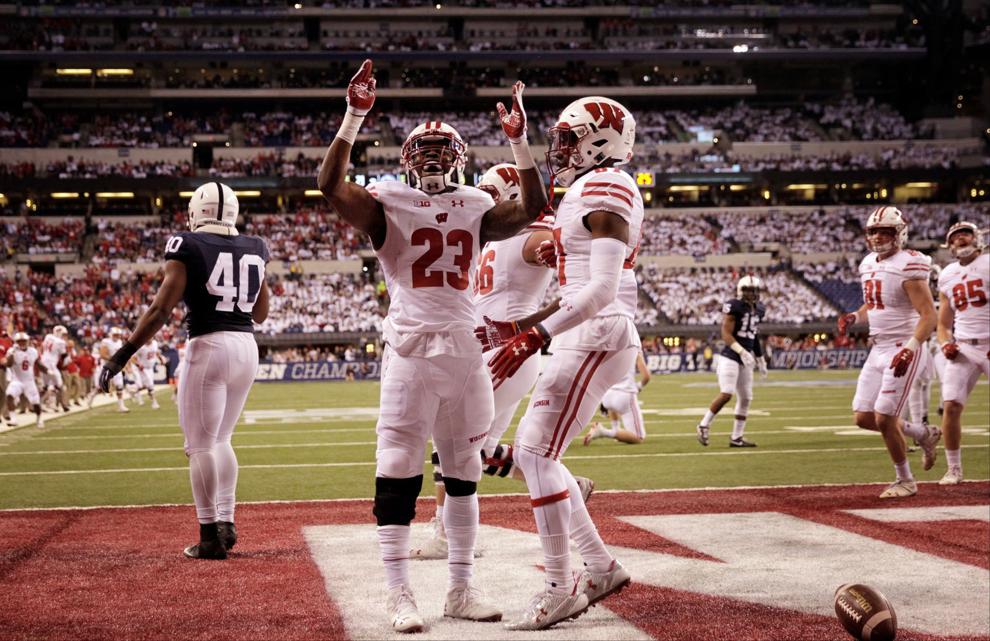 Ohio State is all but assured to be one of the top two seeds in the College Football Playoff with a win over the Badgers, but UW has a good amount to gain as well.
A win over the Buckeyes almost definitely sends UW to the Rose Bowl, and gives it an outside shot at the Playoff.
Playing in the domed Lucas Oil Stadium, weather won't be a factor like it was in the first game between these teams, but the Badgers will have to contend with Ohio State's speed at an indoor facility.
EDGE | OHIO STATE
STATE JOURNAL'S PICK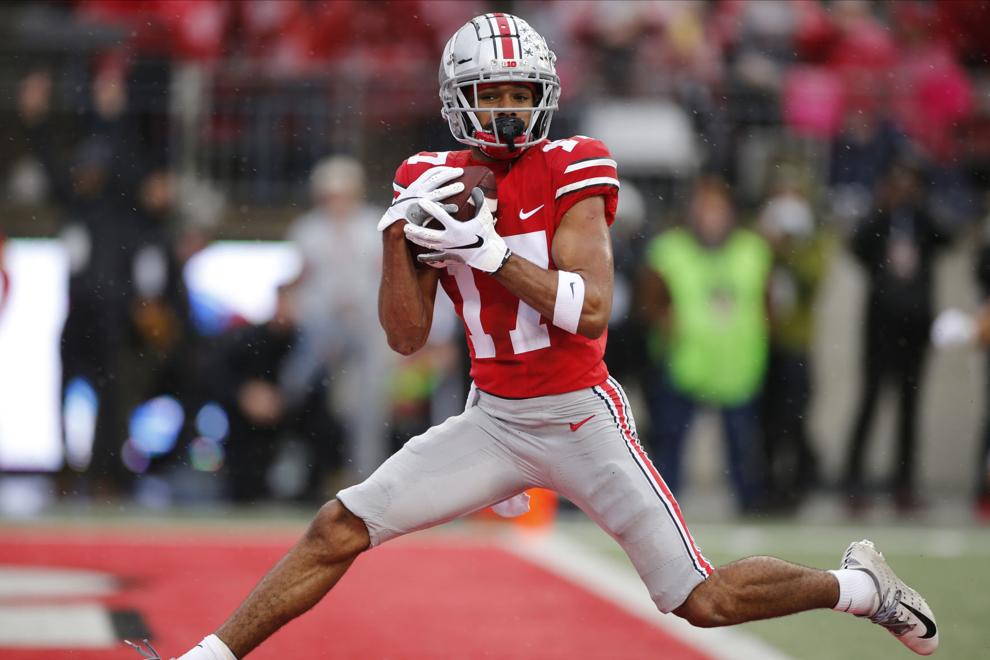 UW's offense has dramatically improved since the last time it played Ohio State, but the Buckeyes' roster is just a notch above UW's this season. If Ohio State continues to give the ball away, the Badgers have a chance, but the Buckeyes stay unbeaten in a relatively close game.
OHIO STATE 31, BADGERS 20
THE NUMBER (UW)
11.5: UW's Zack Baun and Chris Orr are the only pair of teammates from a Power Five program to have 10 or more sacks each this season
THE NUMBER (OHIO STATE)
4: Fumbles lost in the past two weeks for OSU, which led to 13 points for its opponents
KEY STAT (OFFENSE)
Sacks allowed: UW finished second in the Big Ten with 18 sacks allowed, but five of those came against OSU. Allowing Coan time to find receivers will be essential in the rematch.
KEY STAT (DEFENSE)
Third-down percentage: The Buckeyes lead the Football Bowl Subdivision in converting 58.3 percent of third-down tries
Video: Do the Badgers have a chance to pull the upset against Buckeyes?